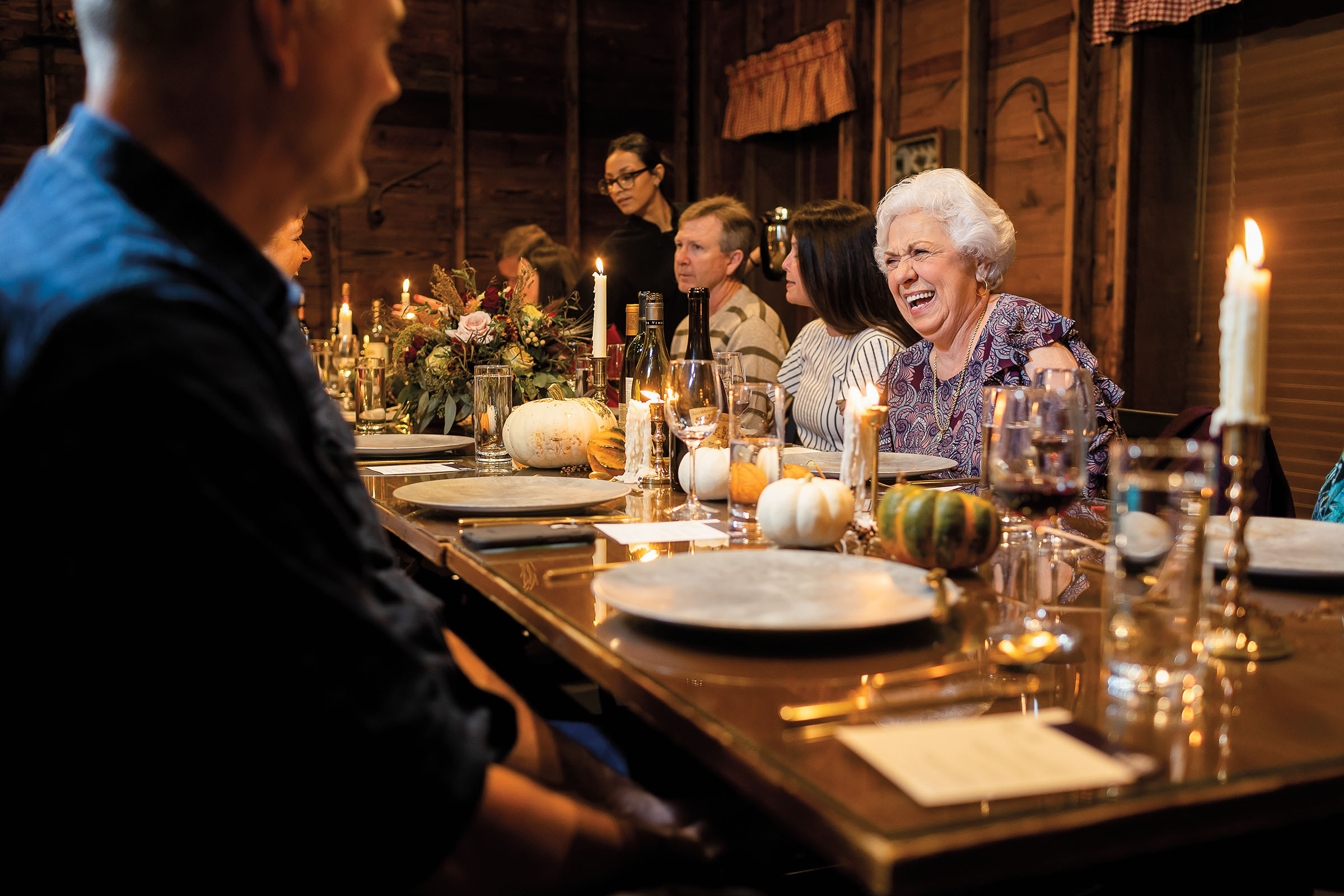 Inside a converted barn with a rustic wood interior, 40 people gather just in time for supper in the tiny East Texas town of Van. Guests sip on wine, enjoying their five-course meal around three long tables adorned with tapered candles, fine china, and elegant flower arrangements. On this late October night, the menu includes paté paired with toasted pistachios, torched figs, and pomegranate reduction; followed by roasted quail with apple, leek, and fennel stuffing.
Though the menu changes, a similar scene plays out one evening each month at The Farmhouse, a mom and pop restaurant just off Interstate 20, about 25 miles northwest of Tyler. The gastronomic affair, featuring dishes more readily available at big-city restaurants, goes by the downhome name of Sunday Supper Club and is BYOB. Begun in early 2022, the popular new offering often sells out as soon as tickets—which run about $50-$58—are announced on social media.
Born out of the COVID-19 pandemic, the Supper Club surprises with a bounty of fine cuisine in a transformed family restaurant. The event was created by self-taught chef and Fort Worth-based event planner Jennifer Ellison and her mother, Janine Ellison. "We were talking during COVID about how people hadn't been gathering and how much they missed it," Jennifer says. "Mom and I wanted to figure out how to bring people together over good food and conversation in Van."
Supper clubs have been around since the days of Prohibition and are most popular in the Midwest. Lawrence Frank—a native of Milwaukee, Wisconsin, and the creator of Lawry's Seasoned Salt—is credited with having opened the first supper club in California in the 1930s. Eventually, the concept reached his home state. They were often held on the edges of small towns, used as a gathering place folks could inconspicuously consume their alcohol. In recent years, supper clubs have gained popularity nationally and are more akin to pop-up events combining upscale experiences with fine dining. Variations of the supper club can be found around Texas, like the recently opened RR12 Supper Club of Wimberley or Magdalena's in Fort Worth.
Janine and Jennifer already had an ideal venue for the Supper Club in The Farmhouse. The barn, which was once part of a dairy farm, belongs to Janine. She opened the comfort food eatery known for homemade rolls, chicken-fried steak, and buttermilk-pecan pie nearly 20 years ago with her late husband and Jennifer's dad, Charles.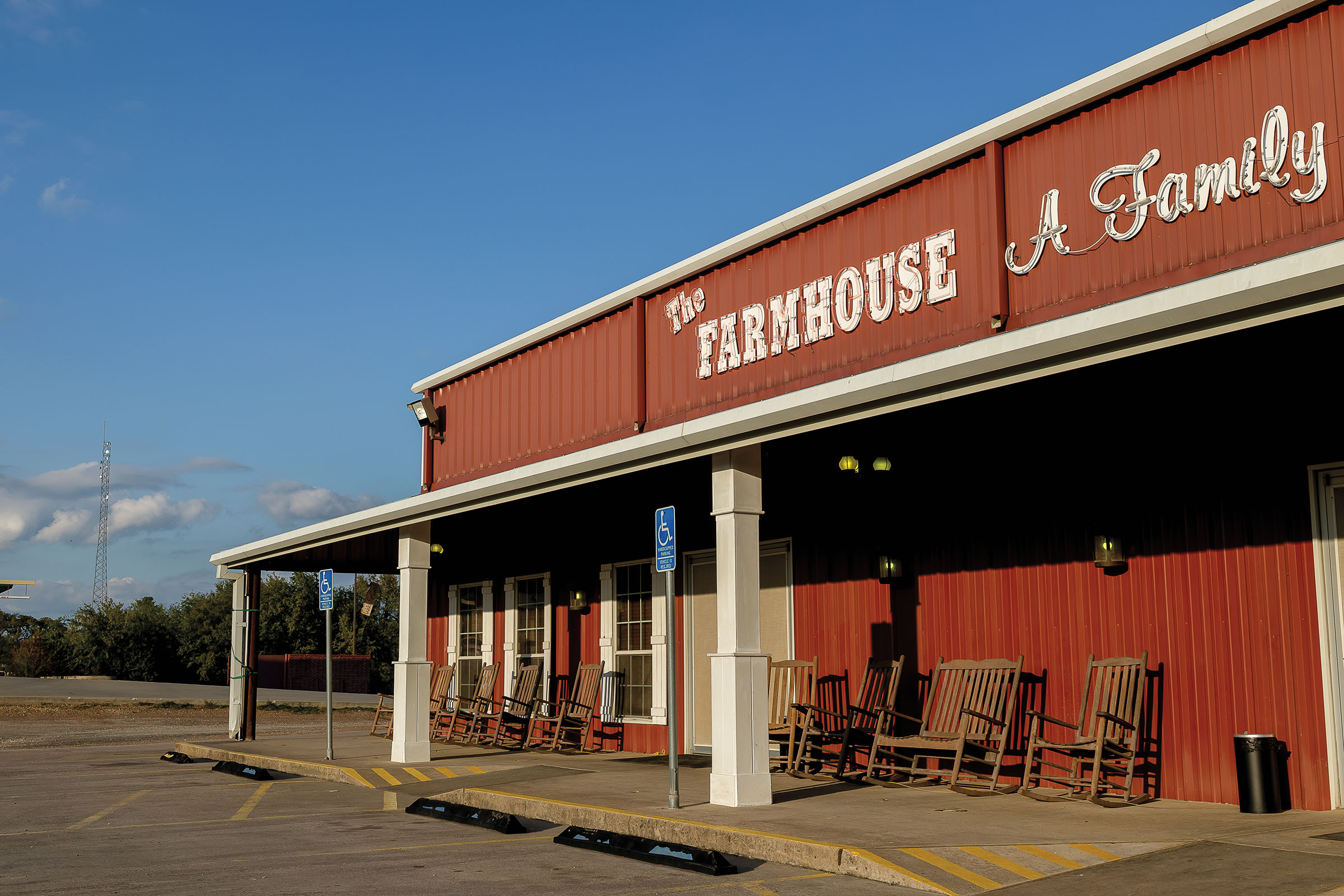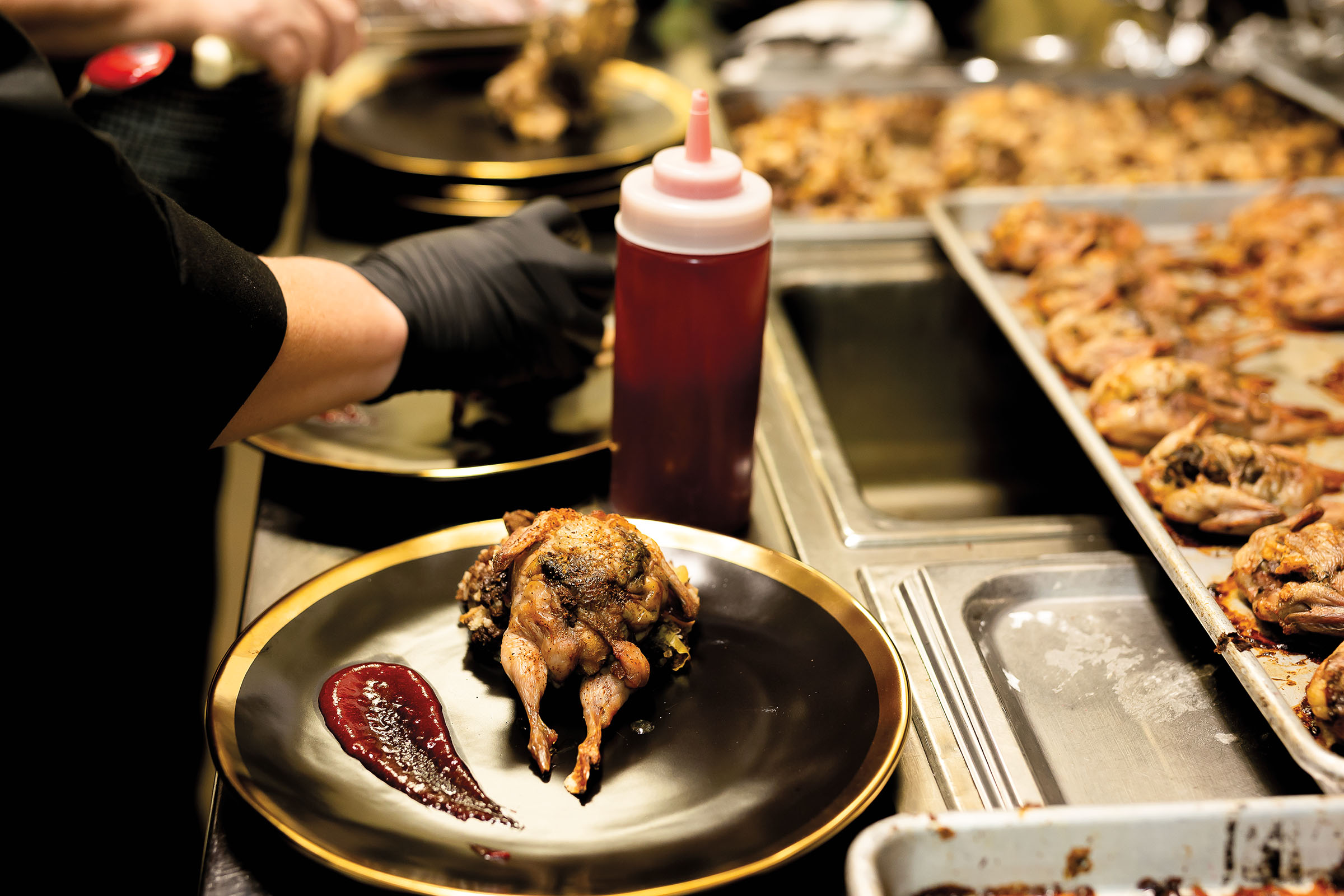 When the duo first launched the Supper Club, they were nervous. "We wondered what people would be willing to pay for a dinner like this, and would they like it?" Jennifer recalls. Nineteen guests came to the inaugural Sunday Supper in February 2022. The mother-daughter team offered guests a discount for the March and April dinners if they signed up that night, and much to the Ellisons' delight, they all did. Most even brought new guests with them upon return. "I think we were somewhat tame with our menus at first—although we had caviar on our very first menu, which was definitely something special," Jennifer says.
Guests, many of whom show up for birthday or anniversary celebrations, or simply a girls' night out, come from Van and nearby towns like Bullard, Ben Wheeler, and Tyler, as well as Dallas, Fort Worth, and even Oklahoma. Jennifer and Janine plan the menu more than a month in advance and, since the venue doesn't serve alcohol, send out wine suggestions to guests a week before the event.
Jennifer serves as executive chef, with Janine doubling as sous chef and pastry chef, and the two work all day Saturday and Sunday of supper weekend in the kitchen. The regular Farmhouse kitchen staff helps out, too, donning black chef coats and pants to serve as waitstaff in the dining room.
Changing Supper Club menus over the past year have featured venison-pecan tamales; butter-poached lobster and shrimp enchiladas; beef tenderloin with chimichurri sauce; watermelon-cucumber gazpacho; crostini with crab, crème fraiche, mint, basil pesto, and sweet peas; and chocolate tres leches cake. Many of Jennifer's dishes are inspired by her travels. A particular hit on the March menu was her chicken scarpariello, a combination of chicken, sausage, vinegar, onions, and peppers, recreated from a favorite dinner in now-shuttered Rao's in Las Vegas.
Whenever possible, Jennifer sources ingredients from area producers, including Red Moon Farm in Van, Saxon Farms in Ben Wheeler, and Vertigrow Produce in Waxahachie.
Brenda Kellam, a retired Van High School teacher, quickly became a regular at the Supper Club after friends raved over the first dinner. "It's such a unique evening for a little town like ours," Kellam says. "It's wonderful to try things we've never tasted before. It reminds me of special, multiple course dinners I've had in Europe and finding wines to go with each course. How lucky are we to have this in Van?"
Another devotee is Denise Wells, a Mineola resident who retired to East Texas from Fort Worth in 2019. "We were so delighted to find a supper club here," says Wells, who misses the upscale dining common in Dallas-Fort Worth. "It's nothing like we expected to find once we moved."
Jennifer says she's growing more comfortable introducing unusual food ideas to the Sunday Supper guests. Keeping the guest count between 40 to 45 people assures an intimate setting, giving diners a chance to make new friends with those at their table, Jennifer notes. Though costs to produce the monthly event keep the Supper Club from being a huge moneymaker, Jennifer says that was never the point.
"It's really a passion project," she says. "It's such a creative outlet for my mom and me, and we love working together. The Farmhouse motto is 'from our family to yours,' and this supper club is an extension of that."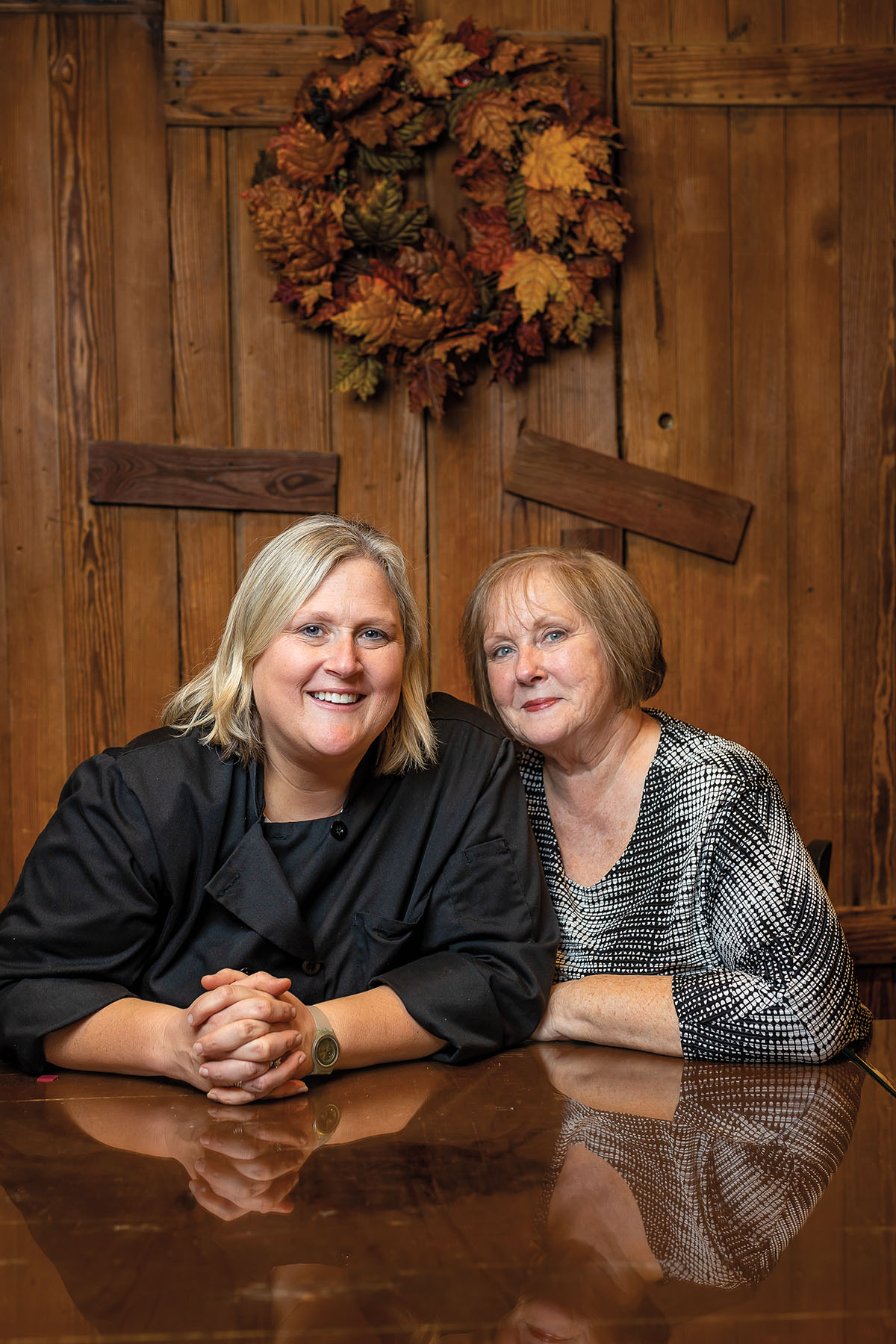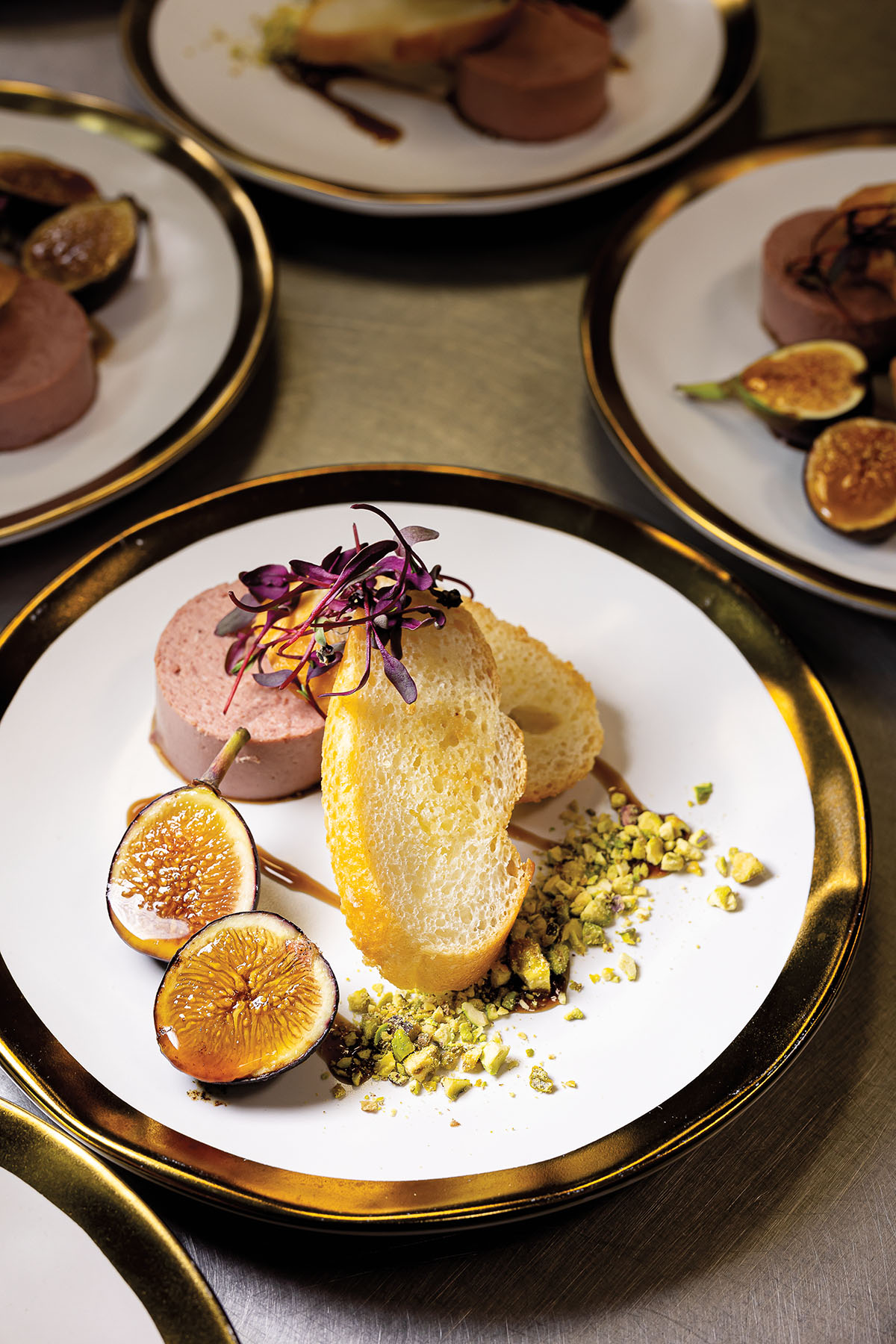 Sunday Supper Club happens monthly at The Farmhouse. Each event's date, menu, and tickets are posted about four weeks in advance on Facebook, Instagram, and the restaurant's website.
Tickets range from $50-$58.
From the February 2023 issue