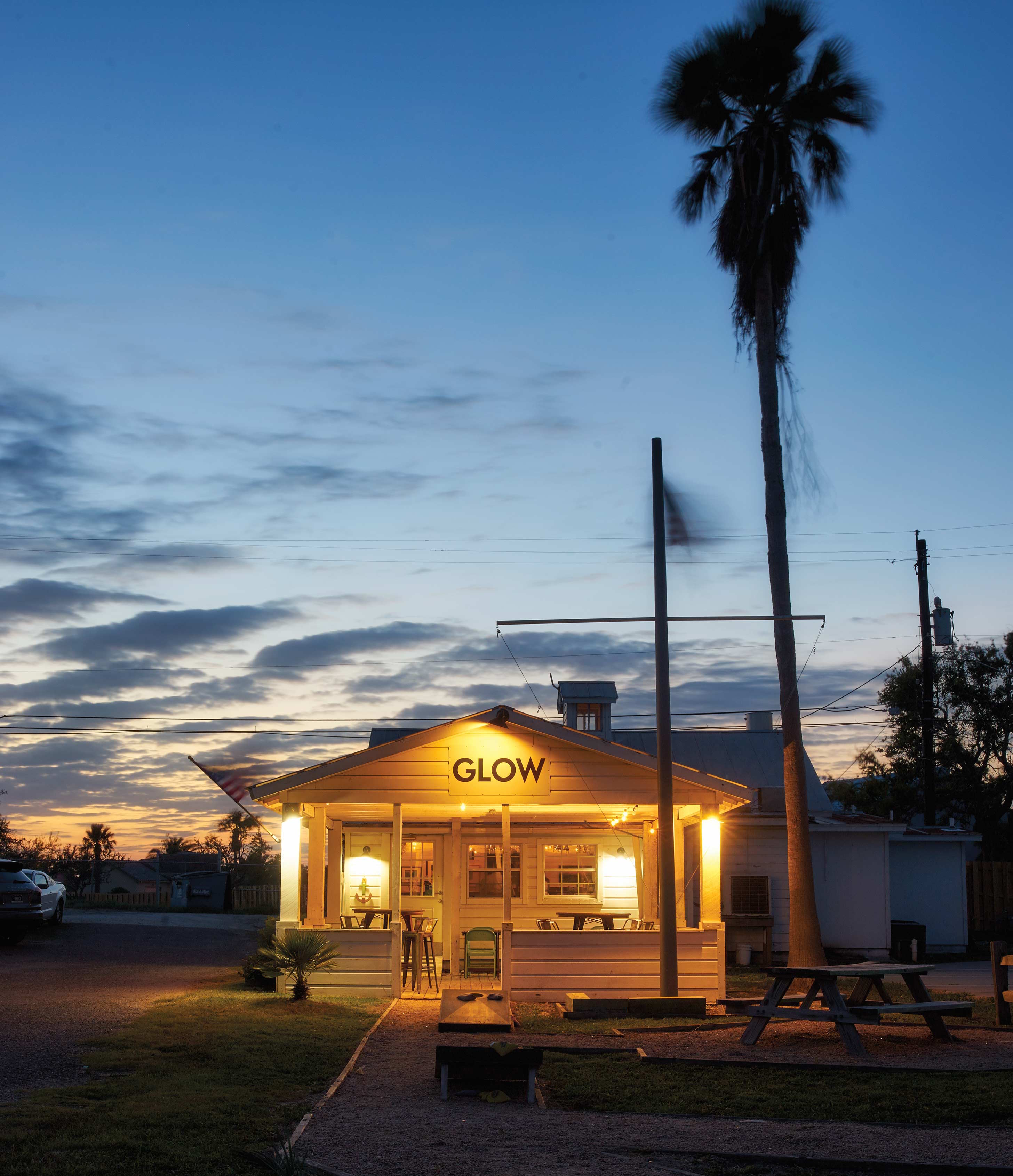 GLOW withstood Hurricane Harvey and quickly reopened after the storm.
When evacuees Karey and David Swartwout returned to Rockport in the aftermath of Hurricane Harvey, they assumed their old boathouse-turned-restaurant would be part of the devastation they'd been watching on TV. Driving down Broadway for the first time post-Harvey was "very disorienting," Karey said, "because so many landmarks and buildings were just gone." She took a deep breath when the car reached the 1800 block and then exhaled in relief when, at the end of the long driveway, she saw a magnificent GLOW: Their little seafood restaurant was still standing. The costly wall reinforcement materials required to pass code before opening in 2011 turned out to be well worth the red tape. The restaurant was back in business as soon as power was restored a couple of weeks later.
GLOW
1815 Broadway St., Rockport
361-727-2644
glowtexas.com
"It was important for us that we reopen as quickly as possible for the community," said Karey, GLOW's owner-chef and a 10-year Rockport resident. "We had incredible survivor's guilt, but we were fortunate enough to have a choice—either move on or keep going. So we chose to just keep 'swimming, swimming, swimming,' as my sons say." 
By the start of 2018, about one-third of the businesses in Rockport had reopened, and GLOW had become more than a place for creative shrimp and steak dishes and refreshing intoxicants like the Big Tree, a blend of vodka, cucumber, lime, and mint. The charming white wooden box with the high ceiling brought a sense of comfort to residents, who shared their stories and felt like everything was going to come together again like the shrimp, crab, and oysters in GLOW's famous Rockport chowder. 
"This has always been a gathering spot, a place to make memories," Karey said of the 32-seat eatery, designed to be intimate but also social, like a European bistro. The tables are so close, conversations spill over and friendships develop. If you'd like a little room and a nice view of Little Bay, there are six well-spaced picnic tables outside, in addition to patio seating. 
"Our [sales] numbers are about the same as they were last year at this time," said Karey, who named her restaurant after the glimmering luminescence of the sun and the moon on Little Bay. Although the word "glow" today conjures smartphones in the dark, the Rockport restaurant harks back to the days when talk was entertainment. Usually, the only time cellphones come out is to take "shelfies" of such dishes as Mom's Shrimp in a sauce of white wine and mushrooms over creamy mashed potatoes. 
"It was important for us to reopen as quickly as possible."
There was a period of uncertainty immediately after the hurricane, so to get some cash flow GLOW started selling the sea salt it had been harvesting from Aransas Bay. "We wanted to keep the payroll going," said Karey, who was able to keep her staff during the downtime. A three-day process, from cistern to oven to bottle, yields a finished product that goes for $13 an ounce. A portion of the proceeds funds the nonprofit Glow Rockport Foundation, which has committed $2,000 to Rockport-Fulton High School's Class of '18 for college scholarships. (Husband David is a career and college guidance counselor at the high school.)
Karey became interested in harvesting salts during her eight years in Europe, where the practice is commonplace. Although she once served a cheeseburger to Jack Lemmon while working as a waitress at Sardi's in New York City out of college, her true entrée in food service came when she opened a catering business in the United Kingdom in 2001. Karey moved to London when a job in e-commerce transferred her from Austin. "Tex-Mex, barbecue, and New Orleans cuisine were just dreadful in London at the time," she said. Sensing an opportunity, Karey launched Butter & Co.—Butterworth is her maiden name—which got really busy, really fast, making authentic North American dishes such as gumbo, chicken posole, and muffalettas. Karey went full time from software to cookware. 
Pregnant with twins, Karey moved to Rockport in 2008 with her then-husband, whose parents lived there. "It was supposed to be temporary," she said, "but I just fell in love with the town." She found her building, which was formerly a sailboat repair shop—hence the high ceiling—right next door to Rockport Cemetery in late 2010. 
Framed antique maps are a big part of GLOW's décor, especially in the quaint bathrooms. "They're from all the places David and I have lived," Karey explained. The plat of Manhattan in the bar area represents Karey's time studying acting in the Big Apple after graduating from Texas State University in 1994.
The map of Panama in the men's room alludes to David's previous job as assistant principal of an international school in the Central American country. It was there that he received an email in January 2014 from his short-time, junior high flame Karey, whom he hadn't seen in 29 years. "I never really forgot him," she said. The pair planned a rendezvous in Houston, and three years later they were married and the parents of a daughter, Olivia, who joined their five boys from previous marriages.
Add a restaurant, and it's a lot of work, though Karey said it's the satisfying kind: "The world is becoming increasingly automated, less personal. It's important to us at GLOW that we connect with our customers, from our made-from-scratch kitchen to our napkins folded into the shape of a sailboat. We all have a basic human desire to feel welcome and cared for." 
Karey wants you to walk out of her restaurant with your senses radiating. Organic happiness manifests as a warm glow.
From the June 2018 issue