Comfort's effect on me during my recent visit mirrored my thoughts on my first trip more than 20 years ago: This little Hill Country burg—about 50 miles northwest of San Antonio and 25 miles south of Fredericksburg—couldn't have been named more appropriately, and its inherent sense of ease makes me think I could happily stay forever.
Camp Comfort

Look for the restored yellow vintage minibus serving as the Camp Comfort signage out front at 601 Water St.
Call 830-995-2356;
camp-comfort.com.

Stays begin at $165 and include a continental breakfast in the meeting hall, which is
also a good place to enjoy a game of checkers or Scrabble over a cold (BYOB) beer.
Spending the weekend at Camp Comfort, a cleverly conceived and effortlessly hip-but-casual lodging right on Cypress Creek, only intensified my crush on the village. Like its surroundings, Camp Comfort serves as an antidote to city living and all its attendant stressors. It's likely to become my go-to place when I crave escape and relaxation.
Essentially, that's what I imagine those German immigrants who settled Comfort in the 1850s would want us to do. Early residents—among them freemasons, freethinkers, and plain folks eschewing local government—drew together to create a place of in- dependence but also conscientious living that included cooperative farming and education. Comfort was among the early Texan communities to align with the Union during the Civil War; the loss of its numerous young soldiers in 1862 is commemorated at the Treue Der Union monument on the town's High Street.
Residents remain loyal to the settlers original sentiments even today, as the community of around 2,500 people still isn't incorporated. A passion for its heritage shows up in the loving preservation of beautiful old limestone buildings, filling a town center that stretches about four blocks long with multiple buildings included in the National Register of Historic Places. More than a few weekend adventurers stray from Fredericksburg, Boerne, and Kerrville to stroll the sidewalks of this place called Comfort, poking around the shops tucked inside those well-kept buildings, and a good many decide to come back.
Savvy visitors find their way to Camp Comfort, which opened in 2013 on the site of a former 1860s meeting hall and bowling alley. Charming inns have long been an attraction in Comfort, but this campy edition stands out with modern details employed within a framework of decidedly down-home luxury. It's a smart host—in this case, Lisa Jenkins and her husband, Phil—whose concept delivers nothing overtly fancy yet all the while spoils you to pieces.
Like its surroundings, Camp Comfort serves as an antidote to city living and all its attendant stressors.
After purchasing the property in 2005, the couple created a weekend live music venue here called Phil's Firehouse. But when they moved full time to Comfort in 2012, they added lodging to the mix, creating four guest rooms in the former bowling alley building and adding two spacious cabins with spectacular porch views of Cypress Creek. In 2017, they added accommodations for two in a new silver Airstream, as well as three modern Bunkie mini-cabins, which each have a queen bed and a set of bunk beds.
Lisa's exterior aesthetic blends ranch elements like rough cedar posts, corrugated metal, and long, wooden-plank porches with natural landscaping primarily comprised of varied succulents. Inside, wooden floorboards—many of which were found beneath the bowling alley lanes—add extra warmth to the look and feel. Some rooms enjoy bright bursts of color via leather chairs that provide cozy places for reading or watching movies on flat-screen TVs.
A desk area is perfect for journaling or perusing the local restaurant menus Lisa has collected, and there's a small but convenient kitchenette, complete with a wine fridge. In some accom-modations, the heavy door to the bathroom slides open on a steel rail up top, revealing a jetted tub and shower. Beside the bed, which is made up with fine linens, plush pillows, and down comforters, end tables are actually little cabinets; one stores a white-noise machine. Reading lights are metal fixtures that look like some you'd find at a 1940s campground.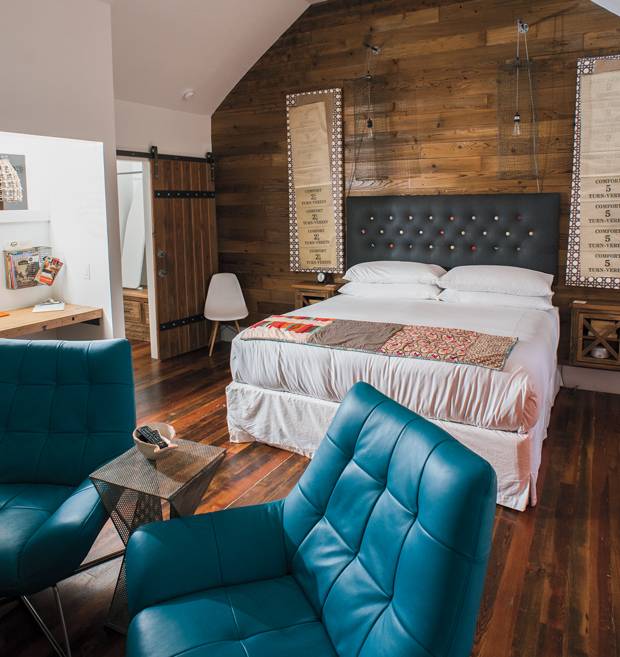 "What I love is creating small spaces that people want to enjoy," Lisa says. "I've always taken design ideas I've seen and liked and figured out how to do them at home—and now, here."
Outside the bowling alley rooms, a wide, open courtyard with a fire pit at its center invites guests to lounge in bright orange, modernized Adirondack-style chairs made by Loll Designs from recycled milk jugs. My husband and I spent our time napping or reading in our room and sitting on the grassy hill sloping down to Cypress Creek, relaxing in the shade of thick, towering cypress trees that must be hundreds of years old.
We had one of our favorite meals at Comfort Pizza, which occupies a former corner gas station.
Otherwise, we wandered around downtown, moseying in and out of shops and cafés along High Street. We had one of our favorite meals at Comfort Pizza, which occupies a former corner gas station. From a wood-fired oven came super-thin, crisp pizzas topped with goodies like artichoke hearts, local smoked sausage, goat cheese, and fresh basil. The restaurant makes its dough from scratch daily and often sells out, so the owners advise customers to call early in the day to place their pizza orders. For another meal, I had an especially good plate of seared Scottish salmon at 814 A Texas Bistro, and one morning we were pleased to find French-pressed coffee with beautiful fresh scones at the Wander'n Calf Espresso Bar & Bakery inside 8th Street Market.
Bending Branch Winery's tasting room, called Branch on High, inspired us to make the 4-mile drive into the countryside to see the winery itself. Our good timing landed us at the winery as a trio offered live music on the patio; later, the Saturday-afternoon winery walking tour gave us a look at the fermentation and bottling areas. In the welcoming tasting room, the Texas Tannat, an award-winning, big-bodied red wine made with Texas High Plains grapes so impressed us that we bought a few bottles to take home.Back in town, we also found delicious sipping at Texas Hill Country Distillers, where the friendly bar staff whipped up cocktails with spirits crafted from distilled prickly pear cactus and jalapeños.
We walked off these indulgences by browsing the inventory of boutiques such as The Elephant Story, which supports elephant conservation in Asia. The 8th Street Market revealed a treasure trove of architectural pieces, like beautiful, distressed antique doors and wrought-iron patio furnishings, as well as antique carved mirrors, 1950s bar sets, and assorted garden accessories.But after the roaming around, all we really wanted was to return to our camp hideout. There, we reveled in the sheer comfort we had sought in the first place.
From the January 2018 issue