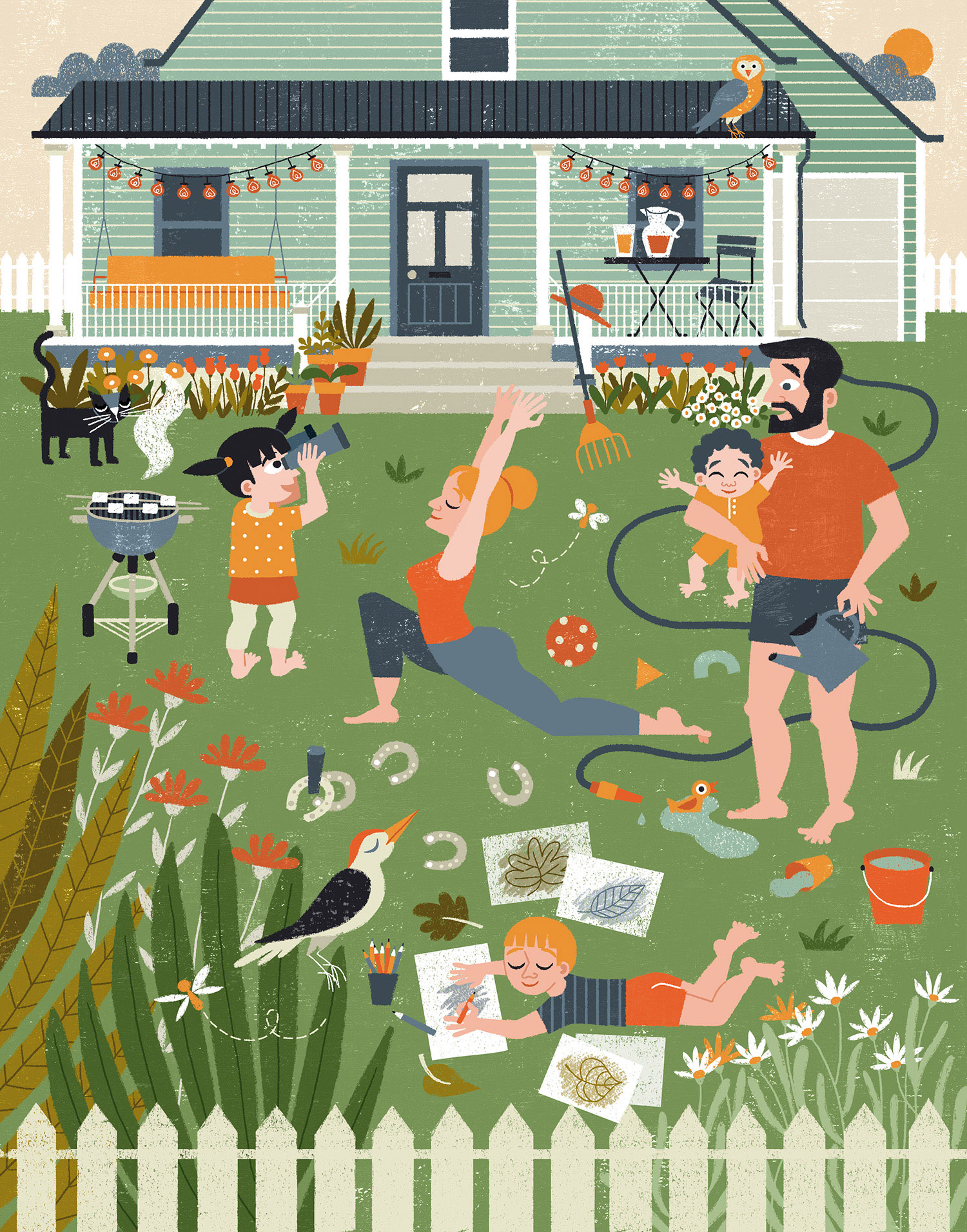 1
2
3
4
5
1. Exercise patience. With gyms still closed at press time, people are finding creative ways to get fit. Wake up early for some sun salutation yoga flows, or wait for the midday sun to motivate you to burn some calories. It's refreshing to breathe fresh air instead of the musty scent of a populated gym.
2. All-natural artistry. Whether you've been struggling to make science class interesting for your child or you're wanting to channel your artistic side, leaf rubbing is a fun and easy way to learn the anatomy of a plant and create an original work of art. Take a piece of paper, place it over the underside of a leaf, and shade with a crayon. You'll end up with a detailed imprint of the leaf's intricate lines. Try it with several leaves to create a colorful canopy.
3. Safari, so good. Who needs a zoo when you can visit a wild and free habitat right in your backyard? Grab a pair of binoculars and gaze at armadillos, foxes, squirrels, owls, and other wildlife, depending on your region. You can even make a game out of it: Whoever spots the most diverse array of wildlife in a week wins. Just make sure you gather photographic evidence of your finds—your family might not otherwise believe your painted bunting sighting.
4. Close counts. Lawn games are easy to play but difficult to master—perfect if you're looking for ways to kill time. One of the simplest is a country classic: horseshoes. All you need is a stick or two and a few horseshoe-shaped objects—even better if you have actual horseshoes. There are other options for outdoor games as well, including homemade mini-golf, cornhole, and washers. Combine a few of them to put on your own Summer Olympics.
5. Could I have s'more? After a long day of outdoor exercising, channeling your inner artist, backyard wildlife watching, and competitive gaming, chances are you'll need a delicious (but maybe not nutritious) snack. If you've got a fire pit, stage a campfire to discuss your adventures over hot dogs and s'mores. If you've got a grill, that'll do, too. And if you don't have either, bring some food outside for an alfresco picnic. Sharing a meal with your loved ones is a great way to end the day, every day.
From the June 2020 issue