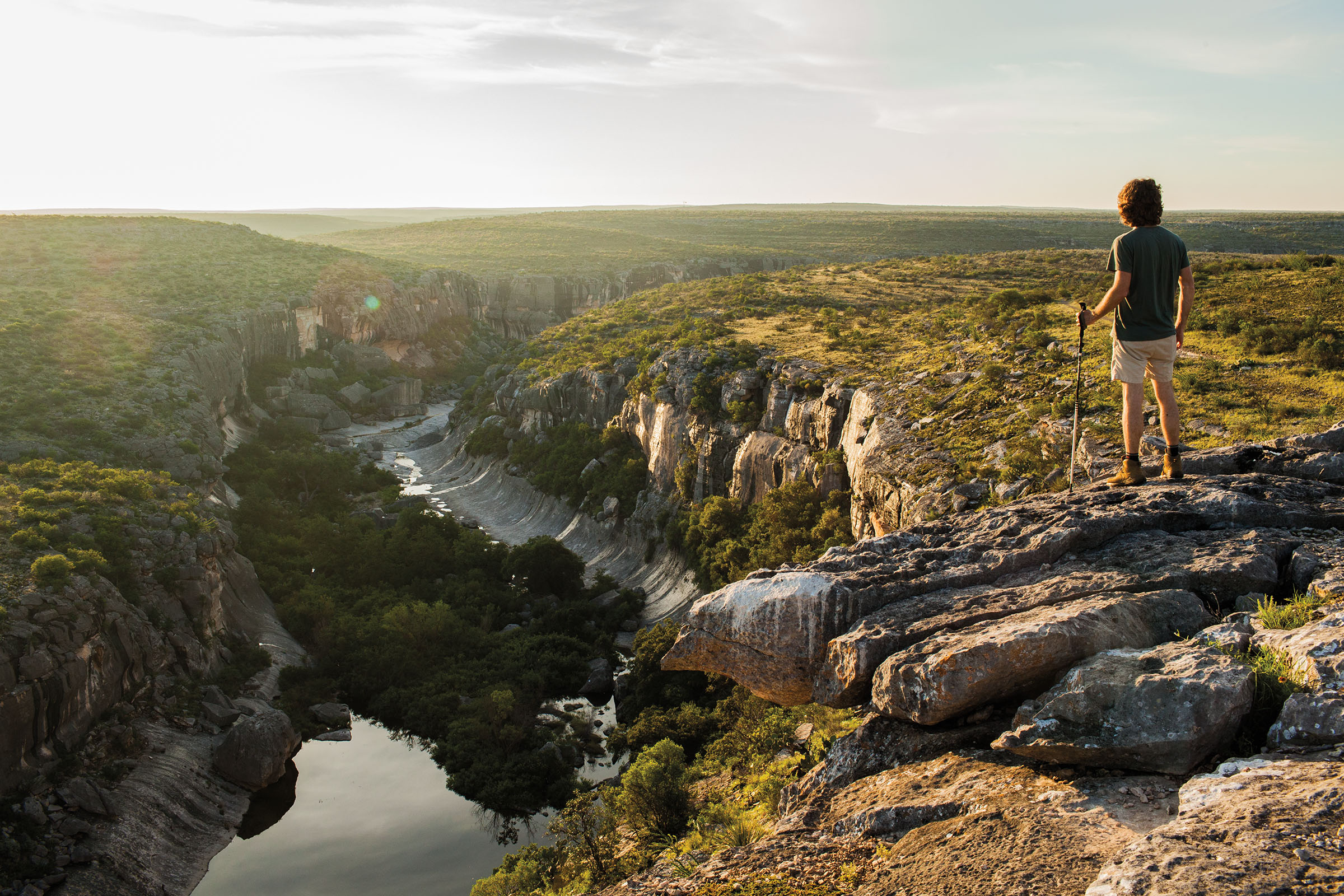 If not for the lone blinking yellow traffic light on US 90 just northwest of Del Rio, it'd be easy to miss the dusty little town of Comstock. The area is home to the oldest rock art in North America, making archeologists a majority of the population. The many limestone canyons that branch off from the Pecos and Rio Grande rivers conceal rock shelters with pictographs more than 6,000 years old. Seminole Canyon State Park and Historic Site is Comstock's best-known rock art destination, but there are over 325 documented sites nearby. History enthusiasts will enjoy touring them, but anyone can appreciate the area's natural beauty and rugged charm.
Gas up before heading further west to other towns like Langtry—the home of legendary lawman Judge Roy Bean—as there aren't any fuel stops along the way. There certainly isn't anything in Pandale, which makes Terlingua look like Dallas. The hamlet is an hour north of Langtry up a caliche road past a small river crossing. There was once a post office and a school, but little remains except for a few cabins. It's a blissfully remote place to sit by the river, ponder our state's history, and enjoy the solitude.
San Antonio
3 hours
Austin
4.5 hours
Houston
6 hours
Dallas
6.5 hours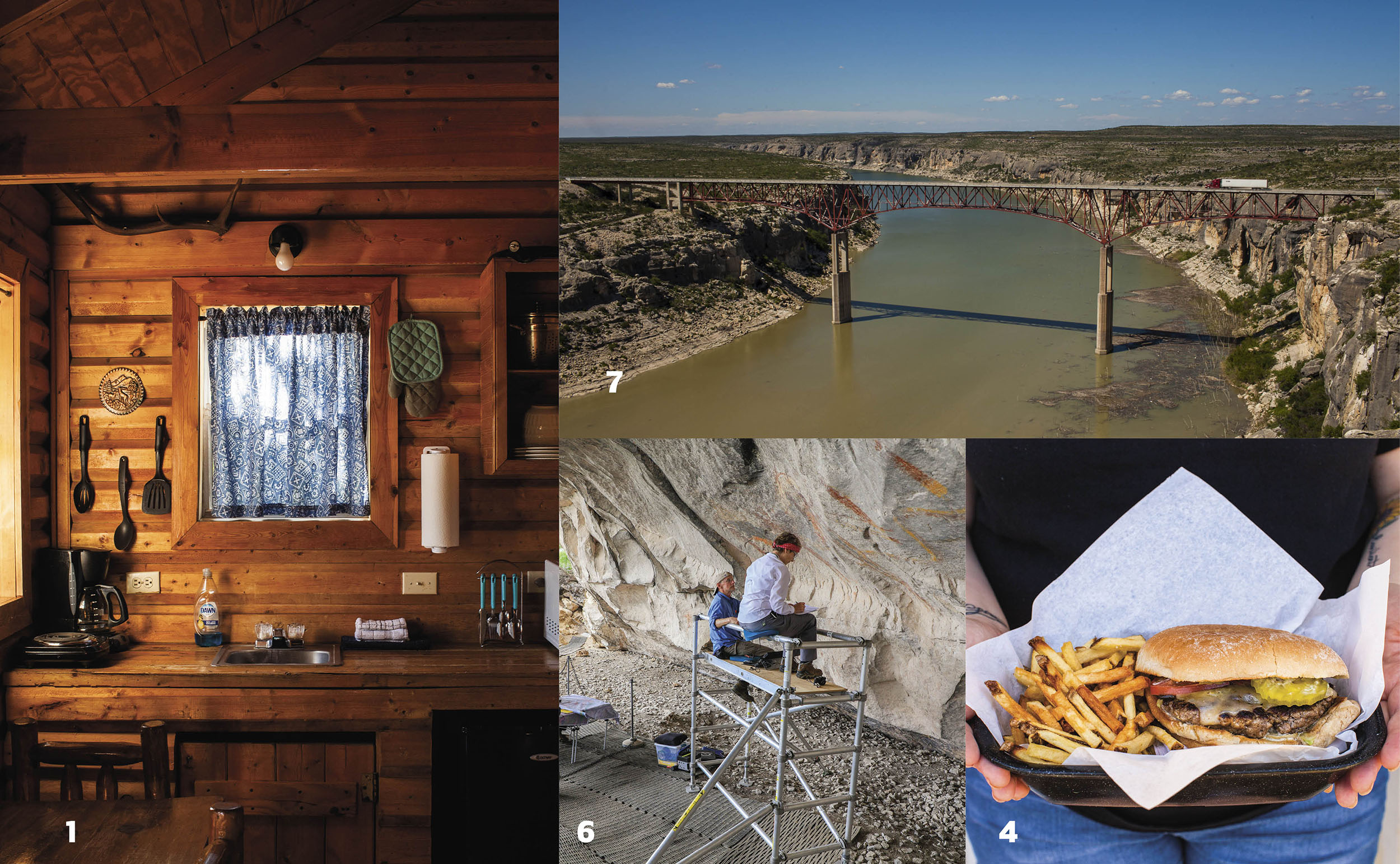 Stay

Eat

See

Learn

Shop

Drink

1 / Pandale Crossing River Resort
There isn't a pool or trash service, but what this resort lacks in amenities, it makes up for with the greatest of luxuries: space. This collection of cabins, which start at $115/night, has a private Pecos riverfront location and an incredible view of the Milky Way. The resort also rents kayaks and can arrange hikes on a nearby ranch.

2 / White Shaman Preserve
San Antonio's Witte Museum operates the preserve that protects one of the most spectacular rock art sites in the Lower Pecos. The White Shaman mural, depicting a creation story, measures 26 feet long and is over 3,000 years old. Tours happen every Saturday morning, and reservations can be made online.

3 / Amistad National Recreation Area
Lake Amistad is a massive reservoir near the confluence of the Pecos, Devils, and Rio Grande rivers. While lake levels are currently near historic lows, the rocky shoreline at Governor's Landing still has cool, clear blue water. There are also campgrounds, fishing guides, and fuel available nearby.


4 / The J and P Bar and Grill
This may be the lone restaurant to speak of in the area, but that's not the only reason to visit. Though it serves everything from Tex-Mex to chicken-fried steak, J and P is most famous for its burgers ground in-house and served on deliciously soft challah buns. It makes for the perfect post-hike meal.

5 / Judge Roy Bean Visitor's center
After the Civil War, Judge Roy Bean was a justice of the peace in Langtry. His offbeat brand of justice and revelry is the stuff of legend. He once staged a world championship boxing match on the Rio Grande. The center preserves his original saloon and has a Travel Information Center and impressive xeriscape garden.


6 / Shumla Archaeological Research & Education Center
This nonprofit protects and preserves the rock art of the Lower Pecos. Call in advance to see their work, but the best way to experience it is in the field through Shumla Treks. These are regular hikes guided by archeologists to rock shelters at state parks and on private land.

7 / Pecos High Bridge
The Pecos River Gorge near the confluence of the Rio Grande is spanned by the tallest highway bridge in Texas at nearly 323 feet. Built in 1892, it was once considered the third-tallest bridge in the world. Just before you cross the river on the east bank, you'll find a vintage picnic site with a panoramic view of the Pecos.

8 / Seminole Canyon State Park and Historic Site
Seminole Canyon is a hidden gem among Texas state parks. It's known for the massive Fate Bell rock art shelter, but the scenic Canyon Rim trail offers stunning views of Seminole Canyon and the Rio Grande river. Tours of the rock shelter are offered Wednesday through Sunday.
Rock Art Rendezvous

The Witte Museum offers private guided tours of various area sites throughout the fall. From shelters in the state park and preserve to hard-to-access places like Meyers Springs and Bonfire Shelter, the museum's website lists specific dates available for registration. Annually, the museum opens the White Shaman Preserve for a weekend of camping, music, barbecue, educational demonstrations, and tours of some of Texas' best rock art sites. Participants can choose from different locations to visit during the event. wittemuseum.org/white-shaman-preserve
The Desert Vista Camping Area at Seminole Canyon State Park is located atop a small hill with panoramic views of the surrounding sagebrush and sotol scrubland. It has 23 sites with electric and water hookups. 432-292-4464; tpwd.texas.gov/state-parks/seminole-canyon
From the August 2023 issue