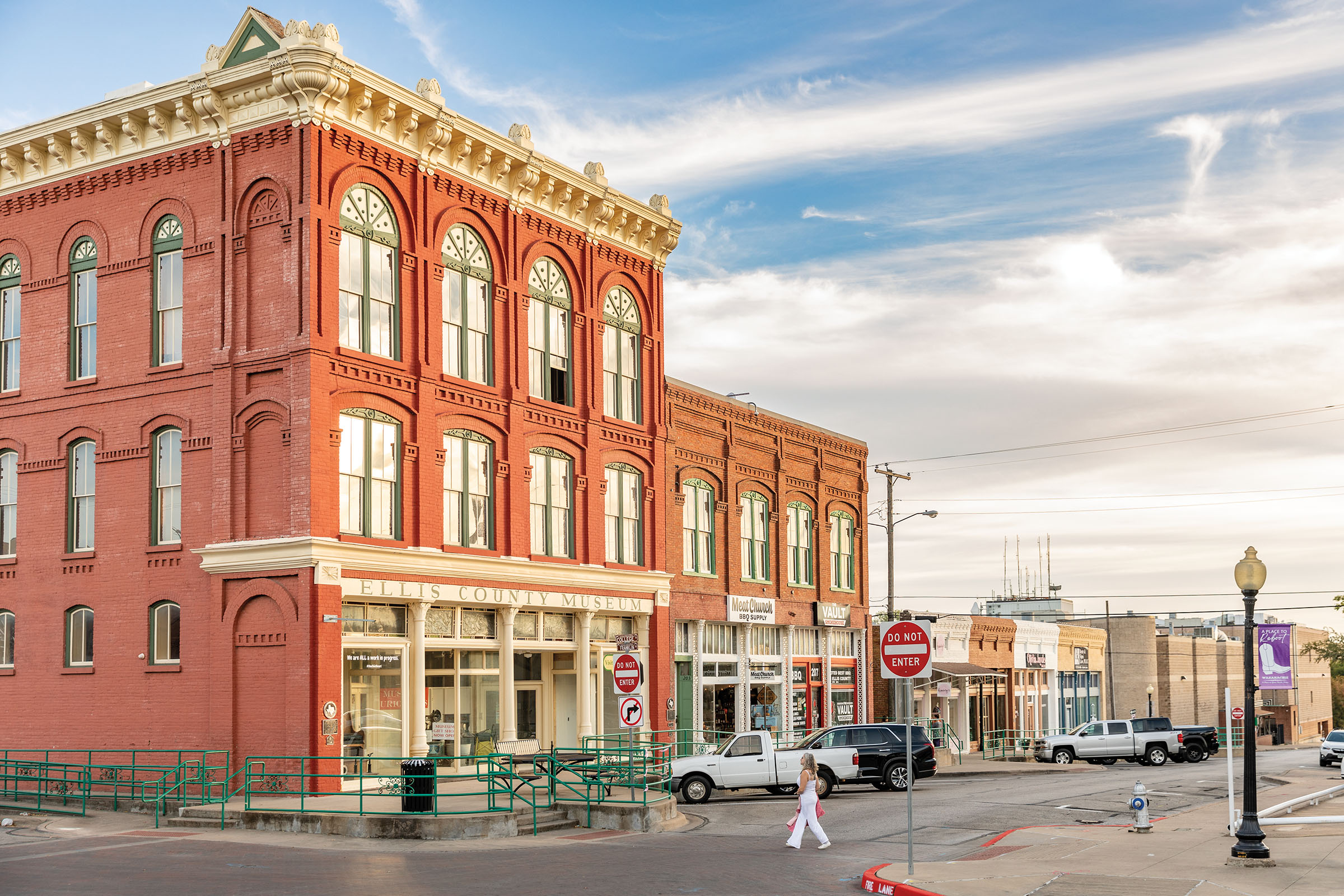 Long before Waxahachie became the lively Interstate 35 detour we know today, the town bustled with a different kind of energy. In the mid-1800s, cowboys drove cattle herds north from Central Texas to Midwestern beef markets, passing directly through Waxahachie's Historic District. Located 30 miles south of Dallas, Waxahachie is home to about 40,000 residents and an artistic atmosphere anchored by the signature "Hachie Hearts"—21 heart sculptures painted by regional artists that adorn properties throughout town. Waxahachie is also known for architecture. Its abundance of restored historic homes inspired the nickname "Gingerbread City," and the Romanesque Ellis County Courthouse, built in 1895, is among the state's most visually striking. For Hollywood nostalgia, the Munster Mansion—a full-scale replica of the house from the 1960s sitcom The Munsters—offers tours of its intricately detailed rooms. With Waxahachie Creek running through, the town also highlights its greenery with annual festivals, including Tulipalooza (March 17-26) and the Crape Myrtle Festival (July 3-4).
Dallas
30 minutes
Austin
2.5 hours
Houston
3.5 hours
San Antonio
4 hours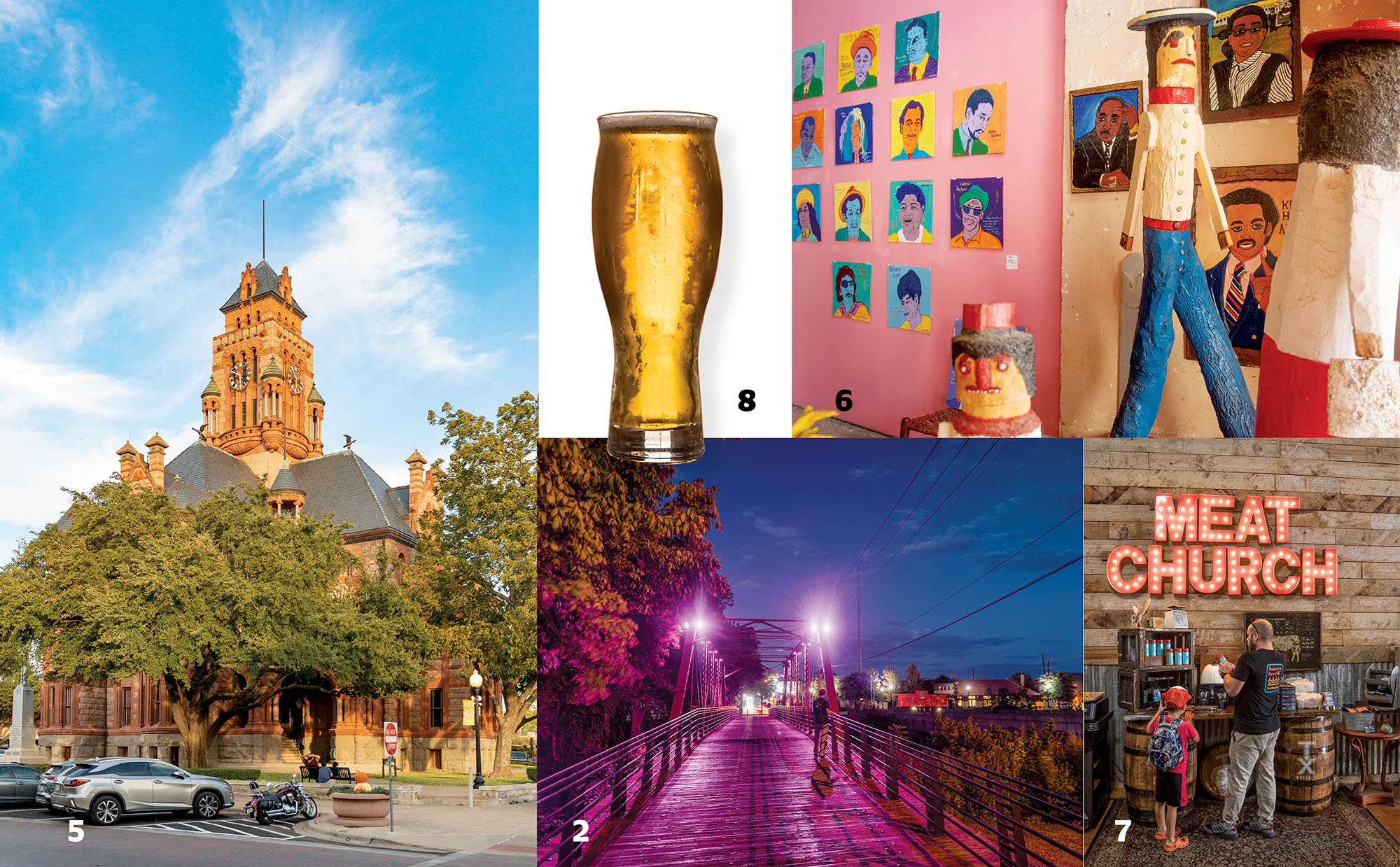 Stay

Eat

See

Learn

Shop

Drink

1 / The English Merchant's Inn
A few blocks from downtown, this eclectic inn (starting at $140/night) in the West End Historic District offers spacious rooms and plenty of U.K. charm, such as Union Jack flags and antique furnishings. English cotton merchant James Wright Harrison built the home in 1915 when the town was a center of the cotton-farming industry.

2 / Waxahachie Creek Hike & Bike Trail
This 4-mile trail follows its namesake creek as it crosses picturesque bridges and skirts the historic Waxahachie City Cemetery. The first burial, in 1852, was a pioneer merchant named Silas Killough. Open to pedestrians and cyclists, the paved pathway links various city parks and is shaded by bur oaks and cedar elms.


3 / The Dove's Nest
This downtown staple offers antiques and novelty gift items such as the signature Dove's Nest candle. Opposite the shop, the business' other half is a large tearoom with a menu including burgers, sandwiches, and treats like spiced orange iced tea and house-made blackberry bread pudding.

4 / Prime 115
Located in a renovated bank building, this upscale steakhouse serves dishes worth the splurge. Think Delmonico rib-eye, tomato and burrata salad, truffle mac and cheese, and maple-glazed Duroc pork chop. An upstairs bar with views of the square below is a good spot to settle in with an old fashioned and chat up the locals.

5 / Ellis County Courthouse
Once described by famed Texas author James A. Michener as a "fairy tale palace," the 1897 Ellis County Courthouse offers tours by appointment (call 972-825-5087). See a bullet hole from a 1920s shootout that happened when a prisoner's girlfriend snuck him a pistol, and stone carvings of a woman's face among the brickwork—allegedly a byproduct of an unrequited love story.

6 / Webb Gallery
Art lovers from around the world stop in to see Julie and Bruce Webb's vast collection of folk art. Set in a 1902 building a few steps from the courthouse, the collection includes hand-painted carnival banners from the 1940s, eclectic sculptures, and paintings by folk art heroes like Jimmie Lee Sudduth. The gallery opens for the premieres of new exhibits or by appointment, so be sure to call ahead.

7 / Meat Church BBQ Supply Store
Once a contestant on the TV show BBQ Pitmasters, Matt Pittman turned his obsession with smoked meats into a business. He started with a beef rub and expanded to a variety of seasonings and rubs with names like Holy Voodoo and Honey Hog.
Pittman also hosts barbecue classes at events and locations around the state.


8 / Southern Roots Brewing Company
This family-owned craft brewery serves pizza along with a rotating selection of seasonal beers and a regular lineup including Gunfighter IPA and Buffalo Creek brown ale. It's located inside a renovated 1907 train depot, and, depending on the day, you can catch live music or join in Tuesday's weekly trivia night.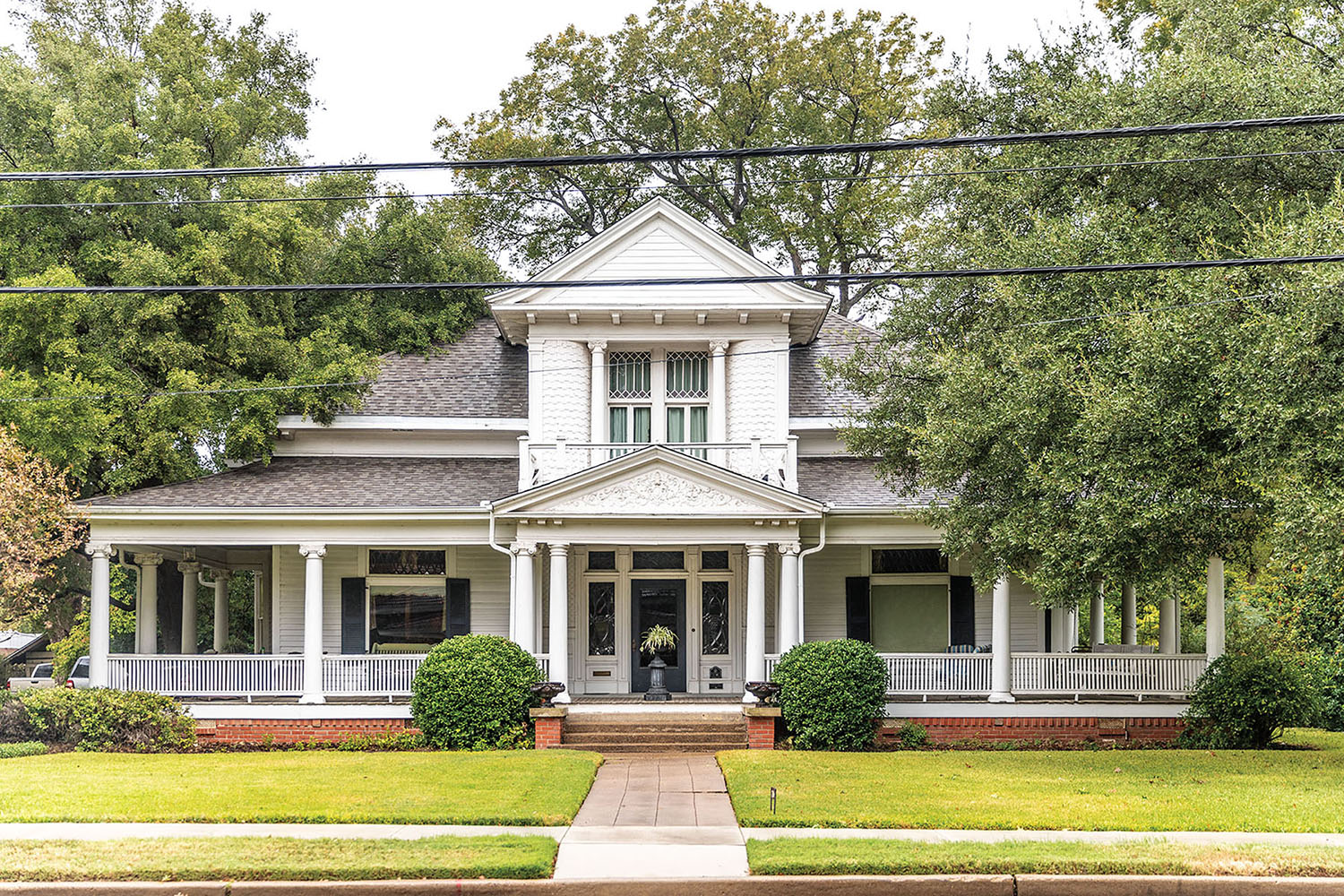 Architectural Attractions

Each June, the Ellis County Museum holds the Gingerbread Trail Tour of Homes, a celebration of the historic homes that account for Waxahachie's "Gingerbread City" nickname. Scattered throughout town, hundreds of homes recall the late 1800s and early 1900s era when cotton farming and processing drove the local economy. Carefully preserved and restored, the homes represent the Gothic Revival, Victorian, and Queen Anne architectural styles. The Gingerbread style is a type of Victorian design featuring pitched roofs, intricate latticework, and roomy porches, calling to mind the tale of Hansel and Gretel and gingerbread houses.
Northside RV Resort
Right off I-35 and a 10-minute drive from downtown, Northside RV Resort is home to 124 sites with full hookups. The campground also offers shower and bathroom facilities, a playground, a fishing lake, and a jogging path.
200 E. Butcher Road; 972-908-0040; northsidervresort.com
From the January 2023 issue