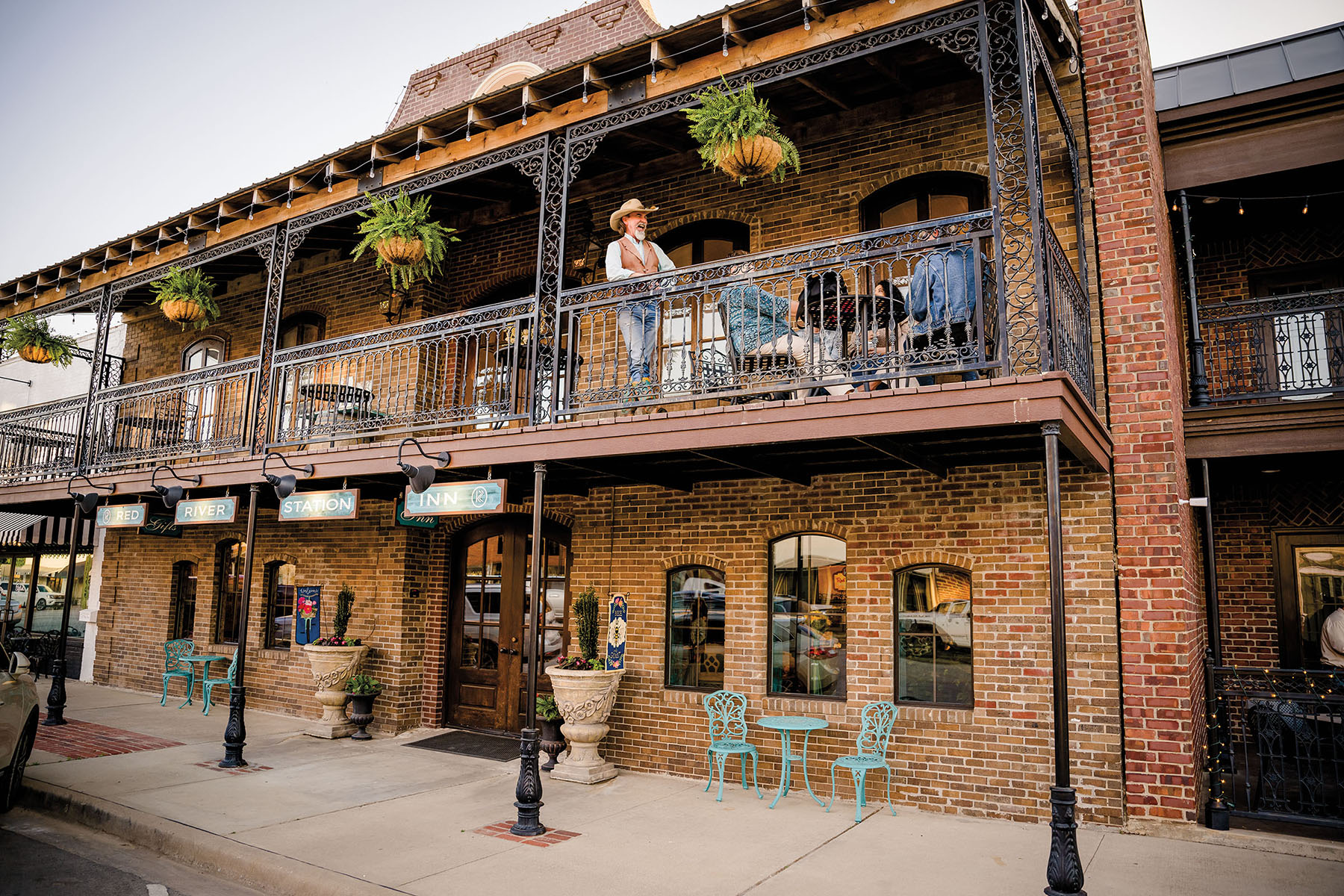 If you're familiar with Nocona, a small town about two hours north of Dallas-Fort Worth, you probably know it for its leatherworking heritage. This is where H.J. Justin started his cowboy boot empire, Justin Boots, and is a place made famous in the early 20th century by Nocona Boots and Nokona Ballgloves. Even today, it's home to talented craftspeople who can turn hides from cows and even more exotic animals into any number of beautiful and functional items.
While leather goods are undeniably a big part of Nocona's cultural fabric, new and noteworthy attractions are joining the mix. It's a bustling town steeped in history with a rejuvenated main street dotted with art galleries, boutique shops, and eateries. Nocona is an eclectic mix of old and new Texas, surrounded by rolling topography that locals affectionately call the "North Texas Hill Country." Indeed, Nocona shares a lot of traits with places like Fredericksburg, except the crowds here are smaller—for now.
Dallas
2 hours
Austin
4 hours
Houston
5 hours
San Antonio
5.5 hours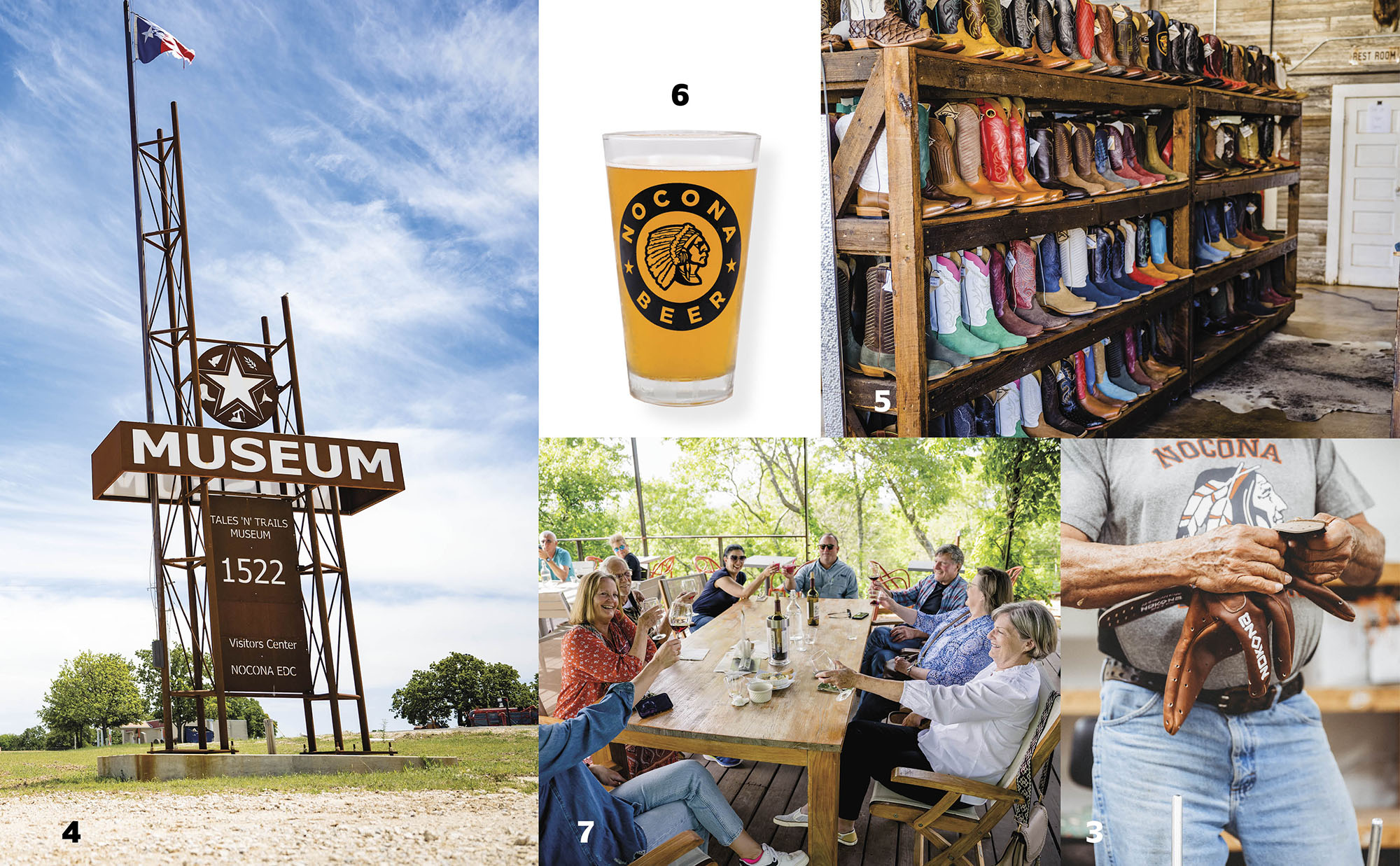 Stay

Eat

See

Learn

Shop

Drink

1 / Red River Station Inn
Bob and Kristal Ferguson transformed a historic building on Clay Street into this comfortable French Quarter-inspired inn (starting at $105/night). The inn offers complimentary breakfast and coffee. Beer and wine are served in the upstairs bar, which features a wrought iron balcony overlooking the heart of downtown Nocona.

2 / Red River Pizzeria
This pizza joint is a labor of love for former high school wrestling coach Tony Dirker and his wife, Theresa. The Dirkers' pies are built on cracker-thin crusts, with an array of toppings to pile on. The eatery also offers wings, pasta, and hoagies. A popular gathering spot, it's the place to be on a Friday night.

3 / Nokona Ballgloves
The leather artisans at Nokona have been making quality baseball gloves by hand since 1934. The factory is one of the last to produce ballgloves in the U.S. Twice-daily tours on Mondays and Fridays allow guests to see how a Texas icon is made, and a small museum adjacent to the retail shop documents the brand's rich history.

4 / Tales N' Trails Museum
Here you'll find artifacts chronicling various groups who've left their mark on Nocona, dating to the Paleolithic Era. Curated exhibits highlight the Wichita and Comanche tribes that once dominated these plains and a permanent collection focuses on the Chisholm Trail, which crossed the Red River just north of town.

5 / Fenoglio Boots
The Fenoglio family keeps the tradition of fine bootmaking going in Nocona. You can browse a wide selection of off-the-rack styles and skins in their Clay Street shop or special order a pair that suits your exact tastes. The shop is closed from Sept. 1 to Jan. 1 so be sure to plan your visit accordingly.


6 / Nocona Beer and Brewery
Located in the old Nocona Boots building, this brewery and taproom is the perfect place to unwind. The menu has a dozen or so beers to sample along with wines and good eats. The bar doubles as a live music venue on Fridays, so you can sip your Nocona Amber while soaking up some tunes.

7 / 4R Ranch Vineyards and Winery
Take a ride to North Texas wine country and stop by the 4R, a hilltop vineyard with some of the area's most spectacular views. Technically located in Muenster, it's about a half-hour drive from Nocona. In addition to a tasting room, there are tent and RV camping sites and a three-bedroom guesthouse for rent.

8 / Chisholm Trail Marker and Monument
Head north of town on Farm-to-Market Road 103. A gravel county road will take you to where the Chisholm Trail reached the Red River. The trail marker is fairly easy to spot, and just past that is a granite monument that tells of Nocona's place in cattle drive history. Locals are happy to give directions. Just beware of rattlesnakes.
Joyeux Mardi Gras!
Every February, Nocona is festooned in green, purple, and gold for its annual Mardi Gras celebration. Bead-clad revelers of all ages pack the sidewalks to watch daily parades that stretch along Clay Street downtown, including the popular Krewe de Barkus pet parade. Visitors can also take part in the community's Mardi Gras Ball, or just enjoy the casual atmosphere of a good old crawfish boil. This Mardi Gras event dates to 2010, and it's credited with helping spur Nocona's civic revival.
The Veranda Inn in Nocona has full-hookup sites for those traveling in an RV or with a camper. That's in addition to the 29 guest rooms on the property. 1523 East US 82. 940-825-5111
From the July 2023 issue