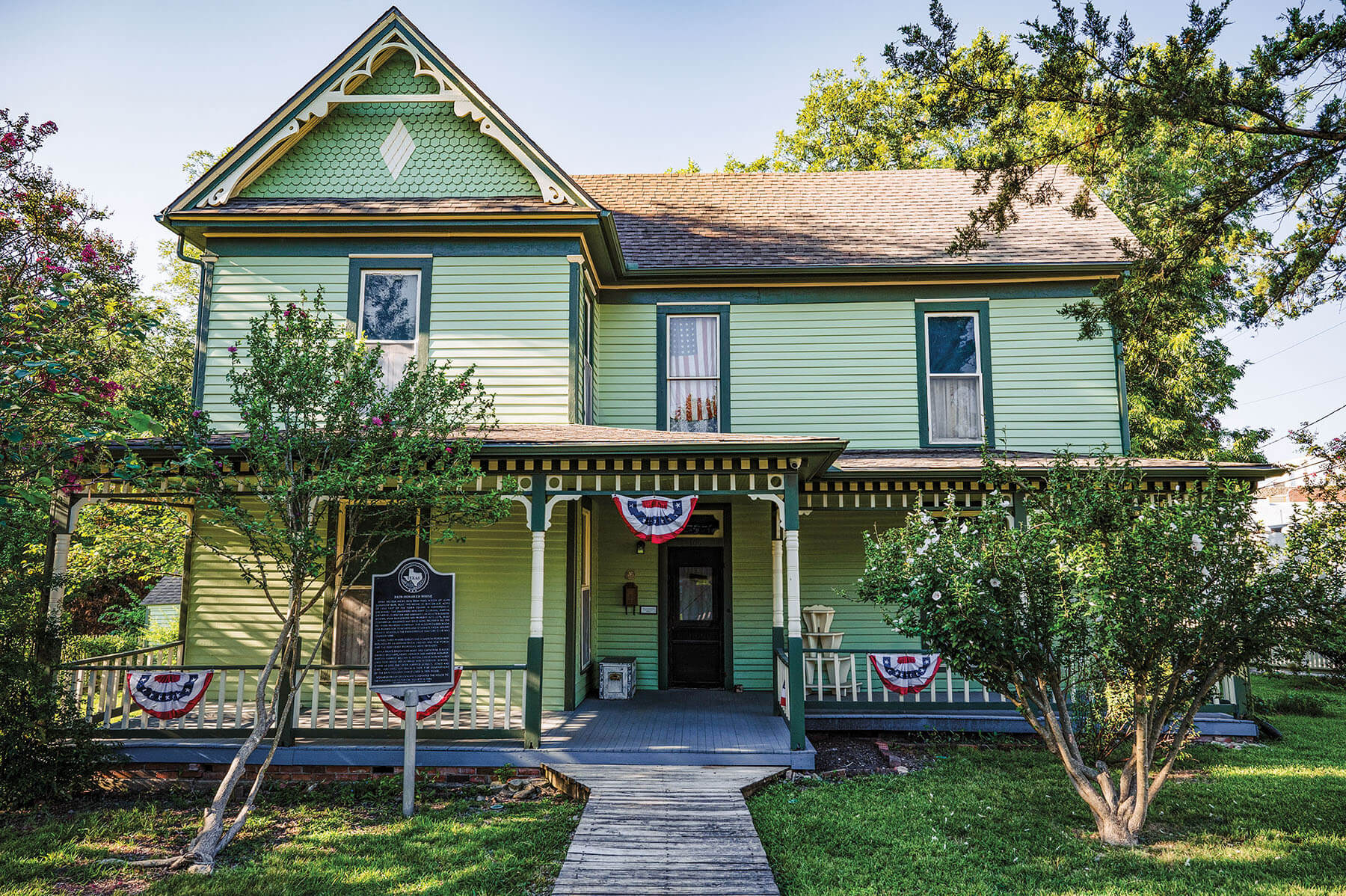 Surrounded by tree-dotted farmland along creekbeds, Farmersville is a small community that's proud of its agricultural past. Settlers who were attracted to the fertile soil of the Blackland Prairie ecological region arrived in the 1840s. Originally named Sugar Hill, the town became known for its cotton, cattle, and bois d'arc fence posts. By the 1930s, Farmersville was dubbed the "Onion Capital of North Texas," with more than 1,000 carloads of ­Collin County sweets shipped annually by two railroad lines. Today, the town has Collin College and a thriving historic district, anchored by the charming red-brick roads of McKinney Street. Downtown Farmersville joined the National Register of Historic Places in 2017, as its buildings—­inhabited by shops, businesses, and restaurants—date to the late 1800s and early 1900s. Hiking enthusiasts head to Chaparral Trail, which starts behind one of the two remaining onion sheds built by the railroad in the '30s. On Oct. 7, Farmersville, which celebrated its sesquicentennial this year, holds its 43rd annual Old Time Saturday festival, including a parade, a 5K and fun run, and food and shopping vendors.
Dallas
1 hour
Austin
4 hours
Houston
4.5 hours
San Antonio
5 hours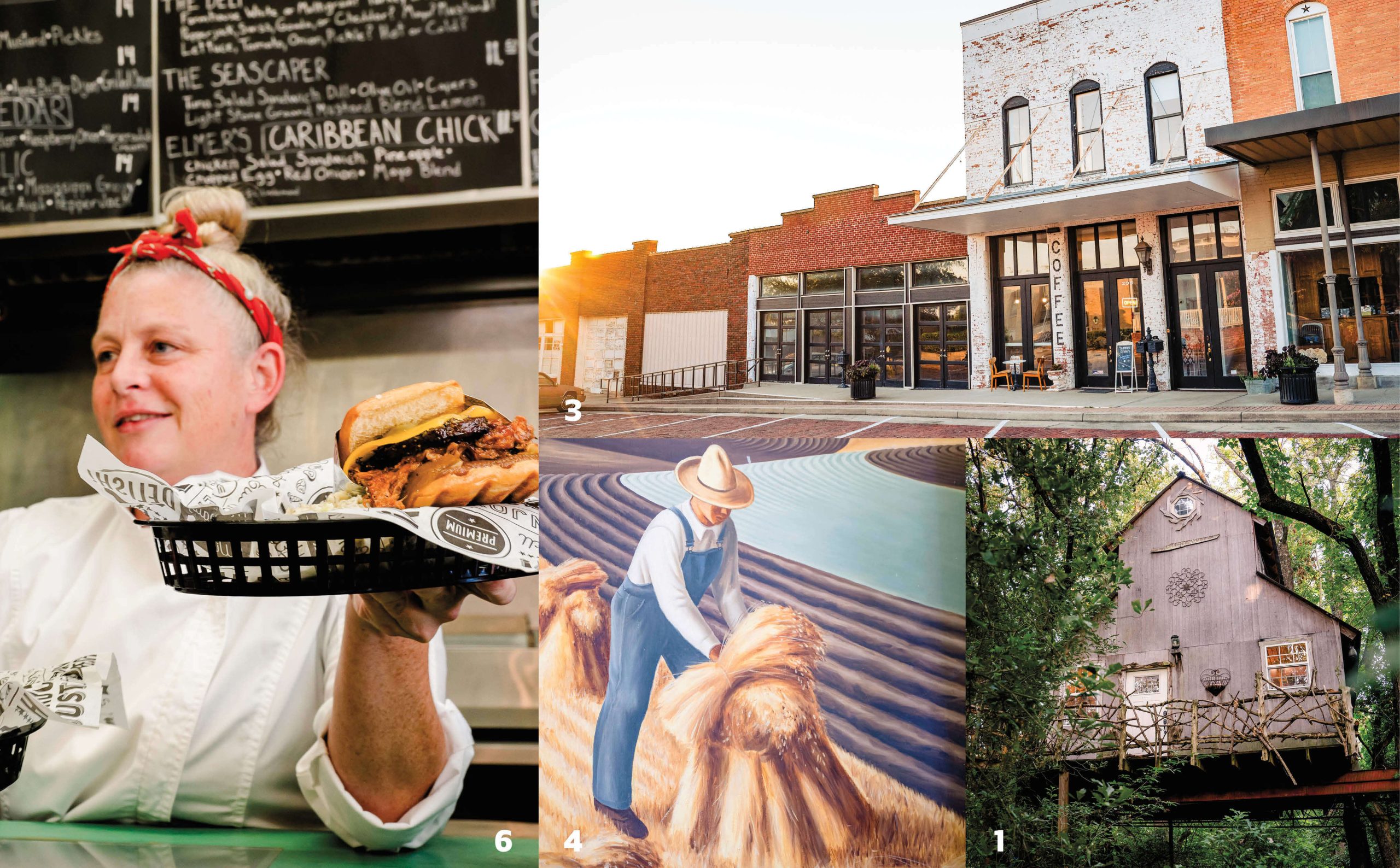 Stay

Eat

See

Learn

Shop

Drink

1 / Savannah's Meadow
This treehouse bed-and-breakfast is located 15 minutes from town in Celeste. The 17-acre property offers two treehouses (starting at $325/night). Guests can explore the pond, lavender meadow, herb and flower garden, and whimsical Fairy Forest trail as well as feed the goats and Simon the donkey. Fresh eggs come courtesy of the chicken coop.

2 / Charlie's Old Fashioned Kitchen
Built inside a 1906 cotton gin building, this restaurant serves American fare such as cheese fries, fried pickles, and chili cheese dogs. Marks left by the large, heavy machinery can still be seen on the floor. The historic exterior remains untouched, while the interior was repurposed with materials from the gin.

3 / The Shoppes on Main Street
Located in the Clay Potter Auction building—which was once a hotel and livery stable built in 1890—this emporium sells a wide range of items from independent boutiques, designers, and artisans. In the back, owner Jennifer Spencer Patterson and her husband, Troy, converted an old well into a wishing well ­patrons can drop pennies into.

4 / Post Office Mural
Former Dallas Museum of Fine Arts director Jerry Bywaters painted Texas post office murals as part of President Franklin D. Roosevelt's New Deal program. In 1941, the late artist painted Farmersville's mural, a realist­style depiction of a farmer bund­ling wheat that captures the landscape and conservation techniques used in the region.

5 / 12 Stories
For a pick-me-up, stop by this spot that ­describes itself as a "neighborhood coffee parlor," with an art deco-inspired interior and high ceilings. It offers brewed coffees, flavored lattes, matcha, chai, and drinking chocolate blended with steamed milk. Recommended drink: the housemade cream soda with a shot of chocolatey espresso.


6 / Over Yonder
This soup, salad, and sandwich shop is housed in a former service station. Order at the counter from the large chalkboard menu that offers decadent sandwiches like the Beer, Beef, and Cheddar—made with dark beer brisket, cheddar cheese, raspberry onion, and horseradish cream. The shop also doubles as a vintage market.

7 / Bain-Honaker House
Take a guided tour of this historic house, which belonged to one of Farmersville's first prominent families. Anna Hicks Bain was a widow and businesswoman who invested in town real estate. In 1865, she built this two-story home where she raised five daughters. Her descendants donated it to the Farmersville
Historical Society in 1989.

8 / The Chaparral Trail
Walk past the Onion Alley street sign and the open-air onion shed on Main Street to find the Audie Murphy Trailhead for the Chaparral Trail, the 5-mile portion of the 130-mile Northeast Texas Trail that runs from Farmersville to New Boston. Watch your step: It's not uncommon to see horseback riders among the walkers and cyclists.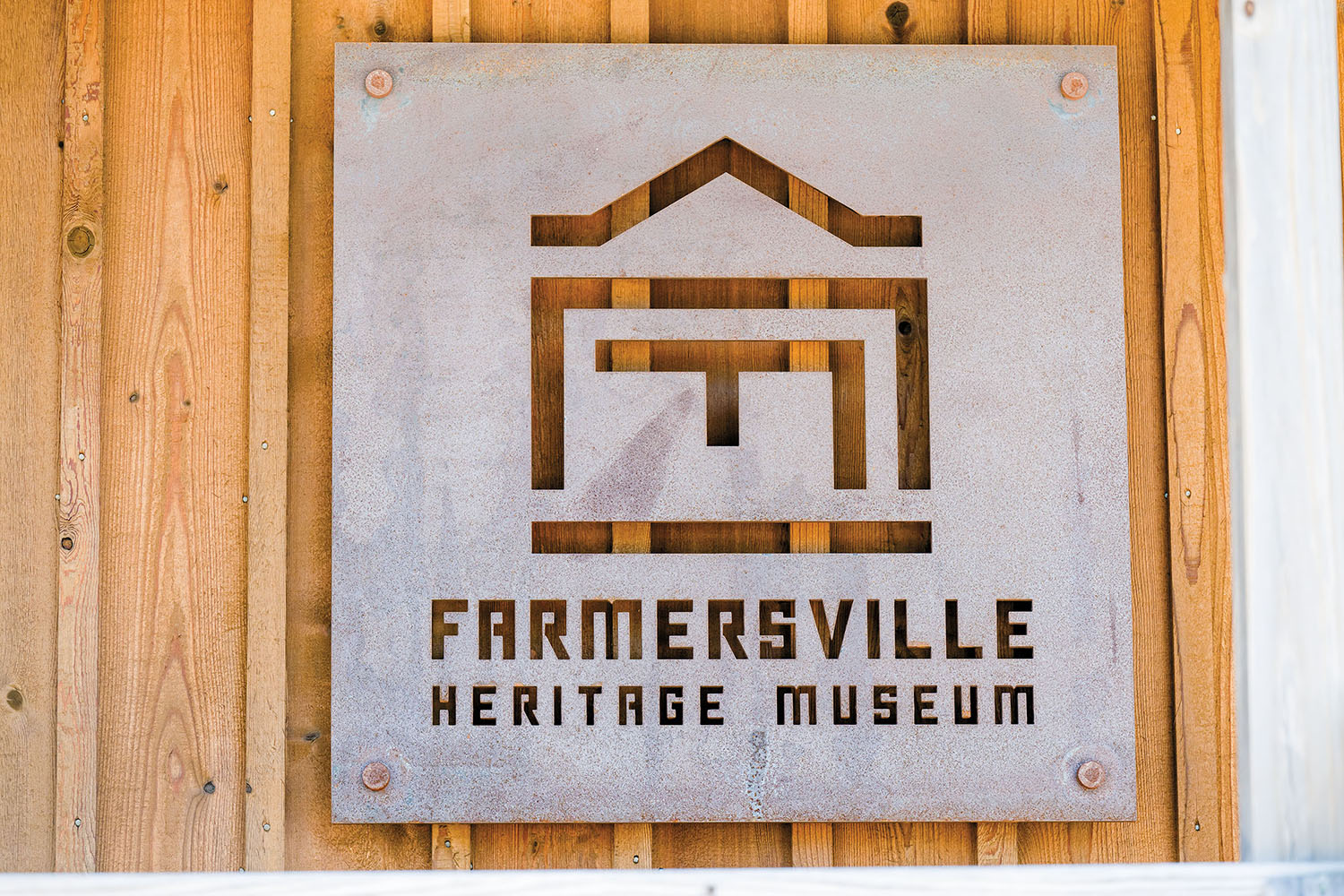 Farmersville Heritage Museum
Discover Farmersville's famous residents at the Farmersville Heritage Museum. Open the first Saturday of the month, the museum is housed in one of the town's two remaining onion sheds and has been preserved with many original structural features still intact. Learn about Audie Murphy, one of the most decorated World War II combat soldiers turned Hollywood movie star who the town celebrates with a festival every June. Jazz guitarist Mitchell Herbert Ellis, Olympic gold medal-winning sprinter Loren Murchison, and world champion saddle-bronc rider Monty Henson are also spotlighted. farmersvilleheritagemuseum.com
The Farmstead RV Park 
This RV resort on County Road 616 off State Highway 78 has 80 sites, ranging from short-term rentals ($40/day) to long-term premium spots ($750/month). Amenities include full hookups, WiFi, dog parks and dog washing stations, and more. 488 Blakeley Lane, Farmersville. 214-471-3041; thefarmsteadrv.com
From the October 2023 issue