Climb, paddle, or backpack your way through Texas for an unforgettable summer
I learned a few important lessons
on my first multiday mountain biking trip through Big Bend Ranch State Park as I weaved between spiky plants and sharp rocks. First, if you soar off the seat of your bike on a rugged downhill and land in a patch of prickly pear, you'll still be plucking out cactus spines two weeks later. Second, every scratch will be worth it.
On that first trip 15 years ago, I whooped like a cowgirl as I swooped down rocky trails I've returned to ride a dozen times, reinforcing my belief that the best adventures take place outdoors beneath wide-open skies. Sometimes, those adventures unfold just a short drive from the state's urban centers. Other times, you have to make an effort to get out and find them. Here in Texas, we're lucky. Our state parks offer deserts to trek, mountains to wander, forests to tromp through, rivers to float, and a long coastline to explore.
Whether you prefer blasting down a rocky single-track trail in the desert on a mountain bike, climbing a boulder the size of a Suburban, or hiding in a blind while birds the color of a sunrise swoop in for a snack, Texas state parks have you covered. For the 100th anniversary of the Texas State Parks system, we've rounded up our picks for the best ways to get your adrenaline pumping. For each activity, we've suggested a park close to a city center and a remote option for those looking to get farther away.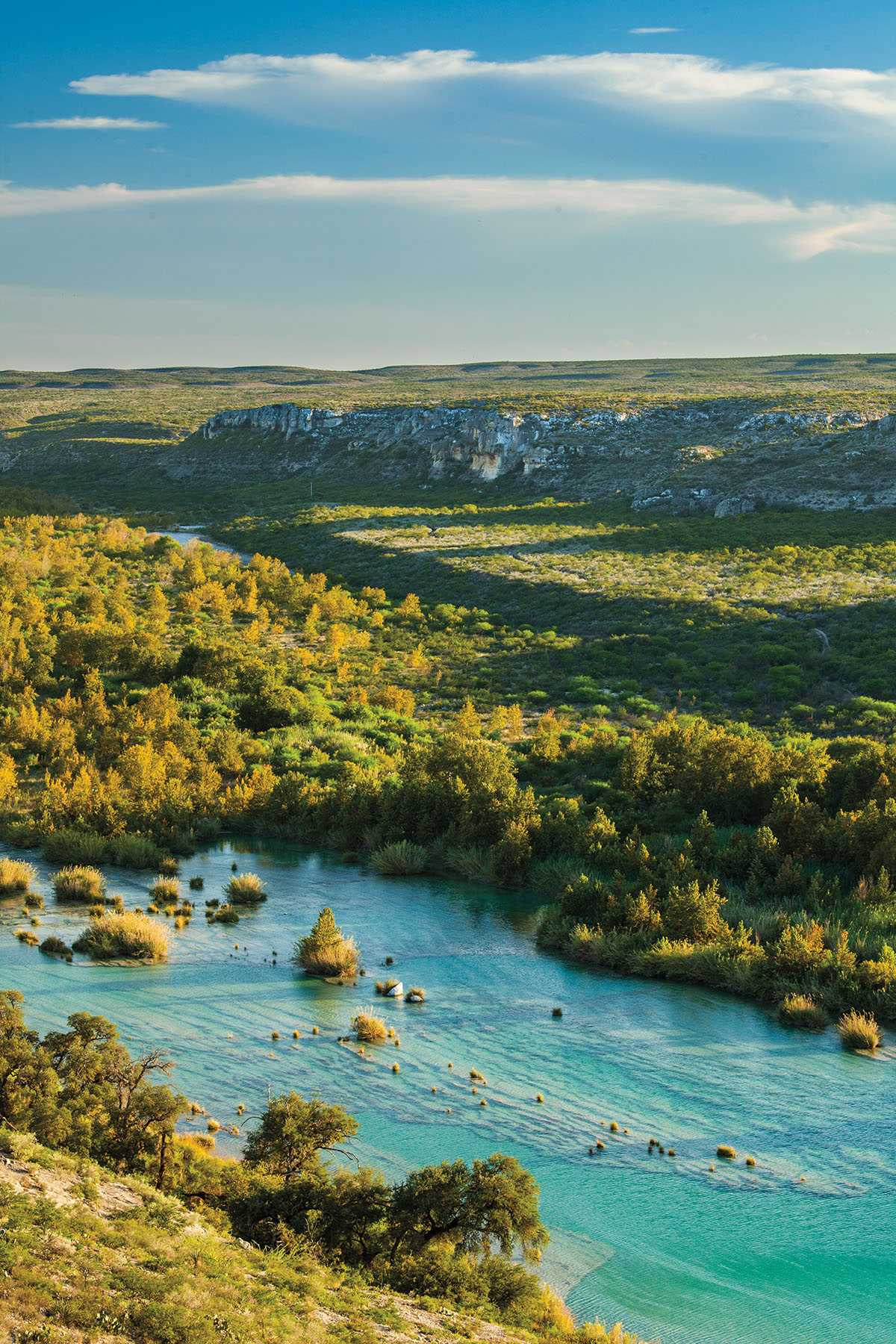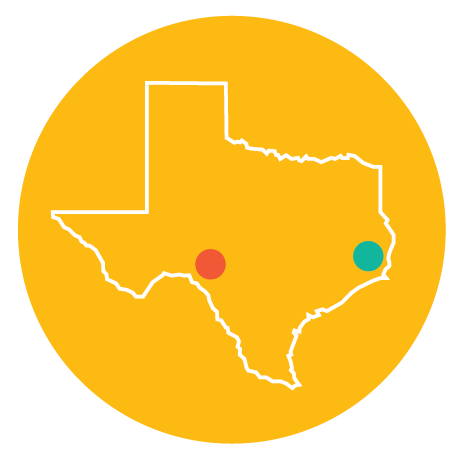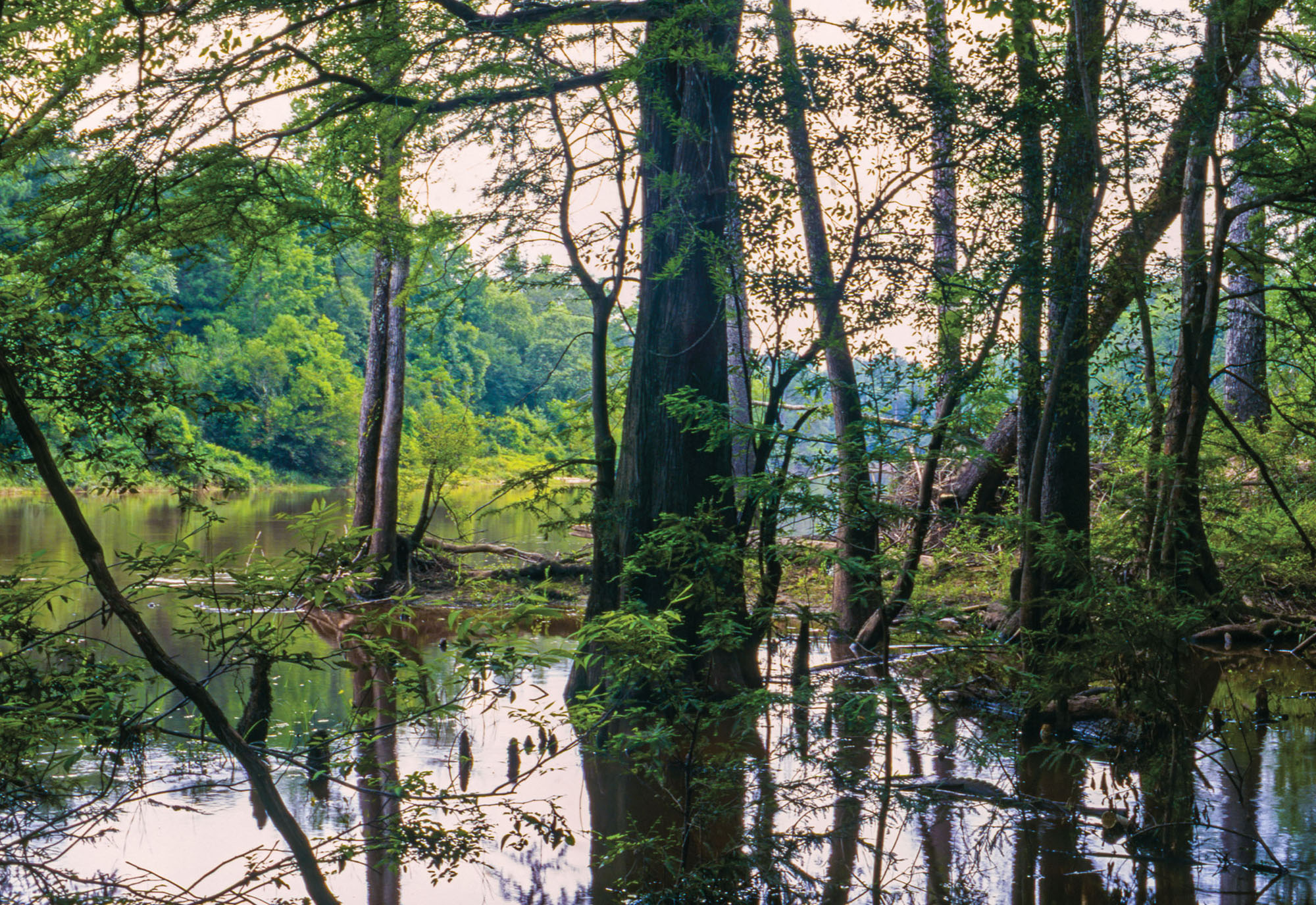 Village Creek State Park
I feel like I've arrived in a scene from Land of the Lost when I paddle parts of the 21-mile Village Creek Paddling Trail, which ends at this park near Beaumont in swampy southeast Texas. Five designated put-in points upstream provide easy access for a leisurely day or two on the creek. Or paddlers can launch their boats in the park and row the 10 miles downstream to the Lakeview Sandbar. The park also rents kayaks and canoes.
The water is placid in most places as it flows past cypress and tupelo on its way to the Neches River, but you never know when you might need to scramble over a logjam.
The biggest draw is the area's biodiversity. Everything from alligators to carnivorous plants call the park home, and neither of those species pose a serious threat to paddlers. (Just keep a respectful 30 feet from any gators you encounter.)
"You'll take your shoes off and you won't put them back on," says Gerald Cerda, the owner of Big Thicket Outfitters, which offers guided trips in the area.
Village Creek State Park
When to visit Spring and summer, when water flow is typically higher.
Where to eat Tia Juanita's Fish Camp in nearby Lumberton for gumbo, seafood enchiladas, hushpuppies, and fish tacos.
Devils River State Natural Area
When to visit Between March and May, when river flow is up; or late October, when monarch butterflies pass through the area.
Where to eat You won't find any restaurants near the park, but if you head 60 miles to Del Rio, go directly to Manuel's Steakhouse.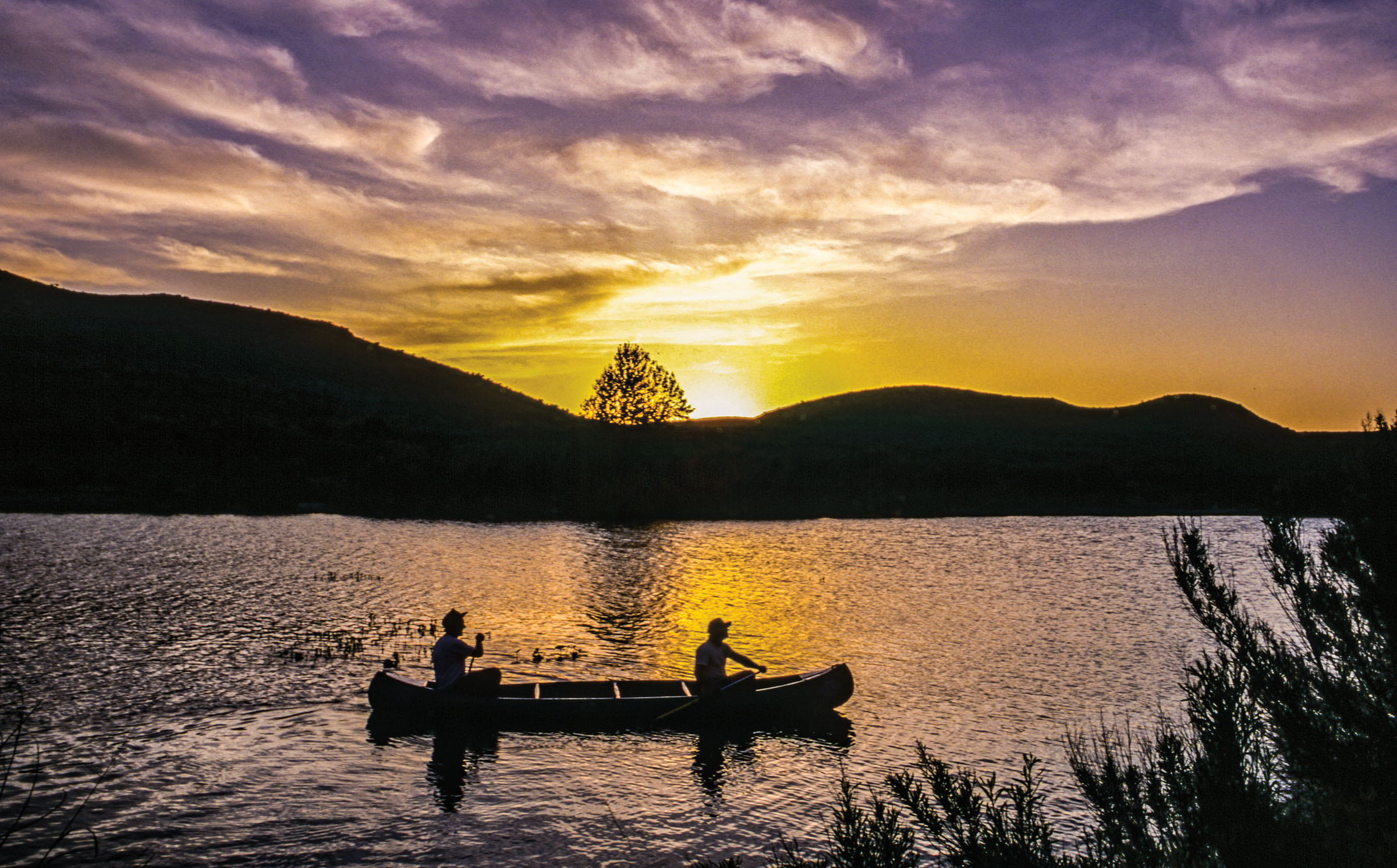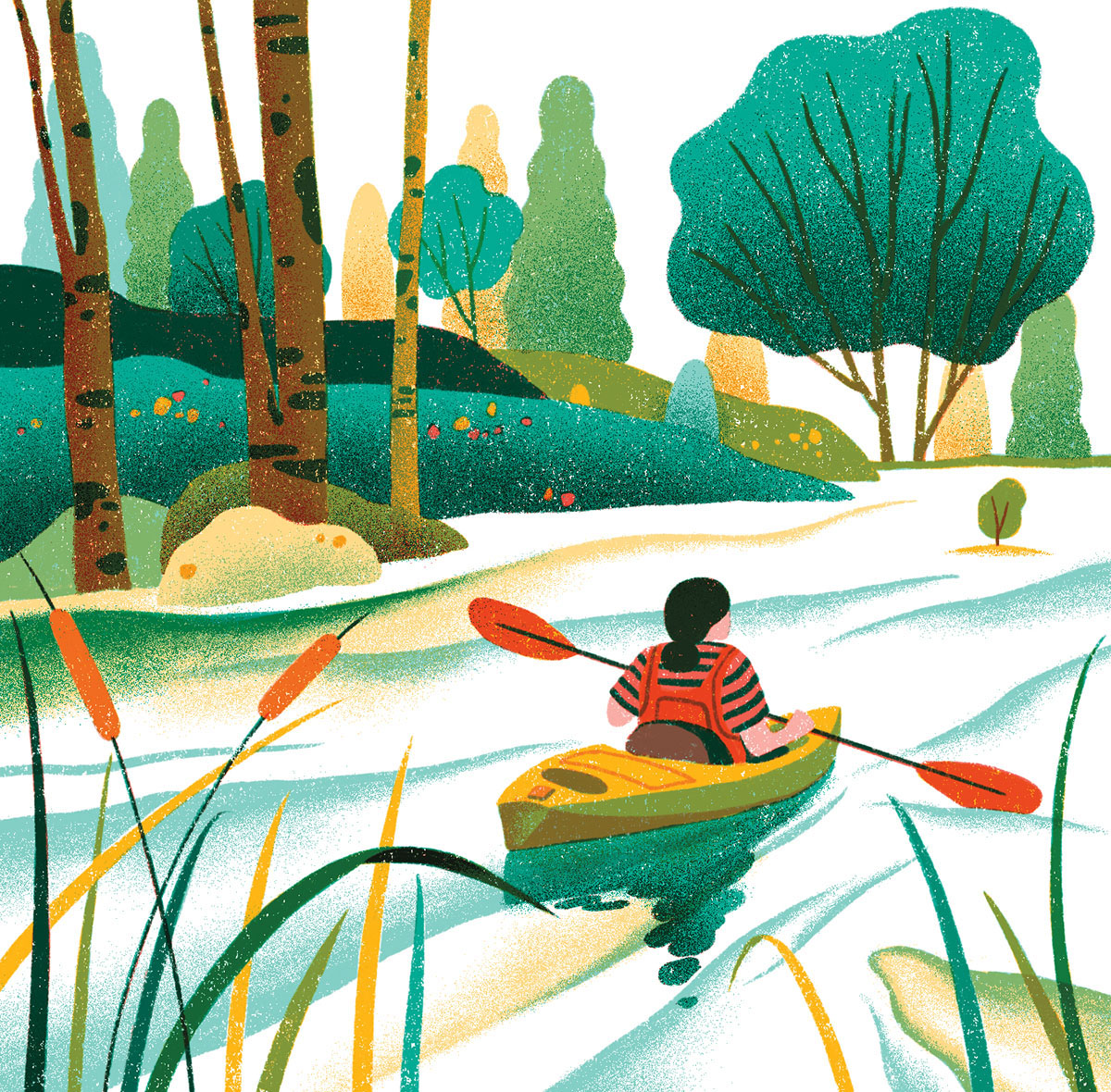 Devils River State Natural Area
From the top of a nearby ridge, the Devils River looks like the Jolly Green Giant used plow-sized fingers to scrape furrows into the white limestone of the riverbed far below. Water swirls past in a ribbon of turquoise, and in some spots, ferns grow so thick along the shoreline that the bank is no longer visible.
The priority here is conservation. Devils River has been called the most pristine river in Texas, and Texas Parks and Wildlife Department officials want to keep it that way.
"A visit to Devils River State Natural Area gives folks a taste of what unspoiled and wild Texas looks like," Park Superintendent Beau Hester says.
"Keeping the river in its pristine condition gives future generations that same opportunity."
Beginners who aren't sure if they're ready to commit to a multiday trip on the famously remote river can test the waters by launching from the park. Just remember: it's a mile walk from the parking area. Come prepared to haul a boat or bring a kayak trailer to make the trip easier.
Sitting along the bank, minutes can turn into hours watching fish hide in pools carved into the river bottom or spying on the native wildlife, which includes raccoons and the occasional tarantula.
No one just happens upon the park, located a rugged 62-mile drive north of Del Rio. The 20,000-acre Del Norte Unit is so secluded that no one will hear you howl at the moon.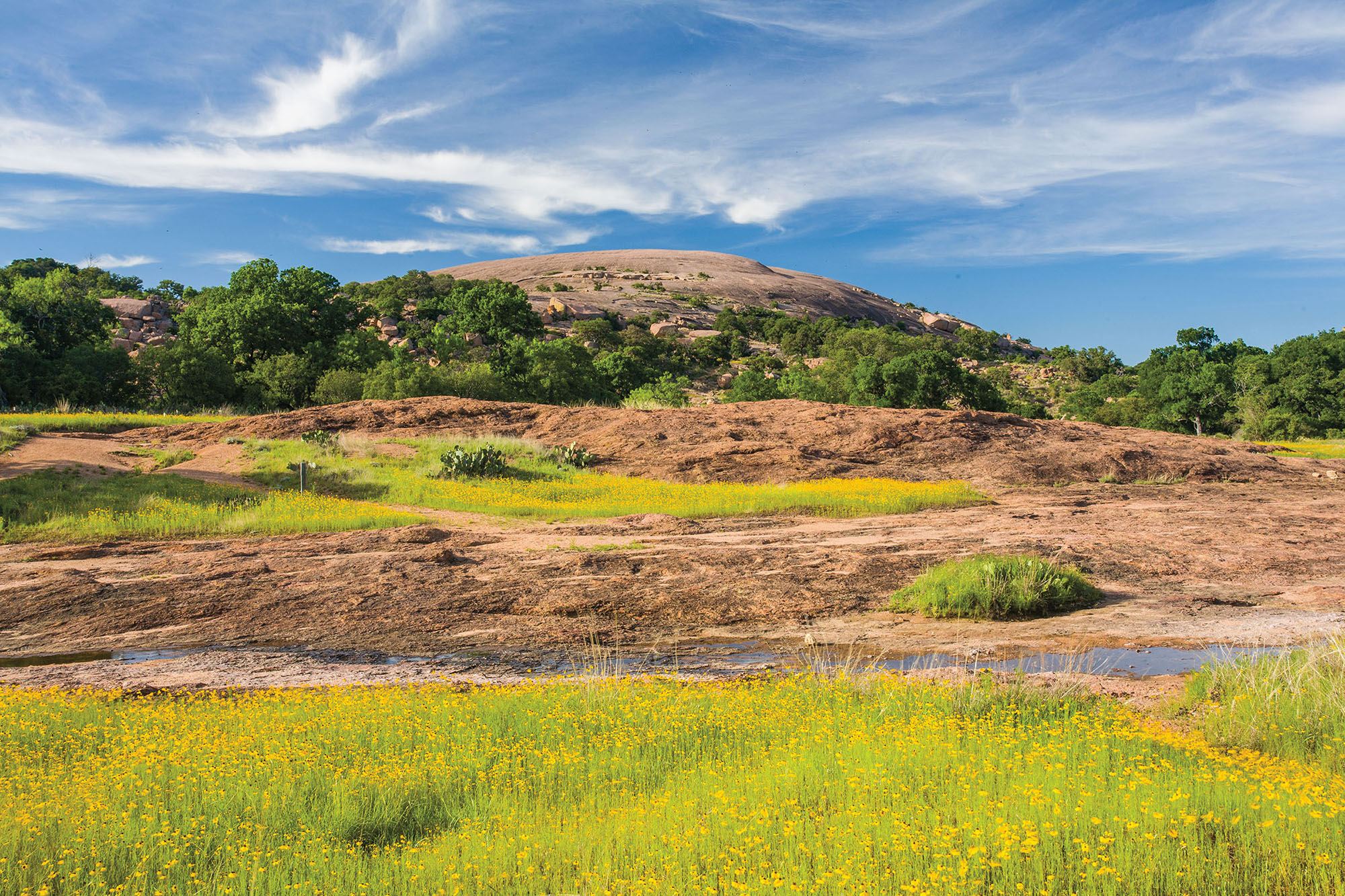 Enchanted Rock State Natural Area
When to visit November through April, when it's not too hot to hike.
Where to eat Drop by Old German Bakery & Restaurant in Fredericksburg for baked goods and bratwurst.
Hueco Tanks State Park & Historic Site
When to visit Mid-November through mid-April for temperate weather.
Where to eat L&J Cafe in El Paso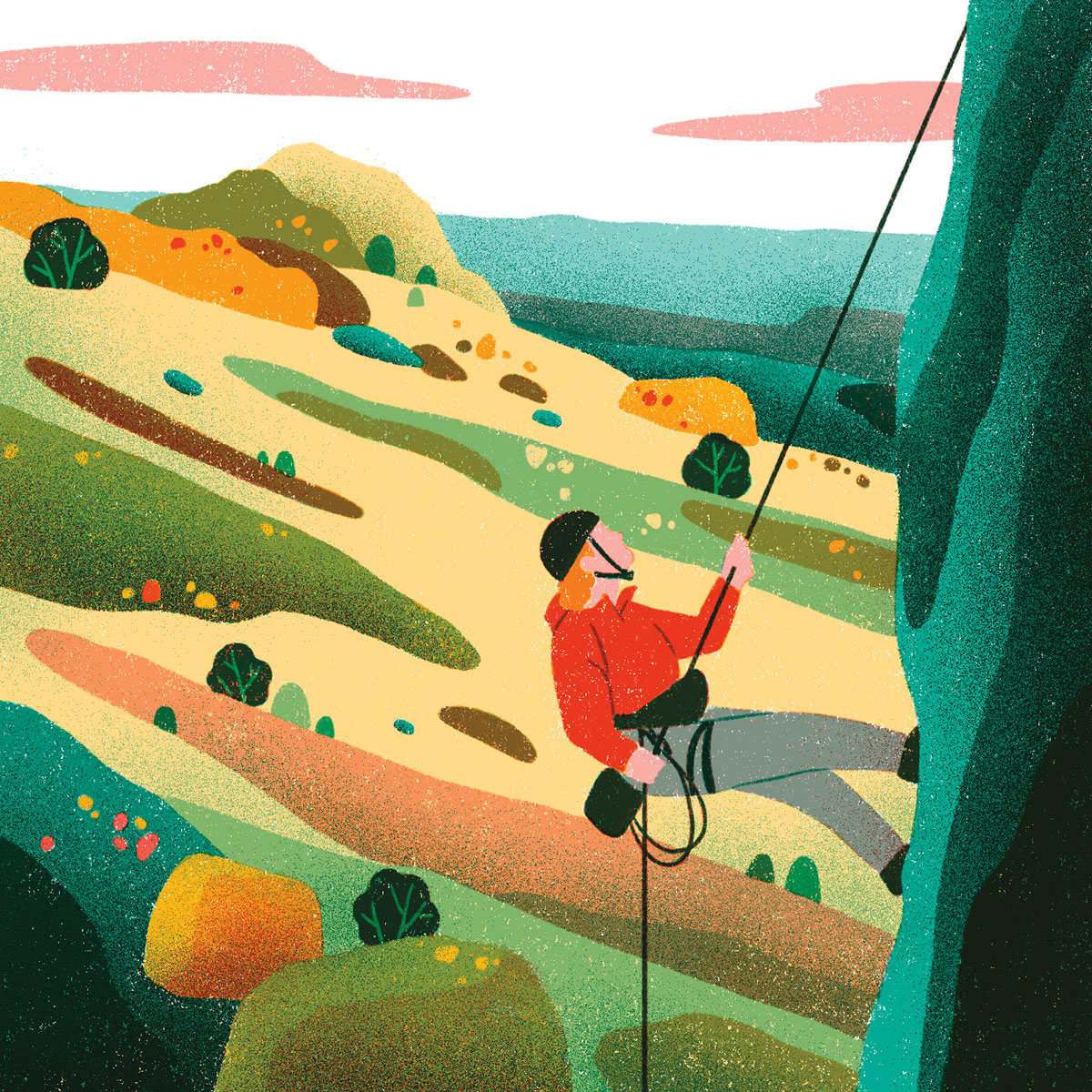 Enchanted Rock State Natural Area
Enchanted Rock's granite dome rises from the surrounding Hill Country landscape like a huge, glistening road bump. While the majority of visitors come to hike, climbers also frequent the park for its steep rock faces.
Much of the climbing takes place on the back side of the dome, accessible via the Loop Trail. The trail leads to an array of climbing routes with names like Stranger Than Friction, Sweat, and Ripple. Additional routes are located in Echo Canyon, which is between Enchanted Rock and Little Rock; and on Buzzard's Roost, a smaller granite knob to the north. Some of the best bouldering is found on the garage-size hunks of rock on the park entrance side of Enchanted Rock and Little Rock.
The dome expands and contracts with the changing temperatures. Some campers claim to have heard it creak at night. And if you believe the legends, you might see a ghost fire flickering late at night.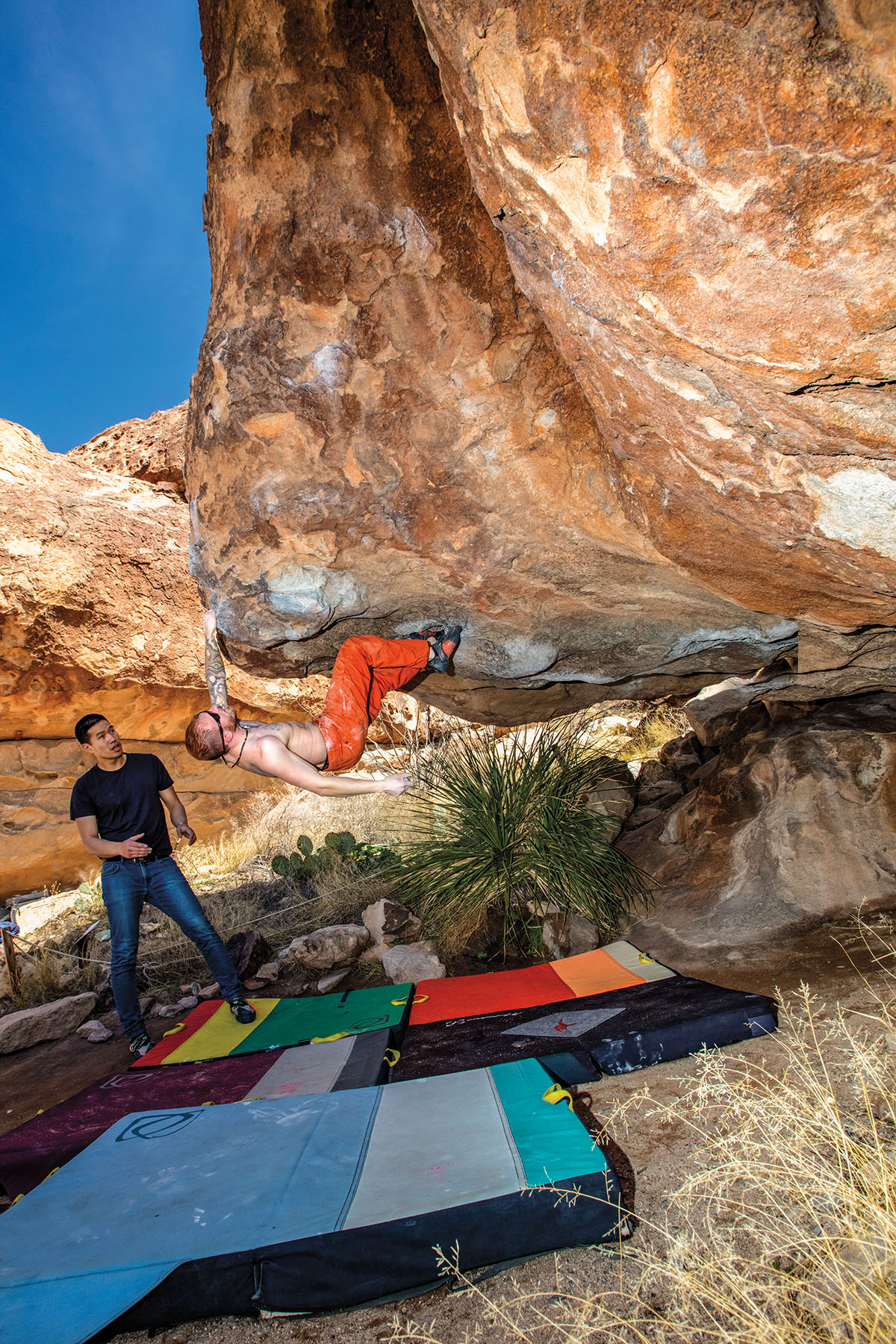 Hueco Tanks State Park & Historic Site
During climbing season from November to April, human geckos cling beneath overhangs and dangle from rough, granite-like igneous rock at Hueco Tanks. The park and historic site in far West Texas is named for its naturally formed rock basins that collect rainwater.
The bouldering draws climbers from around the globe, who can check out pictographs painted by early hunter-gatherers and Plains Indians hundreds of years ago. Entry to the park is limited, and a permit and reservation are required to climb. Some parts of the park are self-guided, but most areas require a guide to access.
"Modern bouldering in the United States was born here," says Steve Marek, co-founder of Blue Lizard Climbing & Yoga, which offers tours for all skill levels to areas of the park that require guides. "There are different ways to grade the difficulty of a climb, and the V Scale was created at Hueco Tanks. We've got climbs ranging from V0 [beginner] to V15 or 16 [expert]."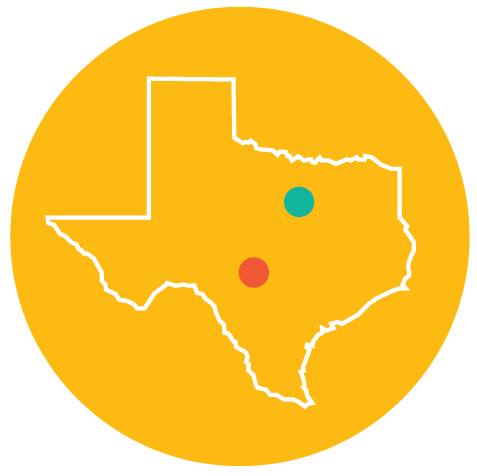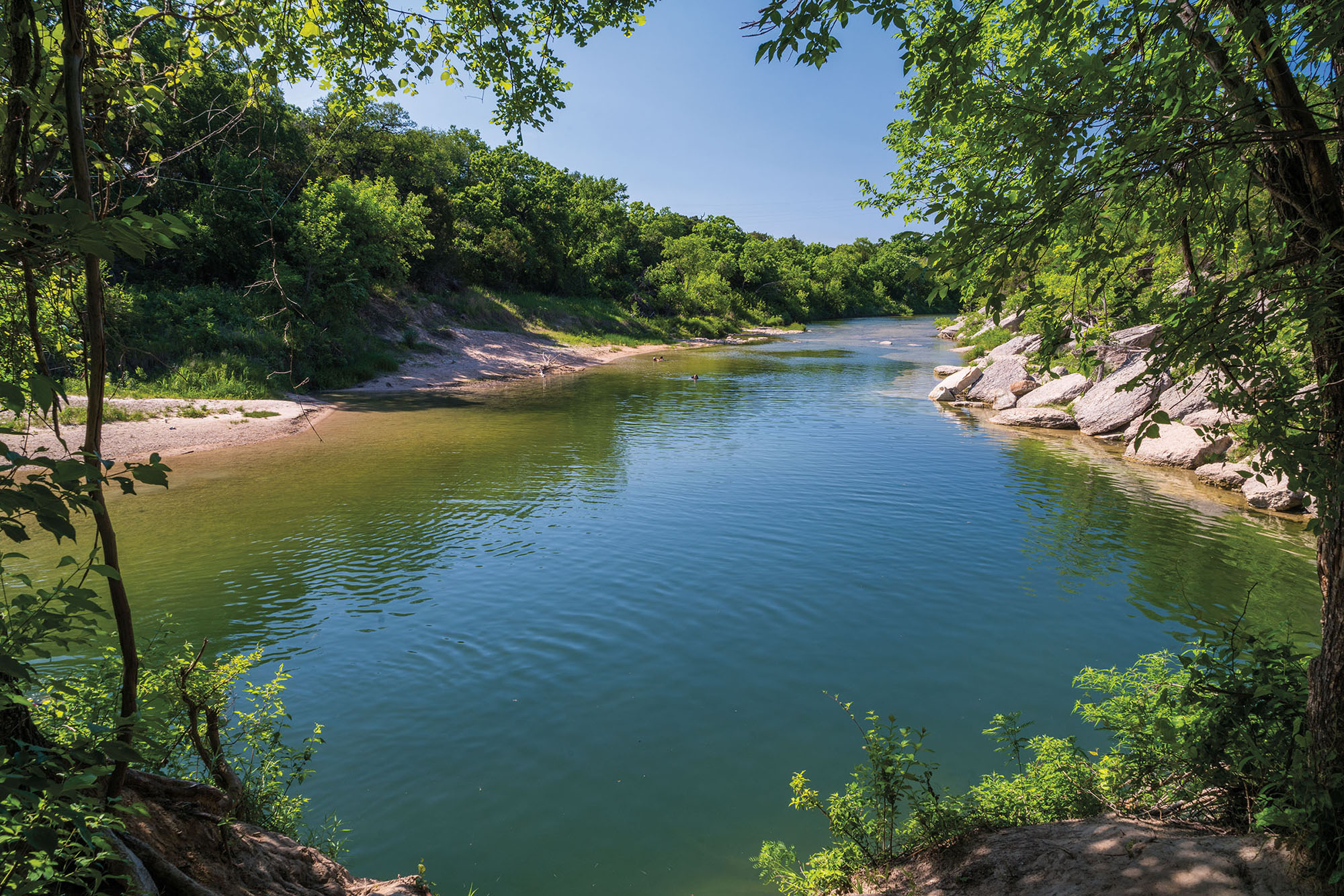 Dinosaur Valley State Park
Head down to the Paluxy River, about 60 miles southwest of Fort Worth, to study the dinosaur footprints stamped into what was once the shoreline of a shallow sea. Footprints of meandering, plant-eating sauropods and three-toed imprints made by meat-eating theropods that ran on two legs scatter the limestone riverbed.
While you're contemplating what those giants—some more than 100 feet long—looked like tromping through the land, you can make tracks of your own into the backcountry. Crossing the river requires hopping from rock to rock, then zigzaging through canyons and up a ridge to reach the designated campsites in the park's North Primitive Backpacking Area. Tucked into groves of ashe juniper and oaks, seven secluded sites are spaced at least a quarter mile apart. (The first one is about a mile from the trailhead and requires an uphill climb, but it's not technically difficult and is suitable for older children.)
When you fall asleep to the sounds of yipping coyotes and rustling armadillos, imagine the dinosaurs that stalked this area 113 million years ago. On your way out, say hi to the towering models of two other dinosaurs—a T. rex and a brontosaurus—­that were built for the 1964 World's Fair in New York City.
Dinosaur Valley State Park
When to visit Fall through spring before it gets too hot to hike.
Where to eat Fuel up with barbecue and burgers at Loco Coyote Grill in nearby Glen Rose.
Lost Maples State Natural Area
When to visit Mid-to-late November, when fall foliage peaks, but make a reservation ahead of time as admission tends to sell out every fall season.
Where to eat Lost Maples Cafe in nearby Utopia.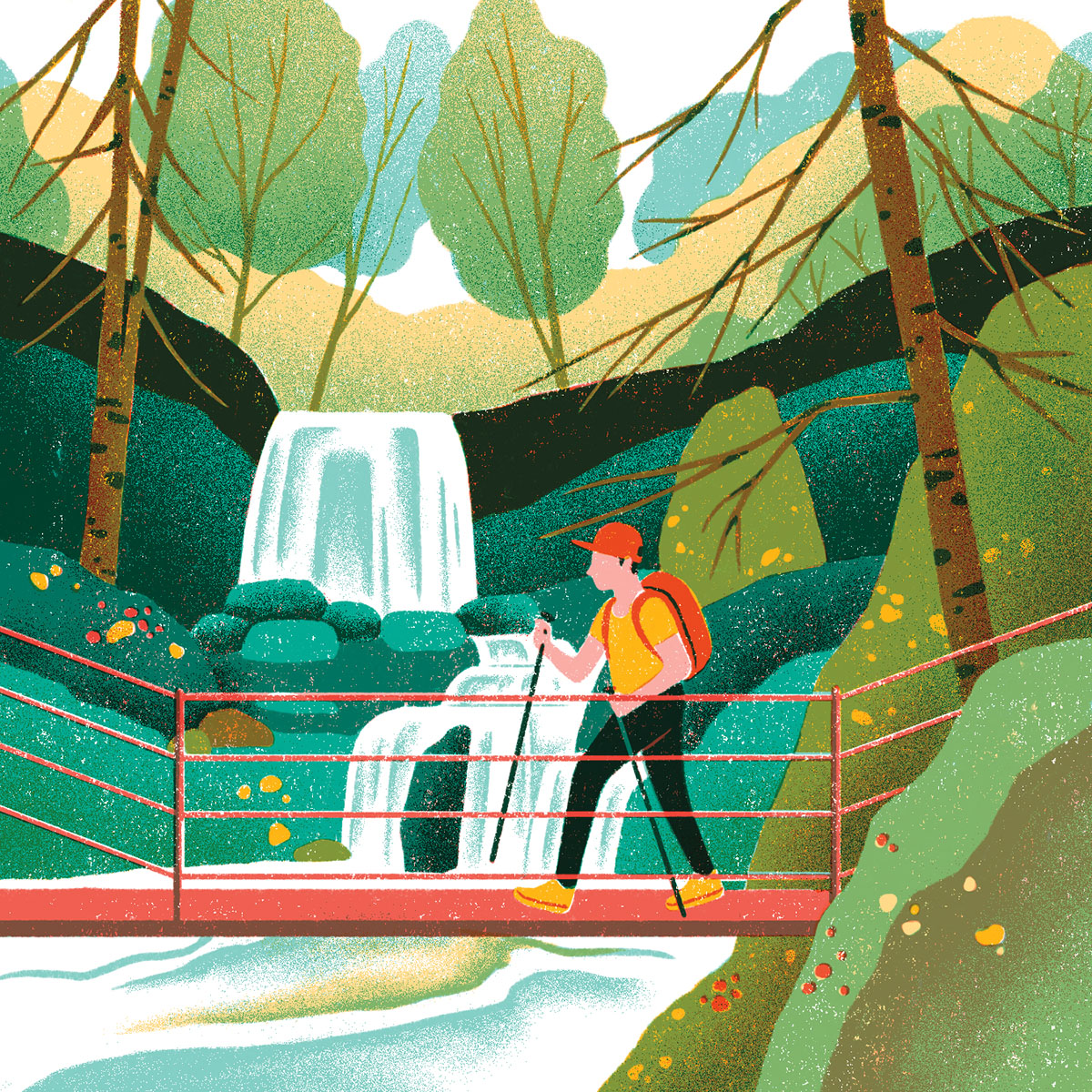 Lost Maples State Natural Area
This Hill Country park packs in visitors each fall, when its namesake stand of Uvalde bigtooth maples puts on a blazing foliage display. But the backpacking's good year-round, with camping available at a remote site along the Sabinal River. For the best views, take the West Trail or East Trail, which wind along the top of a steep cliff that serves up vistas of the surrounding hills. And don't miss Monkey Rock, which grins out from beneath a rocky overhang.
"Lost Maples is awesome for backpacking because for 4 or 5 miles of hiking, you get into the backcountry and get big views really quickly," says Cody Ackermann, operations manager at REI Experiences, which offers guided backpacking trips to the park each fall. Plus, he notes, the park has restrooms in the backcountry: "That's a big plus for beginner to intermediate backpackers."
The park allows 30 campsite reservations a day on a first-come, first-served basis and also has 30 RV hookup sites.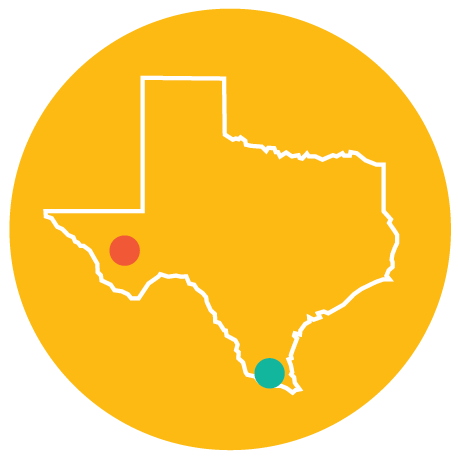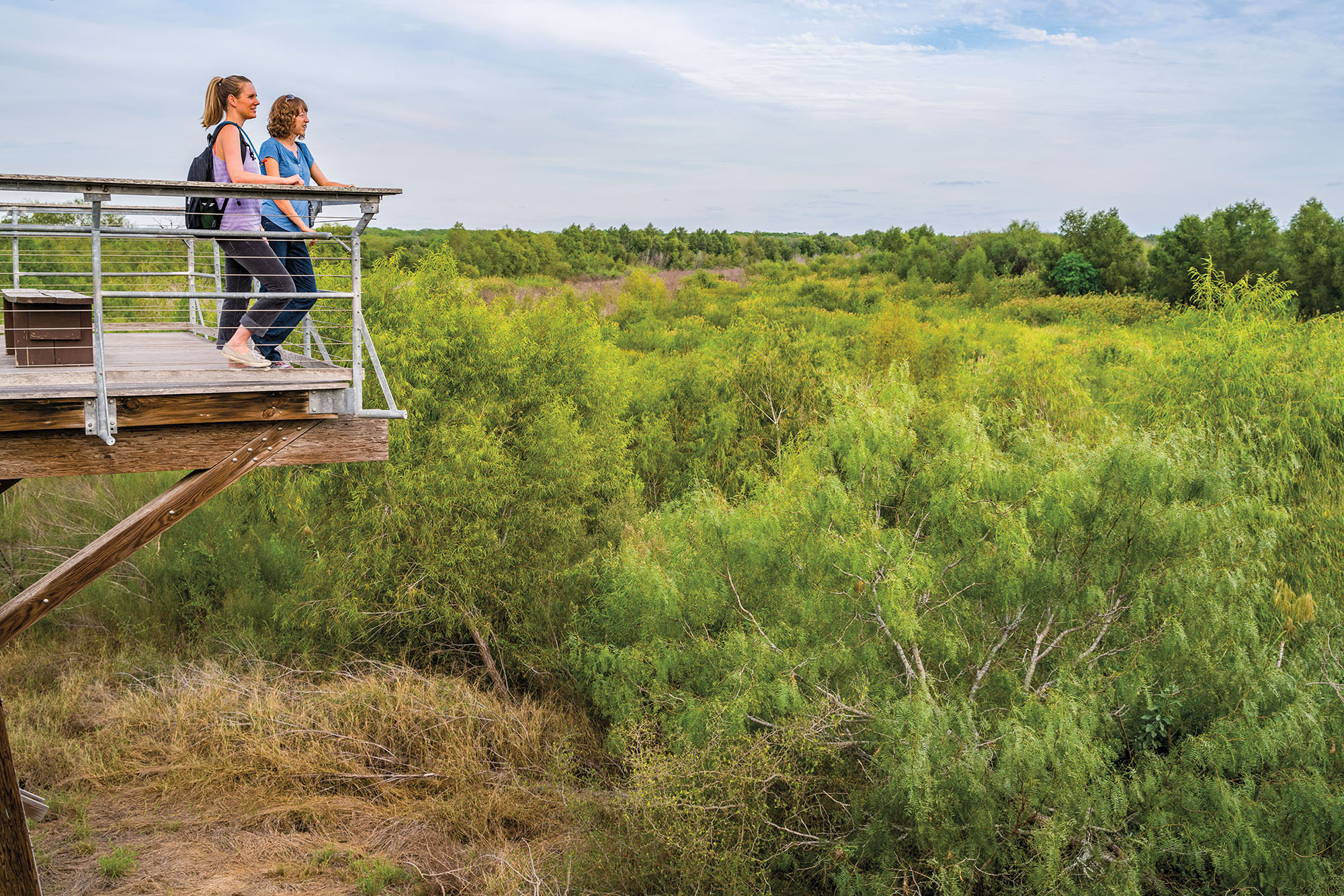 Bentsen-Rio Grande Valley State Park
When to visit November through February for birding; summer for fishing, kayaking, and camping.
Where to eat The park's cafe, Le'Chez Bleu, sells sandwiches, salads, and pastries.
Davis Mountains State Park
When to visit Spring, summer, and fall.
Where to eat Blue Mountain Bar and Grill in Fort Davis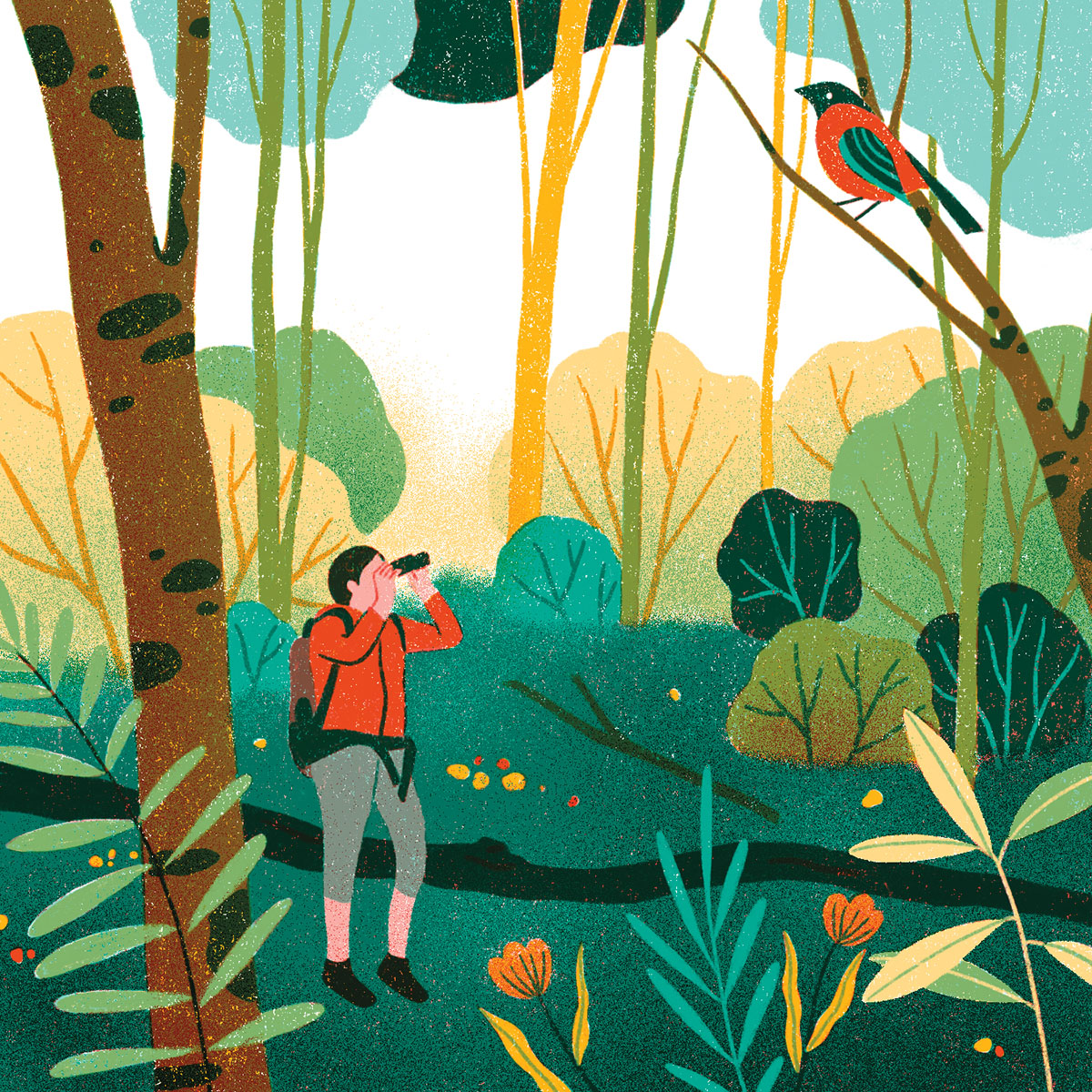 Bentsen-Rio Grande Valley State Park
The feathery crowds that gather at the feeding stations of this park along the Rio Grande look like they've been caught in the crossfire of a paintball game—green jays splashed in lime and sapphire blue, pumpkin-colored Altamira orioles, and bright red Northern cardinals.
"This is one of the top 10 places in the country for birding," says Roy J. Rodriguez, lead interpreter at the park.
Two migratory flyways merge in the semitropical zone of the park's location, and the grounds occupy what little remains of the floodplain forest that once covered much of the Rio Grande Valley.
"This is what the Valley used to look like," Rodriguez says.
In all, birders have recorded 366 species of birds, including 20 found only in the Tamaulipan Biotic province of deep South Texas and northern Mexico. Great kiskadees stop by feeders for a meal, and raptors soar high above the Hawk Observation Tower.
And it's not just birds that put on a show. Blue spiny lizards cling to the walls of a pavilion next to the park's oxbow lake, armadillos and raccoons trundle through the thorn scrub, and bobcats lurk in the shadows.
The park is part of the World Birding Center and is closed to private vehicles. Visitors can hike or hop a free shuttle to explore its grounds.
Adventure Awaits!
Fishing
Mustang Island State Park, Corpus Christi
Use live mullet or shrimp to cast from Fish Pass Jetty at the north end of the park and chances are good of reeling in whiting, redfish, or speckled trout.
Lake Bob Sandlin State Park, Pittsburg
The park loans out fishing poles, and anglers can cast from shore or a lighted pier on this 9,000-acre lake.
Hiking
Government Canyon State Natural Area, San Antonio
Forty miles of trails crisscross this 12,000-acre wilderness, where hikers can ramble through a rugged canyon or see dinosaur tracks.
Franklin Mountains State Park, El Paso
Trek to the ruins of an old tin mine or climb to an overlook in the park's 100-mile network of trails.
Mountain Biking
Palo Duro Canyon State Park, Canyon
At the second largest canyon in the country, just outside Amarillo, pedal a mountain bike to the iconic Lighthouse formation.
Big Bend Ranch State Park, Terlingua
Scamper 54 miles through desert scrub and rugged terrain on this West Texas park's Fresno-Sauceda Loop, designated an "epic ride" by the International Mountain Bicycling Association.
Caving
Longhorn Cavern State Park, Burnet
Follow a developed path into the cave or explore the undeveloped lower level of the cavern on a guided tour.
Kickapoo Cavern State Park, Bracketville
Grab a flashlight and take a guided wild cave tour into undeveloped Kickapoo Cavern, one of the largest of the park's 23 known caves.
Horseback riding
Lake Somerville State Park & Trailway
From the Somerville park's Nails Creek Unit, saddle up and explore 26 miles of interconnected trails and loops.
Hill Country State Natural Area, Bandera
Camp overnight with your horse, then ride through rugged canyons, creek bottoms, and plateaus.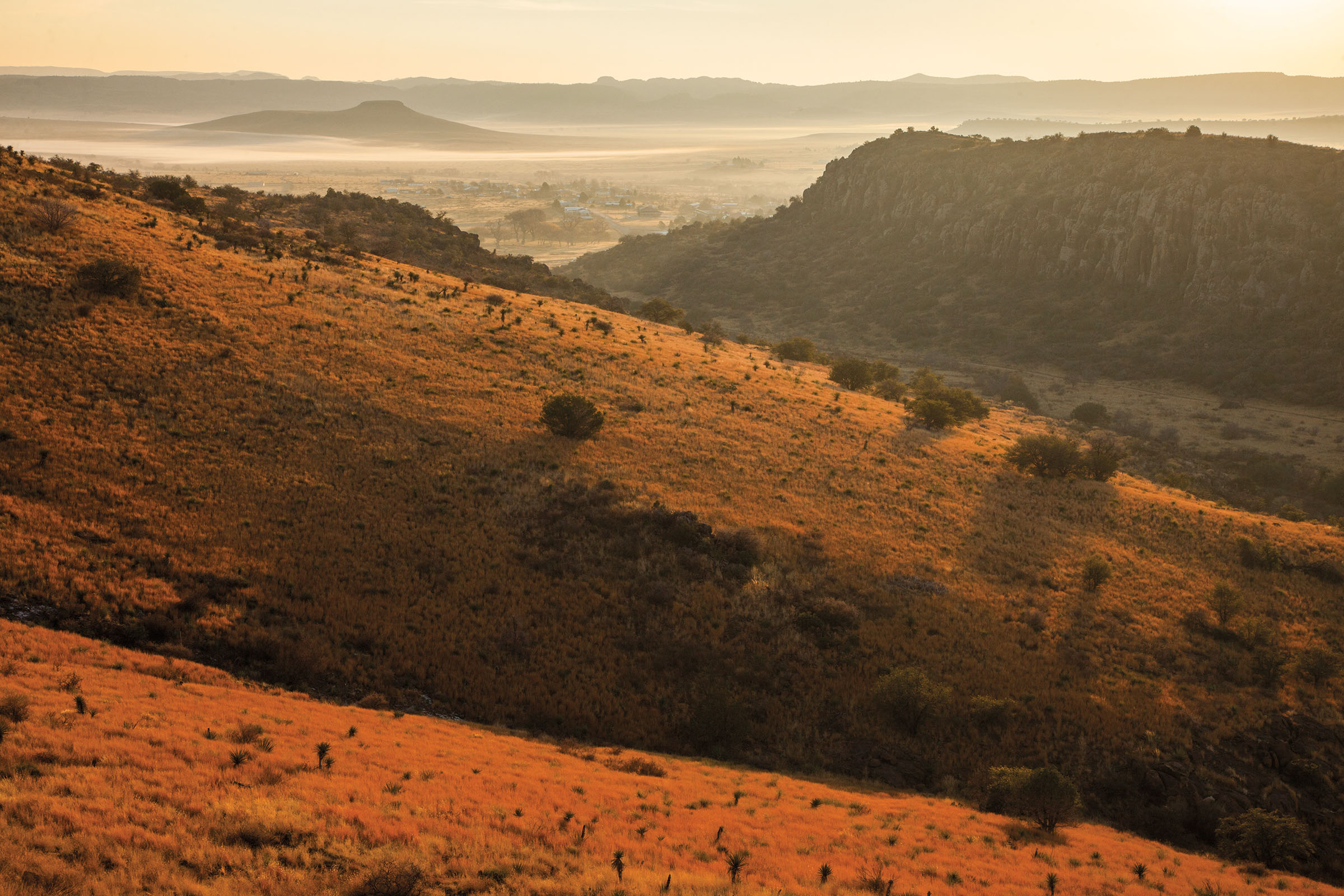 Davis Mountains State Park

At first glimpse, the flora of this West Texas park seems determined to scrape, stab, or poke passersby. But step around the shin-shredding Spanish dagger and prickly pear and there's plenty to admire in the park's 15 miles of trails.
At the Emory Oak Wildlife Viewing Area, a white stucco building dubbed "the fanciest little bird blind in Texas" provides a front-row seat to watch the resident birds sweep in for water and seed. In fall, monarch butterflies flit by the pollinator garden at the park's interpretive center, looking like leaves caught in a breeze. Javelina roam in small herds, feeding on mesquite beans and prickly pear. Mountain lions live in the canyons, too, but you're unlikely to see one. If you're lucky, you might encounter some Montezuma quail, which hide in the grassy undergrowth.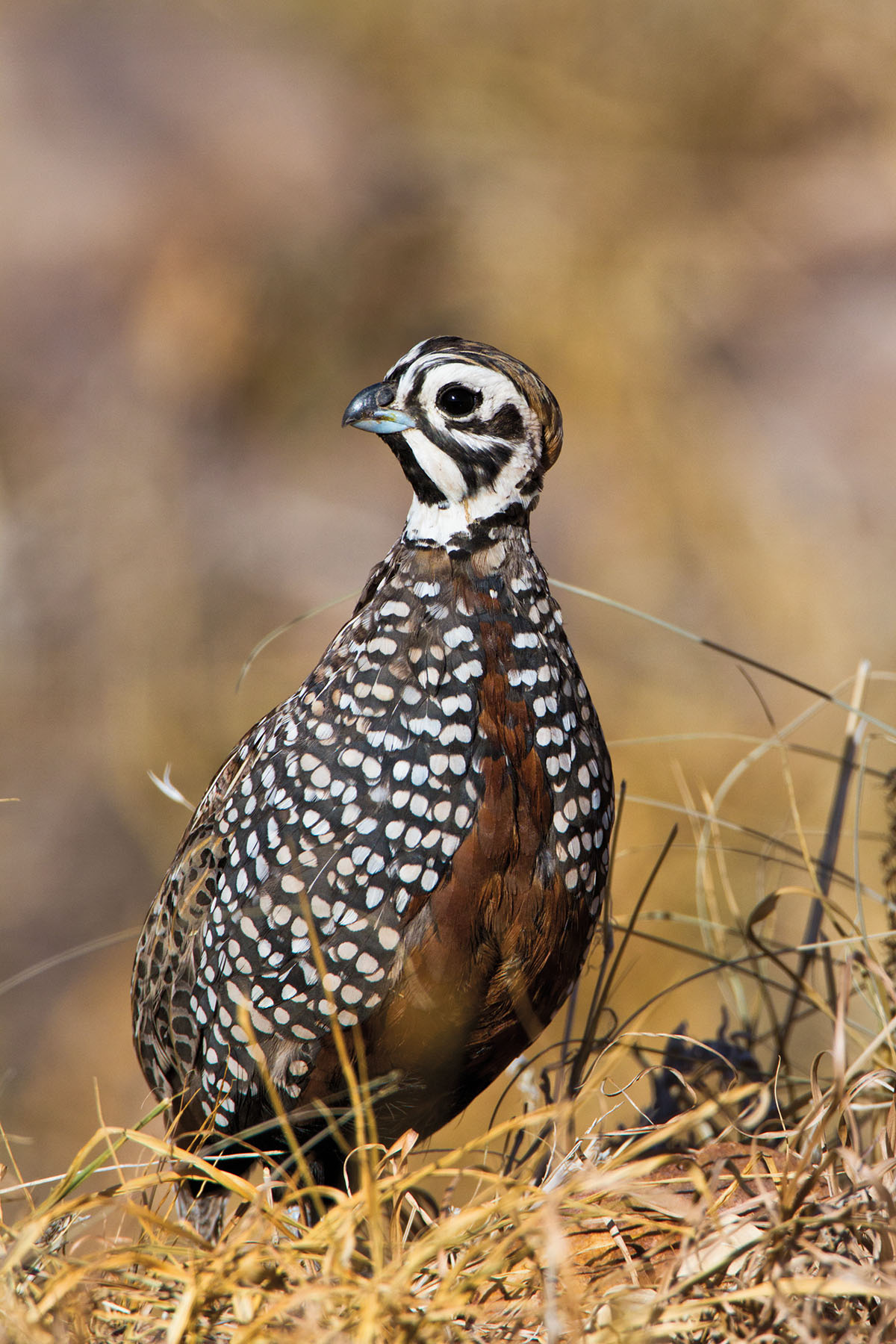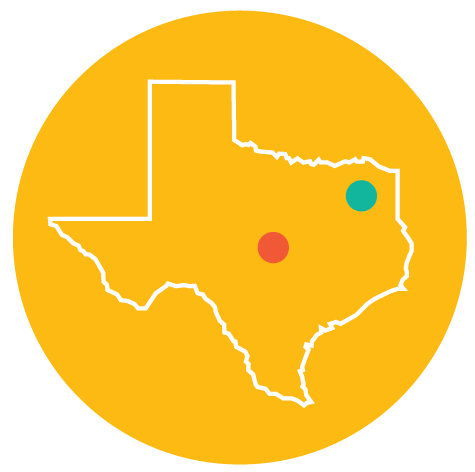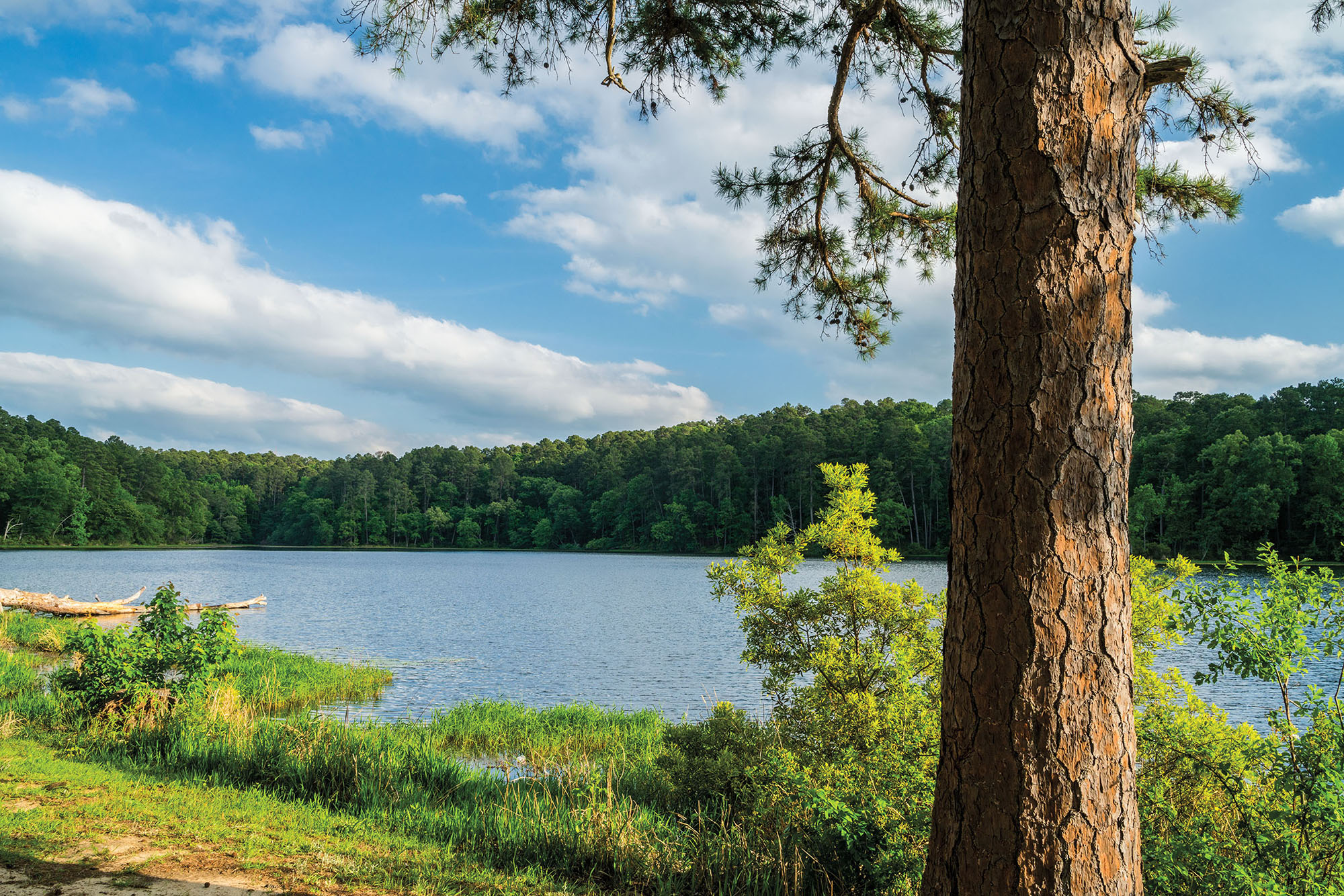 Daingerfield State Park

In the 1930s, the Civilian Conservation Corps built an earthen dam to create an 80-acre lake, then planted hundreds of trees around it. Today the lake shines like a copper penny beneath a fringe of towering pines. It's a swimmer's dream.
A wooden platform bobs just offshore in the designated swimming area. Kids of all ages can splash out to the anchored oasis, then practice their jumping and diving from its edge. Back on shore, bathers relax on a grassy lawn in front of the dining hall and concessions building. For a showy display, plan to visit during the spring, when dogwood and redbud trees bloom.
Daingerfield State Park
When to visit Spring, when the dogwoods bloom, and summer for swimming.
Where to eat Outlaw's Bar-B-Que in Daingerfield
Colorado Bend State Park
When to visit February to April for catching white bass; spring and summer for swimming.
Where to eat Stop for a burger at Bend General Store.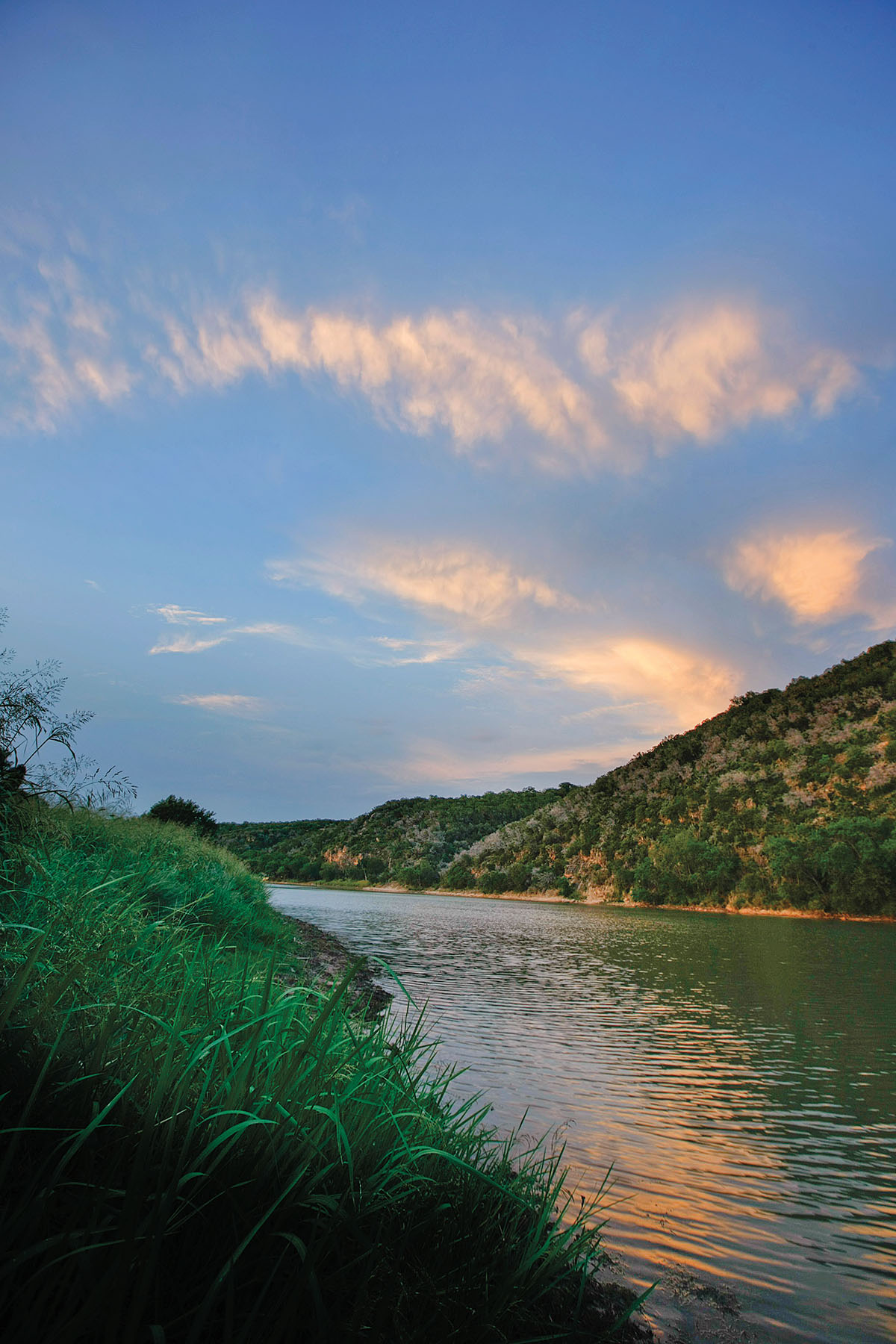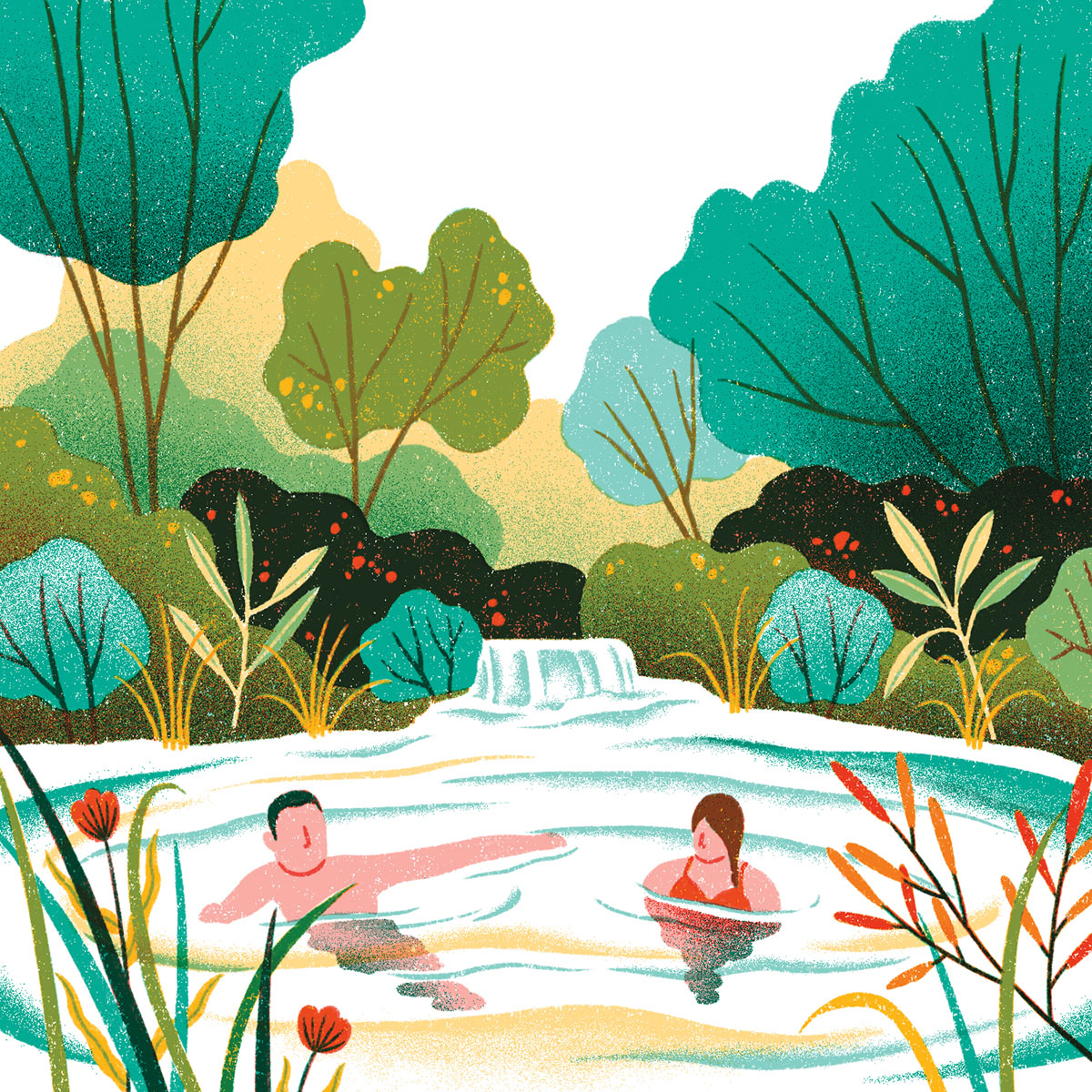 Colorado Bend State Park
Sure, you could take a dip in the Colorado River—this park boasts 6 miles of riverfront—but swimming hole connoisseurs make a beeline for Spicewood Springs.
A short, easy trail leads from the river to the first of the park's spring-fed swimming holes—9 feet deep and bigger than a hot tub. If you keep wandering up the trail, you'll find more pools and small waterfalls. Squint your eyes and you might think you've wandered into your own private corner of Costa Rican jungle.
Don't miss a side trip to lush, fern-covered Gorman Falls. Swimming isn't allowed at the 60-foot spillover, but it's not far from the river.
From the May 2023 issue