Gardening 101
Tips and tricks to start your own Texas garden
By June Naylor

Growing your own fresh veggies and herbs is not only healthy but also deeply gratifying. Luckily for us in Texas, we can garden with relative ease for several months at a time due to the moderate climate in most of the state. The key lies in ample planning and care.
"I encourage people to try, be it herbs on a windowsill or a patch of tomatoes in the ground," says Marcus Bridgewater, better known as "Garden Marcus," a TikTok influencer and the Spring-based CEO of wellness company Choice Forward. "There's joy in watching things grow, from seed to vegetable, sprouts to vines, and flowers to fruit. Observing the stages of growth reminds us to appreciate each plant we eat, as everything is the result of weeks, months, or even years of growth."
In addition to a more wholesome appreciation of where your food comes from, gardening grants great stress relief. It provides a rooting in nature and an alternative to our technology- filled routines. It's not too expensive, either: While it takes money to build a garden, the cost of growing your own tomatoes is pennies on the dollar compared to grocery store costs. And homegrown organic veggies and herbs are far more nutritious because they can be picked ripe. Your most significant investment, at the end of the day, is time.
Good Day Sunshine
Your garden's supply of sun and shade will dictate what and where you should plant. If you have full sun all day long, you'll need to install shade cloth in places for plants that don't need more than six hours of full sun.
Lots of Sun:
Beans and peas
Cantaloupe
Cucumber
Eggplant
Okra
Oregano
Peppers
Rosemary
Basil
Tomatoes
Zucchini
Part Sun, Part Shade:
Beets
Cabbage
Greens (collard, mustard, kale)
Lettuce
Radishes
Spinach
Turnips
Rutabaga
Bumper Crop
Water in the morning, and water daily in summer. Soaker hoses are helpful tools.
Don't overdo the fertilizer; it can overwhelm and kill plants.
Use neem oil, a biological pest control for aphids and other pests, the moment you see the first pest.
Monitor for lizards, spiders, lady bugs, and praying mantis, all signs of a healthy biome.
Try companion planting, such as surrounding tomatoes with marigolds to deter pests.
Install some variety of shade cloth to combat long hours of sun and heat.
½
Depth at which to plant kale and collard green seeds
50-70
Days it takes a cucumber plant to mature
6 ft.
Average height of an okra plant
A Time to Grow

Texas' vast size means growing seasons vary greatly from the Red River to the Rio Grande Valley. Consult growing charts for your zone with resources from your local feed store and the region's Master Gardener organization. The Old Farmer's Almanac offers planting dates by zip code. almanac.com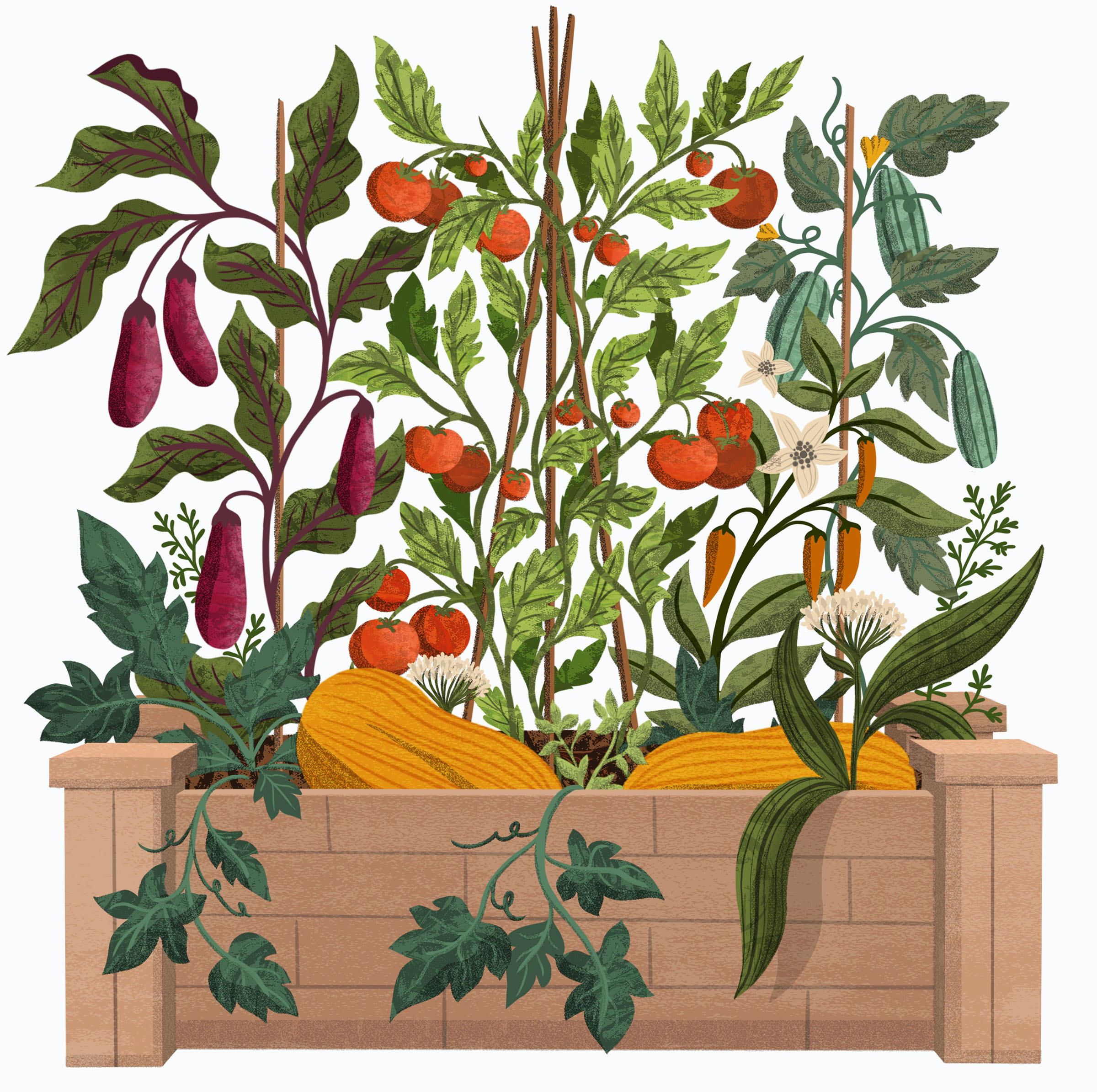 Six Feet Above

If planting right in the ground, plan to spend a year tilling the soil with organic matter first; much of Texas' soil is rich in clay, which doesn't allow for good root-soaking. Raised beds offer a faster alternative. With a cinder block, cedar plank, or fieldstone base, these planters are relatively easy to build. Cardboard, newspaper, or hardware cloth can be placed at the bottom of the beds to prevent weeds. Then, fill with garden soil and get to planting.
Soup's On
RATATOUILLE
Recipe by June Naylor
Serves 4 to 6
Ingredients:
3 Japanese eggplants
1 zucchini
1 yellow squash
1 green bell pepper
1 red bell pepper
1 yellow onion
1 to 2 cloves garlic
1 to 2 jalapeños, seeded (optional)
4 to 6 Roma tomatoes, depending on size
2 to 3 tablespoons olive oil
3 tablespoons chopped fresh herbs, such as basil, oregano, thyme
Salt and pepper to taste
Directions:
Dice the eggplant, zucchini, squash, bell peppers, and onion into 1/2-inch pieces. Mince the garlic and jalapeños (if using). Cut tomatoes into quarters.
Warm 1 tablespoon olive oil in large skillet and saute eggplant, squash, peppers, onion, garlic, and jalapeños together over medium heat, stirring to cook evenly. Add olive oil if mixture seems dry.
After about 5 minutes, add tomatoes and stir well. Lower heat to simmer and cover, cooking gently for about 30 minutes.
Add chopped herbs, salt and pepper to taste, and stir again, continuing to simmer another 5 minutes. Adjust seasonings. and serve as a side to a meat dish, or as a main course with your favorite crusty bread or over polenta or saffron rice.
From the January 2022 issue