L
a
n
d
o
f
t
he
F
r
ee
Galveston's resilient spirit sparks another renaissance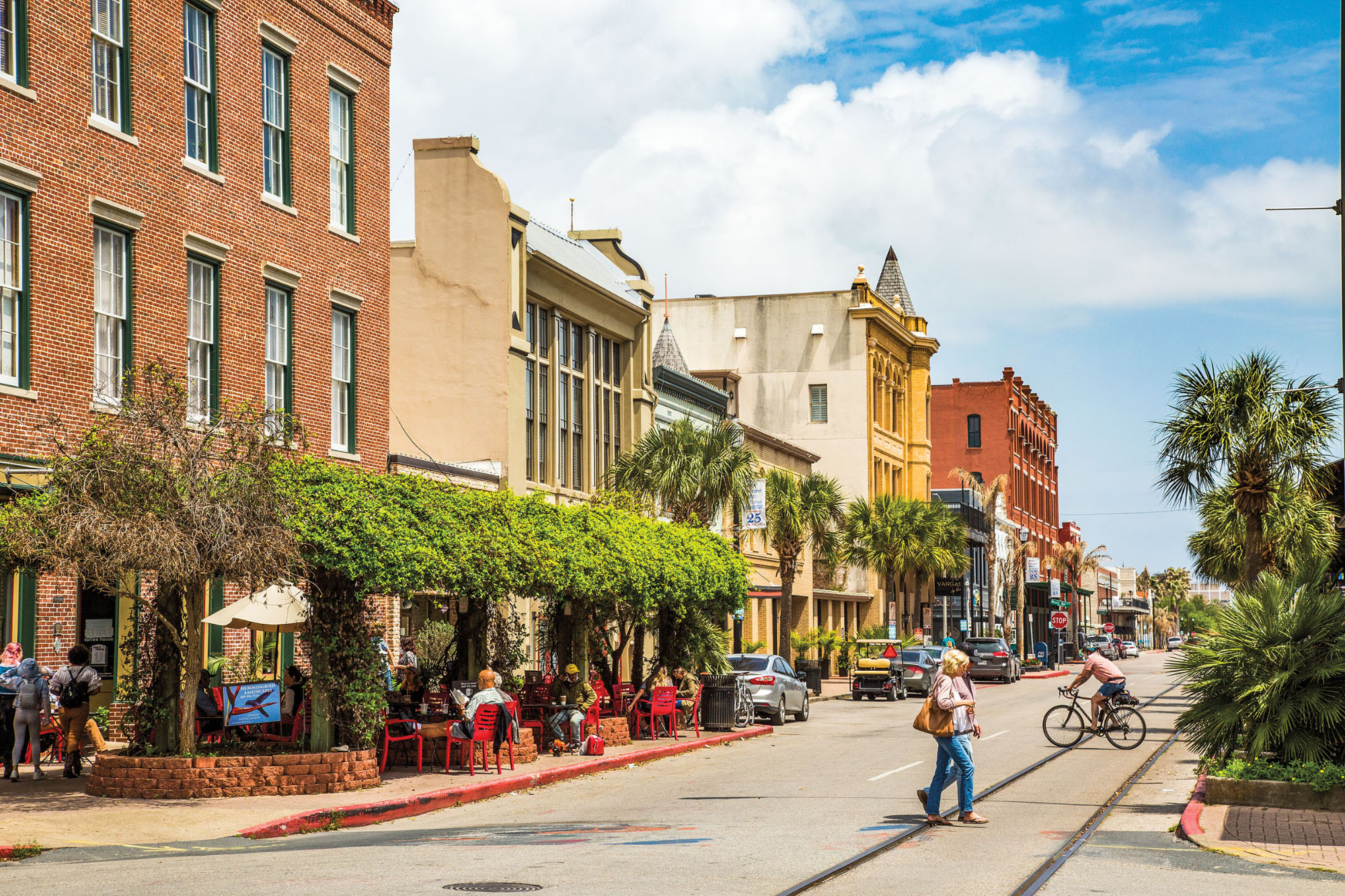 Houston Astros star Lance Berkman, of all people, put the enigma of Galveston to rest for me.
About 13 years ago, the slugger was a guest on a Houston sports talk show a few weeks after Hurricane Ike nearly laid the island to waste. He was talking about a wedding there attended by his teammate, Galveston native Brandon Backe.
Unfortunately, the after-party at the poolside bar of The San Luis Resort, owned by island-born hospitality mogul Tilman Fertitta, got out of hand. Backe wound up fighting with Galveston police officers, badly injuring his shoulder.
What, the host asked Berkman, had Backe been thinking?
Berkman sighed.
"The thing you have to know about Brandon," Berkman replied, measuring his words, "is that he is not from America."
"Brandon is from Galveston," he continued. "And they have very different ways down on that island."
The 50 miles of Interstate 45 separating Galveston from Houston might as well be 500 for how distinct the two cities appear. And though they are roughly the same age, Galveston feels 100 years older and a world apart. Some islanders refer to crossing the Galveston Causeway toward the mainland as "going to America." Others say, "I'm from Galveston. It's near Texas."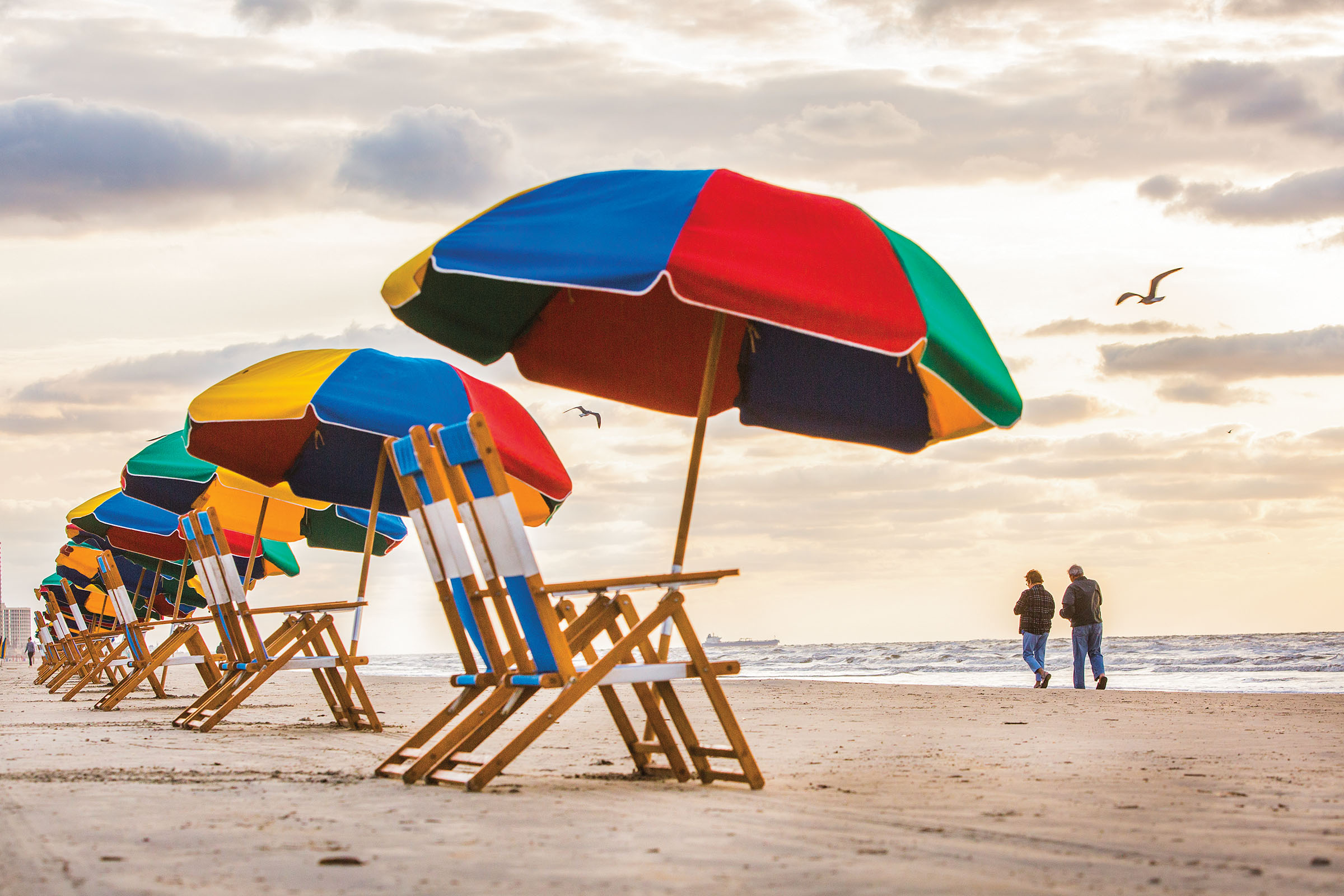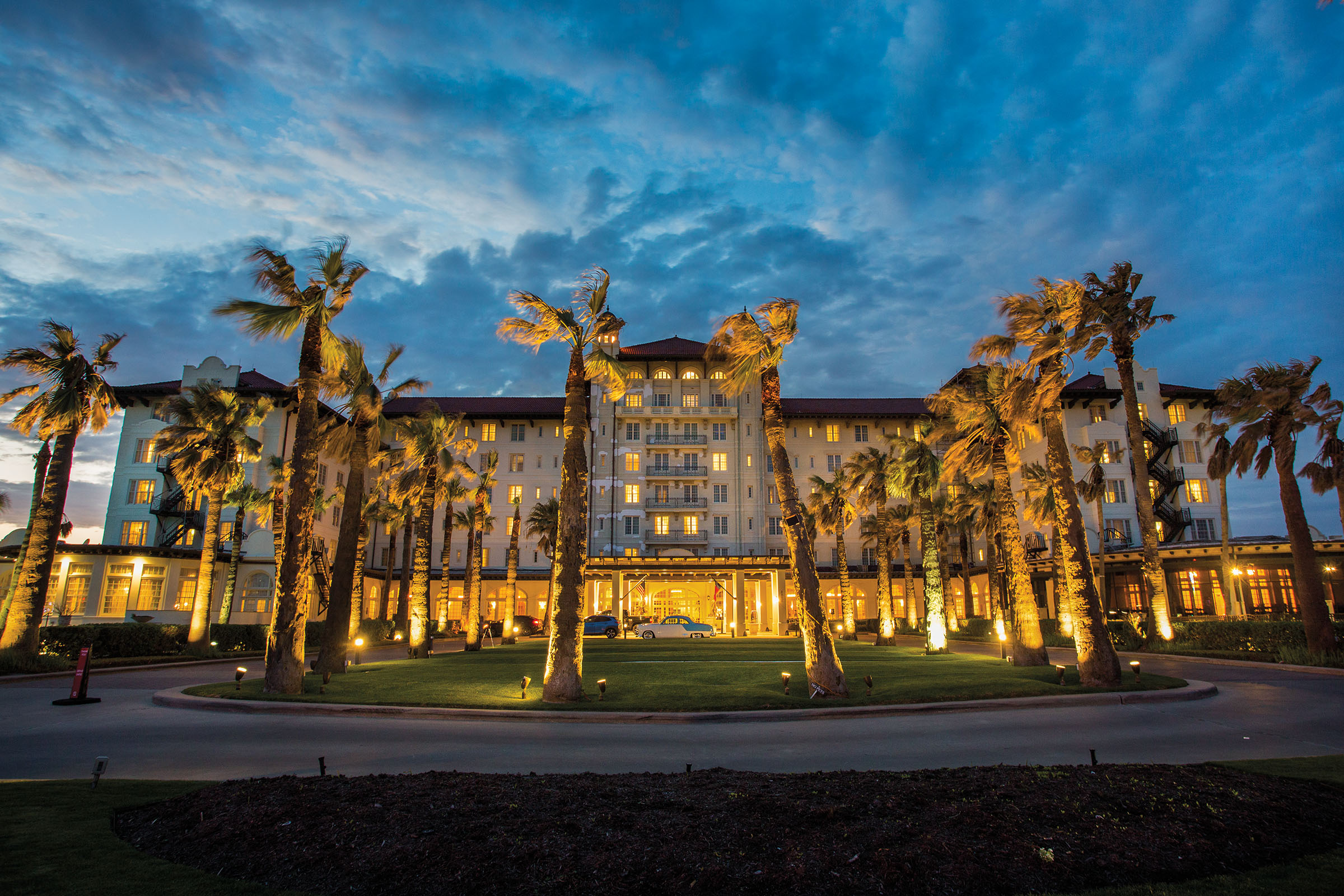 You can sense the difference as you cross the gently arched bridge, eye level with sedate brown pelicans and laughing gulls, the slate-green bay shimmering on either side, the city before you. Robert "Bobby" Stanton, a veteran journalist and current community outreach coordinator at Houston Community College's Southwest College, is what locals call a "BOI," meaning "Born on the Island." He puts it like this: "There's just this tacit understanding that it is a completely different movie scene I'll be entering, something totally different from what I just left."
It wasn't until I visited New Orleans that I experienced a similar feeling of leaving American norms behind. Mobile, Alabama, is a third sibling, and these three Gulf gems are all first cousins of Charleston, South Carolina, and Savannah, Georgia, on the Atlantic. Each is a port, and by Old South standards, ethnically and religiously eclectic; ornate and elegant in architecture and preservation-oriented; each ignoring America's prevailing westward gaze in favor of wistful looks at the genteel Old World across the seas. Each can be seen as an Athens to the more dynamic Romes inland: the Houstons, Dallases, Charlottes, and Atlantas of the world that dominate the regions these proud towns once owned.
But Galveston seems on the cusp of a new era in its alternately tragic and glorious history. According to the latest census statistics, the island's population is growing at a rate not seen for decades. Real estate prices are rising fast, from the historic East End to the beaches of the West End. The dining and culture scenes are deepening, with artist lofts and art walks downtown. There are three microbreweries and, in a city once infamous for too many seafood restaurants whose fare may have been imported from unknown waters, more eateries like Katie's Seafood House that pledge to serve only what they catch locally. Meanwhile, a slow but steady march of hipster coffeehouses, galleries, boutiques, salons, and bars creeps westward along Market Street from The Strand Historic District.
Down on the seawall, mankind's war against the ocean never ends. In 2008, Hurricane Ike claimed the Balinese Room, the city's iconic casino-on-a-pier. Now a replacement appendage has sprouted: Pleasure Pier. This is likely the most popular and lucrative attraction on the waterfront since the heyday of the original Pleasure Pier, which stood on the same site and was brought to a sudden end in 1961 by Hurricane Carla.
It's a battle humans can't win in the long run, but at least Galveston is fighting it again. "The city has gone from one that looked forward to one that sees its happiest times in the past," Erik Larson wrote in his 1999 book Isaac's Storm, about the 1900 hurricane that started it all.
Not so much anymore. Not according to Michael Cordray, a BOI who, along with his wife, Ashley Cordray, hosts Restoring Galveston, the DIY Network's coastal equivalent to Chip and Joanna Gaines' Fixer Upper. Of their competition, Ashley is envious but knows she has more to work with: "If the show can get just an ounce of the popularity that Fixer Upper has gotten, it would be great," Ashley told Houstonia magazine in 2019. "Galveston is already cool. Waco had nothing."
Michael backs up his belief in rejuvenating Galveston with local bona fides. A direct descendant of a male ancestor who arrived in Galveston in the 1850s—as a carpenter, no less—Michael is steeped in the lore of storms and the history of the island.
"Galveston right now is in a better place than it was 10 years ago, 20 years ago, 50 years ago," Michael told me while filming Season 3. "Galveston hasn't had as many good things going for it as it does right now in any year since 1899."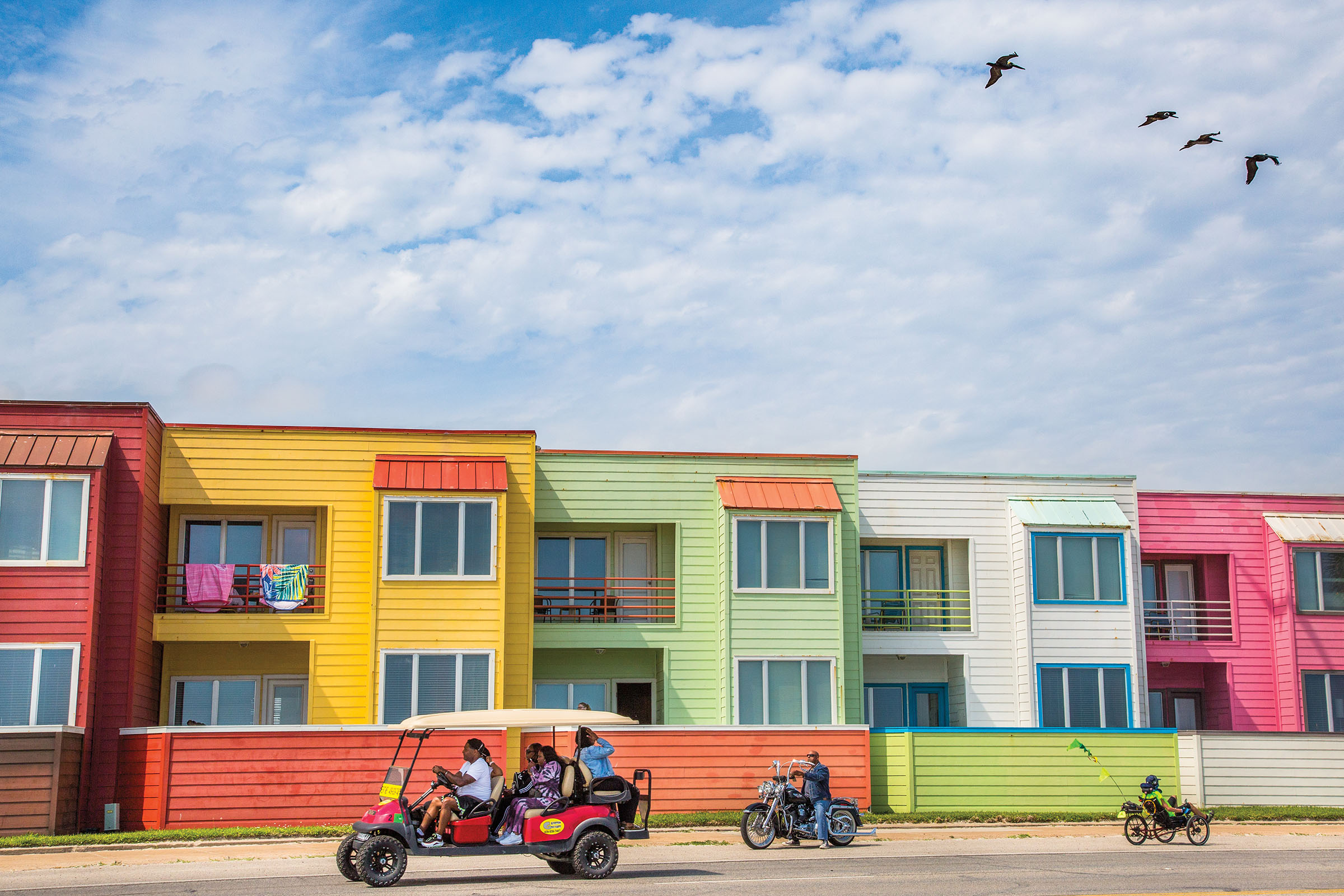 Coast lovers cruise lively Seawall Boulevard every which way.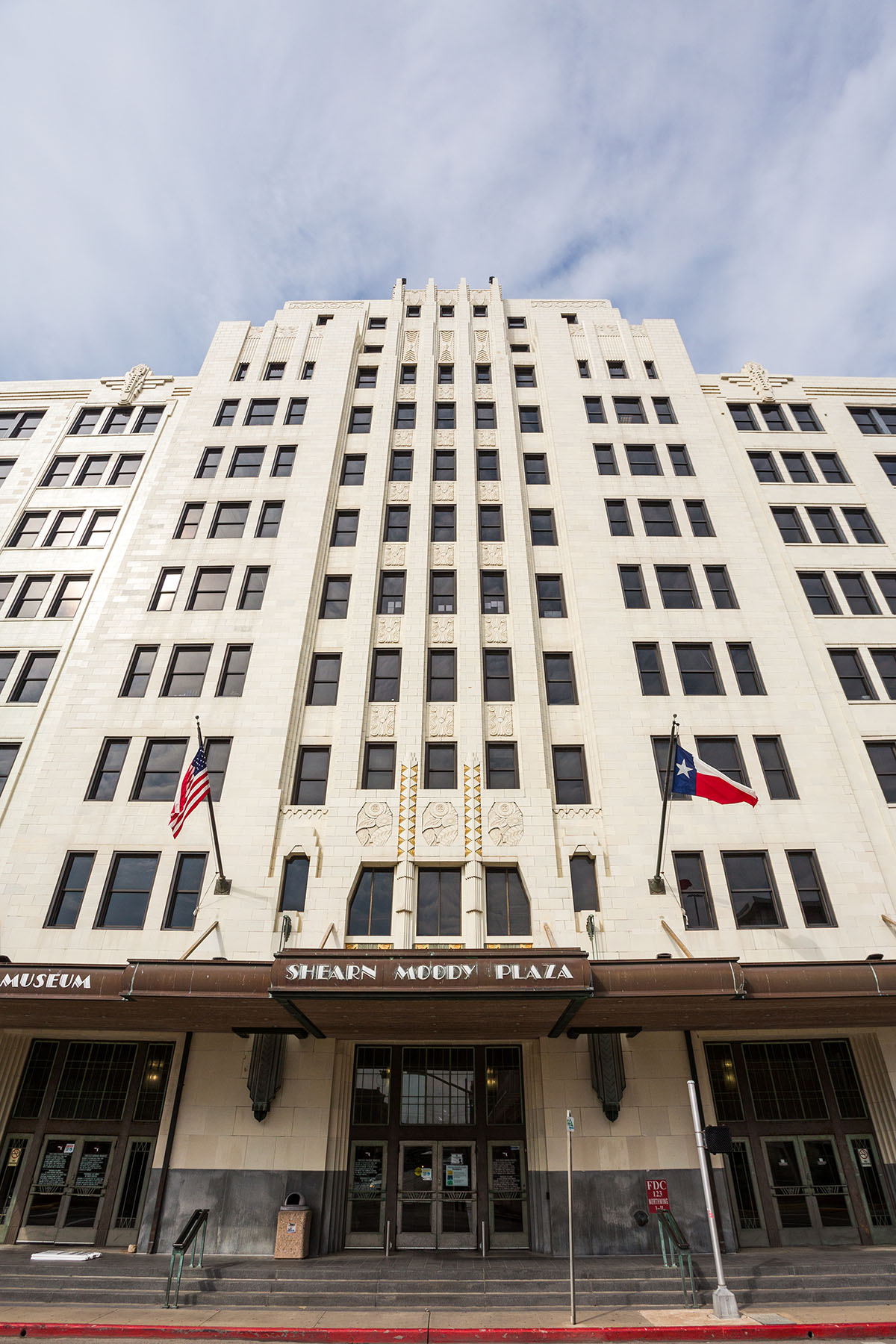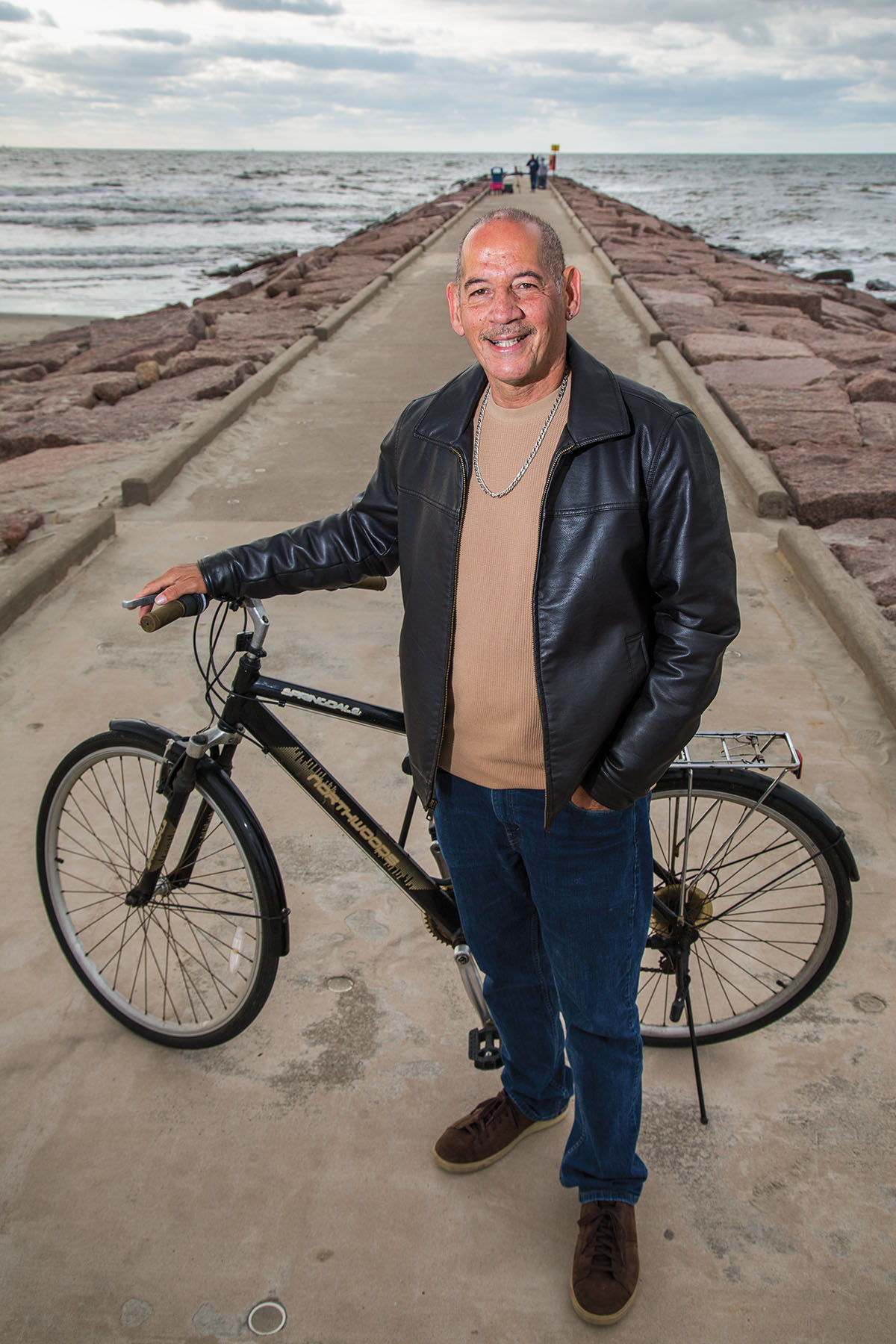 The Great Storm
While Galveston is the sum of all its eras, it remains defined by the Great Storm of 1900—a coldhearted demon of immense power whose winds and storm surge claimed somewhere between 6,000 and 12,000 lives and left a quarter of the city's 40,000 people homeless. It was not just the deadliest natural disaster in United States history—it was the deadliest day, period.
The island still wears memories of the storm like widow's weeds. Plaques bearing "1900" adorn buildings that survived the storm, and the name of the Cordrays' restoration company is Save 1900. High-water marks painted on the walls of some Strand establishments serve as macabre analogs to families who chart their children's growth with pencil marks.
It can happen here because it has happened here. Thousands of long-ago tragedies meld in the form of a citywide sense of melancholy and almost unbearable nostalgia, even for those who were born decades after the Great Storm.
There's also a strange form of survivor's guilt. Consider Glynda Oglesby, the BOI owner of The Wizzard, a Dorothy-and-Toto-themed dive bar on Church Street. It's a bright Sunday afternoon before St. Patrick's Day, as the last revelers stagger home from Barcycle, the city's yearly beer-and-bike fest. Oglesby is explaining how much of her family died in the hurricane, leaving her grandfather bereft. But like his hometown, he started over.
"If not for that 1900 storm, my grandfather would not have married my grandmother, and I would not be here," Oglesby said. "So, when you do these remembrance things, there's a sadness inside of you. You know your family is different because of weather."
There's also a sense of what could have been.
"The storm was a strike," Stanton said. "It sent pins flying everywhere. Because before that, ah man, Houston was trying to be Galveston. We had The Strand, we had powerful merchants and big ships and long trains. I mean, Galveston was really doing it then."
Fortunately, Galveston does still have what those powerful merchants left behind. It's a city of "good bones," a ragged but right place with plenty of character despite showing the effects of its age and the climate. There's always been great potential in Galveston.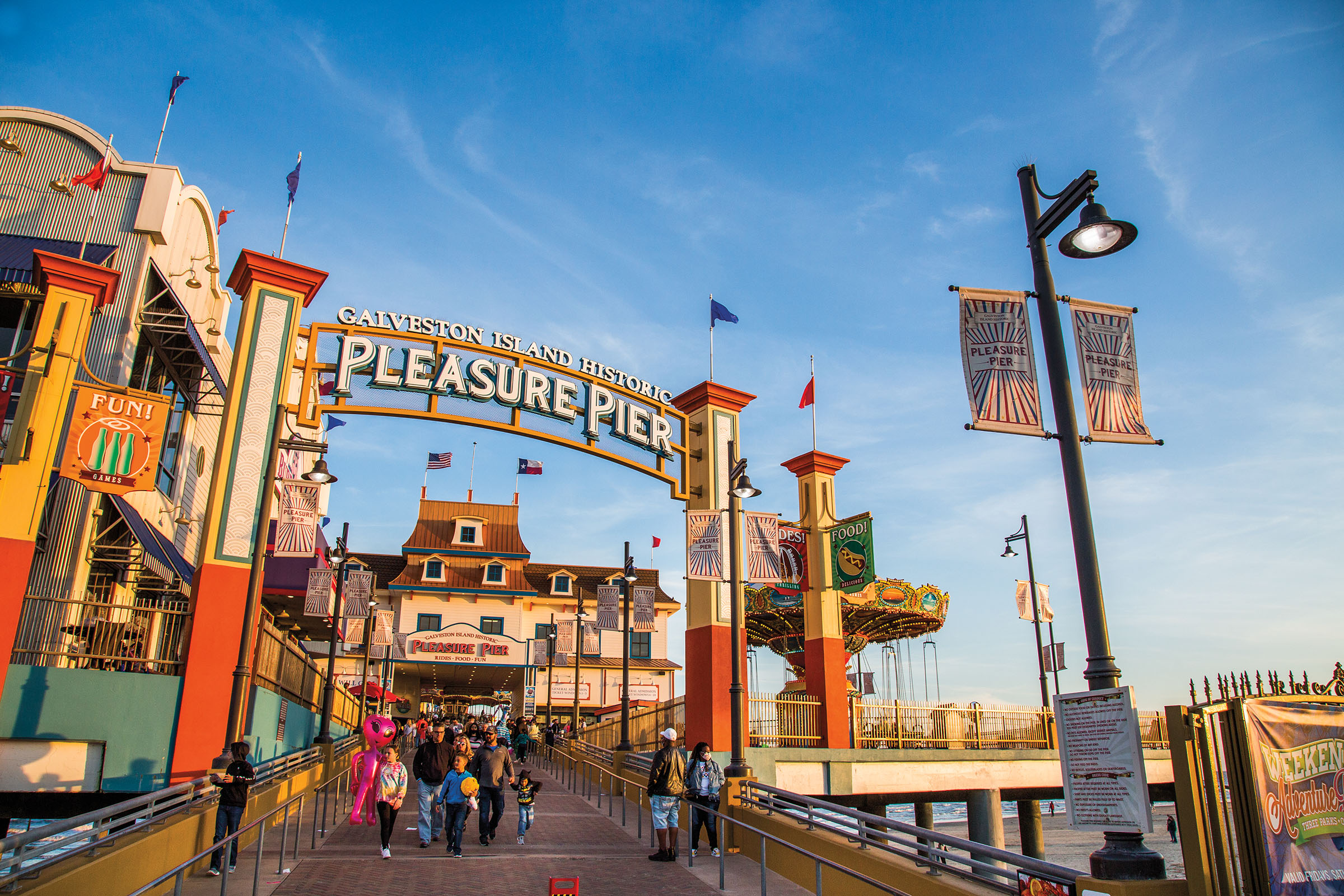 Free State
The Great Storm was a lesson in survival and resiliency not only for those there to witness it, but also for subsequent generations of Galvestonians.
One prominent example of the island's tenacious spirit is Hotel Galvez, says Kimber Fountain, author, local historian, and Galveston Monthly editor. The building was completed in 1911 as part of the "grade raising," when civil engineers and an army of workers jacked the city up as much as 17 feet above sea level. The hotel became the last expression of Galveston's golden age and the avatar of its next incarnation. Fountain calls it "a monument to Galveston's future."
At the time, Galveston's leaders did not know what form the future would take, but they had a brand-new hotel dripping with elegance and sophistication to fill. The grade raising and the seawall had come not a moment too soon; they saved Galveston from a second destruction in 1915, when an even more tenacious hurricane spent much of its fury on the seawall's granite riprap. By then, though, it had become plain that Houston had eclipsed Galveston as the state's gateway to the sea. Galveston's status as the Wall Street of the South was over. How could they ever fill Hotel Galvez? For that matter, how could the island survive?
As chronicled in Fountain's The Maceos and the Free State of Galveston, the entire city went rogue on a grand scale. From the onset of Prohibition through most of the '50s, Galveston was a proto-Vegas, a Monaco minus the royals, unless you counted ruling families like the Sealys, Kempners, and Moodys. This movement was led by upstart usurpers Salvatore and Rosario Maceo, or "Big Sam" and "Papa Rose," the crown princes of what became known as the Free State of Galveston.
Casinos lined Seawall Boulevard and 61st Street, brothels abounded, and Maceo nightspots like the Studio Lounge, Hollywood Dinner Club, and Balinese Room brought in the biggest stars of the era, including Frank Sinatra, Duke Ellington, Jimmy Dorsey, and Peggy Lee. The Maceos helmed a massive underground enterprise, yet Fountain sees their reign in glowing terms.
"People kind of misunderstand the meaning of 'Free State of Galveston,'" Fountain said. There was no coercion, she explained, "no extortion at the end of a sawed-off shotgun. Everybody was in on it. And why not? The Maceos did nothing but shovel money onto the island, basically."
The Maceos had made an agreement with the law, won over the locals, and set the tone for the competition. They had transformed Galveston into their own private paradise. But only for a time. Sam passed away in 1951, and Rose followed him in 1954. Before they died, they handed over control to family members, including cousin Frank Maceo and nephews Vic and Anthony Fertitta, the latter two the respective grandfather and great-uncle of Tilman, the Houston Rockets owner and restaurant entrepreneur. But that first era of Fertitta family domination of Galveston was destined to be short—a politically ambitious state attorney general brought an end to the Free State era in 1957.
Decades of decay and stagnation followed. Having grown by 50% during the Maceo era, the city's population reached its all-time high of 67,175 in 1960. By 2010, that number would dwindle to 47,000. And yet, despite that long and gloomy half-century trough, the island still bewitched some, as it continues to do today in ever greater numbers.

Black History Tour

The African American presence in Galveston goes back to its days as a pirate camp and slave port before the city's official founding in 1836. History was made here on June 19, 1865, when Union Gen. Gordon Granger read General Order No. 3, freeing the enslaved people of Texas. Contrary to popular belief, Granger did not read the proclamation from the balcony of Ashton Villa; the actual site of the first reading was the Osterman Building, denoted by a state historical marker at 22nd and Strand streets.
The proclamation was also read at today's Reedy Chapel African Methodist Episcopal Church. The Gothic Revival-style chapel, located at 2013 Broadway Ave. J, was the spiritual home of powerful 19th-century politician and labor leader Norris Wright Cuney.
Jack Johnson, the first Black heavyweight boxing champion and arguably Galveston's most famous son, scandalized Jim Crow America first by demonstrating his utter superiority in the ring and then by marrying a white woman, an offense to the racist norms of the day. A statue of the homegrown champ stands on the grounds of Old Central Cultural Center at 2601 Avenue M.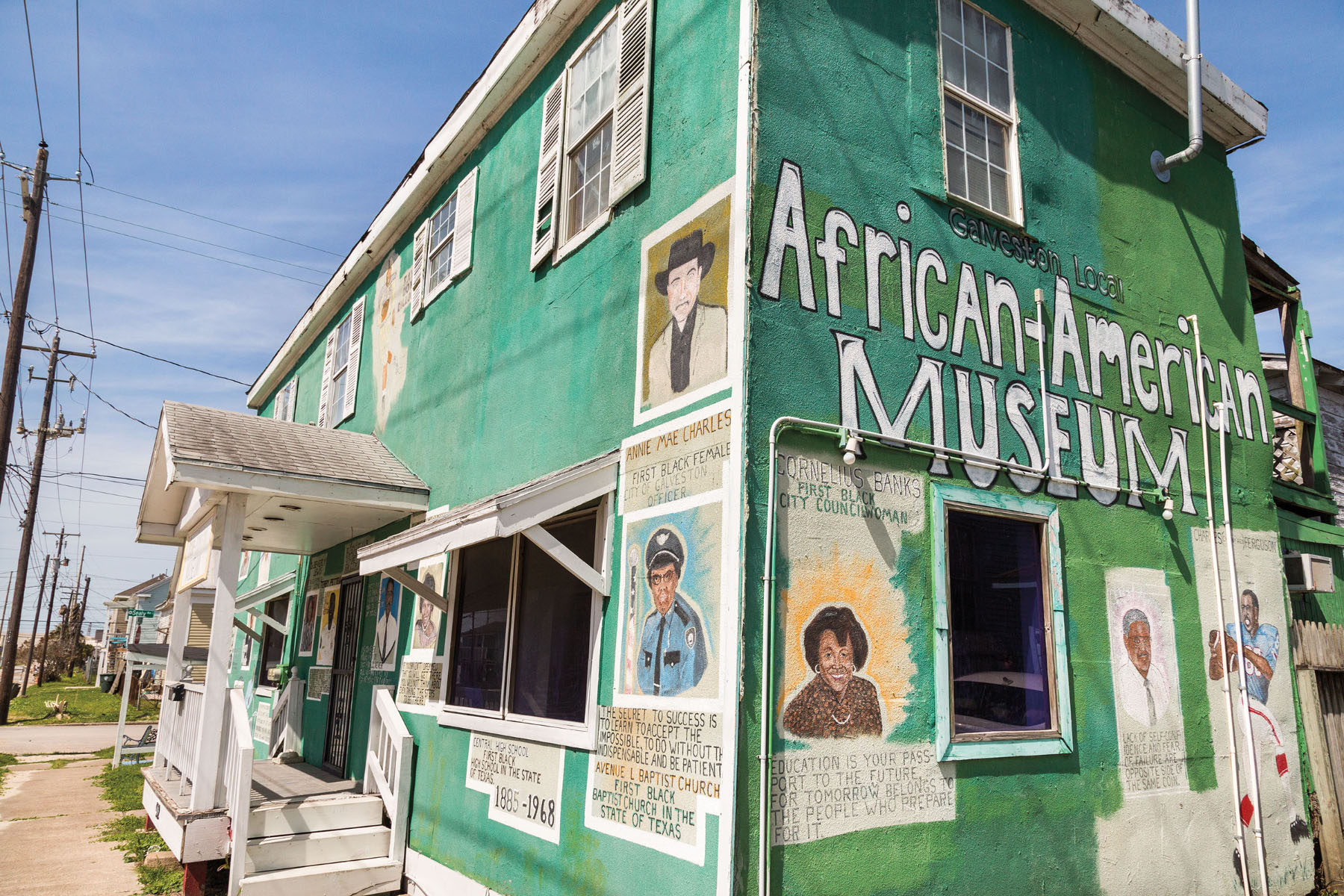 It Takes All Kinds

Those who succumb to Galveston's allure become "IBCs" (Islanders by Choice), and few are as proud of that designation as Fountain. A native of Bay City, a town a little inland and just down the coast, Fountain "got out as soon as I could." She'd believed Matagorda County was all Texas had to offer, so she moved to Chicago. After hitting a bump in the road in the Windy City, she came back to Texas. When she "passed through that portal into another dimension"—or crossed the causeway—she had an epiphany. "I was like, 'This doesn't feel like Texas at all, and I love it!'"
Fountain has since written three books on the city's colorful past: the Maceo history, Galveston's Red Light District, and Galveston Seawall Chronicles. Each wrestles with the question of how Galveston came to be so beguiling and unique. As an island city, Galveston manifests what Fountain calls a "psychology of isolation" distinct from both Texas and the United States. Even though the distance is only as wide as Galveston Bay, it's enough to foster a culture of "independence, freethinking, diversity, and individuality," according to Fountain.
Much is due to its 19th- and early-20th-century history as a port and immigration hub. Fountain marvels at the array of international faiths in Galveston. The same applies to the dining scene: Beyond copious seafood, Galveston offers German, Vietnamese, Cajun, Greek, and, perhaps the most Galveston of all, Cajun Greek. And its Italian food gives Houston's a run for its money at two-thirds the price.
"We run the gamut," Fountain said. "It's very unusual to find a town of this size with such a range, and all of that goes back to all those generations of immigrants who made their homes here."
So much of what Galveston is today was made by first- and second-generation Americans. Before the Maceo Brothers presided over the Free State era, Irish architect Nicholas Clayton froze the city's golden age in time. He is responsible for the Romanesque Revival Ashbel Smith building at the University of Texas Medical Branch at Galveston, several churches, and dozens of the city's grandest Victorian homes. His crowning work: the 1892 Bishop's Palace, a 19,000-square-foot Victorian house with National Historic Landmark status. When someone raves about Galveston's architecture, they are talking mostly about Clayton.
Of course, there's also the late George P. Mitchell, son of a goatherd from Greece. Mitchell, a BOI, earned billions drilling for oil and then plowed much of that fortune back into his hometown. Over time, his foundation has spent $175 million saving 30 Strand-area edifices from the wrecking ball. This in turn created a suitable environment for Dickens on The Strand, Galveston's beloved Yuletide tradition celebrating the Victorian era found in Charles Dickens' novel A Christmas Carol. Mitchell's contributions, which also included reviving the annual Mardi Gras celebration, were a rare sea breeze during 50 years of doldrums.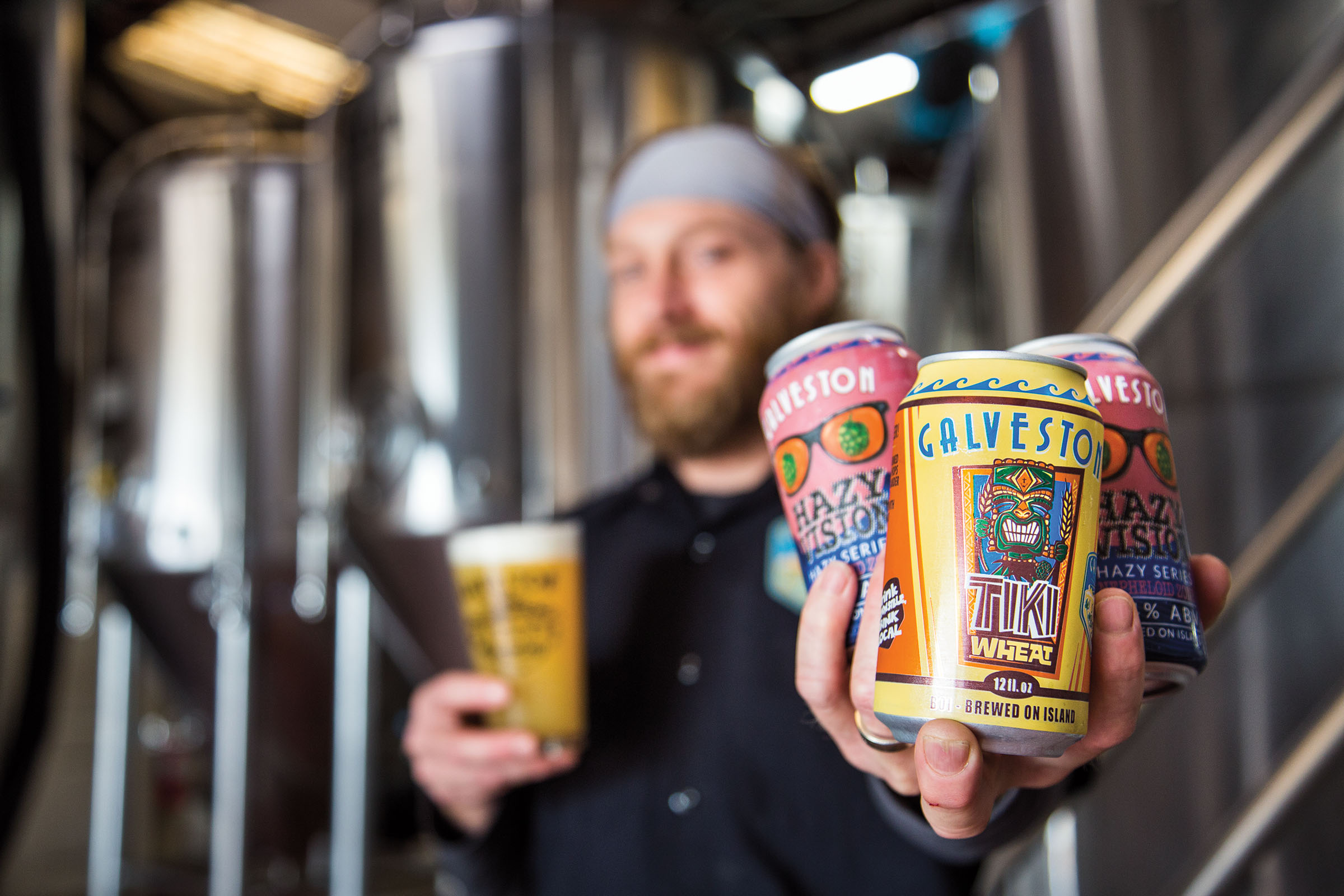 Galveston Island Brewing is at the forefront of an island beer renaissance.

Welcome to "Galvatraz"

By 1983, no city in the U.S. was home to more people in subsidized housing than Galveston. The lackluster job market left many old families, like Wizzard owner Oglesby's, with no choice but to leave the island they loved for better opportunity. Soon after, the self-proclaimed "Treasure Island of America" had spawned a different nickname.
In 1993, a Galveston Daily News reporter talked to the city's teens about their feelings toward their city. Most didn't have much nice to say, including 17-year-old Amy Tong. "I call it 'Galvatraz,'" she said. "Once you're stuck here, you never leave."
Over time, Galvatraz has evolved from insult to lifestyle brand. Brad Carr, a commercial photographer from Houston who moved to Galveston shortly after Hurricane Harvey, started selling his trademarked Galvatraz apparel in 2020. In ad copy for his line, he calls his new home "The Island Escape You Can't Escape" because, he writes, "it imprisons you with its charm."
His voice rang with the fervor of a religious convert when I reached him on the phone. "You find everything you need," Carr said, "and you never want to go back over the causeway!"
Amanda Nichole Boling, a bartender at Gaido's and native of nearby Texas City, thinks the same way. "We call it Galvatraz for just that reason," she said. "I tell people I'm going to the H-E-B in Texas City, and they act like I've been to a foreign country."
Carr thinks Galveston will always have a little bit of pirate in it from the days when Jean Lafitte used the island as a smuggler's paradise. "You feel like you can get away with anything, whether or not that's really true," he said. "You get immersed in that history, and you just feel like you are in a different world because there are not many places in the U.S. with this kind of architecture and scenery."
The term Galvatraz has wide approval among the wry younger set, who are playing a large role in the island's current renaissance. Boling, who has also lived in New Orleans, described downtown Galveston's history-steeped assemblage of restaurants, bars, museums, galleries, and lofts as a miniature French Quarter. "It's got all of that including a bunch of hipsters who are trying to gentrify."
This includes a group of investors who want to rebrand a central part of the old town west of Market Street as "WeMa." "Please God, no, make it stop!" Boling laughed. "I am fairly certain the people who thought of that were not from around here."
Maybe so, maybe no. In a story about some of the earliest attempts to gentrify Galveston's then-calcified and decayed downtown way back in 1977, the New York Times reported that Galvestonians had "taken to calling their city SoHo—since it is, after all, south of Houston; and like New York's SoHo, its converted buildings are becoming a haven for those in the arts."
They are today, too, and no place is more indicative of this latest boom than The Proletariat, a 5-year-old gallery, coffee shop, bar, and performance space on the ground floor of what was formerly the 1869 Tremont Opera House but is now the National Hotel Artist Lofts. When I visited, a few tattooed denizens of the lofts skateboarded shirtless in the street.
Brian "Visker" Mahanay, co-manager of The Proletariat, is an artist known widely for designing art cars that have placed at the Houston Art Car Parade and are now in museums. He burned out on Houston and moved to the island about 14 years ago. "Something like that," he said. "I dunno, when you get down here you lose track of time." Mahanay also owns Visker & Scrivener, a boutique trading in quills, scrolls, inks, and other "handcrafted wares for the modern scribe," as he put it.
The Proletariat has invigorated what had long been a very staid and polite Galveston arts scene with youthful vitality fueled by Mahanay's punk energy. "Galveston's art scene is really cool and it's huge, but it lacked a nucleus that was something other than starfish and fish paintings," Mahanay said. "I am not looking for art that matches a couch from IKEA. I want the real up-and-comers. I kind of hate the term 'street-level,' but that's what it is, I guess."
He's finding these artists closer and closer to home. When he first started, he needed to fall back on Houston artists to fill the gallery's walls, but no longer. "We are closer and closer to 100% local artists now," he said.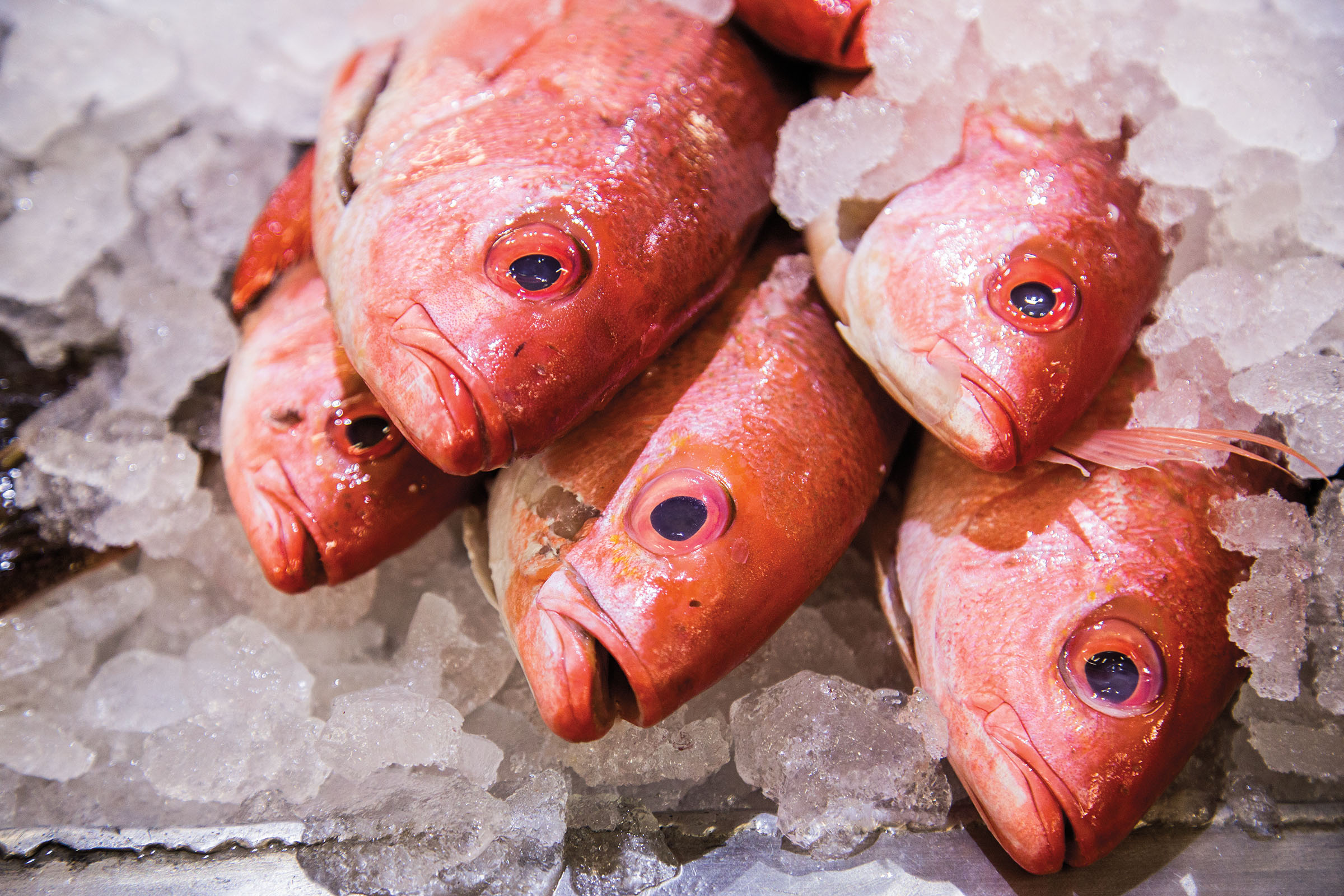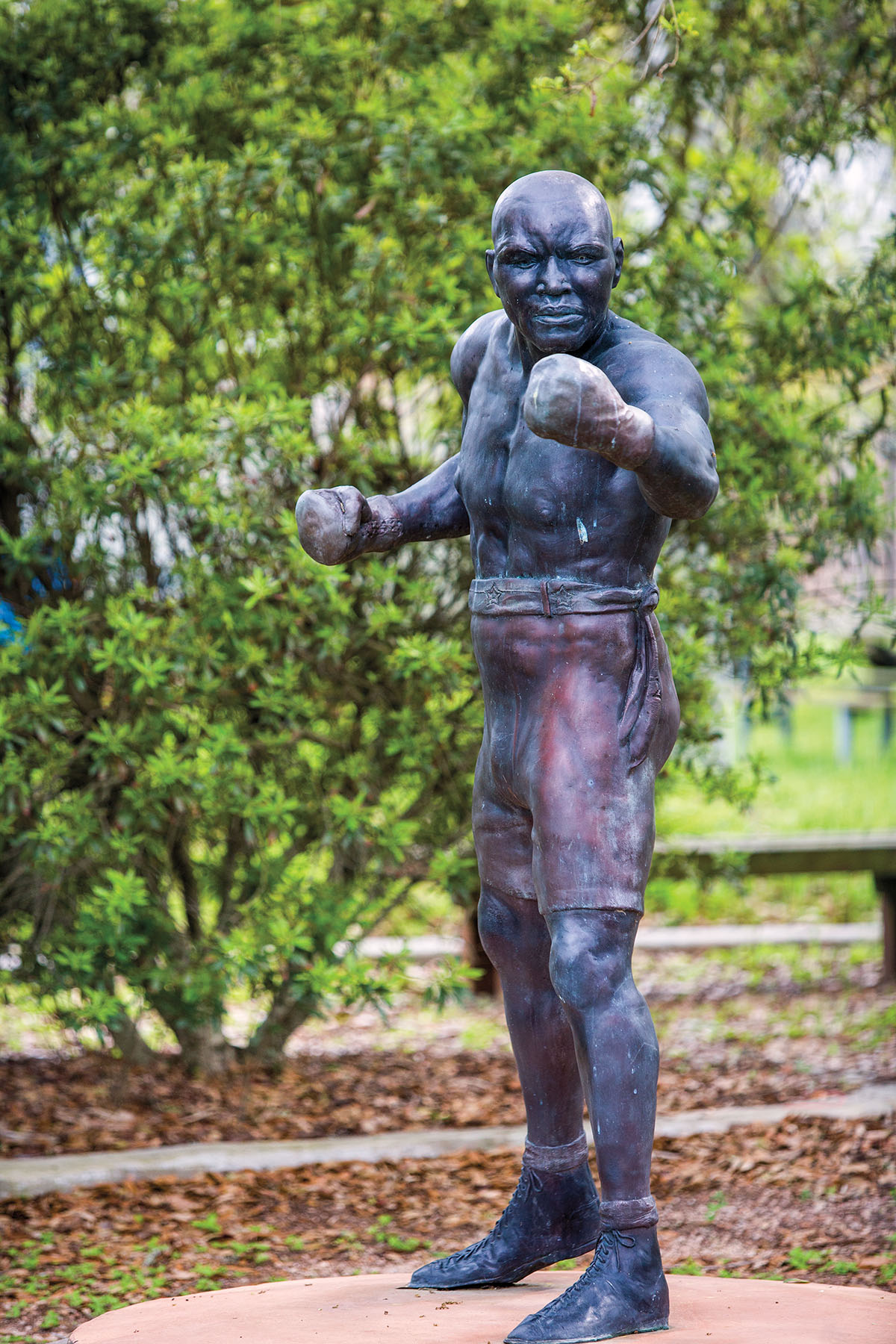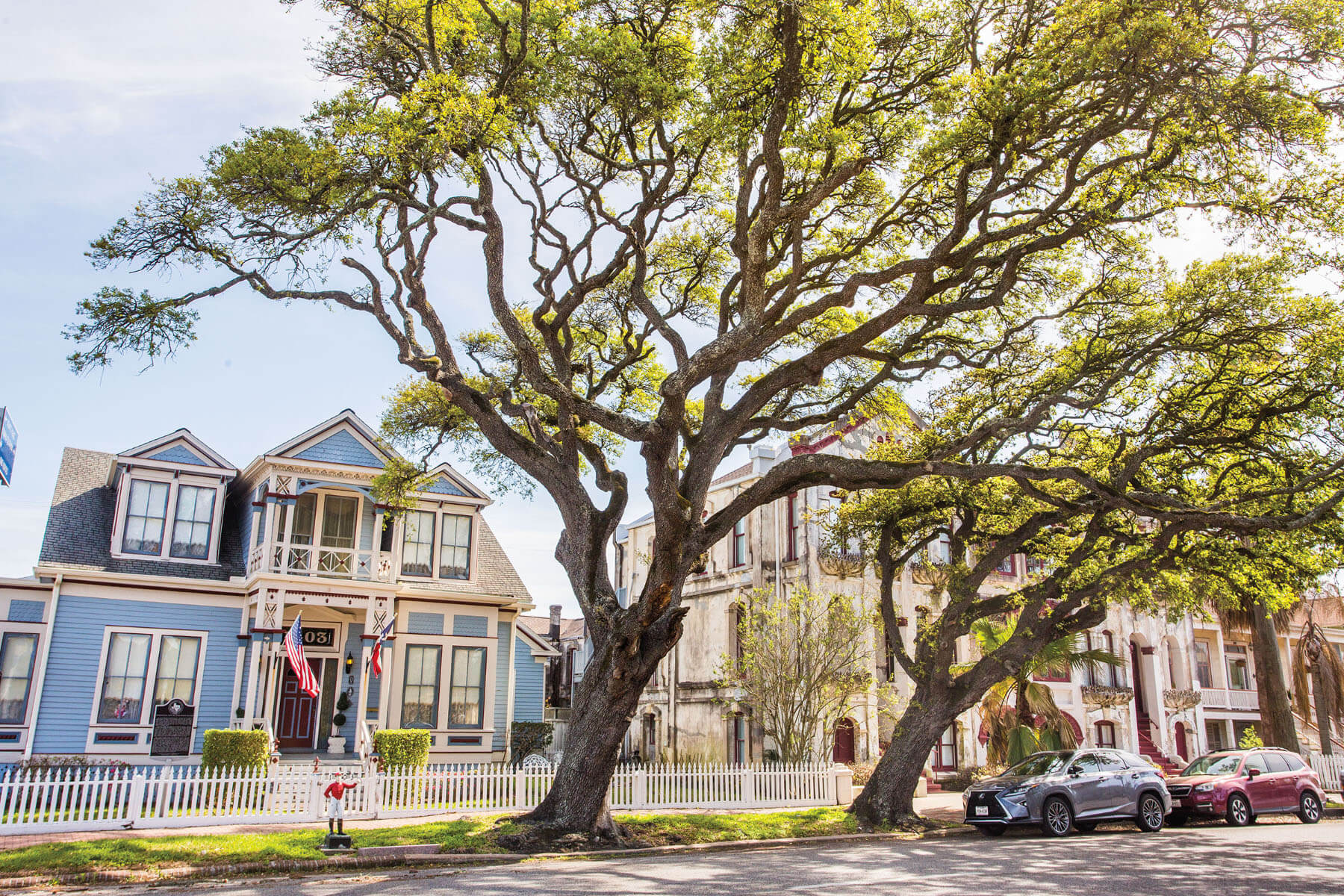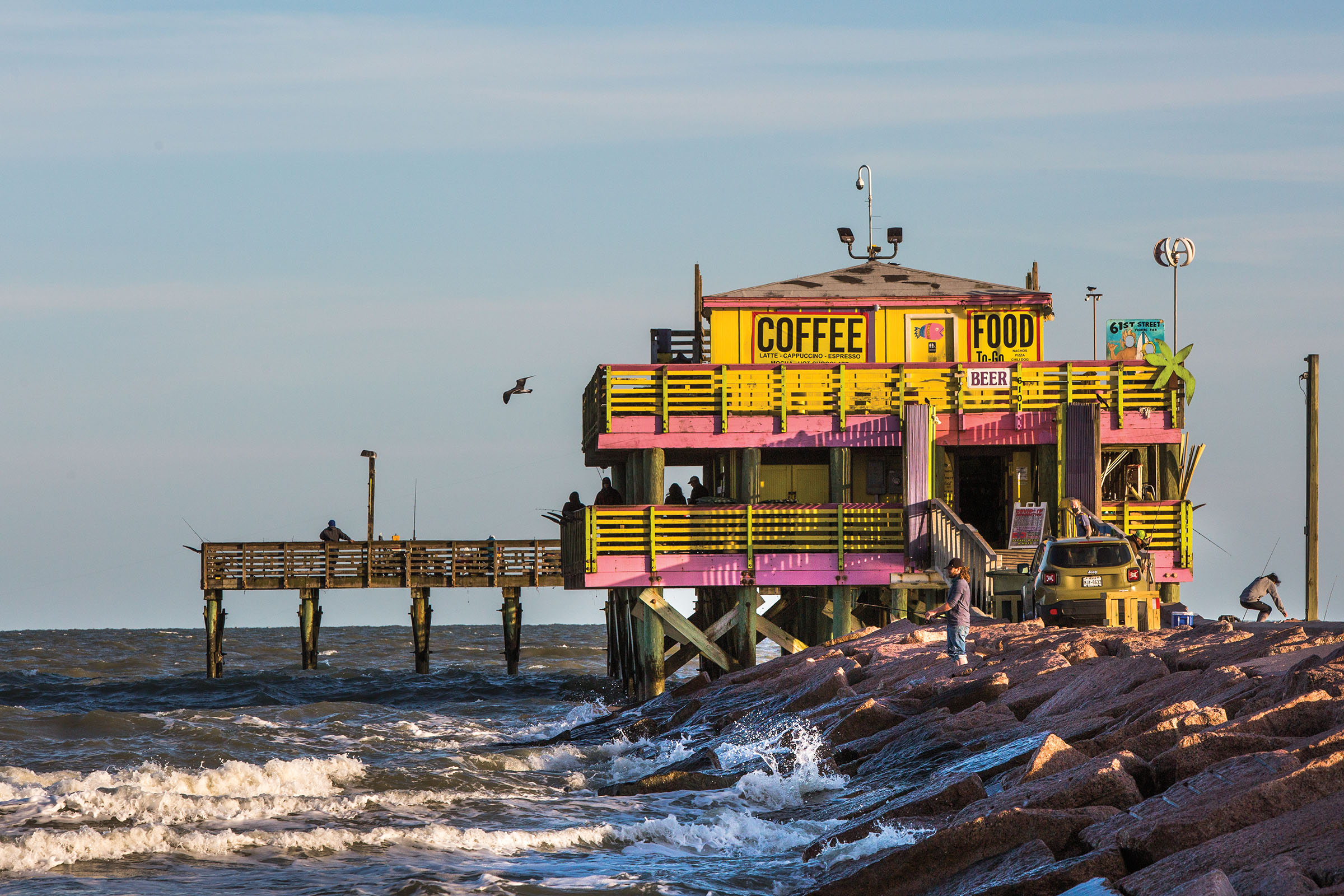 A New Era

Contemporary art. Multicultural food. Timeless architecture. Fascinating pirate and gangster lore. Today, Galveston is punching above its weight class.
This is all helped along by Restoring Galveston, which is bringing Galveston's quirk and charm to the national audience it's always deserved. Viewers have seen the Cordrays purchase and restore everything from grand mansions and humble shotguns in the East End to the self-explanatory "Kettle House" on the island's West End. Once a curiosity off-limits to the masses, it's now a vacation rental thanks to the Cordrays. "How could we not fix up the Kettle House?" Michael asked. "We've had people tell us staying there is a bucket-list item."
Their efforts are paying off—the success of their show, and generous market conditions, have brought in real estate competitors. To the Cordrays, the more the merrier. "There are way more houses here to fix than we could possibly ever get to," Michael said. "I might disagree with some of what these people do with those houses, but at least they are being saved. We just want Galveston to thrive."
Meanwhile, on the eternal seawall, Galveston still brings in the day-trippers and tourists. And like the saying goes, the more things change… While the city's rim is no longer lined with Maceo casinos and speak-easies, it is richly encrusted, like salt on a margarita glass, with Fertitta-owned restaurants as well as his San Luis Resort, where Backe tussled with police, and his Pleasure Pier jutting out into the Gulf not far from where his ancestors' Balinese Room once perched. If the seawall is a Come and Take It flag, the piers these stubborn men keep extending into the Gulf of Mexico are its masts.
What was it that William Faulkner once said about the past—that in Mississippi, it was never dead, nor even past? In Galveston, those words come back to me, albeit garbled. In Galveston, the past isn't dead, nor even past. It's just gone legit.

Chill Out
The best way to enjoy Galveston's laid-back charm is at a relaxed pace. Bring your own bike or rent one at Jungle Surf Rentals (1020 Seawall Blvd.). All but a couple of the shops, restaurants, and bars listed below are easily accessible on two wheels, or two feet.
Shopping: Strand mainstay Hendley Market (2010 Strand St.) beguiles with its eclectic assortment ranging from rare Texana to gag gifts. Upscale Tangerine (2218 Postoffice St.) offers West Coast-tinged garb, and Galveston Bookshop (317 23rd St.) peddles vinyl records.
Dining: You can't say you know Galveston cuisine until you've eaten at Gaido's (3828 Seawall Blvd.). Locals drool over newer spots such as BLVD. Seafood (2804 Avenue R 1/2) and Katie's Seafood House (2000 Wharf Road). Maceo Spice & Import
Company (2706 Market St.) is like a living museum that dishes out the tastiest muffuletta this side of the
Big Easy.
Drinking: Wash down that muffuletta steps away at craft cocktail bar Daiquiri Time Out (2701 Market St.). The venerable Poop Deck (2928 Seawall Blvd.) is the mother of all Seawall dives, while Galveston Island Brewing (8423 Stewart Road) is highly regarded for its beers and family- and dog-friendly ambiance. Club 68 (3112 Market St.) offers soul and R&B, with beer, wine, and "set-ups," in a
welcoming environment.
From the June 2021 issue