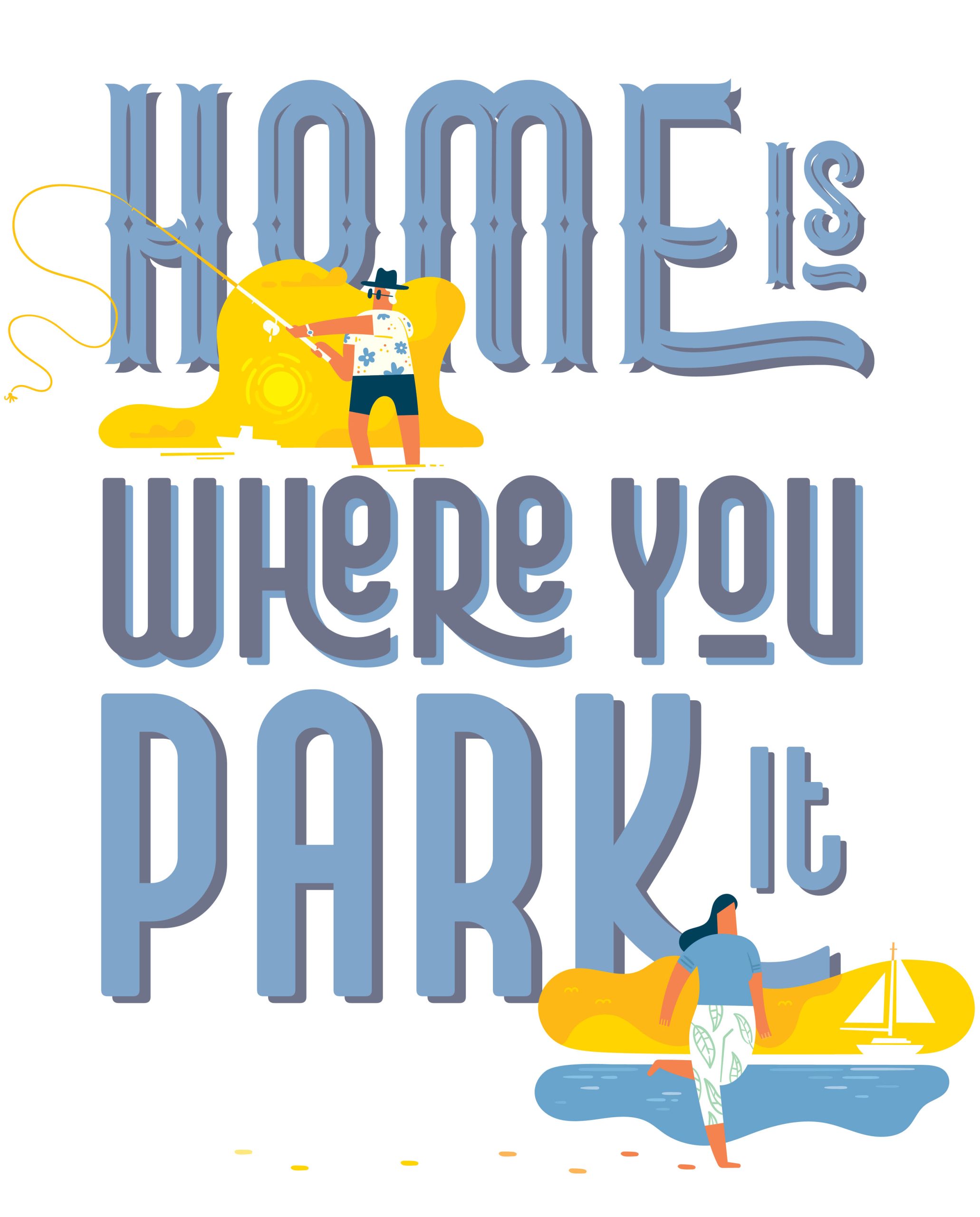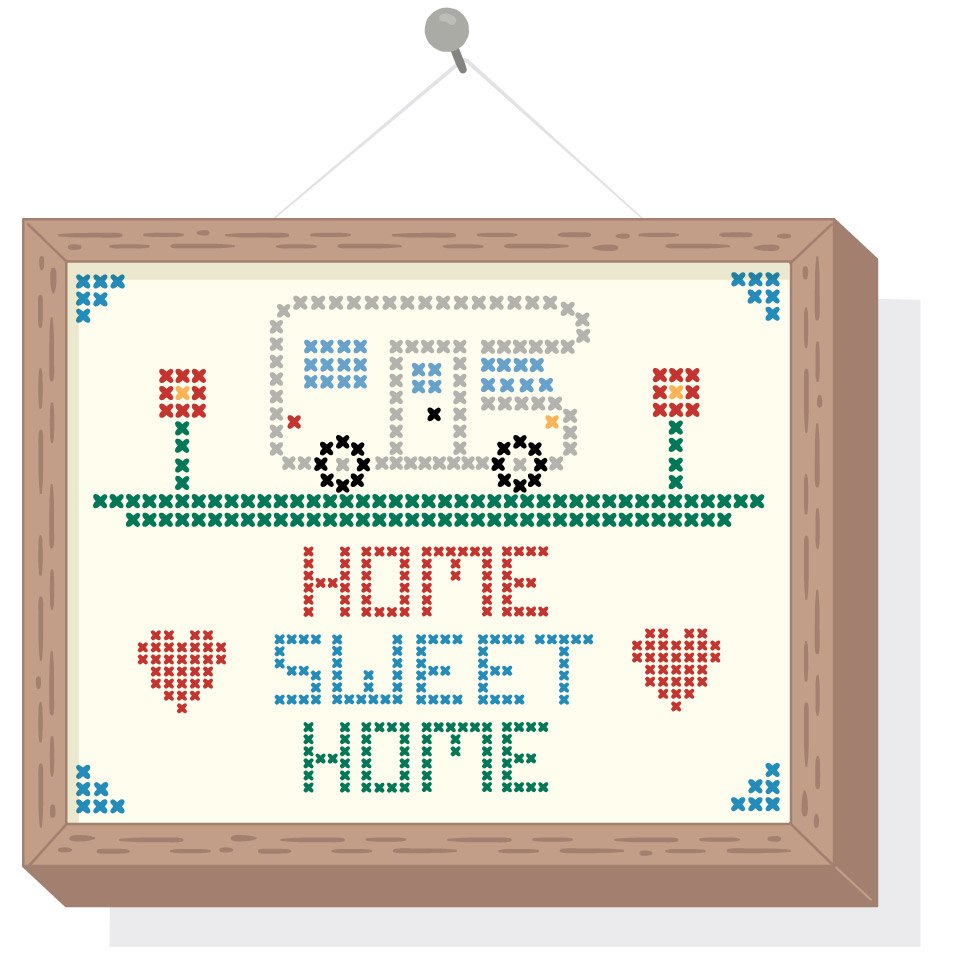 Candace Pegg was living the American dream in a two-story, five-bedroom home when something unexpected happened: The American dream shifted. Pegg had only ever lived in North Carolina with her husband, Jake, and two children—8 and 11. But the pandemic disrupted their domestic bliss, and a life she long wanted became more like a life she wanted to escape.
"COVID brought out the devil in everybody," she says, wearing jeans and a baggy sweatshirt as we stand in the clubhouse of Blue Water RV Resort in Freeport last fall. By early 2022, Pegg's job in the medical field had beaten her down, and between Zoom classes and conflicting work schedules, elementary school was a mess. She and Jake had always wanted to see the world, but they had jobs and children—the anchors of adulthood. She started poking around a Facebook group called Full Time RV Living With Kids, a resource and advice forum with nearly 60,000 members.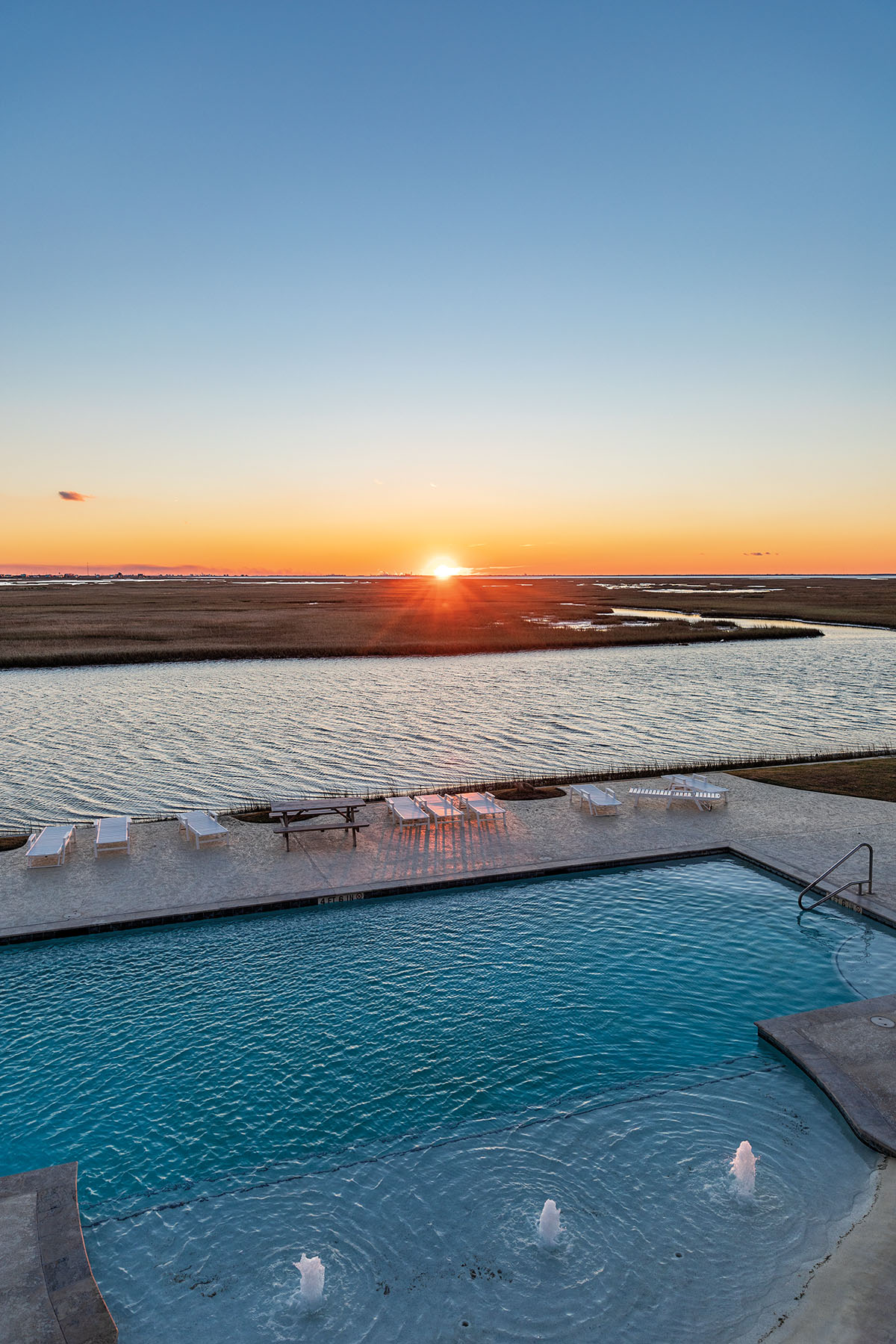 That's where she learned about Blue Water, a locale that appeared not so different from her town in North Carolina, a place of rural splendor about a 30-minute drive from the city. Bonus: The RV park was near the water, on the other side of a two-lane highway from the Gulf of Mexico, surrounded by marshlands. "A tropical paradise for vacationing families, weekend warriors, snowbirds, and anyone seeking solace and adventure," read the website, which boasted a private boat ramp, docks for fishing and boating, and kayak and paddleboard rentals. The Peggs were hooked. In February 2022, they sold their house and got rid of their stuff, hitched an RV they had purchased to their truck, and moved to Texas sight unseen.
"We went from a five-bedroom, 2,500-square-foot house on three acres of land to a 44-foot camper," Pegg says, looking out the window of an event space that overlooks five acres of waterfront, 13 acres of bay front, and 29 acres of marsh. A family of four in such small confines might be a nightmare for some, but for Pegg it was closer to freedom. "The simplicity of this lifestyle is like nothing I've experienced in my lifetime."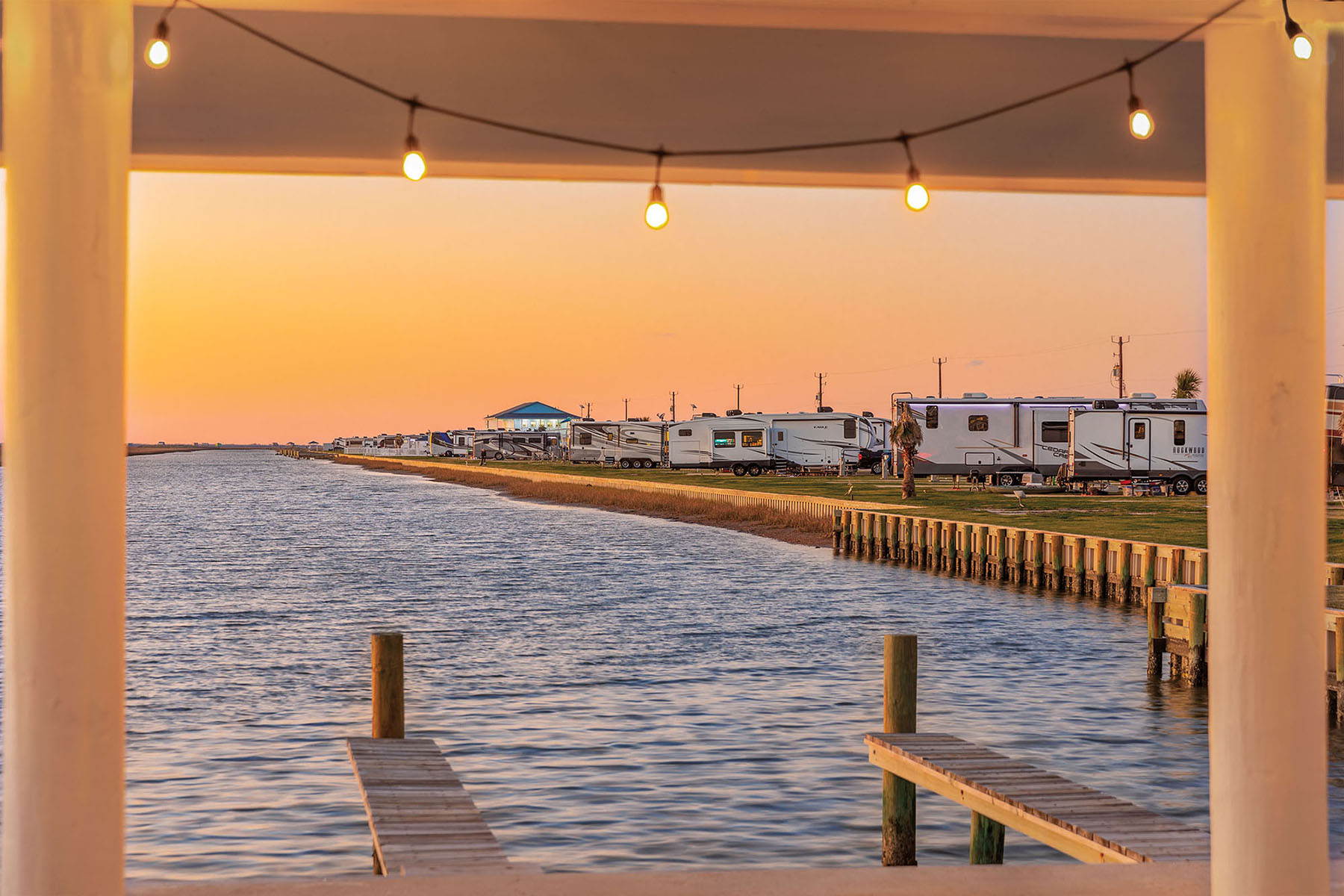 Retired couples tooling the interstates in sleek behemoths is an American tradition—and occasional punchline. But the cultural dislocation of COVID-19 brought a surge of new travelers who were a bit younger than the AARP demo. Hordes of the homebound took to the highways in RVs with names like Pleasure-Way, Sunseeker, and Palazzo. RV sales surged early in the pandemic as airplanes were grounded and families sought to sate their wanderlust in safe environments. According to the RV Industry Association, sales peaked in 2021, with a 16.9% year-over-year dip in 2022, thanks to soaring gas prices and the return of traditional travel. But the die had been cast for families like the Peggs. They were roaming the highways and occupying RV parks with vistas they'd once only imagined.
"All these things in your house, do you really need them?" Pegg asks. She and Jake landed gigs on the Blue Water property to cover site rental and expenses. They found themselves among an unconventional group of seekers and settlers at 179 RV sites and four cottages occupied by RVs featuring license plates from far-flung locations: South Dakota, California, and the Canadian provinces of Quebec and British Columbia. "You'd be amazed at how many families do this," she says.
Texas has become an alluring location
for RVers, thanks in part to its 89 state parks available to road trippers. Some of the state's most popular RV parks are nestled in the Hill Country. But the beachside RV parks near port cities like Galveston and Corpus Christi emit a special siren call with their sandy shorelines and balmy afternoons during the months that require snow tires and shovels in other parts of the country. Though many of these nomads in RVs are "Winter Texans"—folks who travel south to Texas during the colder months—these destinations are even more coveted in summer as spots for fishing, kayaking, and surfing.
About 50 miles northeast of Blue Water, on the Bolivar Peninsula, rises Camp Margaritaville, the megamall of beachside RV resorts. Each of the 204 sites has a fire pit, picnic bench, and palm tree, in addition to an RV hookup, or "pedestal tower." Opened in early summer 2022 as Bolivar Beach Club, the upscale-yet-down-home concept has since become affiliated with the Florida-based Camp Margaritaville, a growing empire created by musician Jimmy Buffett. But Camp Margaritaville retains independent ownership.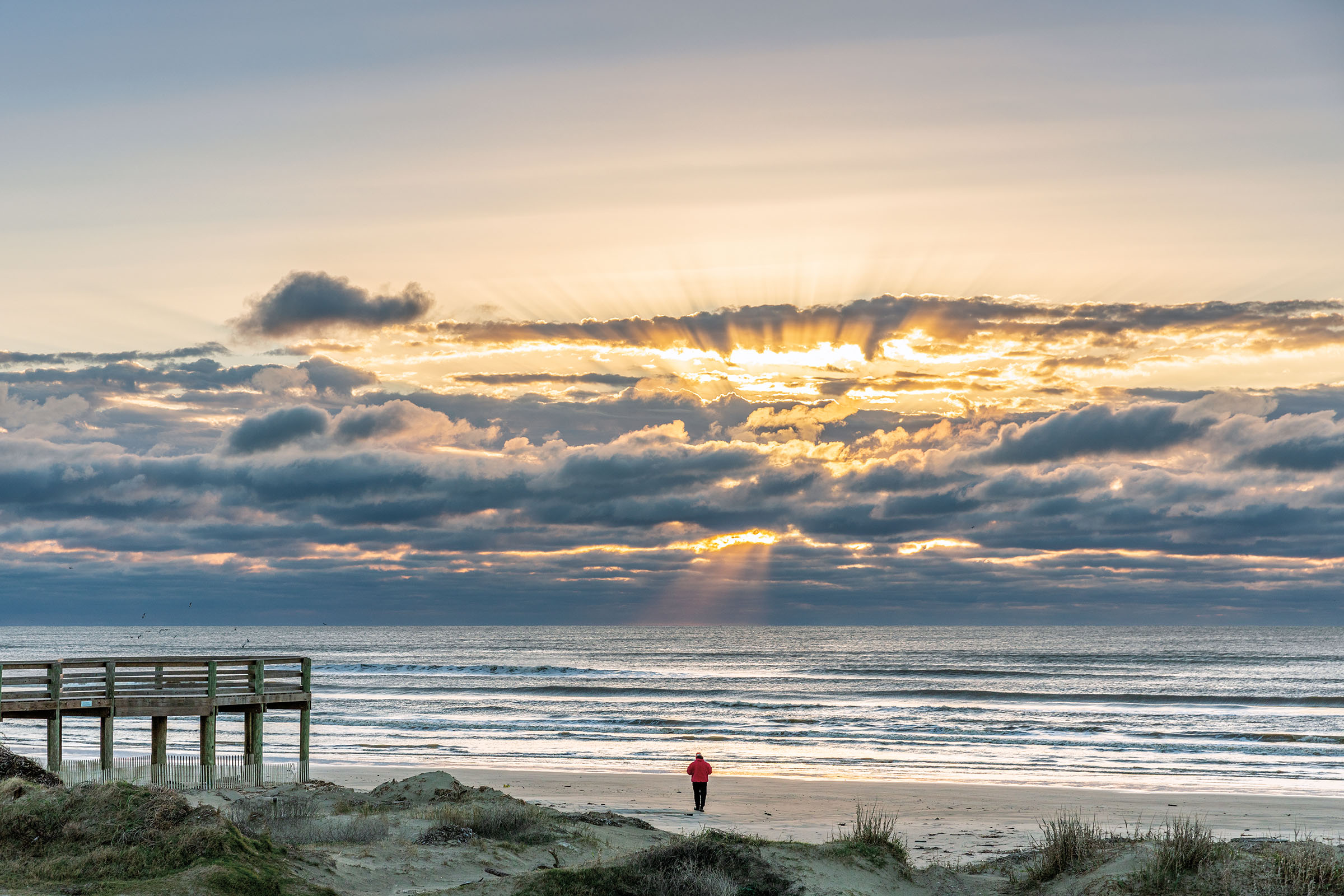 I walk around the 150-acre property with street names like Paradise Way and Sunset Drive. RV parks are known for rustic charm, but Camp Margaritaville is in a class unto itself. There's a concert stage overlooking a 50-foot expanse of artificial turf, a three-story bar and grill, and an arcade featuring Guitar Hero and Mario Kart. "What we're doing is very ahead of the industry," says manager Brad Ballard. "It's more of the modern camping experience instead of old-school." The RV equivalent of glamping.
Bob Marley blasts through the vast sound system when I visit in the early afternoon. Middle-aged guests sip frozen margaritas in an enormous, heated "License to Chill" pool with a swim-up bar flanked by hot tubs on both sides. Ballard says they've had 1,000 folks in the pool at once. The more discerning traveler can rent one of six VIP cabana suites with air conditioning, a flat-screen TV, and a wet bar. Although occupancy was modest that day in early December, the place gets packed on holidays and for live music. Some 1,200 people have rocked out to shows by country acts Kevin Fowler and Cory Morrow. Day passes are available, but the resort is targeting longtime RVers in the winter months. Golf carts are the preferred mode of transportation around these parts (and available for rent). Nearby Crystal Beach could be a state highway considering the amount of zigzagged tire tracks in the sand. What a Texan brag: Our beach is for driving.
Most beachside RV parks aren't quite as ambitious. In Port Aransas, near Corpus Christi, I meet Susan Hunter, the manager of Port A RV Resort. This modest spot has two pools, a hot tub, and a few palm trees dotting 185 sites. Hunter sits in a mint-green office wearing an animal-print shirt with jeans and pink flip-flops and tells me about popular resident activities: bingo, yoga, line dancing.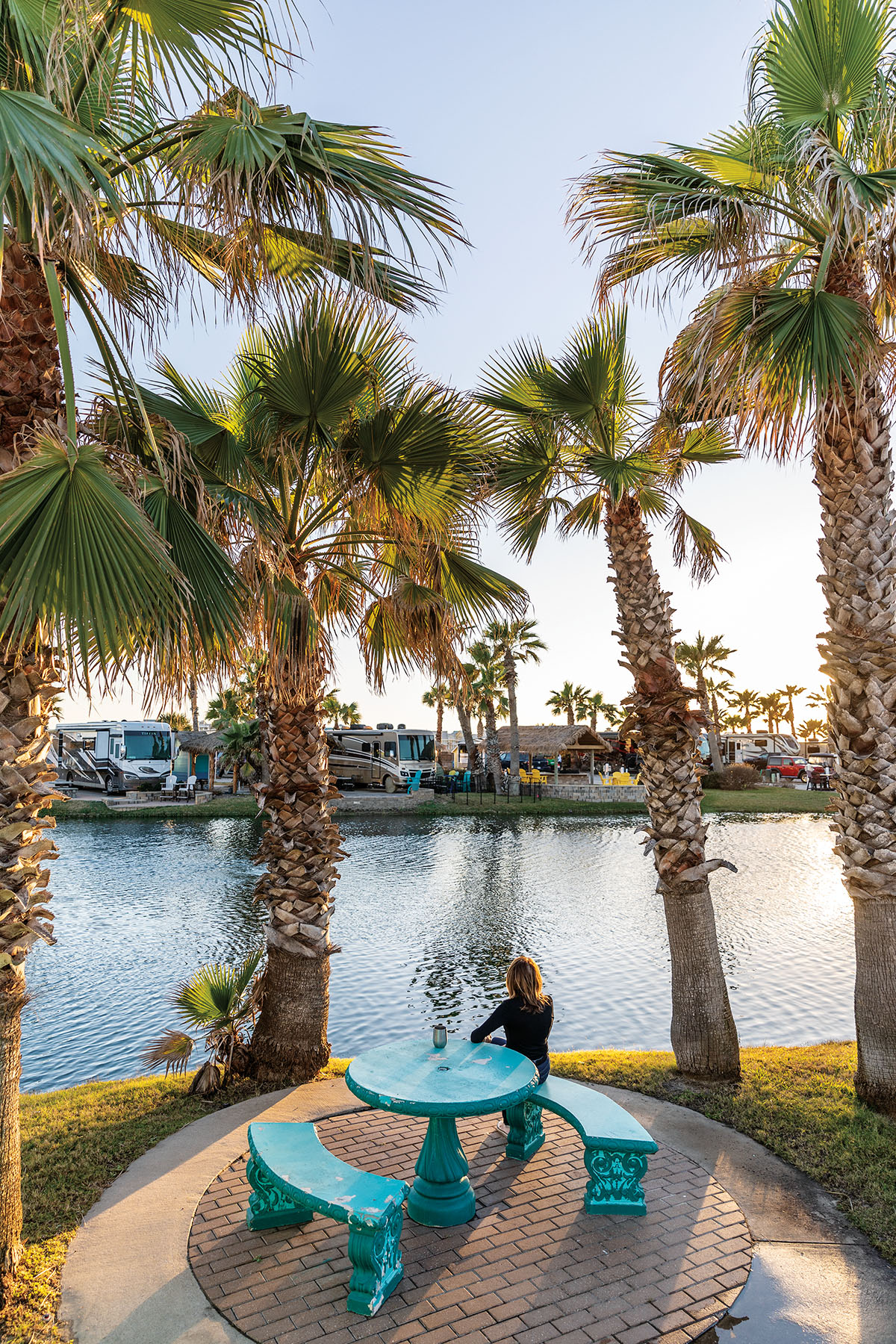 In another life, she was a traveling saleswoman. Now divorced and with three kids, she was attracted to Port A RV because the community's average age hovers around retirement. "I don't have to take care of my yard," Hunter says. But the RV life isn't perfect. After downsizing so quickly from her two-bedroom apartment in Rockport, and placing boxes in storage, she still can't find her winter coat. And her 34-foot camper isn't the easiest vehicle to maintain, although neighbors pitch in, and YouTube helps.
Female solo travel has exploded with a younger demographic, and the older demo is proving no different. "We have a lot of women who set trailers up," Hunter says. "I have two right now who became friends, living right across from each other." The park is a mix of folks traveling through and long-term residents. October and November are the lightest months, less than one-third full, but the park starts filling up in December. Fourteen RVs checked in on the day we spoke.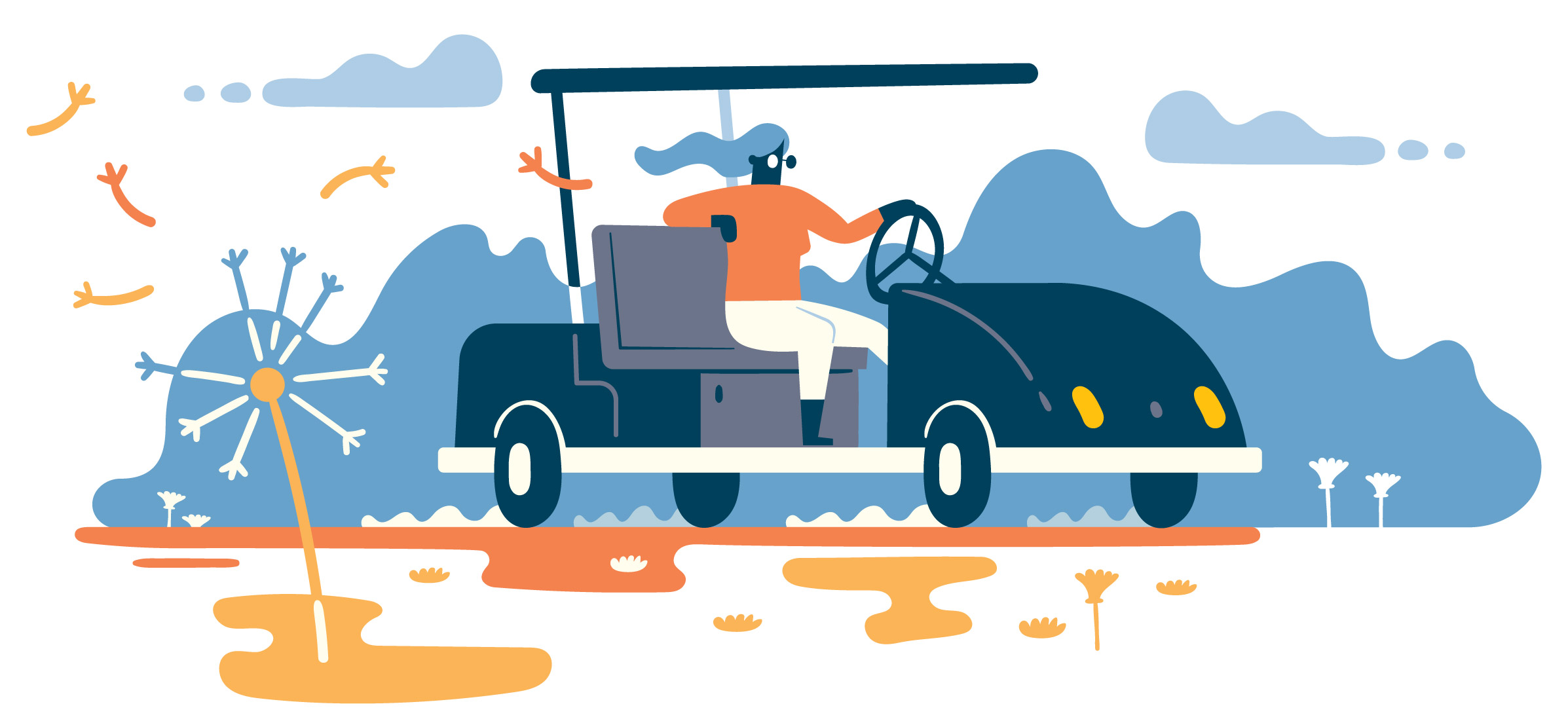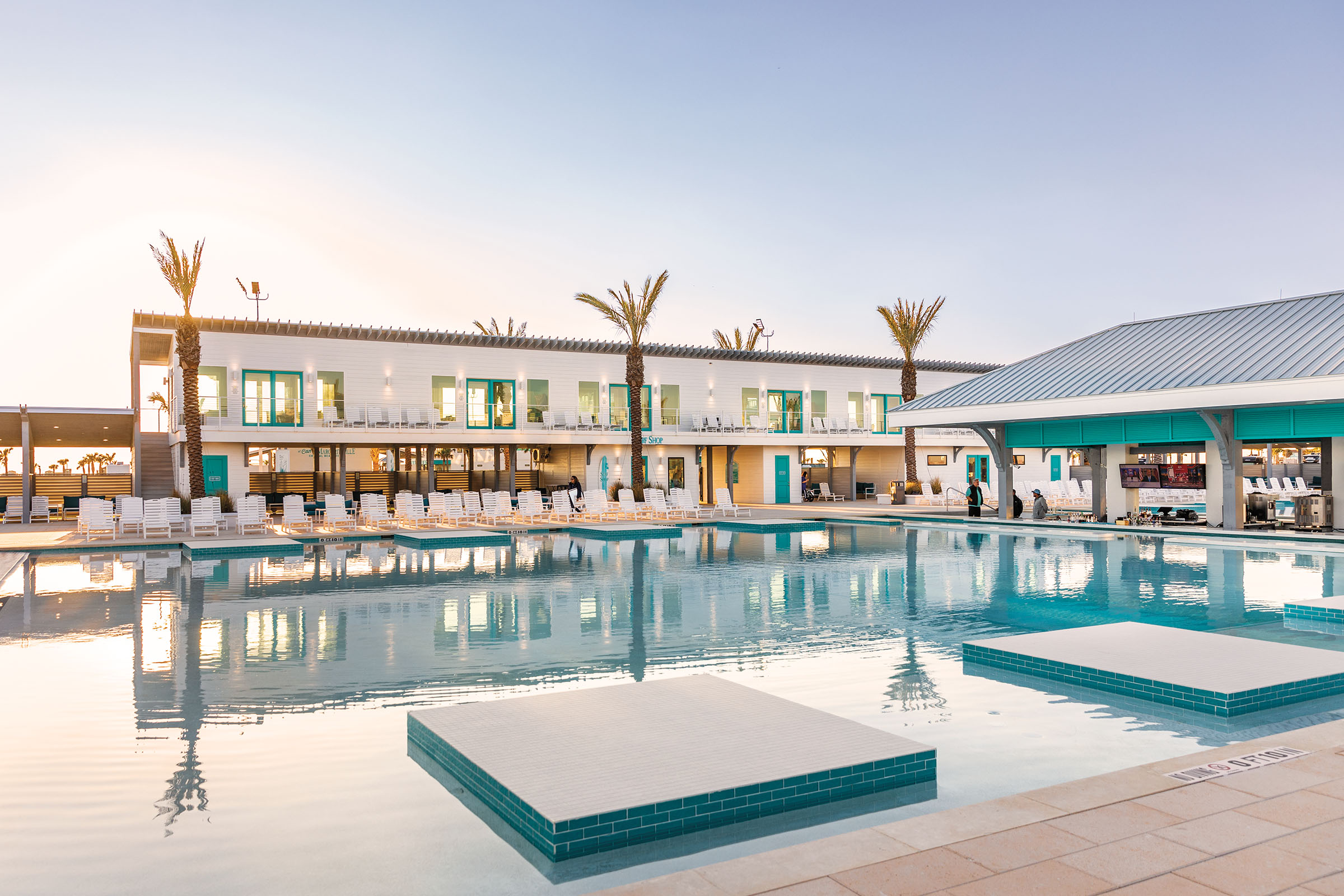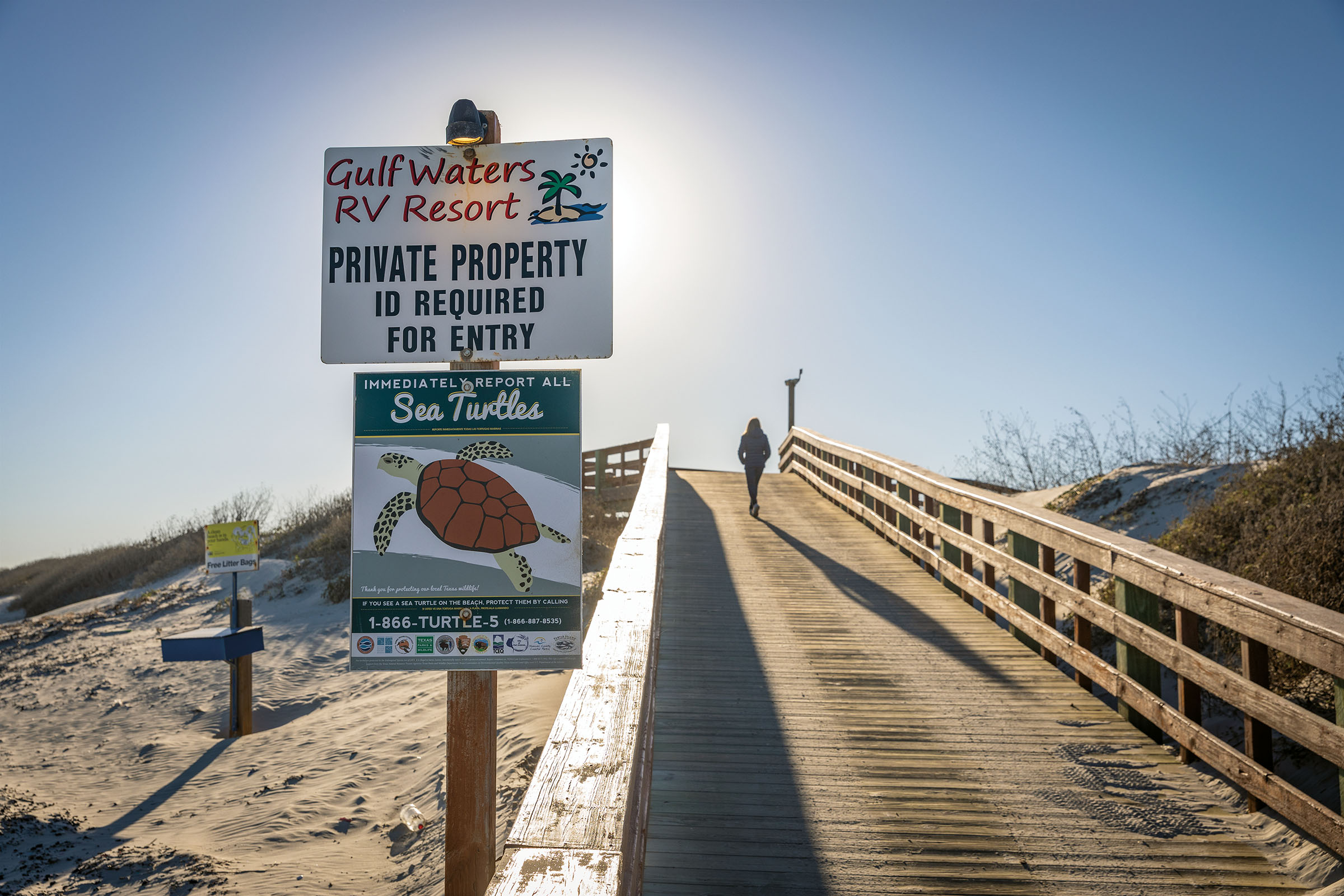 She drives me in a golf cart to a recently renovated rec hall. "This is where it all happens," Hunter says, as we enter an airy space with high ceilings, shuffleboard, and a flat-screen. A dozen or so white-haired residents looking trim and tan gather around crockpots of chili and plates filled with ham for a noon potluck.
"Twenty months ago, we left home for five months and never came back," says Paul Clifford, who's wearing an Arkansas Razorbacks baseball cap and a shirt from the Grand Canyon. He and his wife, Beth, love riding horses near an RV park in Napa Valley, California, but they come back to Port A for the winter months. The Upper Peninsula might be next, maybe Wyoming. "I tell everyone about this," he says, lifting a champagne flute filled with a mimosa at 11:30 a.m.
Less than 5 miles away at Gulf Waters Beach Front RV Resort in Port Aransas, 158 sites occupy a cozy expanse lined with thatched-roof lounging areas, comfy patio furniture, and hammocks. A handful of ponds shimmer with the reflection of the many nearby palm trees, as a couple fake mallards float on the water and a real pelican stands on the side. Gulf Waters has an unusual sense of permanence. Residents own their sites, with the option to rent them to travelers. They're decorated with baubles and painted signs that, in another part of the country, might say "Home Sweet Home," but here say things like, "Another Day in Paradise."
This is not a bad way to spend your golden years (or your middle ones), especially if you've seen the cost of retirement villages. Russell Harwood came to this conclusion late one evening in his home state of South Dakota as he was poking around campingworld.com and stumbled across a 25-foot Winnebago for sale. (Jack Daniel's might have been involved.) Harwood's mother had passed away, and his father, Boyd, had reached his 80s, a decade of too much TV and torpor. The RV seemed like a way to see the country with the comforts of home.
This was in 2019, a few months before the pandemic. Since then, father and son have become seasoned travelers. They upgraded to a 40-foot RV with a full-size shower, a kitchen, and room for Rascal, a boxer mix that Harwood calls his "70-pound lap dog." The new RV is an older model, built in 2003, but Harwood can fix anything. He's worked farm equipment most of his life.
The pair drove to NASCAR races in Kansas and Sonoma Valley, California, before winding their way to Galveston and settling at Sandpiper RV Resort, a beachside RV park not far from downtown. The 43-site park is ideal. There's a Walgreens across the highway and a long stretch of shoreline a short walk from their front door. For Russell and Boyd, accustomed to bone-chilling winters and tending to the farm, this is easy living.
"Where else can I rent beachfront property for two months?" Harwood asks me on a foggy day in early December that reached a high of 70 degrees. The flat-screen inside his RV is turned to The Weather Channel, which informs us that back home in South Dakota it's 3 degrees.
"The fog was awesome today," says Harwood, who wonders if he might keep doing this even after his father is gone. It's a good life. He has everything he needs: an air fryer that cooks pretty much anything, a liquor store in walking distance, an electric scooter when he needs to go to town, and nice folks for neighbors. "I walk 2 miles on the beach every day with the dog," Harwood says. He looks younger than his 62 years, with a boyish grin and skin lightly browned by the sun. Weekends can be crowded, but in these winter months, it's a calm scene. "Monday through Thursday, I get the whole beach to myself."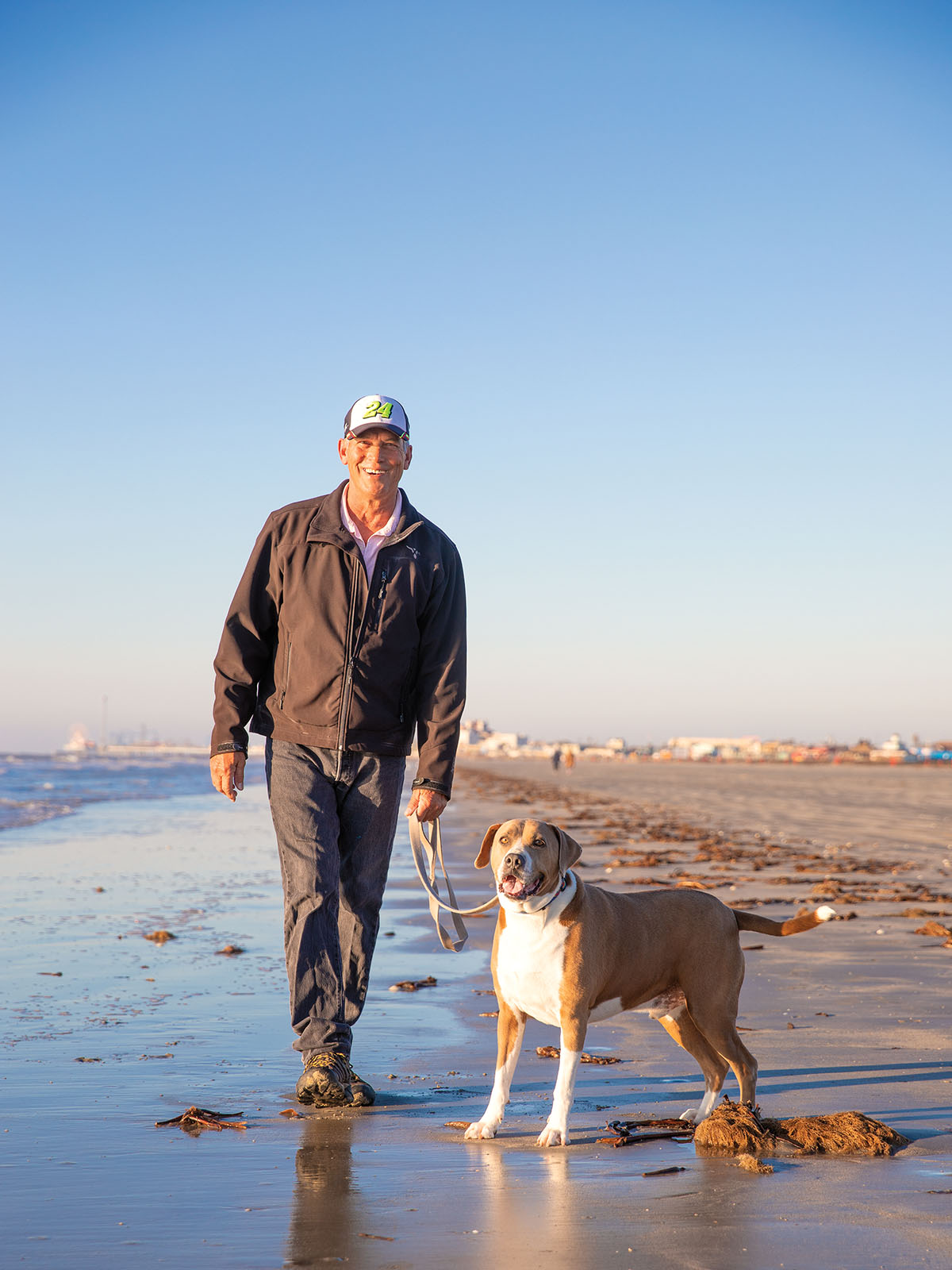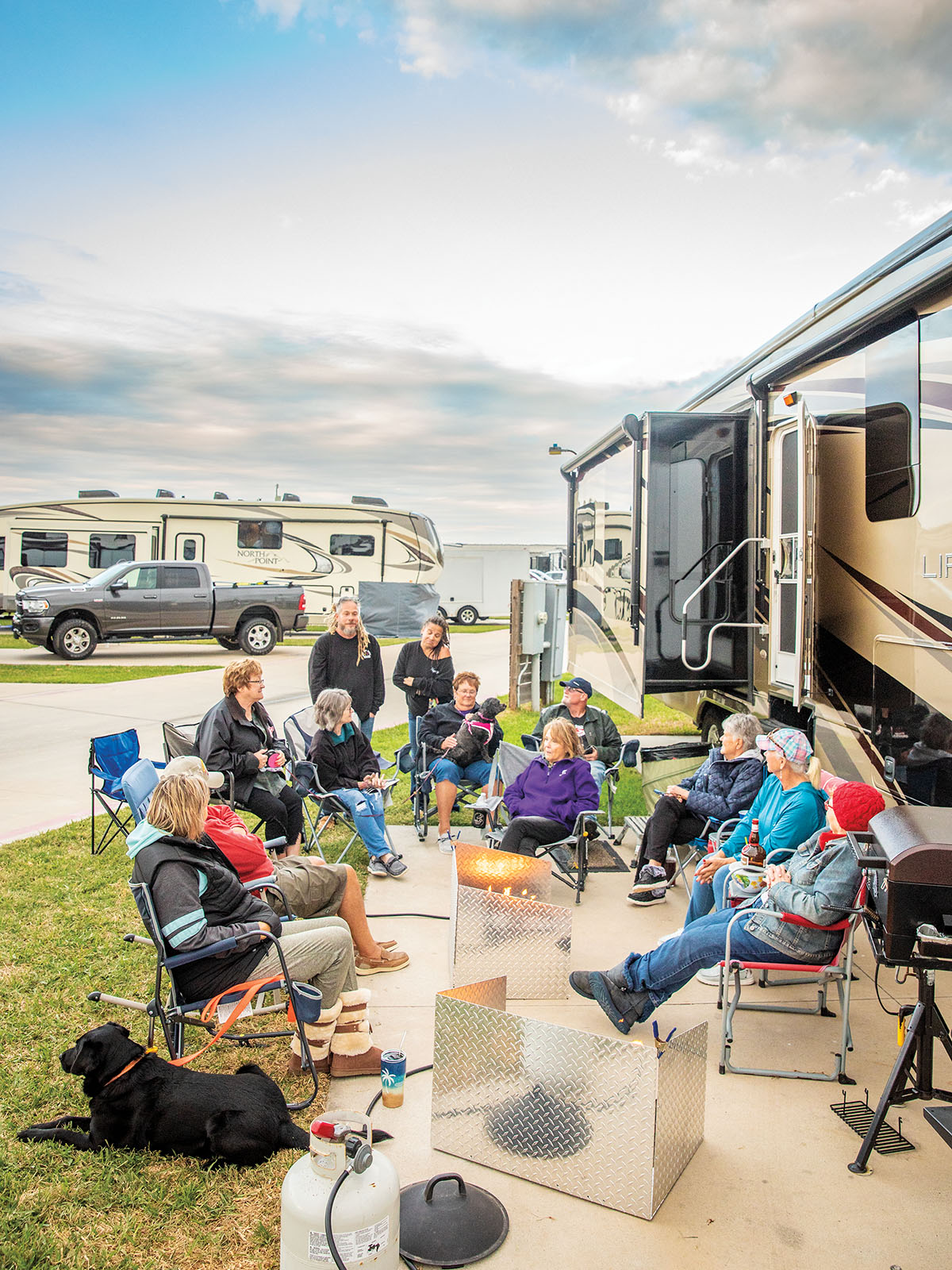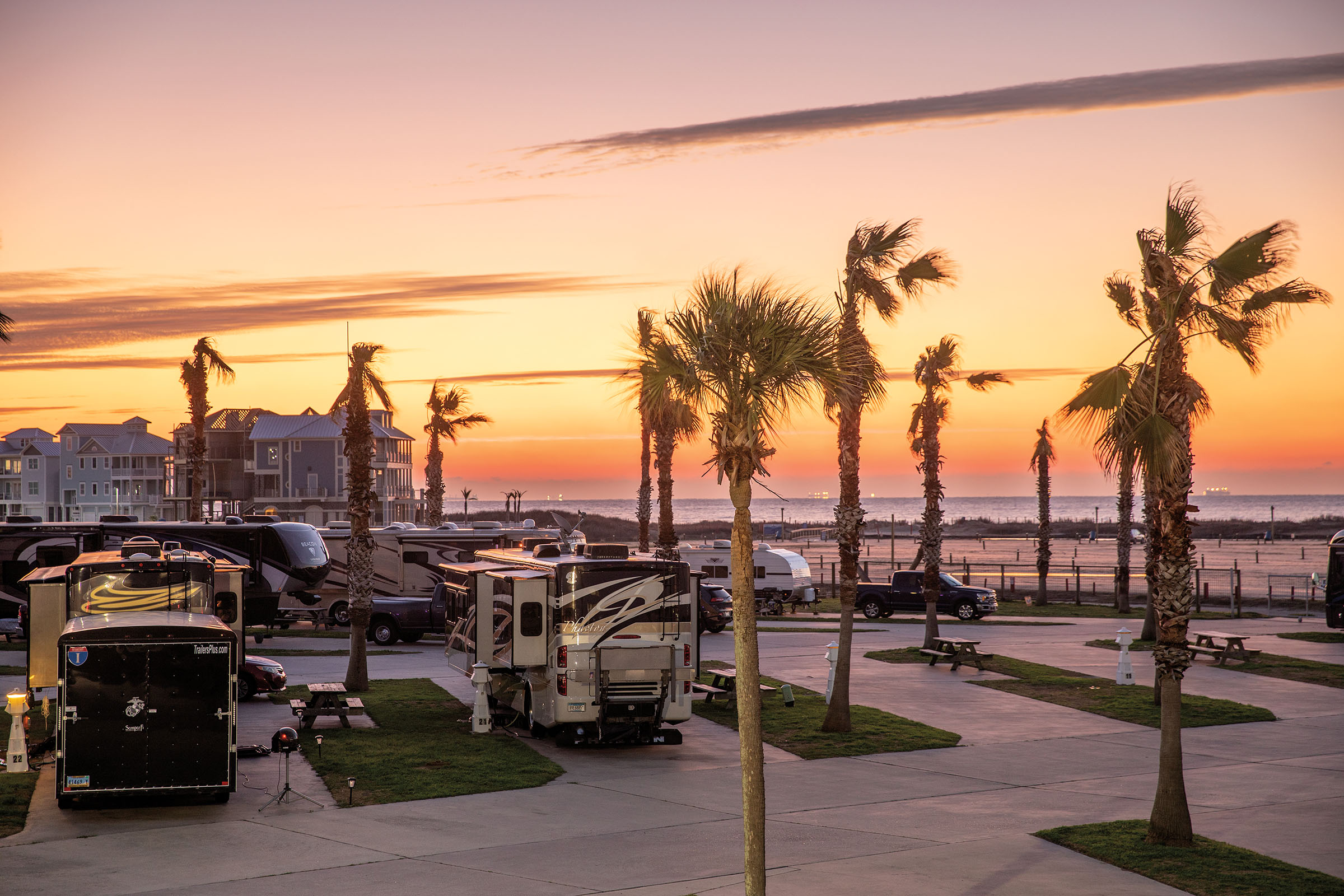 About 30 miles southwest,
back at the Blue Water RV Resort, Candace Pegg enjoys her own peace. "I'm not as stressed," she says. "I got to come off medications from the stress of what I call my big-girl job." Home-schooling isn't even daunting after seeing the chaos of Zoom classes and reading yet another news alert for a school shooting, she adds. Plus, the Full Time RV Living With Kids Facebook group is full of tips. Although the common critique of home-schooling is that kids lack socialization, Pegg sees her two children thriving.
"My kids are more social now than they were in public school," she says. The park has a few other children, in addition to a playground and a basketball court. It's a community, with group activities like cornhole tournaments, and the kids have gotten to know grown-ups from across the country, strangers who became neighbors. "You miss your real family," Pegg says, "but you make family here."
Not long after the Peggs arrived, a couple from Texas pulled into the space beside them. A traveling nurse and an EMT worker in their 40s, they're not much older than Candace and Jake. The families became close and check in on each other's properties and pets from time to time. It takes creativity to negotiate four people in a 44-foot camper. But who said parenting wouldn't require ingenuity?
"When I've had a rough day, I go walk on the beach," Pegg says. RVers refer to a normal house as "sticks and bricks," and while that life made sense for a while, she prefers this way. It's similar, with twists. "A date night isn't going to a movie," she says. "It's going up to the rec hall and playing cards or putting the kids to bed and popping some popcorn to watch a movie." For now, the kids enjoy the proximity to their parents, though they're not yet teenagers. "When the kids are older, it might be different," Pegg admits.
She drives me in a golf cart out to the trail, where the canal leading to Christmas Bay disappears into marshland with sprays of yellow dandelion. "This is the place to be when the sun sets," she says, stopping the cart and taking a deep breath in the robust breeze. "It's always windy, but when you don't have the wind, you get the mosquitoes."
Blue Water turned out to be a home away from home after all, but the Gulf Coast did come with a downside. The salty ocean air started to corrode their new RV. Pegg runs her fingers along a patch of rust that showed up after a few months. "If it weren't for that, we'd probably never leave," she says. "It's a hard pill to swallow when you put so much into a camper."
The Peggs have decided to take another work-camp gig near the Grand Canyon in Arizona. They'll miss it here. Pegg looks around wistfully at Blue Water. "This place is the best," she says. "Until I find the next place."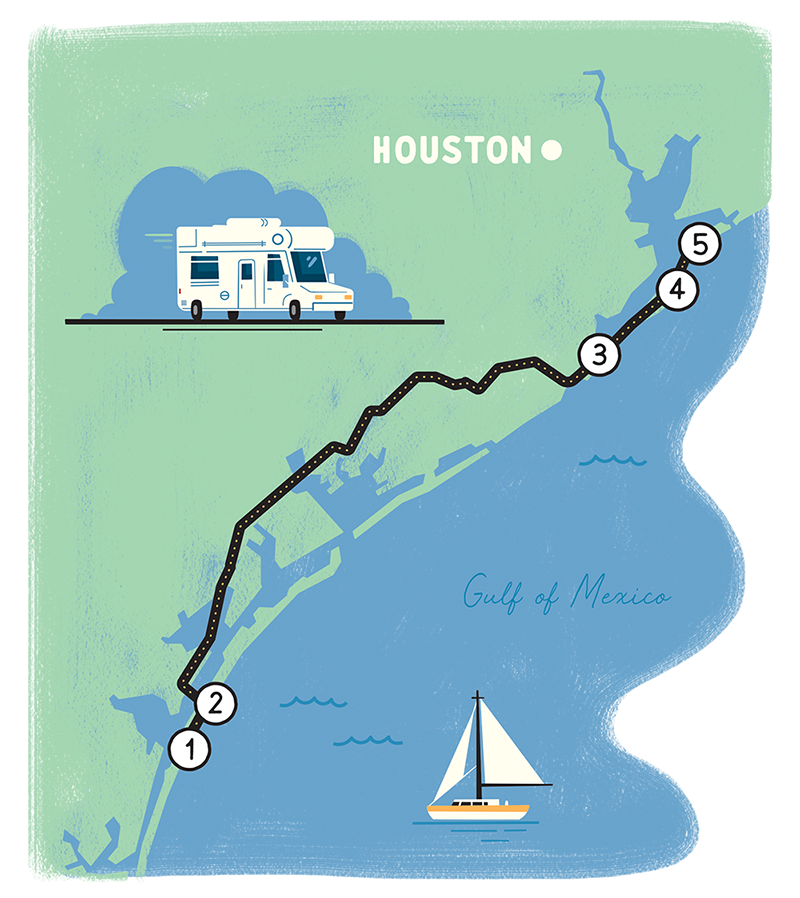 Hooked Up
These prime RV spots span a 230-mile stretch of coastline.
1. Gulf Waters Beach Front RV Resort
5601 SH 361, Port Aransas.
361-749-4978; gulfwatersrvresorttx.com
Palapas, fire pits, and wet bars dot the grounds of this RV park, where sites are individually owned and rented out for travelers just passing through.
2. Port A RV Resort
2600 SH 361, Port Aransas.
361-416-1405; portarvresortparadise.com
A tightknit community of mostly retirees meets in recently renovated common areas for bingo, yoga, shuffleboard, and potlucks.
3. Blue Water RV Resort
11511 Bluewater Highway, Freeport.
979-428-5867; bluewaterrvpark.com
This family-friendly spot includes a playground and ice cream socials, plus a private boat ramp and docks for fishing, kayaking, and paddleboating.
4. Sandpiper RV Resort
201 Seawall Blvd., Galveston.
409-765-9431; sandpiperrvresort.com
A short walk to Galveston's Stewart Beach and a quick drive to downtown, this low-key resort offers a balance of city amenities and island life.
5. Camp Margaritaville RV Resort
796 SH 87, Crystal Beach.
409-515-1970; margaritavilleresorts.com
A huge resort with live concerts and a swim-up bar in the self-proclaimed largest RV resort pool in the country attracts weekenders and year-round relaxers.
From the June 2023 issue