Gourd Vibes
The Panhandle town of Floydada grows the majority of the state's pumpkins
By Mary Huber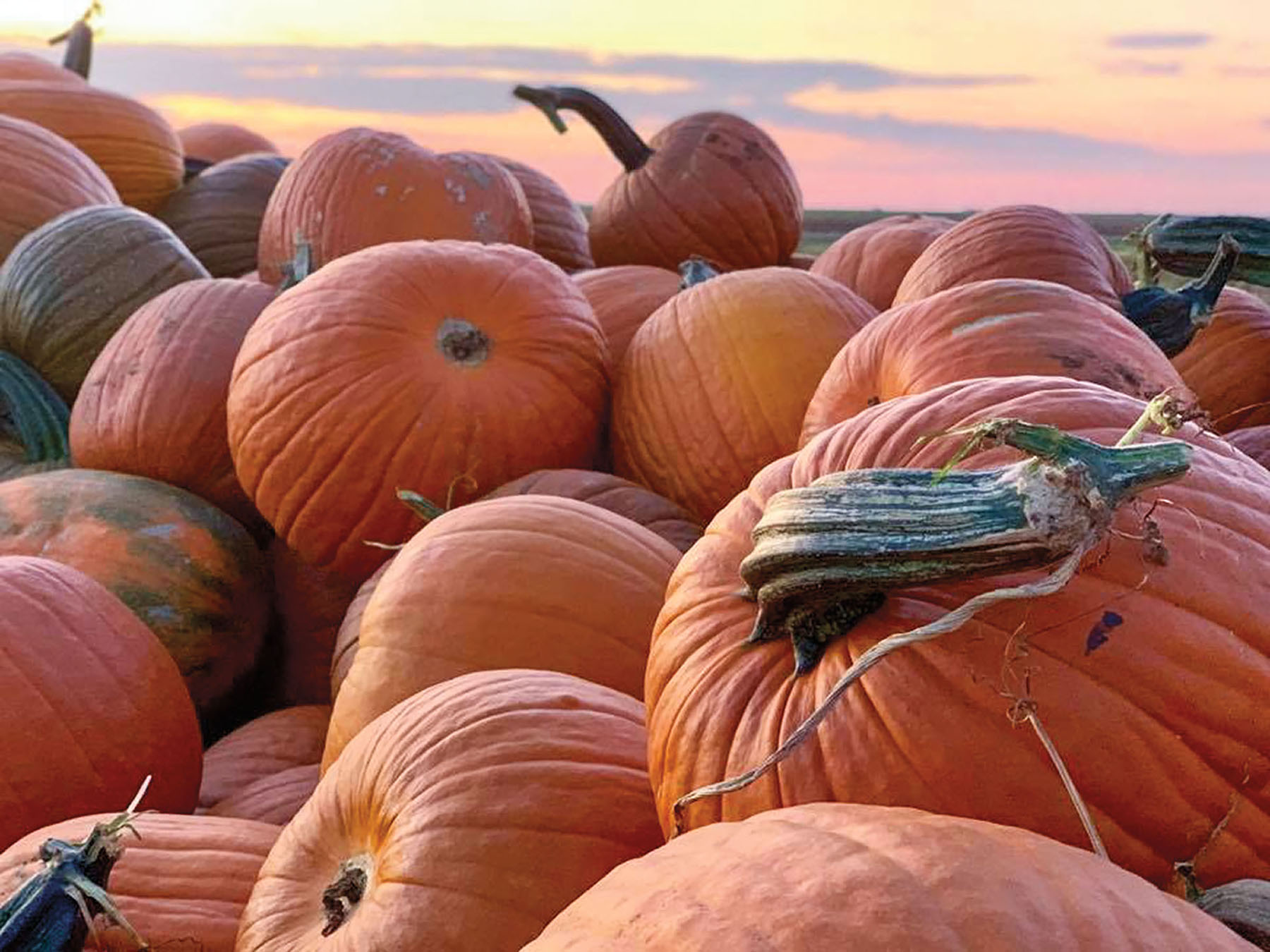 Every October, families head to fall festivals and pumpkin patches to pick out their favorite pumpkin to carve into a jack-o'-lantern for Halloween, turning them over in their hands, looking for scuff marks, making sure they are round enough, tall enough, wide enough. These decorative purchases account for the majority of pumpkins commercially grown in Texas, and most of them are farmed in the Panhandle town of Floydada, known as the "Pumpkin Capital of the U.S." The number of growers has seen a steep decline since pumpkin farming's heyday in the 1960s, according to Tim Assiter, whose family has grown pumpkins in Floydada for 70 years.
"In the mid-1990s, there were about 35 growers who grew 3,000 acres. Today, I am only aware of three growers who grow 1,200 acres," Assiter says. "Because of the cost of inputs, complex farming practices, and labor, there are fewer people growing pumpkins."
That makes the work of Panhandle gourd growers increasingly crucial. Despite their declining numbers, farmers in the area still produce millions of pumpkins a year for fall festivities.
"Kids are so enthused about seeing pumpkins growing in the patches and very proud to get their pumpkin," Assiter says. "Pumpkins kind of symbolize Thanksgiving. It's the turn of fall."
On the Farm
The Assiter Punkin Ranch, which Tim runs with his wife, Michelle, is the oldest in the Panhandle and produces various types of pumpkins.
What types of pumpkins do you grow at the ranch?
We raise at least 271 varieties of pumpkins, gourds, and squash at our farm. The staple has always been the orange jack-o'-lantern pumpkins—the traditional pumpkin. But the business has become a lot more specialized now.
What makes specialty pumpkins different from jack-o'-lantern pumpkins?
You can use an heirloom pumpkin as your decoration and, come Thanksgiving or Christmas, you can cook it. Those are the best for cooking and consumption. They all have a wonderful, sweet meat more like an acorn squash. The old orange jack-o'-lantern is not good to eat. They are more stringy.
How are pumpkins faring in recent extreme weather?
They have more issues in humid areas than in less humid areas. In Floydada, we have the right climate to raise pumpkins with maximum potential. But pumpkins take a lot of water, so you have to have good irrigation and good irrigation systems. The recent heat affects all the farming. Pumpkins are particularly sensitive. We have little pumpkins that are yellow right now, and we are real concerned about the excessive heat.
5,000-
8,000
Acres of pumpkins planted annually in Texas
90+
Percentage of Texas-grown pumpkins produced for ­seasonal ornamental use
250
Weight, in pounds, of largest pumpkin sold commercially by Assiter Punkin Ranch
Pumpkin Pickings
Assiter Punkin Ranch
Tour the farm, learn how the different pumpkin varieties are grown, and take a ride on a pumpkin-shaped train. Floydada also has a Punkin Days celebration on the town square on the second Saturday in October, which includes vendors, food, and kids' activities. Open through Oct. 31. 3451 Ralls Highway South, Floydada. pumpkinranch.com
Autumn at the Arboretum
This year's event is a Charlie Brown-themed pumpkin village with Peanuts characters and over 100,000 pumpkins, gourds, and squash. Get lost in a hay bale maze or visit the 3.5-acre herb and vegetable garden. Enjoy live music on weekends through Nov. 5. 8525 Garland Road, Dallas. dallasarboretum.org
Sweet Berry Farm
Located on 60 acres near Marble Falls, Sweet Berry Farm offers thousands of pumpkins to choose from, a Texas-shaped corn maze, and pumpkin ice cream. The Harvest of Fall Fun, when you can hop on a hayride or stuff your own scarecrow, runs until Nov. 5. 1801 FM 1980, Marble Falls. sweetberryfarm.com
Dewberry Farm
Located just outside Houston, the farm features around 50 attractions, including an 8-acre cornfield maze, heaps of pumpkins, and farm animals. Ride a carousel, shoot paintball guns, and indulge in tacos, pizzas, and other treats. Open Fri-Sun in October and select weekends in September and November. 7705 FM 362, Brookshire. dewberryfarm.com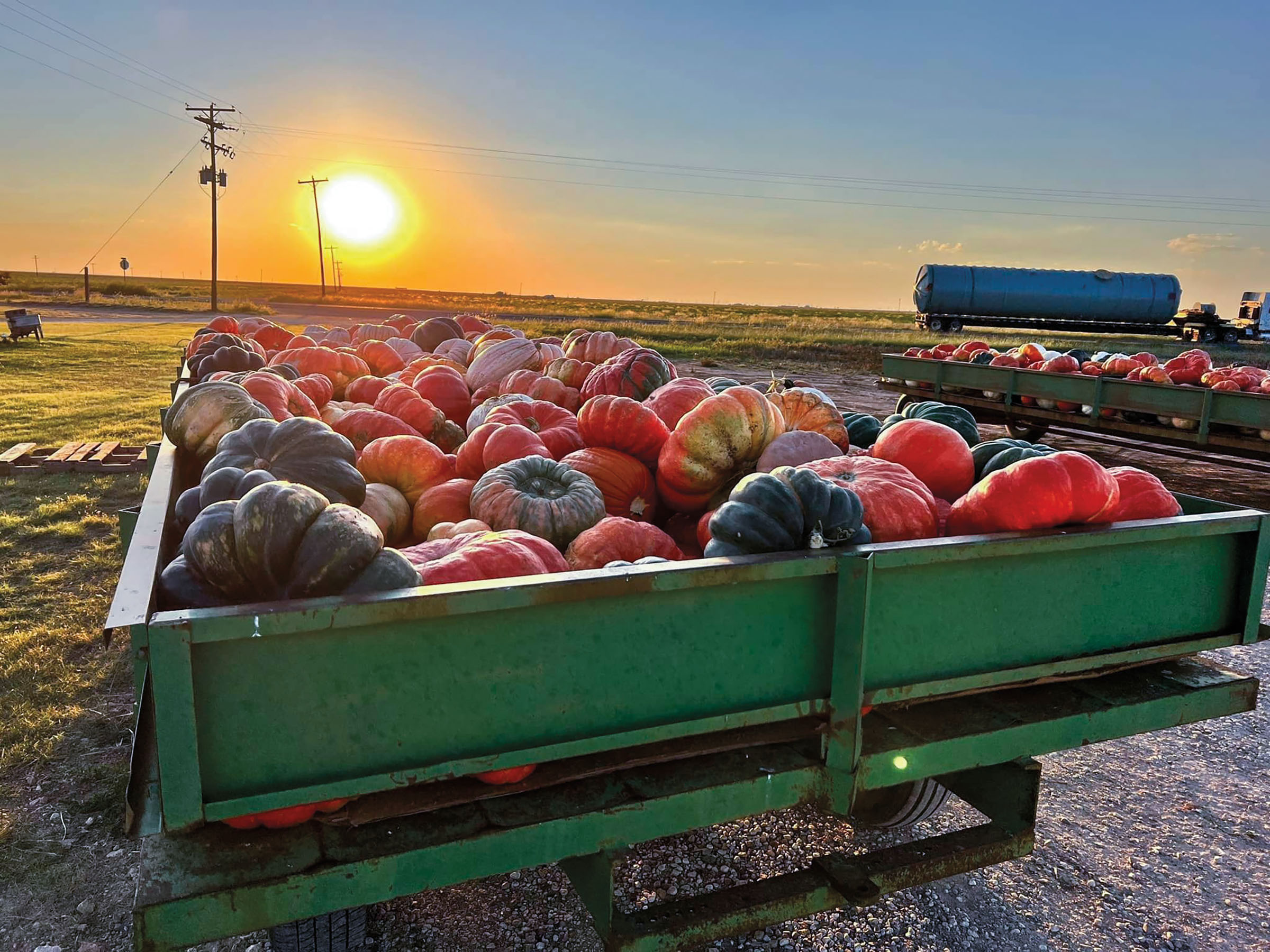 Patchwork
These specialty pumpkin varieties are sold throughout the state

Red Cinderella pumpkin

Green Fairytale pumpkin

Pink pumpkin

Blue pumpkin

Long Island Cheese pumpkin
From the October 2023 issue