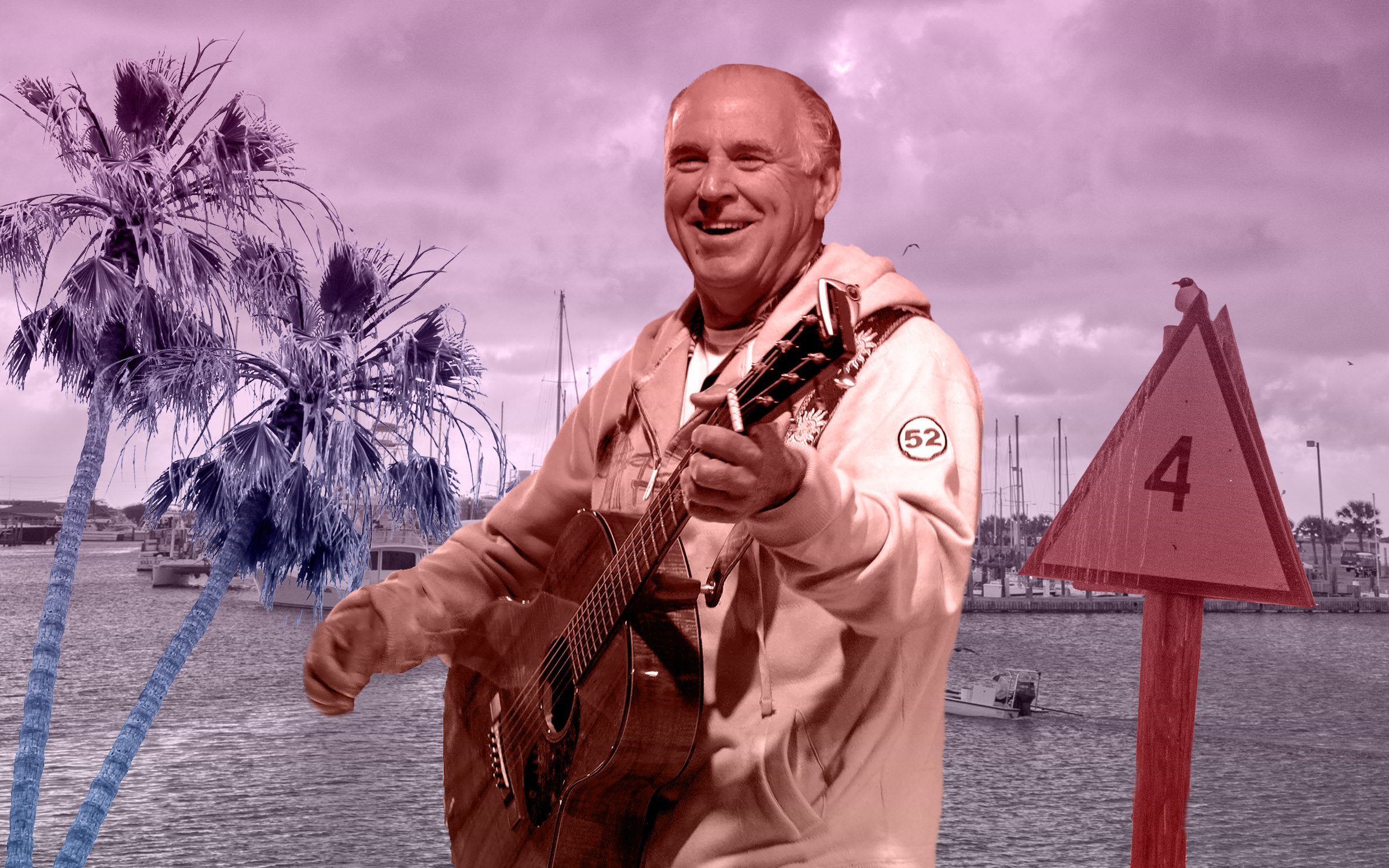 Changes in Latitudes,
Changes in Attitudes
The late Jimmy Buffett's music provides a soothing backdrop to travels around Texas for a father and daughter
I don't remember the first time I heard a Jimmy Buffett song, but I've got some good guesses. It could have been on a beach in Port Aransas, or maybe on the ferry that connects Aransas Pass to the island. Or maybe it was in my dad's truck with the windows down, bouncing through our back pasture on the way to feed the cows.
The first Buffett song I heard might have been "Margaritaville" or "Changes in Latitudes, Changes in Attitudes"—one of my dad's favorites. I went through an obsessive phase with "It's Five O'Clock Somewhere." My dad owned the CD of the 2003 Greatest Hits Volume II Alan Jackson album that featured the song, but I was 12 years old by the time that came out, and I know I'd heard a Buffett song before then. What daughter of a single dad in the 1990s hadn't?
I don't remember that first moment or first song with Buffett, but I've made more memories to his songs than I can count over the past 30-plus years. My parents divorced when I was 6 years old, and my dad got custody. He healed through a myriad of ways, some healthier than others. But one of his favorite methods was to follow the advice of one of his favorite Buffett songs and seek out a little bit of change in his latitude. That normally looked like driving down to Port Aransas, hauling down the fifth-wheel travel trailer that my grandparents owned, or staying somewhere like the Sandpiper. There was something about the salt air and the sand that was healing for both of us in those years and continues to be for us now. But I don't think any of it would have felt as restorative as it did without Buffett. 
I took my dad to see Buffett when he played at Austin's Moody Center in the summer of 2022. It felt especially appropriate, considering "Margaritaville" was written about a margarita Buffett drank in Austin at a "little tequila bar," as Buffett would say when introducing the song later that night. My dad had seen him live before and described it as one of the best concert experiences of his lifetime (he likes to remind me he saw The Police at the Frank Erwin Center in the '80s and watched The Clash film the music video for "Rock the Casbah" at the City Coliseum, so that's saying something). I had never seen Buffett live, but after decades of listening to his music, it was a given on my list. I wanted to gift the experience to my dad, someone who, even in his retirement years, works tirelessly to take care of our family, of his parents, and of our family business.
So, my husband and I went on a Buffett double date with my dad and his longtime girlfriend. We arrived at the historic Scholz Garten, just blocks from the Moody Center, before the show, knowing that there'd likely be an unofficial Parrothead tailgate there, and we were correct. I've been to Scholz for many Longhorns tailgates, but this was my first time being part of a Parrothead affair. I don't know if I've ever been in a happier group of people. Adults wore Hawaiian shirts, hula skirts, and Parrothead hats. Buffett's beer, Landshark, was selling so quickly that we had to opt for lukewarm cans because they couldn't ice them down quickly enough.
The concert was exactly what I expected it to be—beach balls bouncing through the pit, hands clasped over the heads of fans as Buffett sang "Fins," and of course, the chants, like "salt, salt, salt" in "Margaritaville."
It was a core memory. I kept peeking over at my dad throughout the show, checking to see if he was having a good time. My dad's kind of a shy man. He's not the type to stand up and dance along at a concert. He sat there with a soft smile on his face, bopping his head along to the music. Here I was, with the man who raised me, the woman he loves, and the man I chose to spend my life with, experiencing the soundtrack of my entire life. 
One of the main things I've learned in my thirties is that not every woman turns into her mother. Some turn into their fathers, and I'm one of those women. I've learned that when I go through a hard time, I have the same itch that my dad does to drive south to the Gulf Coast and sink my toes in the sand—and I'm listening to Buffett on the way down.
When I was in high school, my dad went through his second divorce. It wasn't easy for either of us. The fix? A Carnival cruise, obviously. It was a short one, a long weekend with a stop in Cozumel, Mexico. And what's in Cozumel? A Margaritaville. 
This was my first time going to Margaritaville, and I don't know how to describe it other than life-changing. And I say that with the utmost sincerity. They had a water trampoline. They were, of course, playing Jimmy Buffett. They had a gift shop. And I was with my dad, in Mexico, eating a cheeseburger in literal paradise. It was hard to remember all of the bad things that had happened to us as we sat there. 
It was the first of many Margaritaville experiences. The summer after freshman year of college, I took a road trip to the Bonnaroo Music Festival with some high school friends, and I forced everyone to eat at the Margaritaville location in Nashville. During my sophomore year of college, I went to Panama City Beach for spring break and made my friends to go to Margaritaville there. I've been to numerous others since then—the ones at Universal Studios, both in Orlando and Hollywood. The Las Vegas location, on a cold December day when some friends and I booked a cheap flight in our mid-twenties. A walk-up bar in Chicago that, sadly, doesn't have all the bells and whistles as the full Margaritaville restaurant. The resort in Playa Flamingo, Costa Rica, where my husband and I got massages. I remember every single one of them, and no matter how old I am, I feel like a little girl listening to Buffett on a Gulf Coast beach with her dad. No matter what I'm going through, I feel a little less sad, because it's really hard to feel down in a Margaritaville.
I got the news about Buffett's death just 15 minutes after his official social media accounts had shared the news, just after 1 a.m. at a gas station somewhere in West Texas on Labor Day weekend. I'm normally not awake at that hour and I'm usually not that region of Texas. I live in Austin, but I was moving my best friend of 18 years to Denver, and we'd decided to drive through the night. I took turns driving my friend's car with her mom so that we could all get some sleep.
I took the next driving shift so I could be alone to process the news of Buffett's death. While my friend and her mom rode in the U-Haul, I put on my favorite Buffett songs. I listened to "Son of a Sailor" and I cried to "Tin Cup Chalice" and properly sobbed to "Last Mango in Paris," when Buffett sings, "Our lives change like the weather, but a legend never dies."
I put on "Changes in Latitudes, Changes in Attitudes," thinking about how I was experiencing a different type of change in latitude than in years past. I was heading north to send my friend who was more like a sister into a new phase of life, and I cried about that, too. Nothing remains quite the same, indeed. 
Around 4 a.m., I thought about how my dad was back home in Smithville, and I was driving farther and farther away from him. And he didn't know that Buffett had died, and I did. He was fast asleep and he didn't know that this man, who we both loved, was no longer on this earth. My dad still lived in a world where Jimmy Buffett existed, and I hoped he would sleep late.
My dad's retired, so he sleeps later than I do these days, even when I'm not driving all night to Colorado. I waited for him to text me. He finally did, around 8 a.m., with a sad-face emoji that I know didn't fully reflect the depth of emotion he was feeling. He told me he'd listened to "Tin Cup Chalice," the first Buffett song I also put on after I heard the news. He told me it was one of his favorites. And I told him that I know that, because it's one of my favorites, too. 
I think the news of Buffett's death is particularly hard to process because he was so much more than his songs. So many pieces of him still exist in the world—in his restaurants, in his songs, in his cannabis line, in Landshark (which I unapologetically love), in my dad, and in me. 
I've got a salt shaker tattooed on my arm, and it's the tattoo people ask me about most (and I've got a lot of them). Everyone just smiles when I tell them it's a Jimmy Buffett tattoo, whether they're a Buffett fan or not. It's right next to the inked coordinates of the house I grew up in, just my dad and me. On the front porch, an "It's Five O'Clock Somewhere" windsock shaped like a parrot still waves in the wind.