Thanks to recent trail work, Big Bend Ranch State Park's signature geological landmark, El Solitario, is in good shape for hikers, mountain bikers, and equestrians who want to explore the 10-mile-wide collapsed volcanic dome.
Park staff members and Big Bend Trails Alliance volunteers in January spent a day clearing thorny brush and making it easier to spot and follow El Solitario's inner and outer loop trails.
"The trail work has made the Solitario more rideable," says Nate Gold, superintendent of Big Bend Ranch State Park Complex. "It offers a challenging and remote option for non-motorized users, the trailheads are accessible to most vehicles, and Tres Papalotes is an equestrian campsite. We hope more folks will come out and try the trails."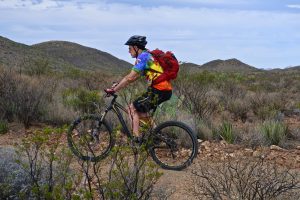 El Solitario lies 17 miles east of the Sauceda Ranger Station and is accessible to two-wheel-drive, high-clearance vehicles. Although four-wheel-drive enthusiasts frequent the Solitario to access more rugged roads in the area, few visitors go to ride or hike the non-motorized trails. Hikers tend to prefer trails closer to Sauceda, while mountain bikers choose routes such as the Rincon Loop, Dome Trail, and 57-mile Epic Ride. Over time, the Solitario loop trails had become overgrown through lack of use.
On a spring trip, we biked from Pila Montoya campsite to the Solitario to check out the trail work. The inner and outer trail segments lie between the Burnt Camp and Lower Shutup trailheads and join Solitario Road to complete the loop around the Solitario. Park staff advised us that the 6.4-mile outer loop still has tough "hike-a-bike" sections, so we opted for the 3.2-mile inner loop.
Riding the inner loop was pure fun! You might think you're riding typical desert singletrack until you notice the darkened earth, uplifted hills, and multi-colored rocks that bespeak volcanic activity and weathering that shaped this land over time. The Solitario uplifted during a volcanic event 35 million years ago and then collapsed, leaving a concave center ringed by uplifted rocks known as the Solitario flatirons. Subsequent erosion exposed older rocks that date back 500 million years ago, when the area was an ocean floor.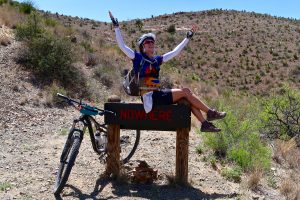 We also biked the 4WD Road to Nowhere, which turns off Solitario Road to wind its way up a mountain for two miles to … well, Nowhere. There's a sign to prove it, and the back side of the sign reads "The Other Side of Nowhere." The views from Nowhere are amazing.
Solitario trail descriptions can be found in the Big Bend Ranch State Park Biking Guide. Tours can be arranged with one of the park's guide service providers.