Becoming Blue Bell
One man's quest
for the whole scoop
The arc of Texas history is, like the arc of ice cream history, long and sticky. Tales of both Texas and ice cream are often punctuated by myth and misinformation. Consider this: There's a rumor that during lulls in the Battle of the Alamo, Davy Crockett ate straight from a half gallon of buttered pecan. I started that rumor, but there are more insidious and divisive murmurings that threaten to further distort our understanding of ice cream history and specifically how it relates to Texas heritage.
Therefore, I've narrowed the scope of this discussion to focus on myself, and how Blue Bell ice cream has shaped my past and turned me into the freeloader who stands in front of Blue Bell Creameries in Brenham, ready to gorge.
In the mid-'80s, my fourth grade class took a field trip from our school in Houston, River Oaks Elementary, to Brenham. By all accounts, the joy and ecstasy my classmates experienced at the creamery that day was titanic, but I had to hear about the event secondhand. When I arrived at school the day of the trip, I discovered that instead of grabbing my signed yellow permission slip from the kitchen table, I'd snatched a signed yellow receipt from the plumber. And despite my protests, Ms. Reuss seemed to know intuitively that my mother hadn't changed careers, nor had she changed her name to "Mike." So, I was left at school in a room with immature third graders and tasked with doing division problems. I was devastated, not only because I felt I was the biggest Blue Bell devotee in school, but because the third graders crushed me at division.
Here I am more than 30 years later in Brenham, palms sweating and mouth watering, wondering if I am up to the self-imposed challenge of sampling every single flavor of Blue Bell ice cream. Am I ready to fill the hole in my heart scooped out so unceremoniously when that yellow bus pulled out of the school parking lot and headed for Brenham without me?
After tasting the dozen or so Blue Bell flavors I could find in the grocery stores and mini-marts of Austin, I arranged a trip to Brenham to fill in the blanks, for a total of 48 flavors.
As tourists and families filed in the ice cream parlor, Courtney, Joe, and Shelby from Blue Bell Public Relations ushered me through the tasting gauntlet—a long, sneeze-guarded display in the main dining room, in which 30 Blue Bell flavors sat in their 3-gallon tubs, screaming at me to liberate them. The PR team endured my relentless questions, occasionally offering me napkins and scandalous industry intelligence.
For one, corporate espionage exists in the ice cream world: Once, after a creamery tour, representatives from an unnamed country were caught at the airport and forced to surrender classified Blue Bell documents, including trade secrets.
Also, believe it or not, Courtney, Joe, and Shelby confided, Blue Bell has had a few flavor misfires. In 2005, when the company introduced Peanut Butter and Jelly, customers scorned the new product for fear it included chunks of bread.
Over the years, Blue Bell hasn't been entirely sweet. In 2015, a deadly listeria outbreak threatened the very foundation of the business, along with the subsequent fallout and discovery that the ex-CEO had engaged in wire fraud to cover up the outbreak. But with the case now settled, Blue Bell is ready to move on. And so am I. So, let's eat.
10.

Strawberry Cheesecake
1977
Normally, I don't like the word "cheese" to appear in the same sentence as "ice cream," but I made an exception for this stalwart of the frozen food aisle. It has an undisputed sophistication that comes through in the way the succulent strawberry sundae sauce mingles with chunks of perfectly preserved cheesecake. In a pinch, Strawberry Cheesecake can be used as a substitute for fruit salad, or honestly, any salad.
9.

Cinnamon
2006
Blue Bell Cinnamon is one of only a few exclusive on-site "parlor" flavors. My tasting experience put me in mind of Magellan and his voyage to the Spice Islands in the 1520s. I thought of how Magellan procured lots of cinnamon there, and how he was eventually killed by a spear. I was going to dedicate my sample to the spirit of discovery, but by then my ice cream was gone.
8.

Homemade Vanilla
1969
What can be said of Homemade Vanilla that hasn't been said already? Two years ago, Homemade Vanilla celebrated its 50th birthday, and it remains Blue Bell's bestselling ice cream. I've always maintained that Homemade Vanilla goes well with anything, and you're only saying it doesn't go well with sushi because you haven't tried it yet.
7.

Delta Blues
2006
Have you ever put on Robert Johnson's The Complete Recordings and just sat down with a half gallon of Delta Blues? With every bite, the pie crust, blueberries, and blueberry sauce tease and coalesce, then whip up into a maelstrom of unadulterated love and emotion. Alas, the echo of a spoon against an empty bucket as the last strains of the appropriately titled "Milkcow's Calf Blues" hiss and crackle to a close makes me wonder if I am asking for a gastric rupture down at the crossroads.
6.

Happy Tracks
2010
Are you familiar with the geometric concept of "fractals"? I wasn't either, but from what I've learned, fractals are designs that allow us to order random events by finding small patterns within a larger whole. Snowflakes, Jackson Pollock paintings, Blue Bell Happy Tracks—all of these are examples of fractal phenomenon. If you look deeply into the peanut butter cup and dark chocolate fudge swirl embedded in a canvas of vanilla, the secrets of the universe will be revealed. Nobody at Blue Bell will admit this, but I'm telling you now.
5.

Southern Blackberry Cobbler
2007
I've put my best people on this, and nobody can determine how Blue Bell produces its sublime pie crust. Courtney, Joe, and Shelby tried to explain the process to me, but it sounded a lot like the instructions for solving long division. So, let me just say this: Eating a bowl of Southern Blackberry Cobbler is very much like being in a Tennessee Williams play where everything goes right and nobody screams.
4.

Ice Cream Cone
2017
Y'all, there are cones inside this ice cream. I have mixed feelings about that. On one hand, the roasted peanuts and chocolate sauce blended with creamy vanilla would have made a wonderful stand-alone ice cream. On the other, adding chocolate-dipped cone bits to the mix makes me wonder why, as a species, we didn't think of this sooner. At Blue Bell, the future is now.
3.

Sea Salt Caramel
2014
Sea Salt Caramel was my first port of call on my maiden voyage to Brenham. I always hesitate before tasting sea salt because of a past trauma—I once sampled a washed-up jellyfish on a dare in Galveston. But all is well: The creamy caramel does a tremendous job keeping the sea salt at bay, and by a marvel of modern science, the two flavors become one. (Blue Bell has a team of engineers who calculate spin rates vis-a-vis flavor weights to achieve ideal mix ratios—seriously.)
2.

Moo-llennium Crunch
2000
It's been over 20 years since the Y2K bug failed to crash the world's mainframes, sparing us a state of perpetual darkness and life without Netflix. But even if you've been living off the grid inside the Natural Bridge Caverns and waiting for the zombies, you can now emerge knowing Moo-llennium Crunch—with chocolate and caramel chunks engulfed in a cyclone of walnuts, pecans, and almonds—is still running on full power.
1.

Chocolate Chip
1975
O Chips! O Life! Blue Bell Chocolate Chip is, hands down, my "desert island" ice cream. A steadfast friend and flavor for every emotional hurdle, Chocolate Chip all but demands overeating. I can't imagine anything better to do on a desert island than eat Chocolate Chip, so come visit! I'm the sunburned guy living in a seaside mansion made from empty pints.
The Others (In No Particular Order)

Chocolate Chip Cookie Dough
(1992)
I remember once when one of my best friends had her wisdom teeth taken out, I picked up a pint of CCCD to help her convalesce. I ate the whole pint on the way to her house, but I think the moral support and words of encouragement I gave her when I arrived were thoughtful.
Triple Chocolate
(1989)
Do you know those Rorschach inkblot tests that give insight into subconscious depravities? Open the lid on a tub of Triple Chocolate and the resulting "blot" can be a visual metaphor for your inner shortcomings. That's why in my case, I eat Triple Chocolate until I see an image I can cope with, emotionally. Usually that's an image of more ice cream, or just the pure white void of the empty container.
Banana Nut
(1975)
My grandfather once told me, "Fool, if something needs a banana on it, why, just eat the banana and move on." But visiting the creamery, I felt duty bound to sample this flavor because I'm always trying to be the hero, and I like to think we grow as people. This probably stems from my youth, when my grandfather would hang me by my underwear on the "wedgie tree" and lecture me about bananas.
Cake Batter
(2006)
If you use a utensil other than your fingers to eat Blue Bell Cake Batter—a facsimile of the real thing—I don't even want to talk to you.
The Great Divide
(2004)
Unlike when I'm dog paddling after my iPhone down the Rio Grande in Big Bend, when I'm caught in The Great Divide of chocolate and vanilla here on my couch, I spread my arms and let the current take me on a delightful voyage that doesn't end with me sitting in a dark office surrounded by Border Patrol.
Chocolate Peanut Butter Cookie Dough
(2013)
Chocolate. Peanut. Butter. Cookie. Dough. You can't go wrong with any of those words. A mere sample puts you in a mind to leap over the sneeze guard at the ice cream parlor in Brenham and drill your face into the enchanting bucket on the other side. Cooler heads prevailed, and I was generously given a bottle of water to cool me down.
Mocha Almond Fudge
(1979)
It feels like a magical incantation when you say Mocha Almond Fudge three times fast, then flail your arms around like a spell-casting wizard. Doing so won't make you invisible—or make the Mocha Almond Fudge fly from the bucket into your mouth—but it will keep the other people sampling flavors on their toes and mostly out of your way.
Coconut
(2006)
Like the Spring Break where I won the Mexican lottery and drank enthusiastically but responsibly and all the pretty girls loved me, Blue Bell Coconut was a tropical dream I didn't want to end. Except that Blue Bell Coconut happened and all that other stuff didn't.
Peachy Peach
(2012)
The Ty Cobb of fruit-flavored ice cream, Peachy Peach is a throwback to the way ice cream used to be eaten—violently, without a helmet, and with long, sharpened spikes.
Cotton Candy
(2003)
Cotton candy haunts my dreams. The taste-memory of it is acutely tied to when I was eating cotton candy at the circus in Houston and a clown driving a moped stole my friend, Holden. The clown gave Holden back after he took him for a ride around the big top, but it was traumatic for both of us. I've come to grips with cotton candy and mopeds, but clowns are still out.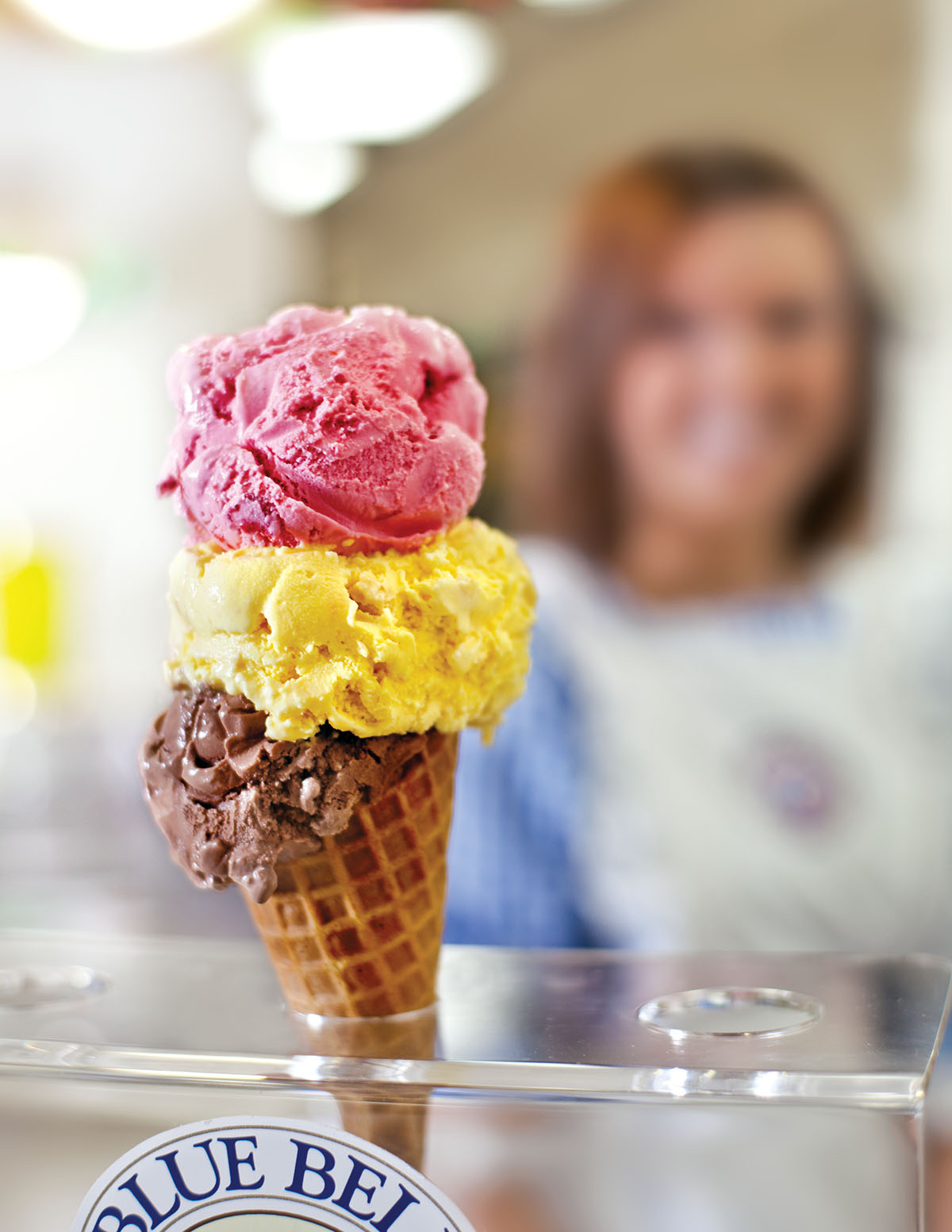 Mardi Gras King Cake
(2012)
Mardi Gras and I came to an understanding long ago: I won't show up in person, and it won't cause me to make poor life choices and do things I'm ashamed of. With Mardi Gras King Cake, I can enjoy all the decadence of Bourbon Street without falling asleep in someone's tuba case.
Mint Chocolate Chip
(1976)
Jumping into a green bowl of Mint Chocolate Chip is like jumping into an invigorating mineral spa in Zermatt, or some other ritzy Alpine place I've never been to. There is a minty freshness that stays with you all day, especially if you never stop eating it all day.
Bride's Cake
(2017)
Almond ice cream spiked with cake chunks and amaretto cream-cheese icing makes Bride's Cake the ideal flavor to indulge in while watching your best friend get married. Whether or not you hide behind a speaker and wait for the stink bomb you put in the actual bride's cake to detonate because she stole your true love is a personal choice.
Cherry Vanilla
(1975)
The taste of maraschino cherry halves nestled in smooth vanilla makes me so emotional that I'll turn the lights down low, put on slow jams, and keep eating until I fall asleep snuggling with the empty half-gallon bucket.
Krazy Kookie Dough
(2013)
This is what happens when Blue Bell Cake Batter sneaks out of the house at night and goes to a rave. Wide-eyed, covered in Day-Glo, and bouncing from a 150 beats-per-minute sugar groove, an encounter with Krazy Kookie Dough is best enjoyed at a young age, when shame wears a different face.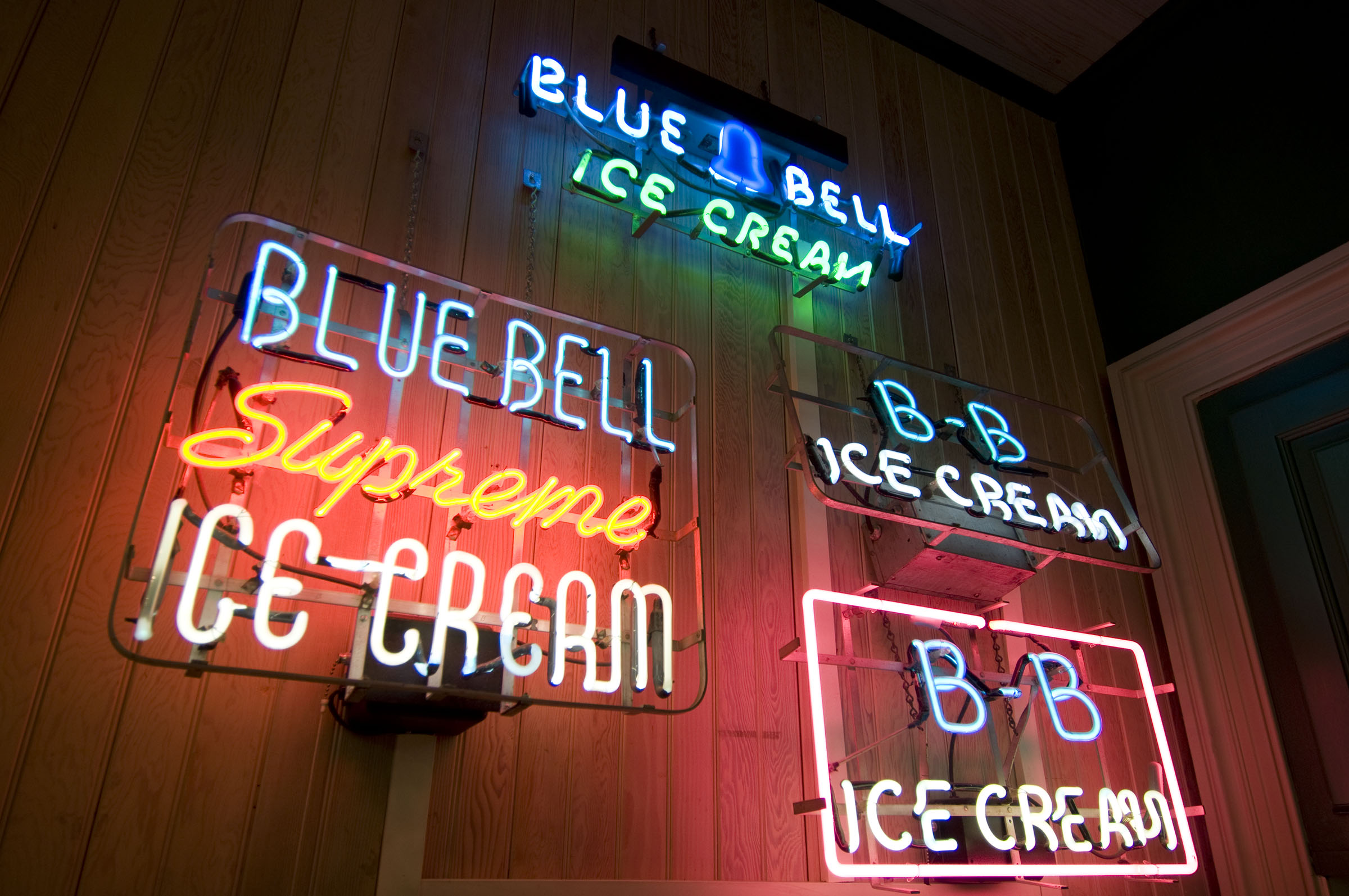 Cookies 'n Cream Cone
(2021)
This is the 21st century remix of an old school favorite—Blue Bell Cookie Cone. Vanilla ice cream is assailed by chocolate crème-filled cookie crumbles, chocolate cone pieces coated in dark chocolate, and a chocolate fudge cascade. It's enough to almost make you nostalgic for the otherwise horrific experience we've come to expect from the high school cafeteria.
Ultimate Neapolitan
(2007)
Do you eat across boundaries? Or do you work in an exclusive color sector? It's perfectly fine to go at Ultimate Neapolitan either way, but however you eat it, try to eat the flavors in equal measure, or face the cosmic consequences of a space/time imbalance. I try to leave nothing to chance, so I always like to finish the carton and leave the universe just how I found it.
Pistachio Almond
(1974)
I learned in school that if you put certain nuts together, they will fight. So, it was a relief to discover pistachios and almonds coexisting so joyously in my mouth, although I sometimes regret that I didn't take more practical courses in school.
Banana Pudding
(1980)
I'm not sure how Banana Pudding works. It's frozen, of course, but it's also kind of not, as if the vanilla wafers and pudding are immune to the cold. And so, before you open the bucket, you're faced with a kind of Schrodinger's cat scenario. Is it frozen? Unfrozen? The philosophical implications of Banana Pudding are endless.
Milk Chocolate
(1975)
Pro tip: In winter, heat up a heaping bowl of Blue Bell Milk Chocolate in the microwave and then drink it. I try to keep a cup of steaming Milk Chocolate on hand to counteract brain freeze from frozen Milk Chocolate—a viscous cycle that can play out for weeks, even months.
Buttered Pecan
(1975)
The Buttered Pecan experience is one of a kind, and it really reminds you that tooth health should, along with eating ice cream, remain a priority in your life. I can actually hear the sugar dancing in my molars.
Natural Vanilla Bean
(1980)
I've always maintained that a rendezvous with Natural Vanilla Bean is like taking a walk at dawn in Madagascar with your true love. I guess it can also be like taking a walk at dawn in Madagascar with some random weirdo, but since I've never been to Madagascar, I might as well err on the side of true love.
Peppermint
(1975)
A perfect après after a big meal, I have suggested to many restaurants across Texas that they replace their complimentary after-dinner peppermints with complimentary scoops of Blue Bell Peppermint, but I keep getting the same response: "Sir, you can't eat here dressed like that."
Krazy Kolors
(2003)
Are you brave enough to take on a vision quest and enter the world of Krazy Kolors, a vanilla landscape awash in eccentric colors? I was, but I confess to closing my eyes while eating because Blue Bell doesn't rent spirit guides, and I was too cowardly to look.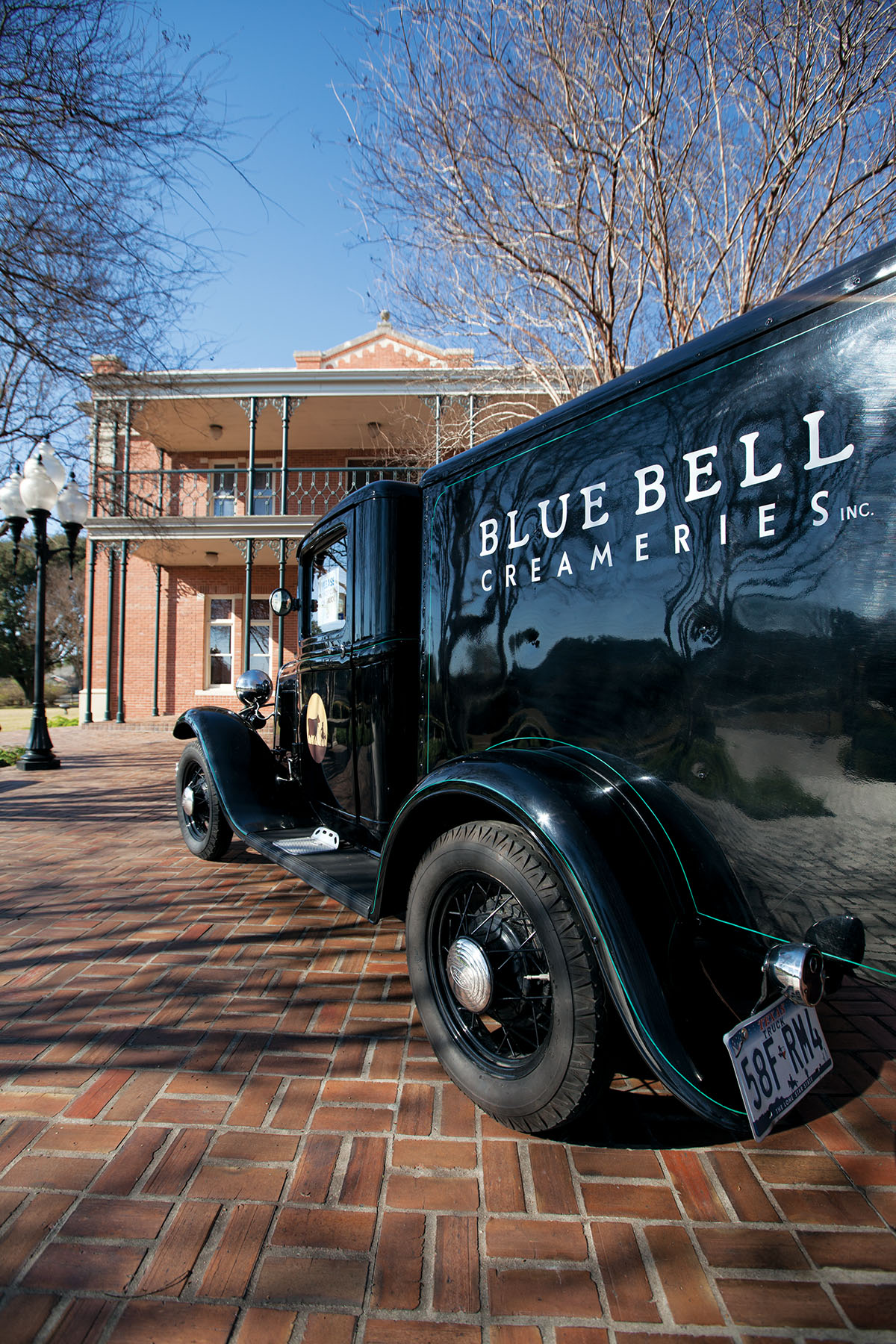 Pecan Pralines 'n Cream
(1982)
Even people who mispronounce "pecan" agree with me that Pecan Pralines 'n Cream is a Blue Bell masterpiece. This flavor profile should be translated into binary and sent up into space as a kind of second wave "Golden Record." (See: NASA's Voyager mission.) This way, if the aliens come, it may not be in peace, but it will definitely be in good taste.
Dutch Chocolate
(1975)
I discovered that it's not illegal to trod around in clogs fashioned from finished cartons of Dutch Chocolate, but it is insensitive to Dutch culture. My contact in Holland says the Dutch people he knows don't even wear normal clogs anymore.
Banana Split Sundae
(2018)
I think if you can't enjoy a scoop of Banana Split Sundae without complaining, you probably had no character to begin with. Strawberry and chocolate sauce sluice through the banana ice cream, carving ancient symbols amid the cherry, pineapple, and almond terrain. Yeah, there are bananas, but if you need to, you can pick them out and then live quite happily on just the toppings.
French Vanilla
(1975)
Sometimes I feel lost in the egg custard milieu that is French Vanilla. I enjoy a shamefully large bowl of it while classic French cinema plays on the big screen, but here I am in the bedroom eating my French Vanilla in secret and watching sports bloopers.
Black Cherry
(2015)
Black cherries hold untold medical benefits. They're high in antioxidants and may help lower cholesterol and blood pressure. I felt downright healthy as I sampled this sumptuous flavor. I didn't feel as righteous on the 7th scoop, though.
Rocky Road
(1974)
On family movie night, sometimes I'll dip my face in the bowl of Rocky Road and wear the ice cream like edible skin. Sorry, I've seen The Texas Chainsaw Massacre too many times.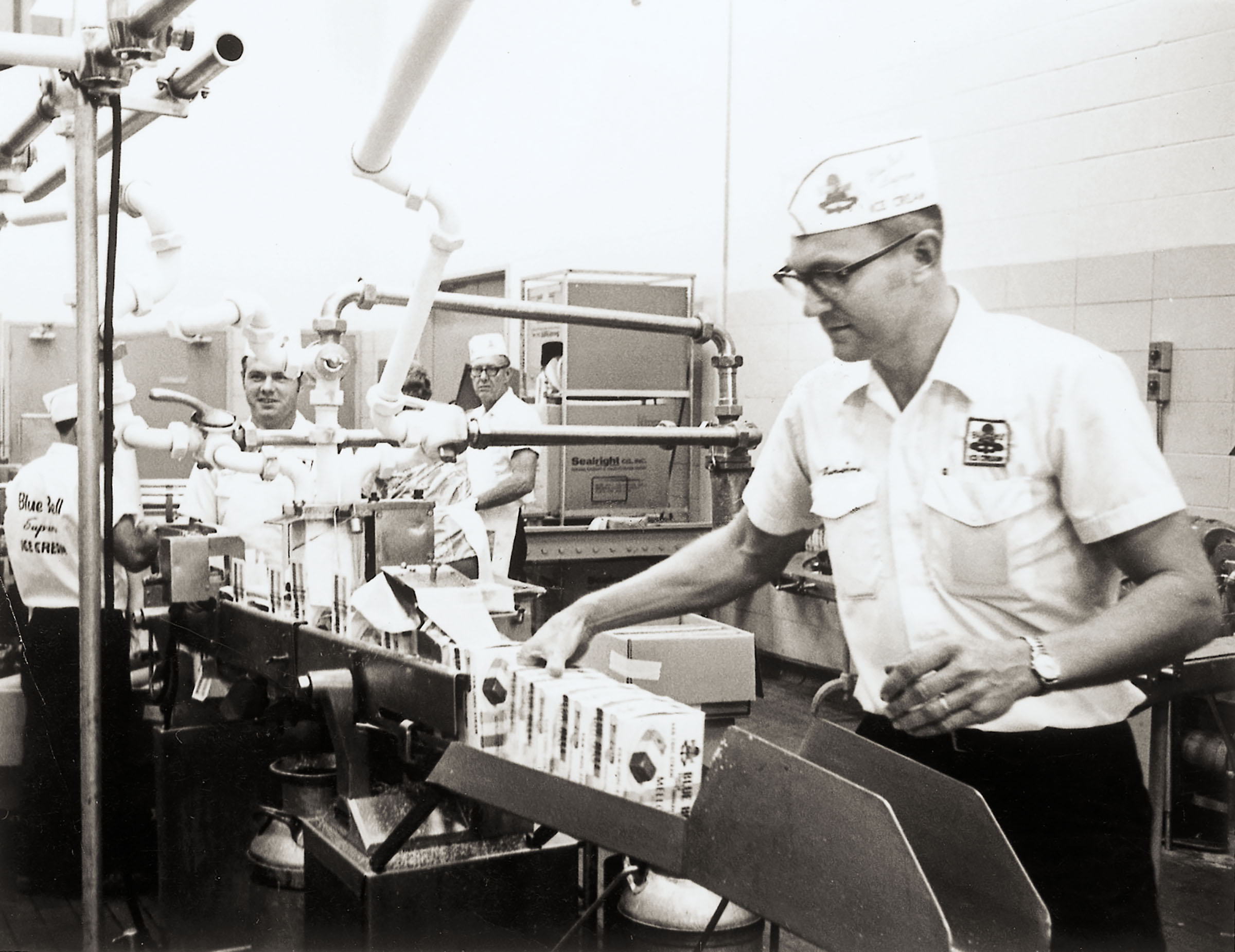 Birthday Cake
(2001)
I refuse to eat birthday cake (or any cake, really) without ice cream. So, imagine my delight when Blue Bell came out with Birthday Cake, a vanilla-based concoction that includes pieces of chocolate cake and enough sprinkles to start a parade. Now when I show up at birthday parties, I don't have to make a big fuss; I just bring a pint of Birthday Cake and dazzle hosts with my get-rich-quick schemes.
Chocolate Sheet Cake
(2021)
The day they figure out how to stuff a vintage Texas sheet cake full of cake chunks, chopped pecans, and chocolate icing into a carton of Blue Bell is the day I'm forced to eat …. Wait, they have? Well, at least I know what I'm having for dessert.
Strawberry
(1975)
When I can't find strawberries in season, I'll get a half gallon of Blue Bell Strawberry from the store and eat it. This is almost identical to what happens to me when strawberries are in season.
Milk and Cookies
(2015)
I've come to realize Blue Bell is making all other desserts obsolete.
Coffee
(1975)
I already drink too much coffee, so when I sampled Blue Bell Coffee, it felt a bit like bringing BBQ to Lockhart. However, I have found a way to occasionally substitute my cup of joe with a scoop of Coffee in the morning, and I've never been fatter.
Strawberries & Homemade Vanilla
(1998)
When I'm on the road, a bite of Strawberries & Homemade Vanilla will bring a tear of nostalgia to my eye as I think about my home and family. That's until they notice I'm parked down the road eating ice cream in the dark, where I thought they couldn't see me or get to me.