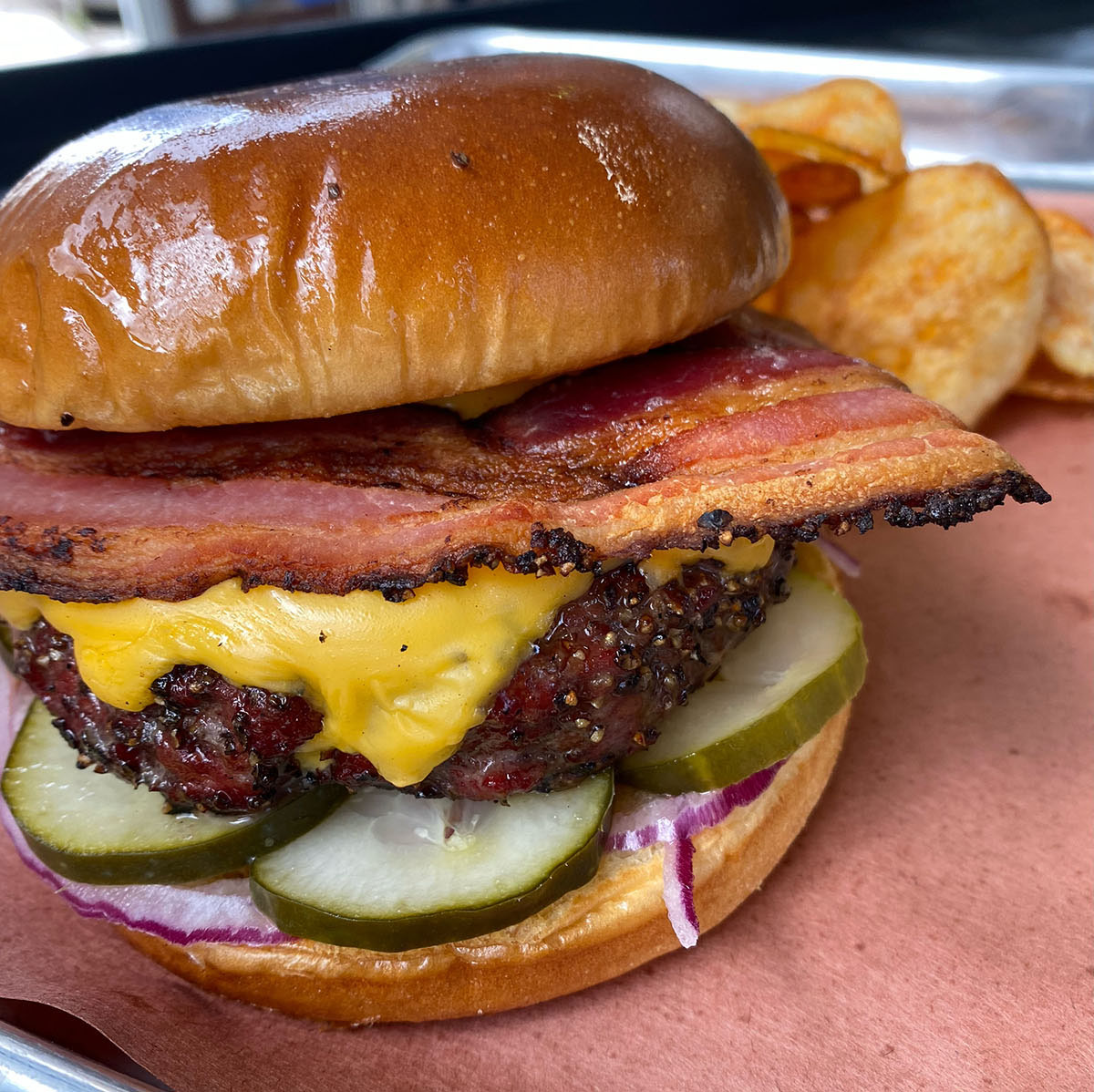 If your burger obsession spills onto Instagram, like mine does, you may have picked up on the trend of smoked burgers: the thrilling merger of contemporary craft barbecue techniques with the communal sense memory of childhood summertime backyard barbecues. It's a burger style every Texan can claim as their birthright. The bark and bite of signature Texas barbecue delivered in the greatest hand-held comfort food man has known in the last 100 or so years. (I still love you, tacos.)
So, what is a smoked burger? "It's a byproduct of craft brisket smoking," explained Wade Elkins of Mimsy's Craft Barbecue in Crockett. He said the reason why so many smoked burgers have popped up is because all these craft barbecue guys are trimming their own briskets. Elkins points to Aaron Franklin of Franklin Barbecue in Austin and his YouTube video from his PBS series for changing how pitmasters prepare brisket—and in turn creating the excess for smoked burgers. Alas, Franklin doesn't have a burger on his menu.
I'm fascinated by how business owners being practical about food waste have unwittingly started writing another chapter in the saga of Texas barbecue. I wanted to know more so I talked with purveyors, mostly barbecue joints, across the state to find out how they make their smoked burgers. I discovered one common denominator among them: a love for burgers that matches a love for brisket.
LeRoy and Lewis Barbecue
More than a few smoked burger makers sight Evan LeRoy of Austin's LeRoy and Lewis Barbecue as a source of inspiration. I asked LeRoy where the idea came from and he responded with a rhetorical question: "How do we be more creative with what we have?" With plenty of brisket scraps and a desire to do something more than making sausage, LeRoy set off to make a barbecue version of a smash burger. The brisket-trim and beef-chuck blend is smoked until it reaches an internal temperature of 120 degrees. Then it's seared on a plancha, a metal plate used in Spanish cooking, located in the firebox. This allows it to develop the smash burger crust without the squeeze from the spatula. LeRoy's secret: "Start with good meat." That's why he uses Akaushi beef, a cross of angus and wagyu, from HeartBrand Ranch in Harwood. 121 Pickle Rd., Austin. 512-945-9882
Tejas Burger Joint
In Tomball, Tejas Burger Joint serves up smoked burgers that tinker with toppings. Green onion aioli is added to the Smokehouse, the top-selling 8 oz. bacon cheeseburger. If you want to experiment further, check out the Caesar burger, topped with Caesar salad as an ode to a burger from Split-T, an Oklahoma City institution that was demolished in 2000. As wild as the toppings might get, owner Scott Moore stresses simplicity when it comes to seasoning. "Like brisket, it's all about salt, pepper, smoke," Moore said. "A great smoked burger, like a great brisket, starts with quality prime grade meats. An 8 oz. minimum patty keeps its moisture. Slow smoke it at 250 for about an hour and then let it rest. Then finish it off by searing on a flattop or cast iron." 214 W. Main St., Tomball. 832-349-6116
Reese Bros Barbecue
Nick Reese of Reese Bros Barbecue in San Antonio loves a good pepper bark on his 1/2 lb. smoked burgers. He says his grind of pepper—12 to 16 mesh—is critical to his burger. That size pepper helps trap the flavor of the smoke, which is a mix of oak and mesquite. A blend of brisket trim and ground chuck are smoked until rare, then seared to medium on a flattop. The bite of pepper comes in handy if you try his version of a bean burger, which adds salsa verde, refried beans, and a tostada to the smoked cheeseburger. "We still have to let that pepper and medium rare beef come through." Reese said. "We add familiar San Antonio flavors without outshining the patty." 906 Hoefgen Ave., San Antonio. 512-925-9205
Tom and Bingo's Hickory Pit Bar-B-Que
In Lubbock, there's an elder statesman of smoked burgers: Tom and Bingo's BBQ, where a smoked burger has graced the menu since the 1940s. Third-generation owner Ian Timmons' smoked burger is cooked on a backyard grill over oak embers and hardwood. For two minutes, he closes the lid and engulfs the patty in smoke. Timmons believes you can get plenty of smoke by cooking a burger in a traditional way, if you are "careful about dirty smoke." Sage advice for backyard grillers. "You want people to taste the smoke but not be overwhelmed by it," Timmons said. 3006 34th St., Lubbock. 806-799-1514
Holy Smokes: More Burgers!
Craving a pimento cheese smoked burger? Head to Feges BBQ in Houston. Cash Cow Burgers, an offshoot of Valentina's Tex Mex BBQ, does a stuffed smoked burger with a double cheese hit of herb Boursin and goat, in Buda. Rejino Barbeque, in the little town of Olton, is generous with the beef; the patties average around 2/3 of a pound. There's also Convenience West BBQ in Marfa. They use Duke's mayo, which is a nice touch.