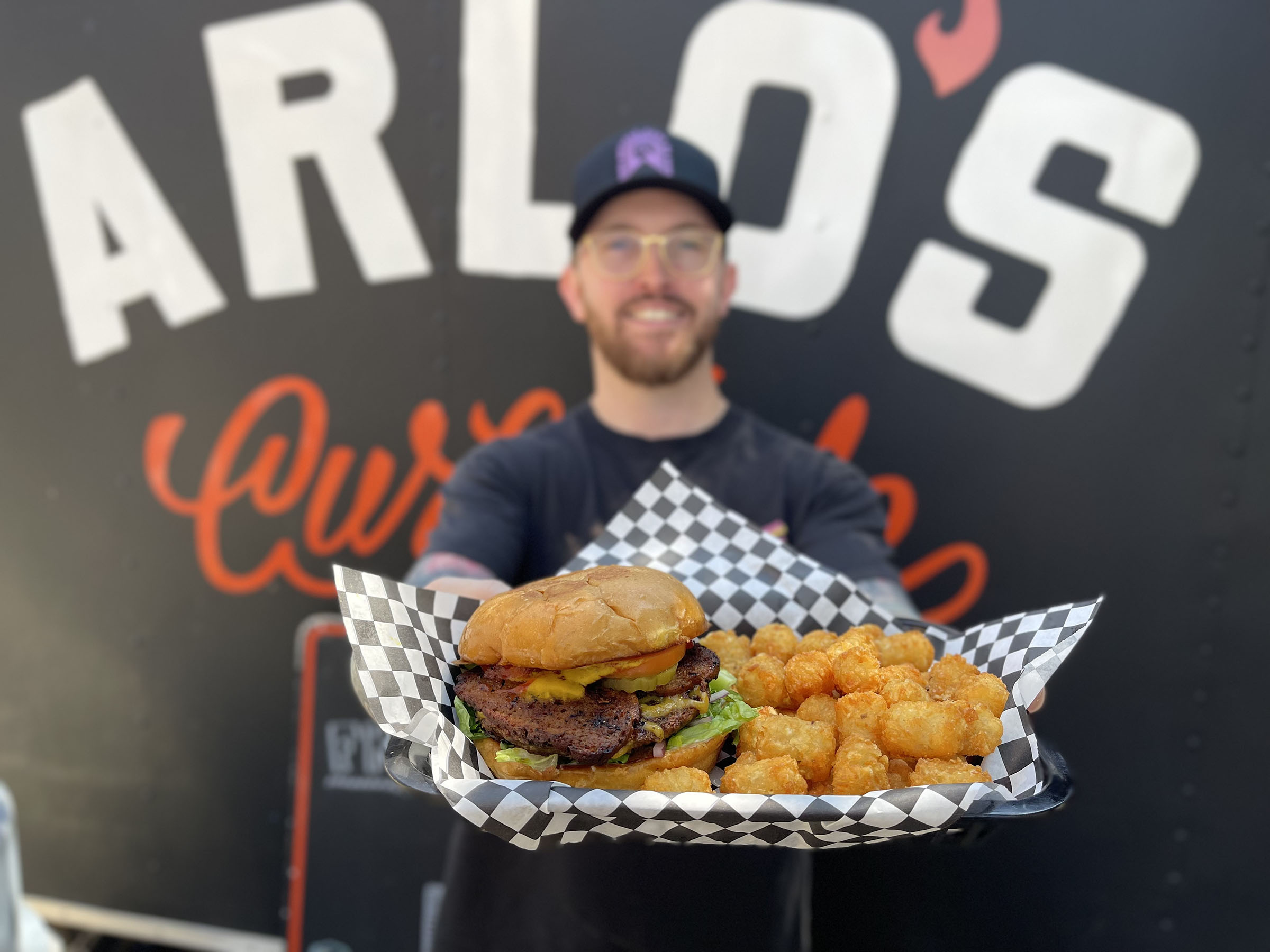 I want to thank fate—by way of a late lunch, a canceled dinner, a late-night craving, and the situational proximity of New York City—for leading me to my first vegetarian burger in 20 years. I didn't have high hopes, as the last veggie burger I had was an excuse to throw a Portobello mushroom on a bun, but I arrived at Superiority Burger with an open mind. I was blown away.
If you're skeptical that a combination of fennel seeds, carrots, chickpeas, quinoa, and walnuts can taste in any way burger-like, I'd say you would have to trust in the alchemy of a chef like Brooks Headley, who after winning a James Beard Award for Outstanding Pastry Chef at the acclaimed Italian restaurant Del Posto left fine dining to open his vegetarian diner in 2015. Or you could take the word of the New York Times, which earlier this year included Superiority Burger on its list of the 50 best restaurants in the country.
I wondered if meatless burger bliss could happen again. So, I set out to look for veggie burgers in perhaps the most unlikely of places—Texas. Can a state synonymous with beef also take veggie burgers seriously? To find out, I set the bar to the level of what I experienced in New York: a house-made veggie burger patty that can take a sear, is free of fillers, and transforms vegetables into something savory enough to sit in the center of the plate. No Boca, Beyond, or Impossible.
For a quest I was initially skeptical about, I found more veggie burgers worth trying than I had time for. Here are a few at the top of my list.
Veggie Burger at The Good Kind
1127 S. St. Mary's St., San Antonio.
210-801-5892; eatgoodkind.com
Chef Tim McDiarmid grew up growing her own food and understands the importance of letting well-sourced ingredients speak for themselves on the plate. Her house-made patty is comprised of beets, black beans, black rice, and black quinoa. "The beet pulp gives it a nice earthiness," she says.
An artisanal bun wraps a burger topped with lettuce, tomato, and garlic aioli. The patty takes a sear nicely, and the variety of ingredients in the patty deliver a multi-note savoriness. Like the bright teal interior of the restaurant itself, this veggie burger is light, but my appetite was sated.
I was struck by how much the burger experience at The Good Kind stands out among San Antonio's more noted burger fare. Unlike a visit to drive-thru classic Burger Boy or Chris Madrid's for the heavyweight Tostada Burger, you won't need to grab a nap after your fix.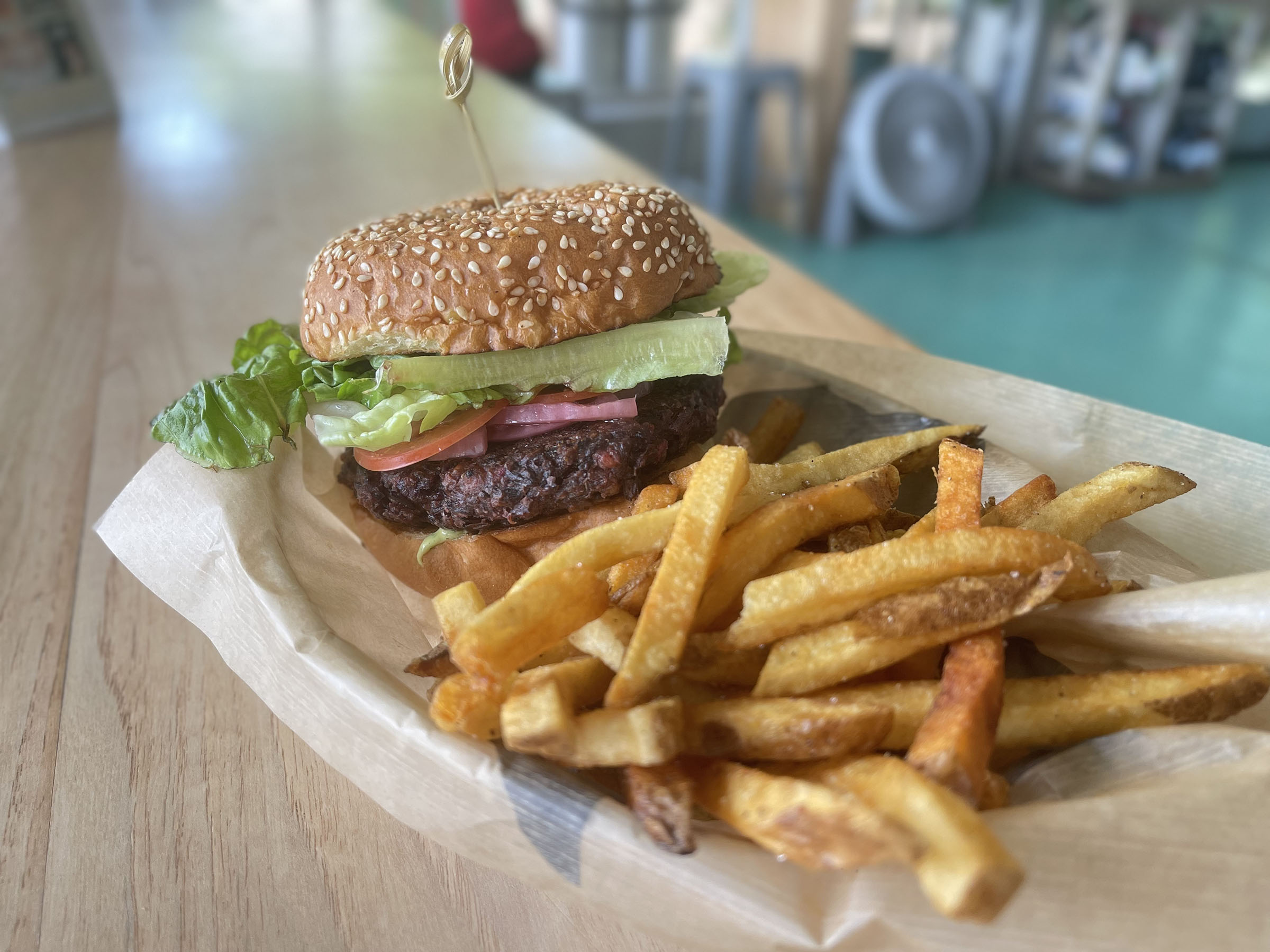 Bac'n Cheeze Burger at Arlo's Curbside
900 Red River St., Austin.
512-840-1600; arloscurbside.com
2906 Fruth St., Austin.
512-840-8585; arloscurbside.com
Arlo's counters The Good Kind's approach with a vegan bacon cheeseburger that's every bit as decadent as a traditional version. A house-made patty made of lentils, millet, carrots, button mushrooms, red onions, herbs, and spices sits on a large brioche bun from Signature Baking in Dallas. The vegan bacon is made at Arlo's from seitan, which is a plant-based meat substitute derived from wheat gluten. There is also vegan cheese. Combined, the bacon and cheese add texture even if they don't individually pass for the real deal. Expect every classic burger topping including lettuce, tomato, onion, pickle, vegan mayo, ketchup, and mustard.
This burger is a two-fister and about as hearty of a burger from JewBoy Burgers, which I consider one of the most successful over-the-top burgers I have ever had. I'm hardly surprised when owner Christopher Baker tells me JewBoy serves Arlo's veggie patties along with a few other restaurants in Austin. I ask him if he is eyeing Impossible Foods' or Beyond Meat's market share. "Why go to a restaurant for a veggie burger when you can get the same patty from the grocery store?" Baker says. "Arlo's is beyond impossible."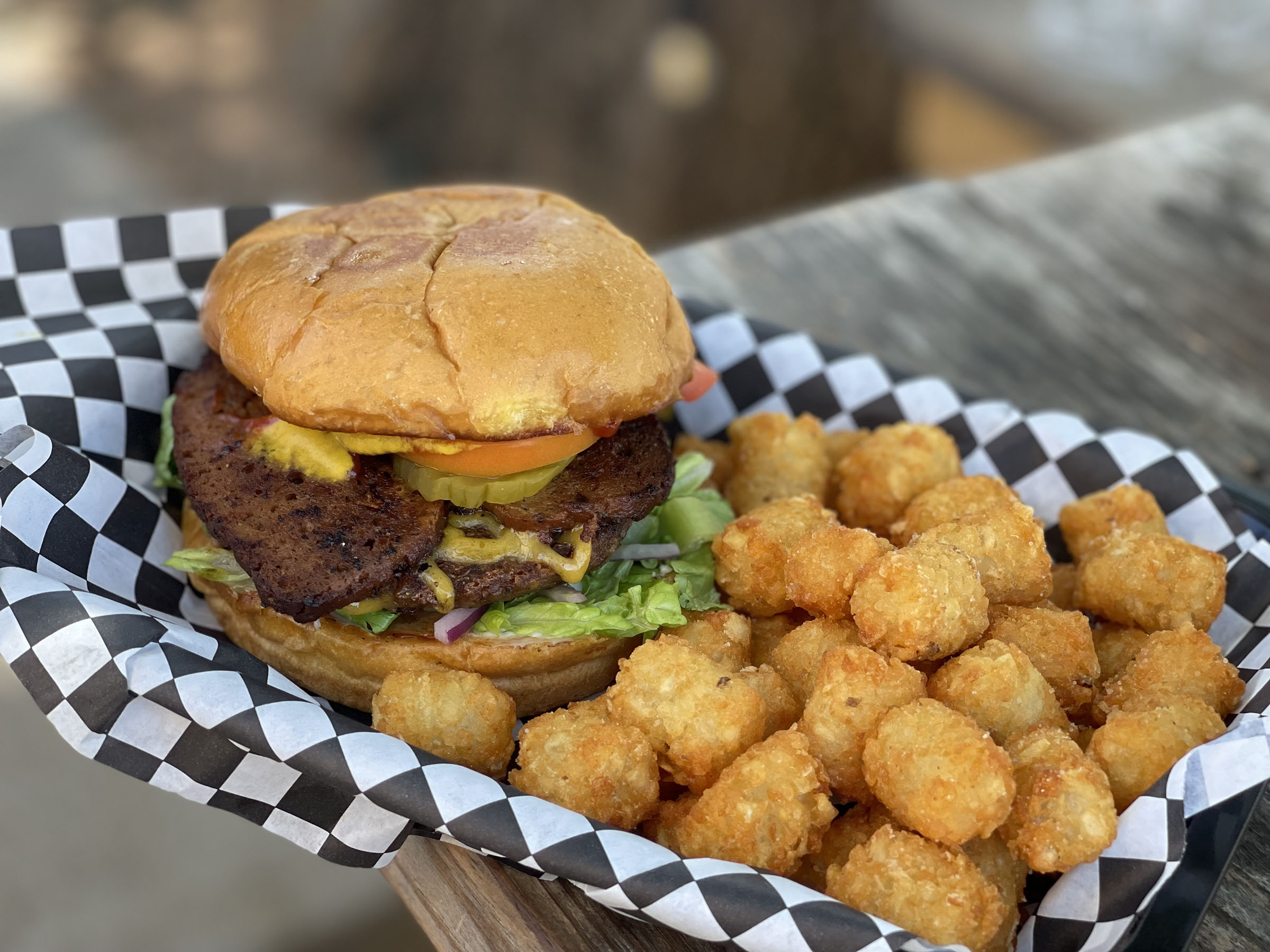 Housemade Veggie Burger at Underbelly Burger
2520 Airline Dr. at the Houston Farmers Market, Ste. B-215, Houston.
832-582-5642; underbellyburger.com
*A second location is slated for 1222 Witte Road, Houston.
Underbelly Burger is a fast-casual burger concept born out of a mission for sustainability. Part of a hospitality group with multiple restaurant concepts, Underbelly was created to utilize beef that wasn't being served at Georgia James, the group's steakhouse concept. So, how does a veggie burger fit into the picture?
"We try to be as accommodating as we can. A vegetarian should be able to sit down and enjoy a meal," culinary director Scott Muns explains. When it came to a vegetarian option to pair with their beef burgers, a black bean burger patty was chosen. "We were focused on Texas, and it made sense."
There is an emphasis on letting the flavor profile of the black beans shine, and the topping choices—lettuce, corn relish, and avocado—are simple and complementary. The heartiness of the black beans, the sweetness and tang of the corn relish, and the fat of the avocado make this a top-to-bottom experience. It turns out the only veggie burger I tried without sauce didn't need it. The black bean patty was moist on its own, which is impressive considering how often the patties on veggie burgers are dry.
For the record, I tried Underbelly's beef versions, too. "It's not uncommon for a group to split a beef burger and a veggie," Muns says. "Meat eaters are paying more attention to eating more vegetables." Take my advice and bring a friend to try half of each because this veggie burger is good enough to share a plate with its beefy cousin.