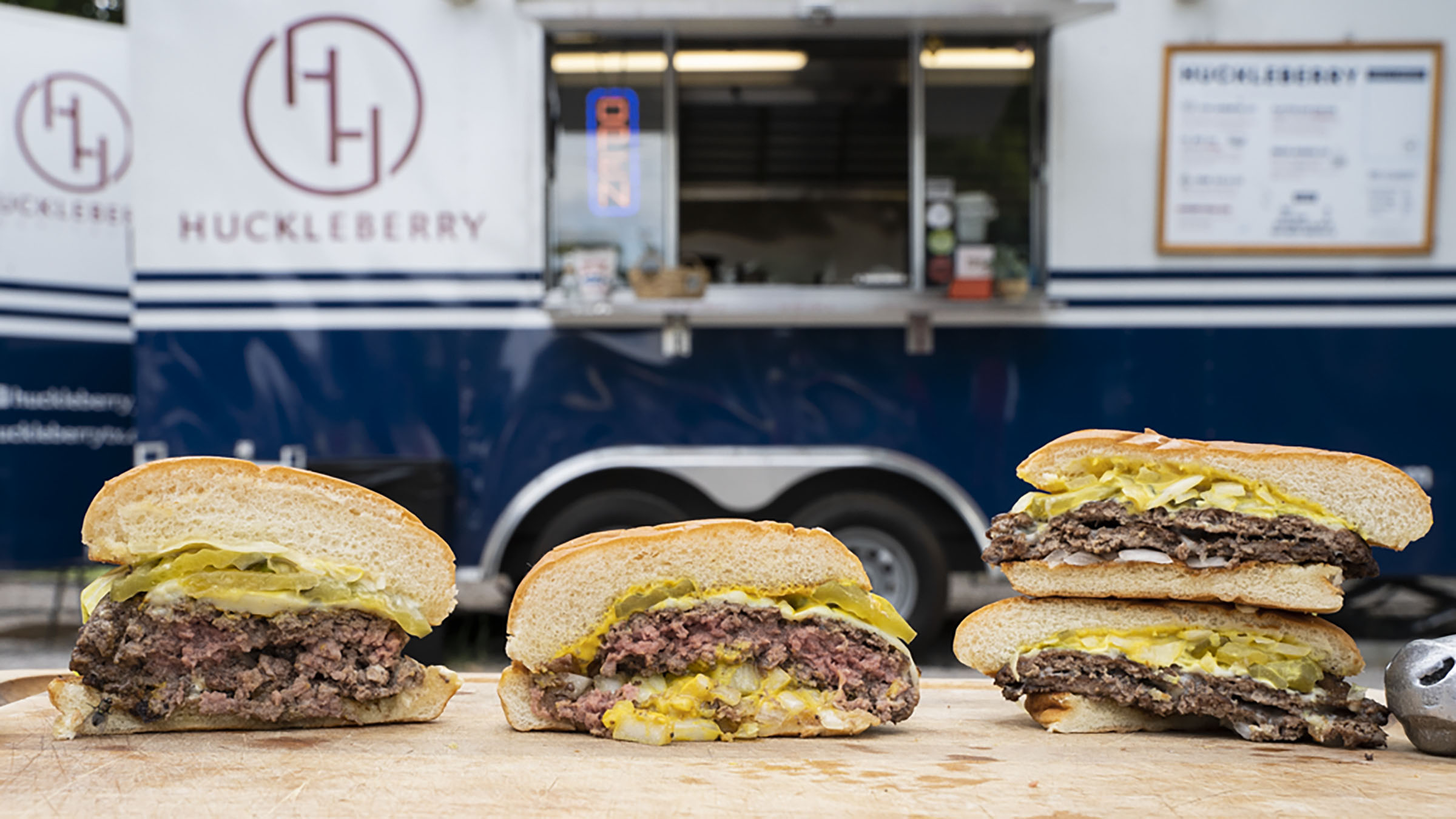 What goes on a burger is about as important to the burger experience as the meat itself. In my research as a burger aficionado, I have homed in on three toppings that set a Texas cheeseburger apart from elsewhere in America. I call it the Texas topping trinity: yellow mustard, Best Maid hamburger pickles, and onions. Other elements might be added but these three cannot be omitted. That's the law. No room for sweet ketchup or creamy mayo here. Just a group of sharp flavors that allows you to relish the richness of the beef.
In my devotion to this classic combination, I set out to make three renditions to serve as inspiration for my fellow backyard grillers. I enlisted the palates of three chefs who have something to say about Texas burgers as my test subjects. Test subject one: Evan LeRoy of LeRoy and Lewis Barbecue in Austin. Evan serves smoked burgers at LeRoy and Lewis and is one of the pioneers of the smoked burger movement. Test subjects two and three: Davis Turner and his wife, Reese, of Huckleberry, an award-wining Austin-based food trailer that serves Gulf seafood and fantastic smashed burgers.
I kept the rules simple for my cheeseburger prototypes. All three had to use the Texas topping trinity in some way. They all used a classic white hamburger bun, 4" in diameter—usually the cheapest kind on the grocery store shelf. They all got a slice of Boar's Head white American cheese sliced as thinly as possible. (I get my American cheese from the deli because it's a notch better than the prepackaged slices.) Also, all cheeseburgers were cooked on a griddle or flattop grill. Finally, I used Peeler Farms wagyu beef for one day of testing and on another day I used H-E-B grass-fed beef. I think the latter is a great supermarket product, but Peeler's is excellent and worth the money. A classic Texas cheeseburger uses great local beef, so make the extra effort.
Texas Monk
This one is all about simplicity. I seasoned a 5 oz. Peeler Farms patty 4" in diameter and 3/4" thick (buy this to make perfectly size patties) with salt and pepper and seared it to medium on a flattop. I then hit it with the white American cheese and placed it on a bed of chopped white onions layered on the bottom bun. I graced the top bun with yellow mustard and added the pickles. That's it.
I've never made a cheeseburger with only these toppings. The closest I have had to this flavor profile is Dan's Hamburgers, a burger chain in Austin operating since the early 1970s. I didn't grow up on these kinds of burgers, but Evan did. "This reminds me of driving around on a Saturday night in the '90s," he said. Davis added, "This is a classic backyard burger—simple, easy, a dad burger." Reese said the Texas Monk reminds her of Sandy's, a classic Austin burger and ice cream stand.
While I don't share the nostalgia for these flavors, as I did not grow up in Texas, I can tell you why yellow mustard, sour pickles, and raw onions work on a burger. They share the flavor trait of pungency. That sharpness cuts through the richness of the beef. It hits the savory part of our palate with blunt force trauma. This Texas topping trinity has been a hallmark at a few longstanding Texas burger institutions like Herd's Hamburgers in Jacksboro, as well as the beloved chain Whataburger, whose founder, Harmon Dobson, once said "mustard was a Texas tradition," according to The Texanist.
Big Tex
I love relish sauces on burgers, like Thousand Island dressing and Big Mac sauce. Because of the Texas topping trinity, I couldn't do Thousand Island due the lack of mustard. But there was room to work in Big Mac sauce.
During peak COVID of 2020, when we were all cooking at home seven days a week, I hacked the Big Mac sauce for a slider recipe. It comes down to a 3-to-1 mayonnaise-to-mustard ratio plus a spoonful of relish and sugar, and a dash of onion powder, garlic powder, and paprika. To honor the Texas topping trinity, I reversed the mayo-to-mustard ratio and countered the sweetness of the sugar with the heat from a few dashes of Tabasco. Presto: Big Tex sauce.
For the sake of contrast, I made the Big Tex cheeseburger a smashed burger. If you've never had one, a smashed burger is when a ball of ground beef is smashed on a hot pan or flattop, creating a crisp, well-browned burger patty. I smashed two balls of beef, weighing about 2 oz. each, then seasoned them with salt and pepper before adding a slice of white American cheese over each patty. I added shredded lettuce and topped them with the Big Tex sauce, pickles, and chopped raw onions.
This drive-thru-style cheeseburger was surprisingly the least well received. On a more positive note, Davis said it was "an O.G. Texas burger, a better version of Whataburger." Reese preferred the juiciness of the Texas Monk. Evan, who had a version made with H-E-B's grass-fed beef, noted the burger was a bit dry. I admit, it was.
Making smashed burgers is harder than it seems. You need to be cautious with the beef, making sure you get a deep sear without drying it out. This means using an 80-to-20 meat-to-fat ratio at a minimum. Don't go any leaner. You also need the right equipment to make a proper smashed burger at home. I have a burger smasher, which is like a circular press, and even with that tool, you need to add a bit of force to achieve the sear and texture. This could be one of the steepest learning curves.
I used Huckleberry's flattop, which is professional grade, and Evan set up a plancha (cast-iron griddle) in his smoker's firebox. Both set-ups created a tremendous amount of heat. Even if you get your cast iron scorching, the temperature drops after the first patty hits, so be patient. Another option is to get a Blackstone, the Weber grill of flattop cooking for backyard chefs. Bottom line: There's a learning curve to making smashed burgers at home, so be prepared to do some practice runs before you tell the neighbors you got a Blackstone and to bring over a six-pack.
Texas Chef's Cheeseburger
For this one, I used the same patty as the Texas Monk: 5 oz., 4" in diameter, and 3/4" thick. I seared it to medium rare and slathered it with yellow mustard while cooking. This is an ode to In-N-Out's "animal style" technique, but I also thought of Texas brisket slathered in mustard so the rub can adhere before the long smoke.
Instead of raw chopped onions, I caramelized mine by tossing them on the flattop until they turned golden. If you're patient, try doing this over medium-low heat. Onions can burn, so keep an eye out and a spatula handy. For one batch, I added a dash of Maggi sauce at the end. Think of it as a cousin to soy sauce and Worcestershire sauce but with more umami. Or you could use either of those other sauces in lieu of Maggi.
Like with the Big Tex, I added shredded lettuce and pickles. For the mustard component of the Texas topping trinity, I made a lazy man's aioli: mayo spiked with Dijon mustard and olive oil. You could also use Dijonnaise and dose it with a 1/4 teaspoon to 1 tablespoon of olive oil. It makes your mayo feel a little fancier.
Everyone loved this burger. I have no doubt that whether it was the Peeler Farms or the H-E-B grass-fed beef, the caramelized onions enhanced the beef flavor, perhaps more subtly than the Texas Monk. It also added a velvety richness, a chef's kiss because this is after all a Texas Chef's Cheeseburger.
"The beef has to be substantial," Evan said. In other words, the beef-to-bun ratio should favor the beef, but the burger needs to still fit the dimensions of the bun. A 4" diameter bun with a 4" diameter and 3/4" thick patty is key.
So, either the Texas Monk or the Texas Chef's Cheeseburger are good directions to honor the classic Texas cheeseburger, and both are very achievable for the backyard chef. I'll only add this: Seek out the best beef from a reputable local rancher. It really makes a difference.
If you choose to try the Big Tex, remember you need a cast-iron pan. You can't smash on grill grates unless you want to watch the coals eat your burger. Try to create a two-zone heat set-up, meaning a hot side and a medium side. This will help with flare-ups and when you cook a burger past medium.
Like the chefs, I am partial to the Texas Chef's Cheeseburger. I liked adding the shredded iceberg lettuce for texture. And the caramelized onions make the beef shine. But if you go with the Texas Monk, there's a good chance you might take a fellow Texan back in time. And that's the best part about burgers—the years of nostalgia they can unleash.