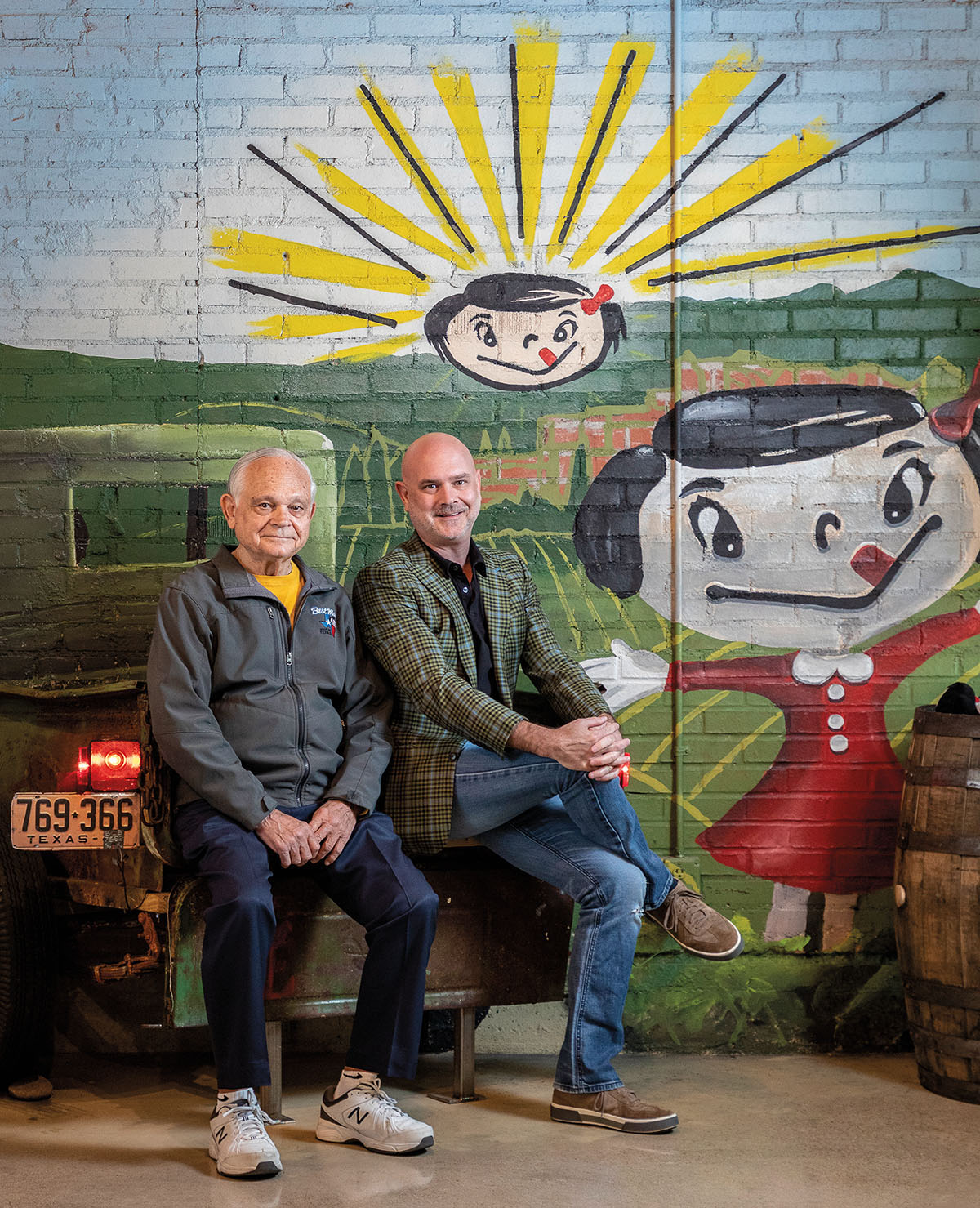 Brian Dalton did not want to go into the family business. By the time he was a teenager, he'd had enough pickle talk. "I don't think there was a single Thanksgiving or family meal where there wasn't a discussion about trucks or cucumbers or customers," says Brian, CFO and president of Best Maid Pickles. Besides, his aspirations were musical. A star trumpet player who made the McDonald's All American band his senior year, Dalton headed south from Mansfield to Waco to pursue a music degree at Baylor University. He thought his road might lead to the great performance halls of New York City, but after graduation, he decided a career in music might not provide enough financial support. So, he returned home to find a stable job. The pull of pickles was just too strong.
"I told Dad in 1993 I would like to come work at Best Maid, and that was the start of it," Brian recalls. "They didn't give me an office or a position. It was just come down [to the headquarters]. There I was, a 23-year-old man with a music degree from Baylor, walking around and following my dad every day."
Best Maid's pickles, salad dressings, and relishes have graced Texas tables for four generations. The company started as the side hustle of Brian's great-grandmother, Mildred "Millie Mama" Dalton, who baked meringue pies in her Mansfield home. She sold them door-to-door and at the small grocery store her family owned in the 1920s. "Everyone loved them; they were really popular pies," Brian says.
Naturally enterprising as well as thrifty, Millie Mama used the leftover egg yolks to make and sell mayonnaise. Homemade mayonnaise soon led to homemade sandwich spread packed with pickle relish. When Millie Mama's pickle supplier raised prices, she and her husband, Jessie Otis Dalton, decided to pivot the business. They began selling pickles in addition to the mayonnaise and relish. They transformed their backyard into a garden, growing their own cucumbers to keep the nascent family business moving forward. "The early products were just called Mrs. Dalton's," Brian says. "There was a lady in town, Mrs. Chase, who had a cooking school, and ads in the paper would say, 'Mrs. Chase recommends Mrs. Dalton's mayonnaise.'"
Somehow, though the family cannot recall exactly why, the popular items started being sold under the name Best Made, then eventually Best Maid in the early 1930s. The small crop of cucumbers expanded to meet a growing demand, and the family built a tankyard—a space with fiberglass tanks for curing the pickles—right near their family home in Mansfield, where it remains today.
"I really wish my grandmother, grandfather, and my dad were here to see what the company has grown into," says Gary Dalton, Best Maid's chairman and Brian's father. "I mean it's just unbelievable. Back in the day we had to save up all our nickels and dimes and quarters just to get a little oil to make the dressings out of."
What started as a literal mom-and-pop operation in Mansfield has grown into a robust business. The company sells myriad products—bloody mary mix, jalapeño mustard relish, and hamburger pickles to name but a few—and has a farm in Hale Center in the Panhandle that grows 35 million pounds of cucumbers annually. The products are available throughout the Southwest, though Texas and its contiguous states are the biggest markets. While the company has grown exponentially, the connection to family hasn't changed. Chris Dalton, Brian's brother, manages the tankyard where a brine turns the cucumbers into pickles, and Brian leads day-to-day operations.
That commitment to family goes beyond the Daltons and extends to all Best Maid employees. Ali Carlton has been working for the company since he graduated from high school in 2008. He works in IT and inventory control for Best Maid, alongside his mother, Julie Carlton, who handles order entry for the company. "There have been so many people I know who have had their sons and daughters or sisters or cousins work at Best Maid," Ali says. "There are people in the area, when I'll mention I work for Best Maid, who will say, 'Oh, my mom used to work there.' There aren't a lot of companies that have been around as long as Best Maid, and there's a reason for that. In order to keep that nostalgia and keep those local companies and businesses around, you gotta support the little guy."
Part of that nostalgia is the iconic mascot—an image of a little girl with a black bob and her tongue sticking out—which hasn't changed in over half a century. Much to the Daltons' delight, people have had the mascot tattooed on their bodies. "It really says something about the brand," Brian says, laughing.
Recently, that mascot adorned a new and somewhat unusual product: a pickle beer made in partnership with Fort Worth's Martin House Brewing Company. "When we started Martin House in 2013, our first employee actually had a college friend who worked at Best Maid," says Shugg Cole, brand manager for Martin House. "Shortly after opening the brewery, we began some talks with Best Maid about a possible pickle beer or a beer pickle." In 2017, Martin House had its first Sour Fest, and the friend at Best Maid offered some pickle brine to experiment with a one-off sour pickle beer for the event. The beer was originally released as a limited beer, but after it caught a lot of attention in the media, the brewery decided to make it a permanent addition. "We love Best Maid pickles, and it turns out a lot more Texans do as well," Cole says.
Pickle lovers in search of other unusual offerings only need visit Best Maid's Pickle Emporium in Fort Worth's Near Southside neighborhood. Opened in October 2020, the Pickle Emporium features Best Maid merchandise and products. Visitors can find Best Maid-branded T-shirts, bloody mary mix, pickle-scented candles, green Frisbees, pickle-shaped dog toys, and pickle-flavored cotton candy. Colorful murals provide opportunities for photos, and exhibits on the walls outline the company's history and pickling process. Every purchase comes with a packet of cucumber seeds to start your own garden, just as Millie Mama did almost a century ago.
The Emporium isn't the only good news for pickle fanatics; Best Maid also plans to expand its production, in hopes to move into grocery stores across the Southeast U.S. The company won't change the century-old recipes to meet demand, though. "The most important thing to me is that the brand always continues," Brian says, "and that people can always buy Best Maid pickles and that the smiley face is there smiling back at them."
From the February 2022 issue