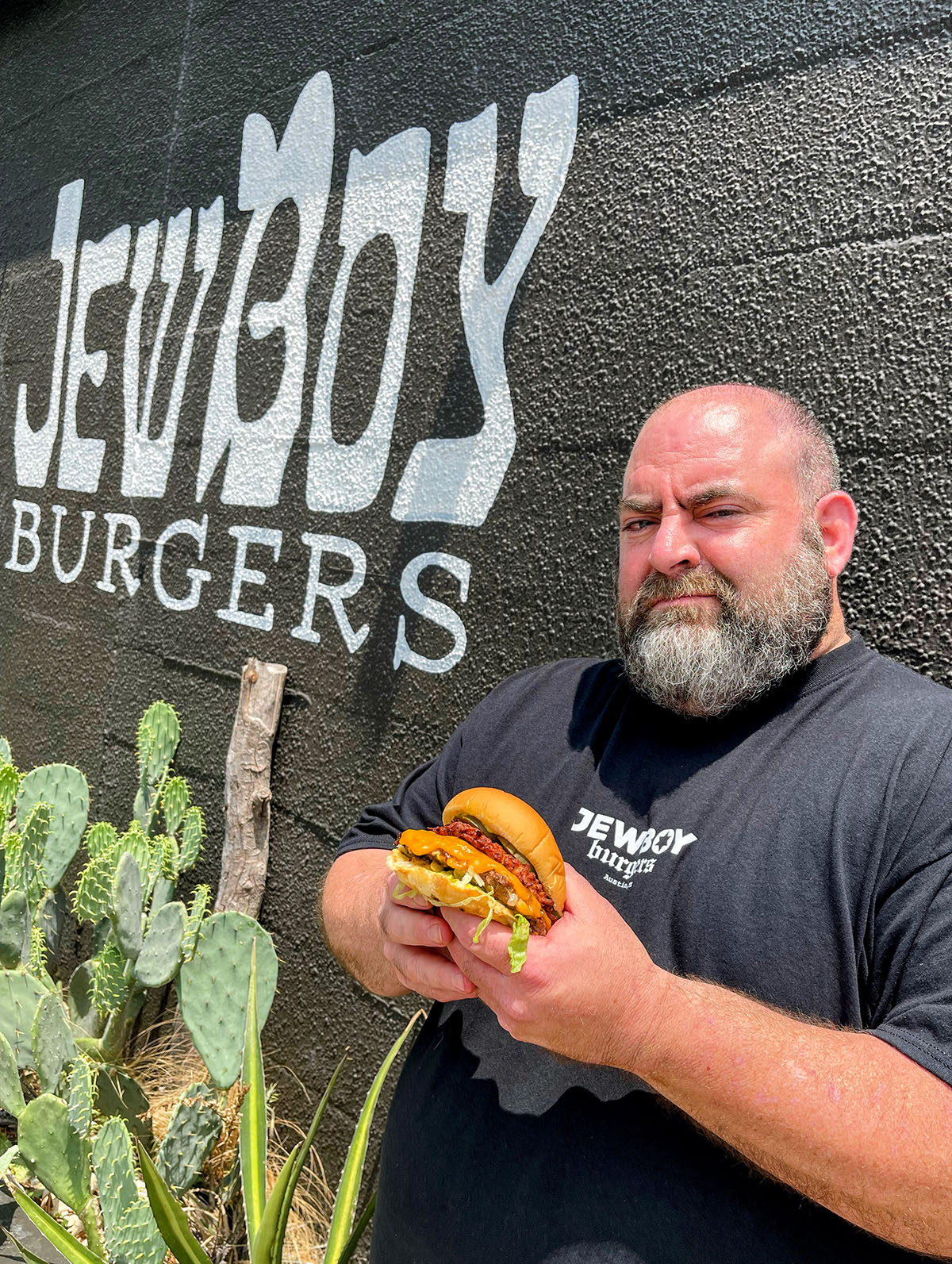 As host of Cheap Eats, I've eaten burgers all over the country, and I guess you could say I've tasted them all. I'm not a meat-on-meat-on-meat burger kind of guy but I made an exception for the Goyim at JewBoy Burgers: a patty topped with Swiss cheese, bacon, and house-made pastrami. Pastrami burgers are a big deal in old school burger joints in Los Angeles. They're a bit less common in Austin, where JewBoy Burgers is located. I was swayed to give it a shot because of the cut used: beef navel. It happens to be the same cut used by Langer's, LA's legendary Jewish delicatessen. JewBoy Burgers isn't playing around.
So, what's with the name: JewBoy? If you're like me, you might have found it a bit unsettling. When I have posted about the burger joint on Instagram, I found myself fielding questions about what the name implies. I've asked friends of the Jewish faith how they feel about it. Some feel more uneasy about the non-Kosher menu than the name; others scratched their heads a bit and chalked it up to a climate that disavows political correctness. The story behind the name is important and adds to the satisfaction of scarfing down one of the loaded smashed burgers JewBoy serves.
JewBoy Burgers is about Mo Pittle, a guy from El Paso who loves burgers enough to open a food truck in his 40s and become a chef through trial by fire. If you meet Pittle in person, you might not be surprised to find out he played football in high school. At 5 feet, 10 inches and 230 pounds, he says he was the only Jewish kid on the team at Coronado High School. He grew up mostly among Latinos and "Jew boy" was the term he was referred to.
When I ask him about the optics of calling a restaurant JewBoy, Pittle enlightens me with some Texas history: Kinky Friedman, a former gubernatorial candidate, was also a musician who headlined a band called Texas Jewboys. Friedman coined the name to reflect his identity as a Texan and Jew, in other words a Jewish cowboy. For Pittle, "JewBoy" translates to "Jewish cholo." For Pittle, "JewBoy" means growing up Jewish in El Paso in the 1970s and '80s. "I'm not giving license for people to be antisemitic," Pittle says. "You cannot use this term in a derogatory nature. When you have a narrative and story that's worth telling, do it. This is mine."
Though he grew up in a Jewish household, Pittle was surrounded by Mexican food thanks to El Paso's sizable Mexican majority community. Many of his friends' parents never spoke English. "Assimilation moves slower at the border," Pittle muses. As a guy who grew up in a family that talked about what's for dinner at breakfast, Mexican culture would influence what landed on his plate. Soon he found himself incorporating Mexican food and Jewish food into his culinary routines.
Pittle opened JewBoy Burgers at 5111 Airport Boulevard in 2020 after about four years running it as a food truck. The new place is decked out in lucha libre décor, a testament to El Paso and his smashed burger. Each one he makes starts with a 6-ounce patty and a Martin's potato roll. From there you have the Texas influence with his topping choices of mustard, pickles, and onions. You can get a taste of his Jewish heritage in the Yenta, a burger topped with a fried latke, the potato pancake synonymous with Hanukkah celebrations. And burgers like the Oy Vay Guey scream El Paso border cuisine with a Hatch green chile in the mix.
Latke and Hatch chile burgers might seem too far apart to share the same menu. But consider the almighty onion as a connector. The edible bulb is indelible to Jewish and Mexican cuisines as an affordable seasoning element. For much of our history, salt was expensive, so figuring out how to season foods with inexpensive ingredients was a big part of Jewish and Mexican cookbooks. Pittle's burgers acknowledge this cultural cross-pollination.
"Some of the best burgers I've ever had have come from Mexican restaurants," Pittle declares. Rosco's Burger Inn in El Paso might be his biggest influence, where ground beef and onions are smashed together for every burger patty. "You walk out of their smelling like onions," Pittle laughs.
Before he started JewBoy, Pittle worked in advertising. He also helped on Beto O'Rourke's city council campaign in El Paso. Pittle has traveled all over the country and his burger bucket list includes the legendary Apple Pan in Los Angeles, The Vortex in Atlanta, Ben's Chili Bowl in the District of Columbia, Crown Burgers in Salt Lake City, Vienna Inn in Fairfax, Virginia, and the shuttered GM Steakhouse in Austin.
My takeaway from his list of burgers is his appeal for timeless classic-style burgers as opposed to chef-driven bespoke burgers that have come into fashion over the last two decades. Humble, hearty, and delicious is the burger he dreams about.
While his love for burgers is unquestionable, Pittle would question anyone calling him a chef. I disagree. He has the war stories to tell you how difficult it is to run a food truck. Not only did he survive those first few years, but he thrived. Pittle has now made the leap to not one but two brick-and-mortar restaurants: JewBoy Burgers and JewBoy Sub Shop. His success is attributed to an insatiable need to tell the story of who you are through food. I told you there was a lot behind the name.