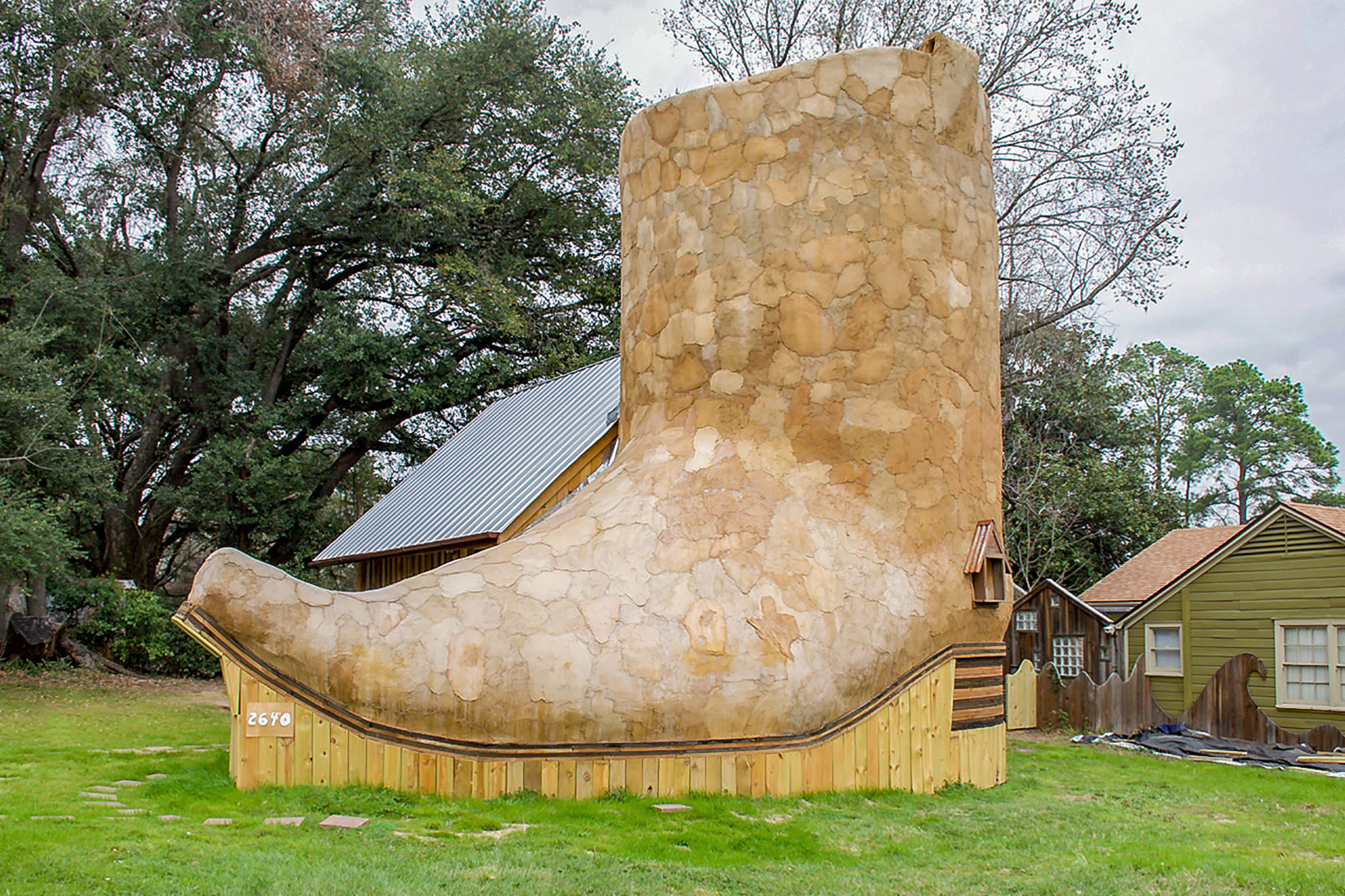 When you think of Dan Phillips, the Texas homebuilder and artist of the reclaimed and unwanted, a Venn diagram comes to mind. Phillips, who passed away after a long fight with cancer on Dec. 21, is at the center of overlapping circles representing the many lives he not only lived but also touched in his 76 years.
He was an army intelligence officer, an inventor of a nationally syndicated word game called Brainsqueeze, a professor of dance, and, as a child, both an Eagle Scout and Colorado's under-14 state championship bull rider. But his lasting legacy is as the visionary builder behind Huntsville's Phoenix Commotion, a construction company that builds what it calls "recycled houses."
Phillips' interest in reusing materials began when he was growing up in Colorado. Instead of settling for a Schwinn bicycle off the rack from the local bike shop, young Phillips crafted himself a Frankenbike from parts he salvaged from a Denver landfill. Decades later, he would apply this approach to what would become his life's work: affordable housing.
With Phoenix Commotion, Phillips addressed many of society's problems. For instance, he believed that 10% of discarded items in overflowing landfills were salvageable construction materials. To solve this issue, he worked around municipalities that wouldn't allow people to salvage on-site and made deals with local construction companies to take their excess materials away for them.
When it came to unemployment, he addressed acute shortages of skilled construction workers by hiring only raw apprentices. Phillips then trained them to be carpenters, roofers, and wall-hangers by the dozen—as long as you were ready and willing to swing a hammer, you had a job.
Inexpensive labor and free materials results in affordable housing, one of the most pressing issues facing America today. Phillips realized that quality of life cannot be solely based on bottom-line thinking, so the homes he built were not only bargain-priced homes but visual delights. Perhaps his best known works are the Western-themed boot and cowboy hat houses of Huntsville (see sidebar).
For a client who loved Budweiser, he built a house subtly reminiscent of a can of Bud. Unlike Houston's Beer Can House, it's not literally lined with crushed beer cans, but instead designed to share the same aesthetic as an intact can of Bud.
The Tree House is just that, a small wooden house perched in a bois d'arc tree 35 feet above Huntsville's Town Creek. It's rentable only to artists.
The License Plate House takes its name from its roof, shingled with discarded Texas license plates that Phillips claimed will survive 75 Texas summers with the added benefit that they reflect the sun.
In each structure, Phillips and his clients added fun touches like tile mosaics, floors made of repurposed wine corks or papier-mâché (flattened beer bottle labels in one case), and walls papered with colorful flattened toothpaste tubes.
Phillips' more public projects include his oversight of the many young artists who contributed to Smither Park and Analemma's Dilemma. The former is located next to Houston's Orange Show, a shrine to citrus fruit built by a postal worker, while the latter is an outdoor mosaic art installation at Sam Houston State University that contains a devilishly complicated riddle called the Bearkat Brainteaser.
The vast majority of his projects can be found in Huntsville, where the Colorado native completed graduate school and met Marsha, his wife of 52 years. He also taught dance for 10 years at Sam Houston State.
Phillips surprised his friends when he quit teaching to open an art and antiques restoration business called Phoenix Workshop with his wife in 1985. Building was in his heart, though, and by 1998 the couple founded Phoenix Commotion. Eventually, the Workshop was closed. At last, Phillips could focus on a calling large and broad enough to meet his talents, drive, and spirit.
Beyond the construction of the homes, Phillips also saw to it that the homes wound up sheltering those most in need, including single parents, struggling families, and fellow artists. The eventual homeowner was involved in the process of the home from conception through construction. Payments generally came monthly in the range of $99 to $300, and Phillips had a special program to aid in coming up with down payments.
"The result is a person who is empowered, not only by the useful knowledge of building skills, but by the opportunity to become part of a community as a vested participant," according to Phoenix Commotion's mission statement. Pride of ownership went far beyond a signature on a mortgage document.
Phillips shared his philosophy and practical pointers in his book Resurrecting Trash, and in the books Urgent Architecture and Housing Reclaimed, each of which focuses in part on Phoenix Commotion. He expounded on his views in TEDx Talks, including one at a TED conference in Vienna in 2018.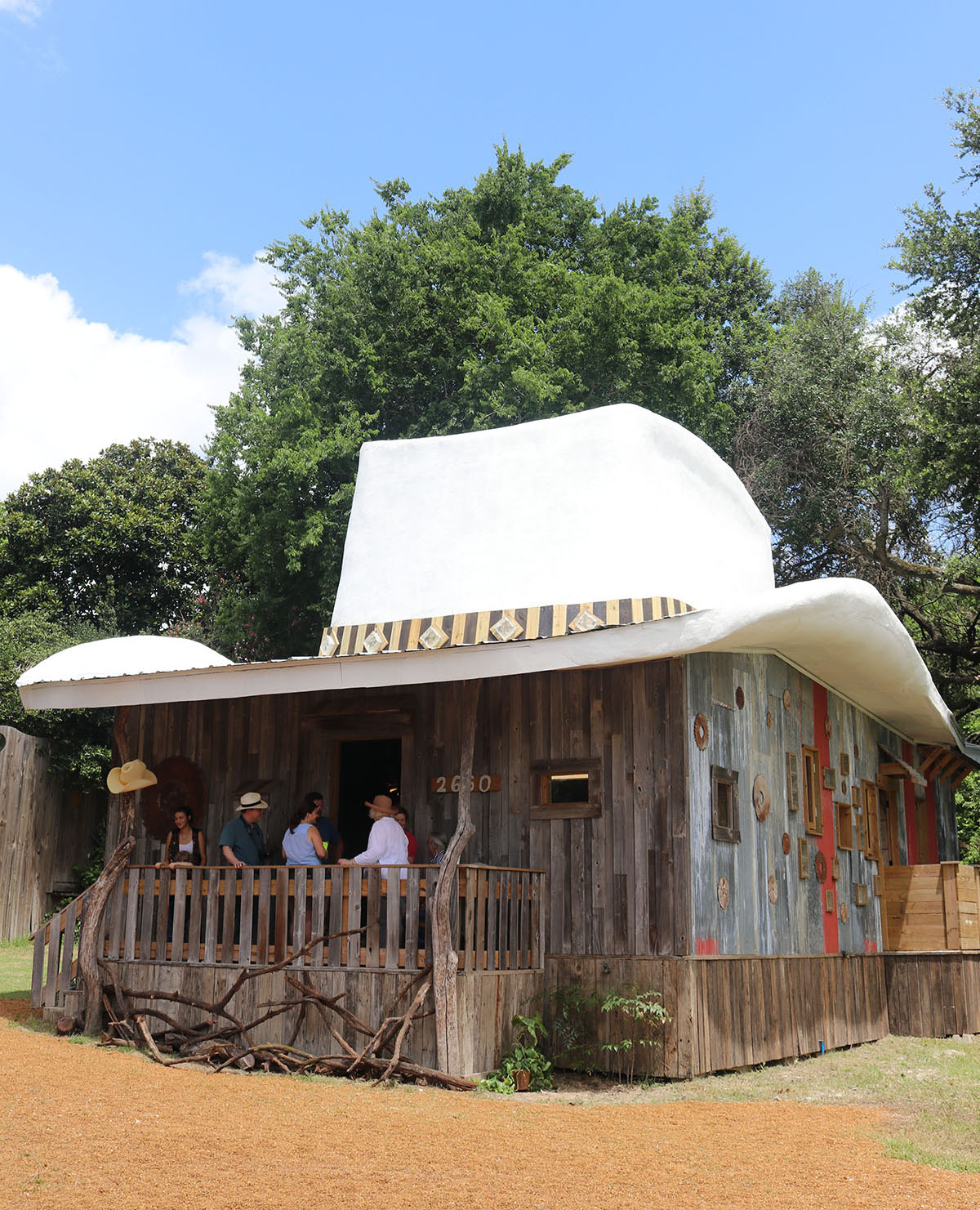 Roadside Oddities: Dan Phillips' Boot House and Hat House
The Boot House and Hat House are among Phillips's more readily visible works of domestic architecture. They share a contiguous lot in the 2600 block of 12th Street (also known as State Highway 30, Huntsville's primary east-west thoroughfare).
Phillips put the boot on the ground first. Completed as a rental in 2016, the home has been leased since 2017, when it hit the market at $1,200 a month. Not much of the living space is in the boot per se; it conceals a tin-roofed, rustic-looking bungalow with a wraparound deck that contains both bedrooms and much of the rest of the 711-square-foot living space. A spiral staircase coils within the boot 35 feet to a rooftop deck. Close at hand are 1836 Steakhouse, several fried chicken joints, and a Mexican restaurant, so it's probably best not to take the air up there when hungry.
You'll have the same temptation at the Cowboy Hat House next door, where the indented crown of said chapeau also conceals a rooftop deck.
Phillips said he was first inspired by Mother Goose's "old woman who lived in a shoe," because he loved "storybook architecture." This being Texas, a shoe became a boot, and what is a boot without a hat?
And just as in the storybooks, these two treasures were almost gobbled up. A Houston developer bought the houses with plans to demolish or move them out of the way of a planned shopping center. Locals rallied with a petition to save the landmarks, and the Huntsville City Council balked at approving the necessary zoning variance. A fairy tale ending, for now.
Testimonials left on his obituary in the Huntsville Item reveal a man who touched many people's lives. In one tribute, an Army buddy, who knew Phillips when he served in the U.S. Army as an intelligence officer and translator in West Berlin, recalls how he would demonstrate all five ballet foot positions while wearing combat boots or try to teach his fellow soldiers ballet moves like the plié.
In another tribute, a total stranger shares the impact Phillips had on his life: "[He] changed everything about the way I look at housing, the work I do in that area, the way I organize my garden, the way we renovated and furnished our home, everything. He changed the way I thought about the world and I am sure I am not alone. … He blessed the world with his life's work."
---
Phoenix Commotion announced there will be a memorial service for Dan Phillips on Jan. 30. The public is welcome to attend, starting at 2 p.m. at The Raven Lodge at Huntsville State Park. Check here for updates.