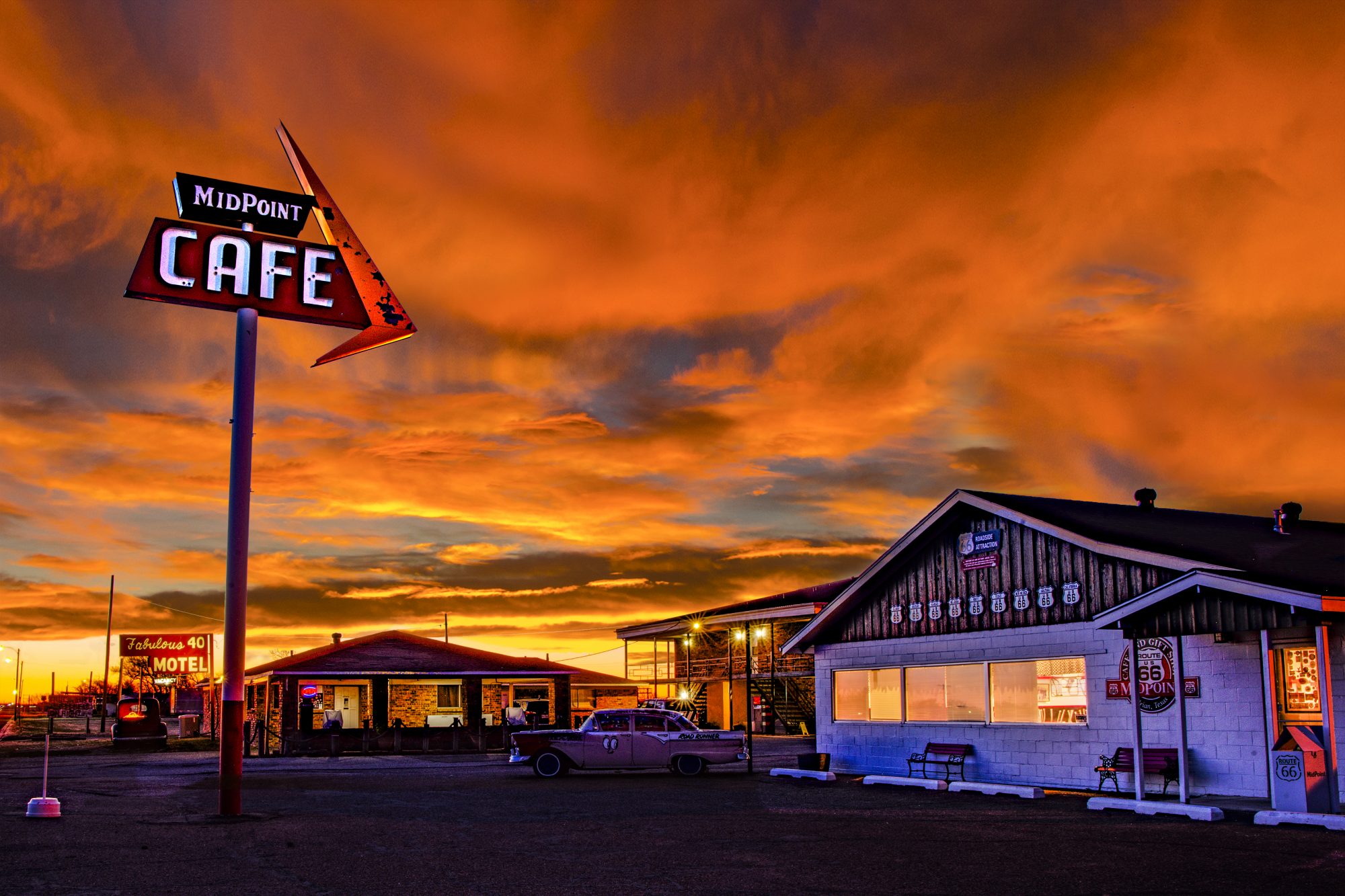 The tiny town of Adrian has absolutely nothing in common with the skyscrapers of Chicago or glamour of Los Angeles—and that's precisely what attracts tourists from around the globe. They flock by the thousands to this community of 166 in the Texas Panhandle—all for a piece of pie. Literally.
As many as 15,000 foreign travelers make their way through Adrian each year to see the middle of historic Route 66, the storied Mother Road that linked Chicago and LA. The town sits exactly 1,139 miles from each city, and at that midpoint stands a Texas landmark known for its downhome cooking and delicious pies: Midpoint Café.
If you've never heard of Midpoint Café, there's a good chance you've seen it on the big screen. The 54-seat diner was the inspiration for Flo's V-8 Café in the animated hit Cars. But unlike the cinematic café, the Midpoint didn't get left behind when Interstate 40 bypassed Adrian in the 1970s. Route 66's allure to international tourists has kept business buzzing for decades. Like its famous Elvis pie, life was good at Midpoint Café.
Until this past March, at least. That's when traffic came to the wrong type of screeching halt.
The year started with a bang at Midpoint Café, which opens only from March to October, the traditional travel season for Route 66. The first days of March brought a visit from Bob and Kelli Phillips to record a segment for their TV show, Texas Country Reporter. Brenda Hammit, who bought Midpoint Café in early 2018, braced for a flood of guests. A few days later, however, it was all over. COVID-19 and quarantine orders shut the café's doors.
When Midpoint Café eventually opened back up 2 ½ months later on Memorial Day weekend, the locals responded in kind. It was so busy, in fact, Hammit had to enlist the help of her granddaughter to wait tables. The 12-year-old ended up making $500 in tips. A nice display of community, for sure, but one that couldn't sustain in a town of less than 200.
It's who wasn't there—and who hasn't returned since—that keeps Hammit up at night. Between restrictions and general worries about travel, the foreign traffic that makes up 90% of Midpoint Café's business is gone.
"They canceled all the tours," Hammit said. "They canceled all the bus runs. They've all canceled. Everybody's canceled. It's hard to pay the bills when you don't have any money."
Things got so tight, Hammit said at one point she was only a few days away from foreclosure. That's when two of her children started a GoFundMe campaign, looking to raise $15,000. They haven't come close to the goal, but donations received so far helped Hammit catch up on mortgage payments.
Now others are lending their talents to help save Midpoint Café. Jim Livingston, an Amarillo-based photographer and founder of the Route 66 Visitors Center, just launched a limited-edition run of a gold-metallic photo prints—a shot of Cadillac Ranch, taken along Route 66. He's hoping to move 100 copies at $1,000 apiece, with 10% directed to cover Midpoint Café's future bills. The rest of the proceeds will go toward material costs and keeping alive his own struggling small business.
"If we allow places like the Midpoint Café to go, we're literally allowing our history to disappear here in Texas," Livingston said.
At the moment, domestic tourism is keeping Midpoint Café afloat. Hammit said she's seeing visitors from across the U.S. stop in for a piece of pie. American tourists, looking to hit the road instead of flying to a destination, are creating just enough business on weekends to pay the bills for now. Weekday traffic is non-existent. Hammit said money from the fundraisers would stop the "bad worry"—her concerns over having to close up shop.
Despite a brutal 2020, Hammit still has lofty aspirations for Midpoint Café and the hopeful return of her international visitors. It's a goal she wants to achieve with the help of friends and strangers alike, both foreign and domestic.
"I want every country that's out there, in here," Hammit said. "I want to meet everybody. I'll make it work. I just want to meet everybody. And I hope my pies are good."
---
As the coronavirus pandemic continues to affect cities and towns across the state, Texas Highways asked our writers to share stories of adversity, recovery and strength in Texas' small business community. We also checked in with businesses we've covered in the past and invited members of Texas travel associations to give us an update on how they're doing and how you can support them. Click here to explore our map of nearly 500 small businesses.