Location is important for practically any dining establishment. For Midpoint Café in Adrian, location is everything. The restaurant would likely not exist if it wasn't precisely 1,139 miles from Chicago and 1,139 miles from Los Angeles—the halfway point on storied Route 66.
As critical as location may be to Midpoint's existence, the three women running the six tables, six booths, and five counter stools make the difference. That would be Brenda Hammit, her sister Carrie O'Leary, and their mother, Sandy Adams, who together took over Midpoint in early 2018.
Midpoint Café

305 W. Historic Route 66, Adrian, TX
Open daily 7 a.m.-10 p.m. from mid-March to Nov. 1.
806-538-6379
It's the tail end of lunch on an early spring day, and the café hums with activity inside, while outside, a family of six from Oklahoma on their way back home from Albuquerque poses for a photo in front of the Midpoint sign. (Service stops at 3 p.m.; it's just pie and drinks after that.) A cowbell clangs whenever the door opens, inevitably followed by O'Leary's greeting, "Hi guys, how are ya?" Almost all the Formica tables and Naugahyde chairs are occupied—half by locals happy to have the café open again after its extended winter break (which runs from November to mid-March), half by the first wave of foreign tourists, chasing their dreams of midcentury American car culture down the nation's most legendary highway.
To Midpoint Café's international visitors, driving Route 66 via car or motorcycle is a requisite pilgrimage. The café opened as Zella's in 1928 in a one-room building with a dirt floor that now houses the gift shop. In 1947, the café footprint expanded, and it operated 24 hours daily. With Route 66 being the main east-west highway across the Texas Panhandle, the café and businesses like it were always busy until Interstate 40 bypassed most of Route 66 in the 1970s.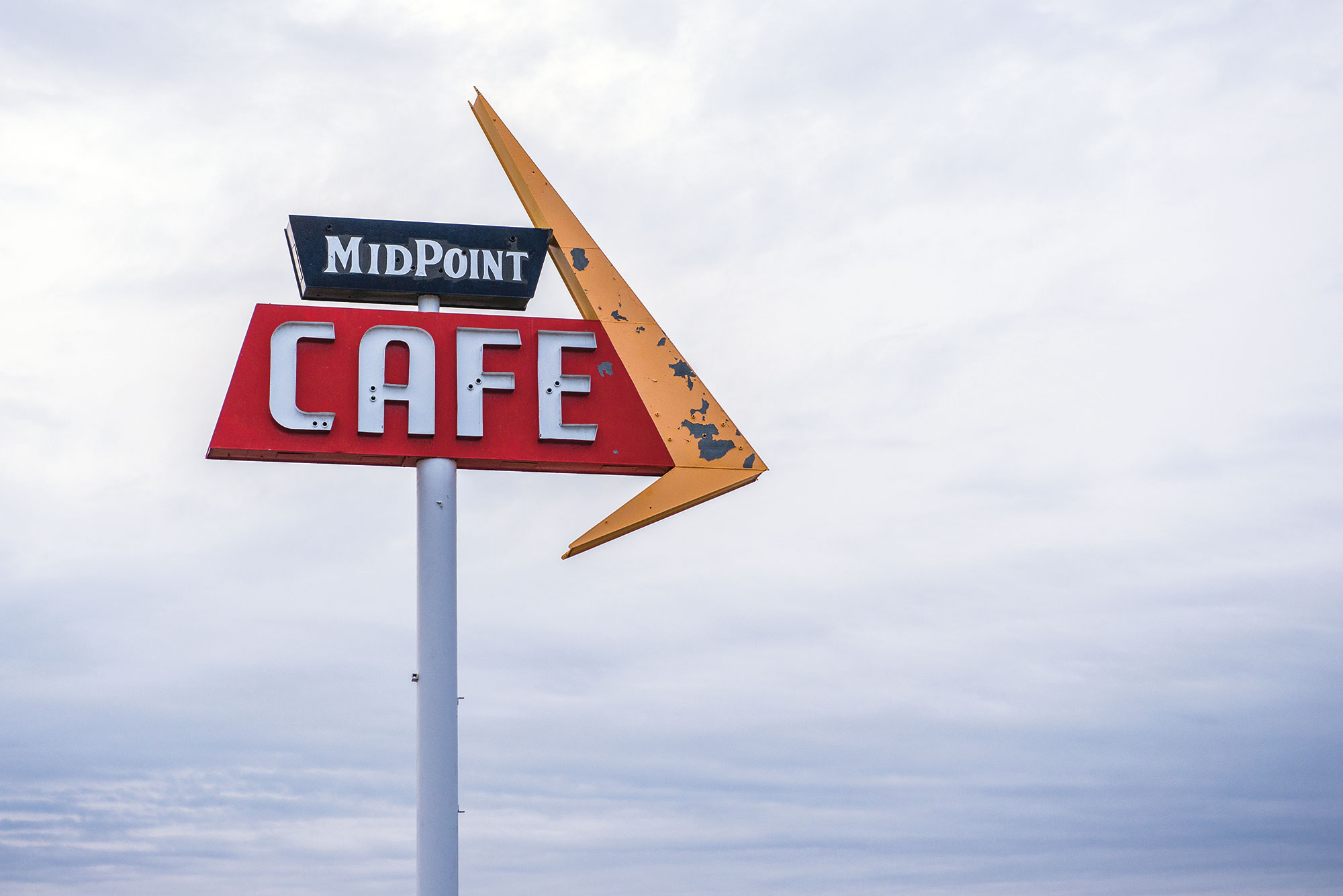 Over the years, the café's name changed to Jesse's, Peggy's, Rachel's, and Adrian Café. The name change to Midpoint Café in 1995 reflected major historic preservation efforts along Route 66.
Today, the road is littered with remnants of motels, cafés, and gas stations— a few preserved and repurposed as museums or visitor centers—but Midpoint Café still functions as originally intended. It's the oldest continuously operating café on Route 66 between Amarillo and Tucumcari, New Mexico. And it's a family affair, furthering the nostalgic feel. O'Leary takes your order, Hammit cooks your meal, and Adams, aka Grandma, makes the pies.
To Midpoint Café's international visitors, driving Route 66 via car or motorcycle is a requisite pilgrimage.
The women grew up raising race horses in California. Hammit moved to Adrian 25 years ago, married, and raised a family. "This town has really been good to me," she says. A few years after her husband died, her mother moved in to help with her kids. Adams worked at the café for six years, and O'Leary joined them about a year and a half ago. The family bought the business in early 2018.
Customers from 84 different countries dined at Midpoint last year.
Tony, a trucker en route to Mesa, Arizona, on a long-distance haul, sits at the counter enjoying a cup of coffee, a slice of apple pie, and a hug and small talk from Grandma. A couple speaking French sit at one table. A couple speaking German have moved from a booth into the adjoining Route 66 souvenir shop to look over T-shirts, bumper stickers declaring "We Made It Halfway!," key chains, nameplates, shot glasses, and other tchotchkes.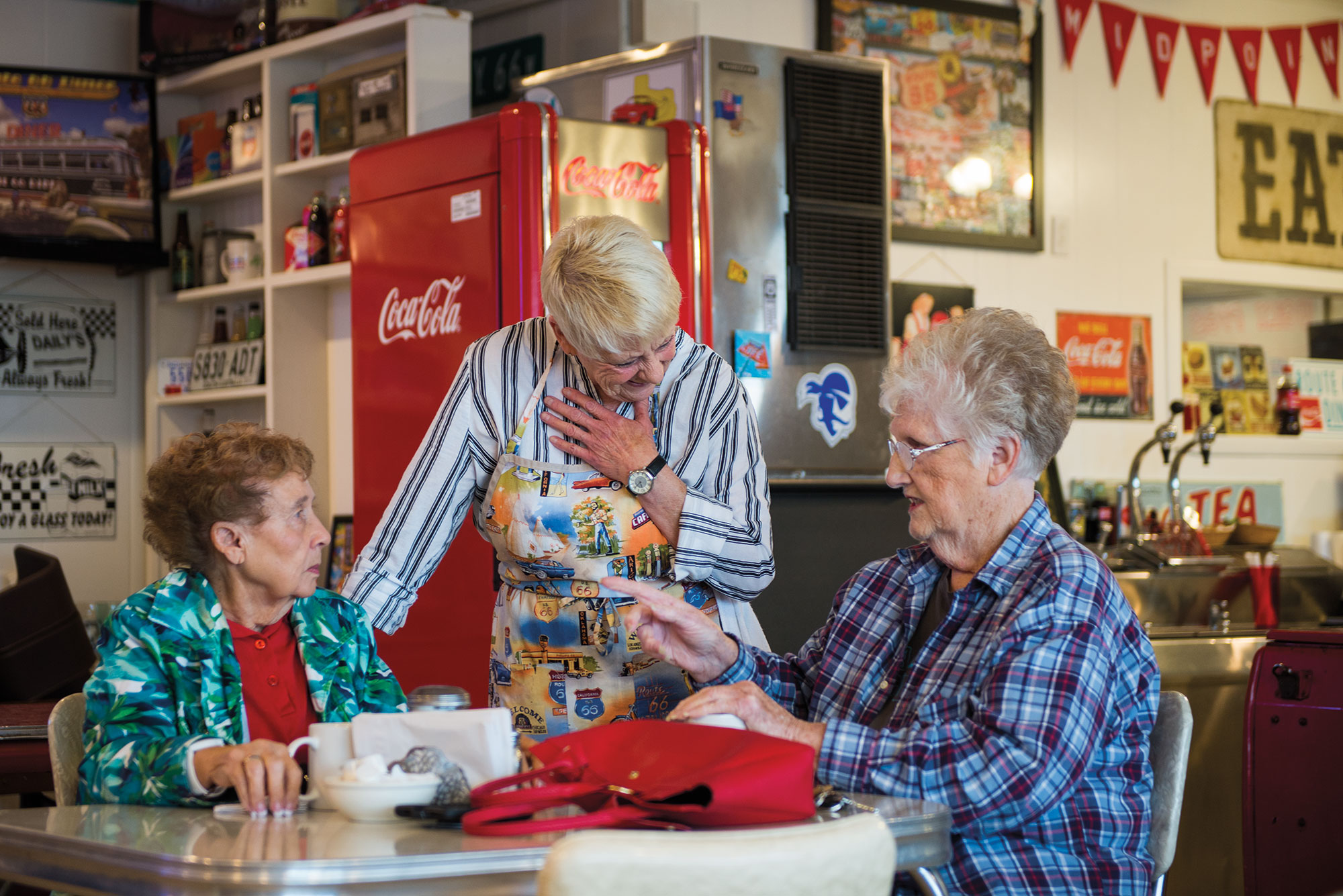 The menu is classic American roadside diner—breakfast done several different ways, marvelously messy Angus burgers with all the vegetables and optional green chile and jalapeños, plus black bean burgers, a bologna sandwich, and grilled cheese with green chile. (Adrian is less than 25 miles from the New Mexico line, which explains the green chiles.)
The standouts are the Midpoint Ugly Pies, which aren't ugly at all, but rather culinary beauties ranging from classics like apple and pecan to creative hybrids like the Elvis pie, made with chocolate, peanut butter, and banana cream. "The coconut cream pie wins the popularity contest," Hammit says, but the three women running the place are partial to the lemon meringue pie with graham cracker crust. It comes from a recipe created by Adams' mother. "That was our childhood pie," Hammit says. Adams makes only one lemon meringue pie a day. In six and a half months in 2018 "we sold 1,050 pies," Hammit says proudly.
Midpoint is on the itinerary of most Route 66 group tours and is particularly popular with motorcycle caravans. "They fly into Chicago and rent [motorcycles] from a couple different companies," Hammit says. "We know all the travel guides. They call ahead, say they'll be in the following morning about 10 o'clock. We cover the counter with blueberry and chocolate muffins, get a bunch of coffee cups out, charge them $5 for coffee and a muffin, they go to the gift shop, look around, take pictures, have a good time, and then they're off. This happens all the time. There are always a lot of Australians."
Halfway down old Route 66, Midpoint Café and people like Hammit, O'Leary, and Adams are no nostalgia trip. They're the real thing; the kind of place and people that others from all over the world come to see and experience. And where they happen to be has everything to do with it.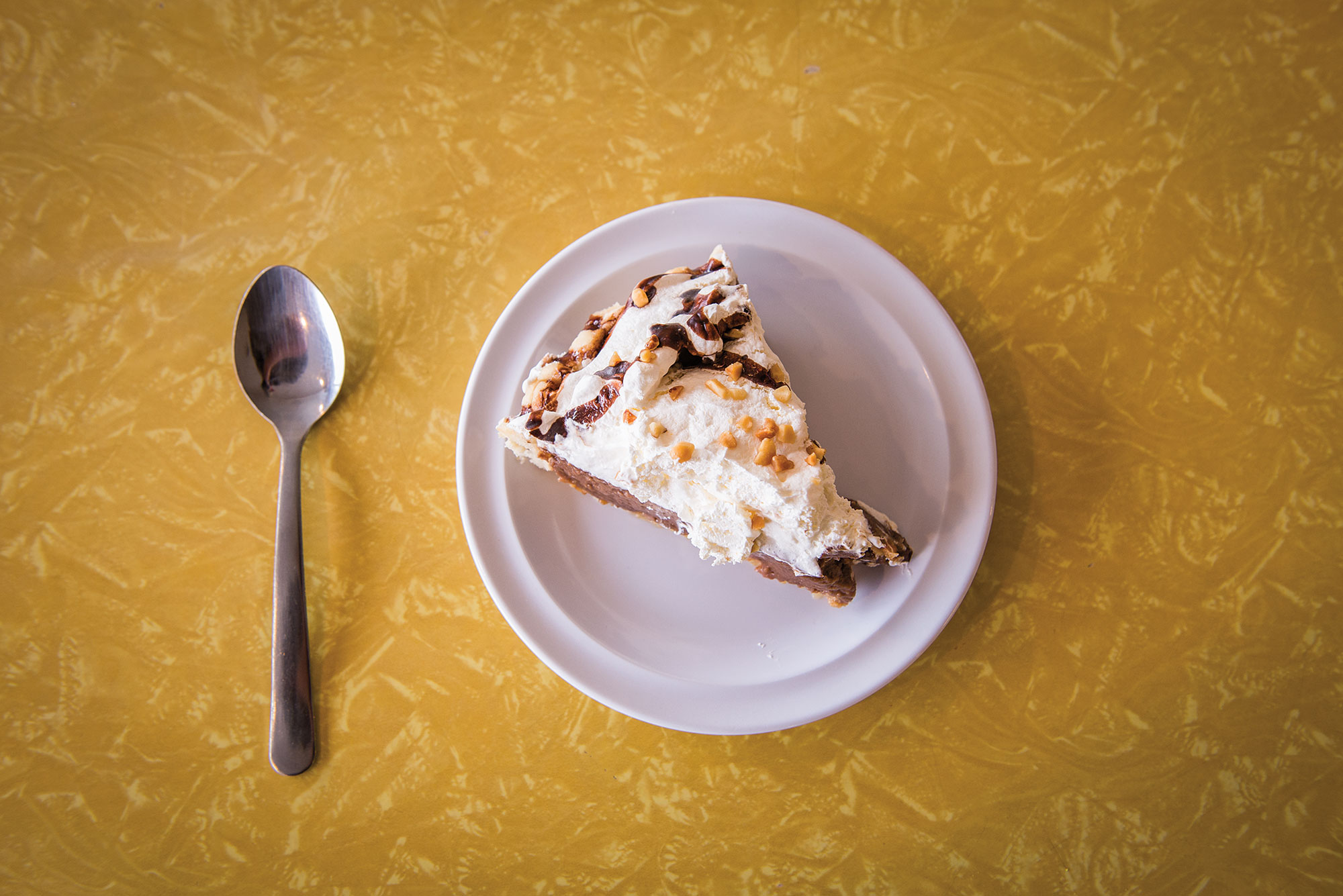 From the August 2019 issue