"A rose by any other name would smell as sweet." So says the immortal line from Shakespeare's Romeo and Juliet. In an intimate park honoring Shakespeare just off US 259 next to Kilgore College's campus, traditional pink roses and heartier red knock-outs offer up such early summer fragrances, along with scents of lavender, peppermint, and various herbs.
"The Shakespeare Garden is getting ready for the Texas Shakespeare Festival," says Wanda Bittick, who helps shepherd the garden. Maintained by the Kilgore Improvement and Beautification Association, the garden contains more than 30 species of flowers, shrubs, trees, and other flora referenced in Shakespeare's works.
The festival will celebrate its 34th season June 27-July 28 at the Van Cliburn Auditorium on Kilgore College's campus, the brainchild of the founder of the college's Fine Arts Department, Raymond Caldwell, who remains as artistic director. This year's performances include Othello and As You Like It from Shakespeare's repertoire, plus two modern-era musicals, Into the Woods and BornYesterday.
The Kilgore Improvement and Beautiful Association built the garden, which sits across the street from the Shakespeare Festival headquarters, in 1996. Nothing is required of visitors other than respect. The garden gate is open, as is parking on a side street.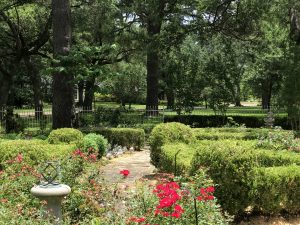 Garden guides, available onsite in a weather-proof box, interpret the plants found in the boxwood-lined pathways. Among them are "Romeo and Juliet's" roses; Jerusalem Sage—"I love that flower, that mint" from Love's Labours Lost; and yellow day lilies—"To gild refined gold, to paint the lily," from King John.
"Actors have even studied their scripts in the garden," according to Bittick, a resident of Kilgore since 1966. "We strive to have fresh blooms for each season," she says, touting daffodils, more roses, ferns, and mums coming this fall.
She cherishes the fig tree, inspired by Midsummer Night's Dream, as in "Feed him with purple grapes, green figs, and mulberries."
Alas, the Garden's "Dancing Bear" feature from a line in The Winter's Tale is in rehab. Weather spoiled the ivy foliage on the bear's frame, but relocation to the shade of pine trees has prompted some growth "in hopes he will have clothes in a few weeks," Bittick said.