Author Julia Heaberlin was watching television the other night when a celebrity casually said that everybody is writing a book right now.
"And I'm thinking, really? Who are these everybodies?" Heaberlin says.
For Heaberlin, who grew up in Decatur and is a former editor at the Dallas Morning News and Fort Worth Star-Telegram, the pandemic has not been a time to write her next page-turning psychological thriller. In fact, she has been a bit distracted from her writing. 
That's not to say Haeberlin hasn't been productive as she works from her home in Grapevine. She's reread classic thriller novels, such as Silence of the Lambs, to study the way other writers frame their stories. But her biggest focus has been promoting We Are All the Same in the Dark, which is set to be released on Aug.11.
The psychological thriller is set in a fictional Texas town 10 years after the disappearance of Trumanell Branson and her father, Frank. Wyatt Branson, the son of Frank, has been tried and convicted in the court of public opinion, despite being cleared of wrongdoing by the police. So when he finds a one-eyed girl in a field of dandelions, he takes her to his home to help her but doesn't alert anybody.
Before long, Odette Tucker, a local cop who has known Wyatt for years, hears rumors about Wyatt finding the girl and goes to his place. She meets the girl, who Wyatt has named Angel. Odette takes Angel with her and helps her, while also trying to solve the cold case of Trumanell's and Frank's disappearance.
Heaberlin's two previous books, which were both set in Texas and featured strong, complex female protagonists, received critical acclaim. Black-Eyed Susans was an international bestseller in 2015, while 2018's Paper Ghosts was nominated for the International Thriller Writing Thriller Award for Best Novel. Both have received attention as potential television series.
With her new book set to be released in the coming days, we talked with Heaberlin about We Are All the Same in the Dark, Texas, her open-ended writing process, and more.
What have you learned about yourself during the pandemic?
You know, it's interesting because as a writer, you live a very isolated life anyway. People often ask me if I'm lonely writing. The characters really keep me company. I don't consider myself lonely. So, in a way, I am doing what I always did only—of course—with the outside world exploding around me. I think I'm still figuring myself out through this pandemic. What is it that I want to write about next? What will a book look like? Like everybody else, I'm trying to figure out my place in the universe as it changes. But I don't think I've quite figured it out yet.
All your books have taken place in Texas. Why is that?
I feel like I wear Texas like a second skin. I've lived here since I was 3. I love the diversity of the people and the landscape and the weirdness—just all of it. It just becomes a third character in every novel that I write. I wonder, "Can I write a book without Texas as the background?" I don't know. But there's part of me that feels like I need to defend the state. Like there are all these stereotypes, not just about what it looks like. Texas is an incredibly diverse landscape of trees and ocean and desert, but also about its politics and just the diversity of the people, which is interesting. Texas is not just one thing, which is how I feel it can be observed not only around the world but even in our own country. It has lots of flaws—don't get me wrong. I try to expose those as well, and be fair. But mostly, my love of Texas just shines through I think in my books.
How do you make the Texas setting come out and become that "third character"?
In the instance of Paper Ghosts, which was my last book, it was like a creepy road trip across the entire state. I wanted to again express the landscape but I wanted to keep it sort of like a play. That was the trick of that one. In the case of We Are All the Same in the Dark, I decided to create a fictional town because I thought it made it more mythic and creepy, and it gave me a lot more freedom. In some of my books like Black-Eyed Susans, which is primarily set in Fort Worth, readers loved seeing places they knew. But in this novel, I wanted everything to be completely unfamiliar. It still has that foreboding sense that Texas can give you sometimes. It still does the big sky and the flat, pancake land but it has maybe a little bit more of a gothic feel to it because it is a fictional town even though it is in Texas.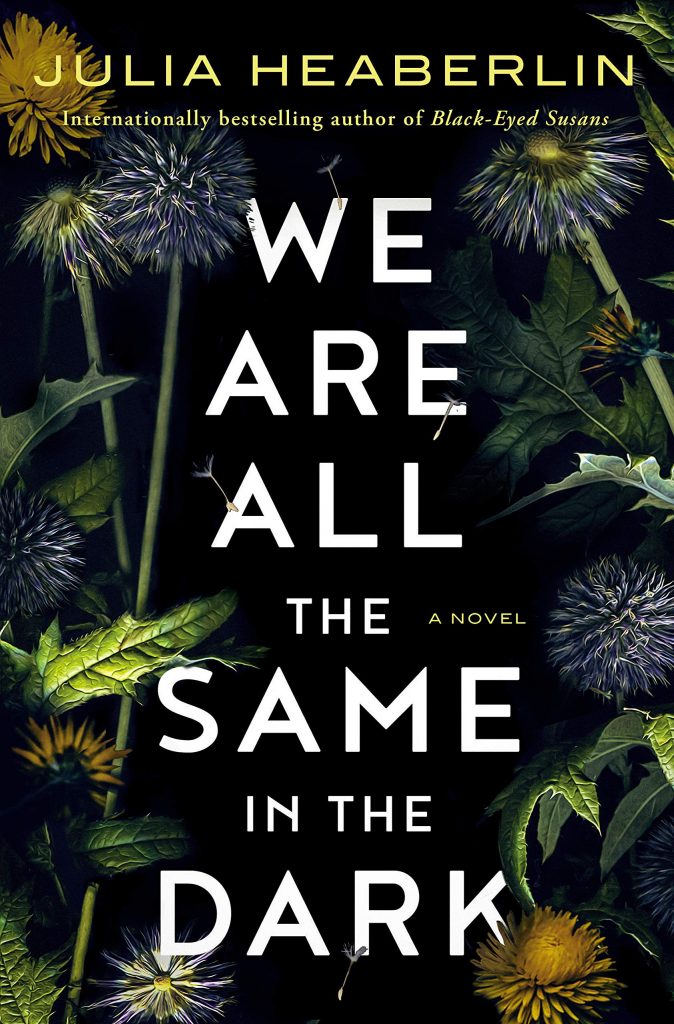 What was your writing process like for We Are All the Same in the Dark? 
I sit down every day and sometimes seven days a week and write until I have a set number of words and then I stop. There is no other way to write a book without doing that. I am not an outliner. So I let the characters drive the plot, which means that I really only have a tiny bit of an idea when I get started. In this case, I was kind of haunted by a young girl standing on the side of the road blowing dandelions. She had only one eye—I knew this even though I cannot see her face. And I didn't know much else about her at all. I knew I wanted to have kind of a gritty cold case feeling to this novel. I could see the shape of an ugly town down the road. But that's all I knew. 
When I started this particular book, I was almost stuck immediately, which is unusual for me. I realized it's because I had no idea what it was like to live with one eye. Then I began a lot of research as a journalist. I'm very determined that my research be accurate, so I started with an ocularist in Dallas who's kind of the Picasso of prosthetic eyes. He can make eyes like such a perfect twin to a natural eye that a lot of his patients are able to keep their eyes a secret. He then introduced me to a number of young women who have lost their eye and in a variety of ways. One who was 9 lost her eye with a firecracker. Now she's an Instagram model, just prowls like a tiger and is beautiful. 
But that's the other thing I've learned. When I was researching this book, I really changed what I think my ideal of physical beauty is. You always say that you know that but my perceptions completely changed after meeting these incredible young women.
Do you like writing without an ending in mind?
That is absolutely the only way that I can write. It obviously has a lot of issues and then at the end, there are so many loose ends to tie up and readers want all the bows tied up and I understand that. Sometimes I have to go back and remove a character or remove a plotline or something like that. But to me, the spontaneity is the only way I can do it. For years and years and years, I did not write a novel because I thought I had to outline it. And then I read Stephen King's On Writing and realized that I could just sit down and play around and let the book happen, which is what he does. I think there are two kinds of writers. One kind is the Outliner. One is what sometimes people I think insultingly called Pantsers, which you do it by the seat of your pants. And that would be the kind of writer that I am.
What draws you to writing about strong, female heroines?
I guess I have been frustrated in the past with a lot of thrillers that use women as sort of cardboard victims and then kind of toss them aside. I really like to write characters who are both the heroes and the victims of their own story, so that you know intimately what they are like. And who doesn't like a badass female heroine?
What was your favorite part about writing We Are All the Same the Dark?
It definitely was meeting all these incredible young women who opened up to me and were so vulnerable and strong at the same time. I would say almost every time I walk away from a book, it's because I met somebody who changed my life in some way. The forensic scientist who helped me so much with Black-Eyed Susans is now one of my really good friends. So I think it's establishing relationships, which is odd for a writer to say, but I think that has been the best part. And also just the idea of when you're writing, you can always get better. There's always something that you can do to improve yourself. I like having a career like that where you don't reach a point and you feel limited. I don't feel limited. I don't feel like I've written my best book. I just want to keep going.