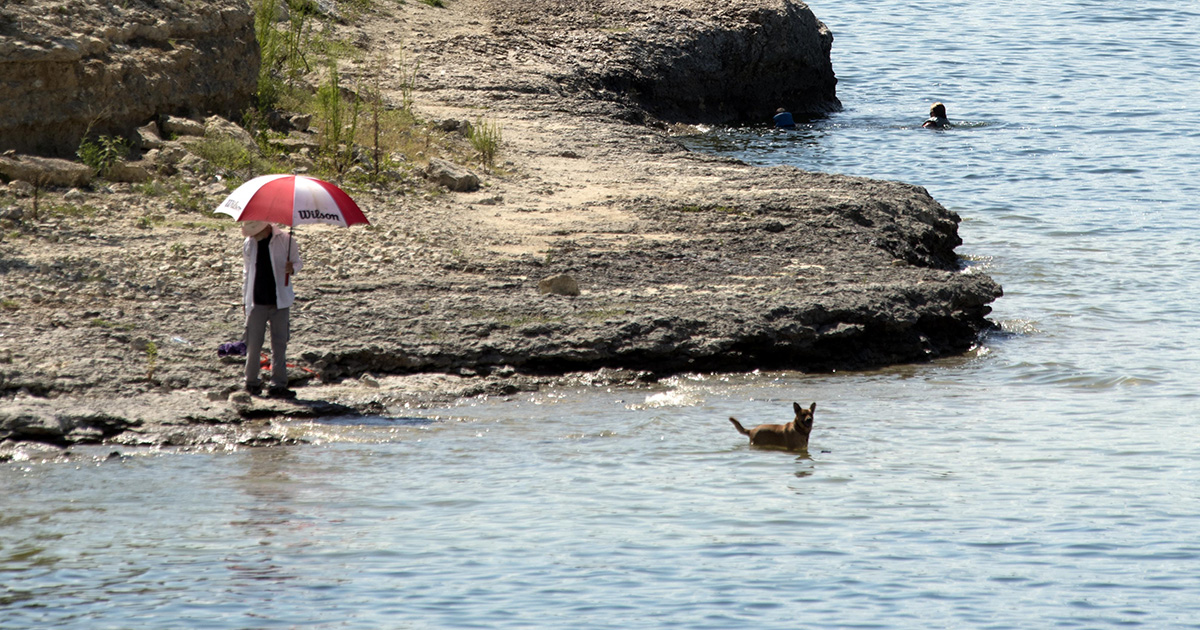 Pitching a tent, dipping in a lake, or hanging out under the trees for a few days can help just about anyone get through the COVID-19 pandemic. But if you decide to visit a state or national park in Texas, you should keep a few things in mind to have a safe trip.
State parks closed April 7, then reopened for day use on April 20. Since then, visitor capacity increased to 50, then 75 percent. The parks still allow camping, but many have closed their cabins and some have closed a portion of their campsites to reduce visitor numbers.
With capacity tightened—and an increasing number of Texans looking for outdoor diversions—you'll need to book a day pass or overnight camping permit in advance through the Texas parks and Wildlife Department's reservation website. Even with limited capacity, most state parks still feel busy. You will encounter other visitors, and you should be ready to be flexible when it comes to sharing and making space for others.
"A lot of people are trying to get outside, and limiting capacity is our only way to keep crowds from gathering," said Rodney Franklin, director of Texas State Parks. "To make sure you're able to get in and the parks are not overrun with large crowds, we are asking folks to make reservations even for day use, and even if you're a park pass holder."
A Checklist for Camping During the Pandemic
Book your day pass or camping permit in advance.
Bring face masks.
Bring your own soap, hand sanitizer, and cleaning supplies.
Consider bringing a tablecloth.
Be mindful of limited park services and programs.
Maintain social distance from other parties at all times.
Consider staying close to home and limiting travel distances.
Be prepared to pay with a credit card. Texas state parks aren't accepting cash or checks during the pandemic.
National parks have seen similar closures, and
Big Bend National Park 
has closed twice during the pandemic, most recently July 2-Aug. 6 after a park resident tested positive for COVID-19. Big Bend is currently open only for day-use—no camping.
When it comes to reserving a day pass at a state park, some popular sites offer morning or afternoon options that book your entry for a specific window of time, such as 10 a.m.-noon. (Once in the park, you can stay until the park closes for the day.)
Weekends tend to book up faster than weekdays, and parks close to urban areas fill up quickly. "I would advise people to be flexible and look to discover parks they've not been to before," Franklin said.
Restrooms are open at most parks, but you're required to wear face masks inside the restroom buildings, and it's a good idea to bring your own hand soap and sanitizer. While state park bathrooms are equipped with soap dispensers, they sometimes get drained on busy days.
Crews are cleaning the bathrooms more frequently, but supplies are in shorthand. "If folks can bring their own hand sanitizer, face coverings, cleansers, and sanitizing wipes, that will help us out," Franklin said.
State parks do not require face masks at all times, but the coverings are required inside state park buildings. They're also required outside if you're unable to maintain 6 feet of distance between yourself and other visitors not in your group.
During the pandemic, the parks department is not allowing groups larger than 10 (except families or people living in the same household). The parks have also canceled most programs, such as ranger-led hikes. Equipment rentals are closed.
It's best to visit parks that are closer to home, to avoid spreading infection. Rural areas like far West Texas have limited hospital capacity and could be overwhelmed if a virus hotspot pops up. For the latest updates, check the online map of state park alerts.
"This is a difficult time, but our mission is that we want everybody to enjoy state parks and the outdoors," Franklin said. "We need everyone's help to do that safely and responsibly."
Texas is also home to 16 National Park Service properties, some of which, such as Big Bend National Park, Guadalupe Mountains National Park, and Big Thicket National Preserve, typically offer camping. Check the park service's Texas page for closures and alerts at the individual parks.