The Last Time Anyone Says Your Name
A wife teaches her husband to appreciate life
in the land of the dead
Parallel tire-width trenches in the earth made unmistakable scars across the otherwise unmolested grass. The marks were so out of place, our minds couldn't immediately make sense of what we were seeing. But then we saw a broken tombstone. Then another. Then another.
This was right before Halloween a few years ago. We followed the tracks up a small hill, then around in a circle, then back out the front gate. Someone had driven through the cemetery—our cemetery—skidding in the early autumn mud, snapping old headstones in every direction. Our incredulity turned to rage.
The Oak Cliff Cemetery, one of the oldest public cemeteries in Dallas, had become a special place for my wife, Tara, and me. The archway of bent trees along the main pathway has been the setting of some of our most important conversations: about our dreams, our families, what we each want out of life for the short time we spend above the soil. The trees in the cemetery are tall, the shrubbery thick, so even though it's just five minutes from downtown, standing in the middle of the 10-acre plot seems far from any road. In all our time there, we'd rarely encountered another living person, making this intrusion, this act of senseless vandalism, feel like even more of a violation.
Tara and I love cemeteries. I know that might sound morbid to some people, but it's not that unusual. You can find cemetery tours in nearly every large city in the U.S., and anyone who observes Día de los Muertos understands the idea of celebrating the dead. But in most Western literature and film, graveyards have been relegated to horror settings and the macabre. In reality, though, cemeteries are the sites of some of our most public rituals. They are physical manifestations of society's reckoning with the unknowable. They're almost all quiet, peaceful places.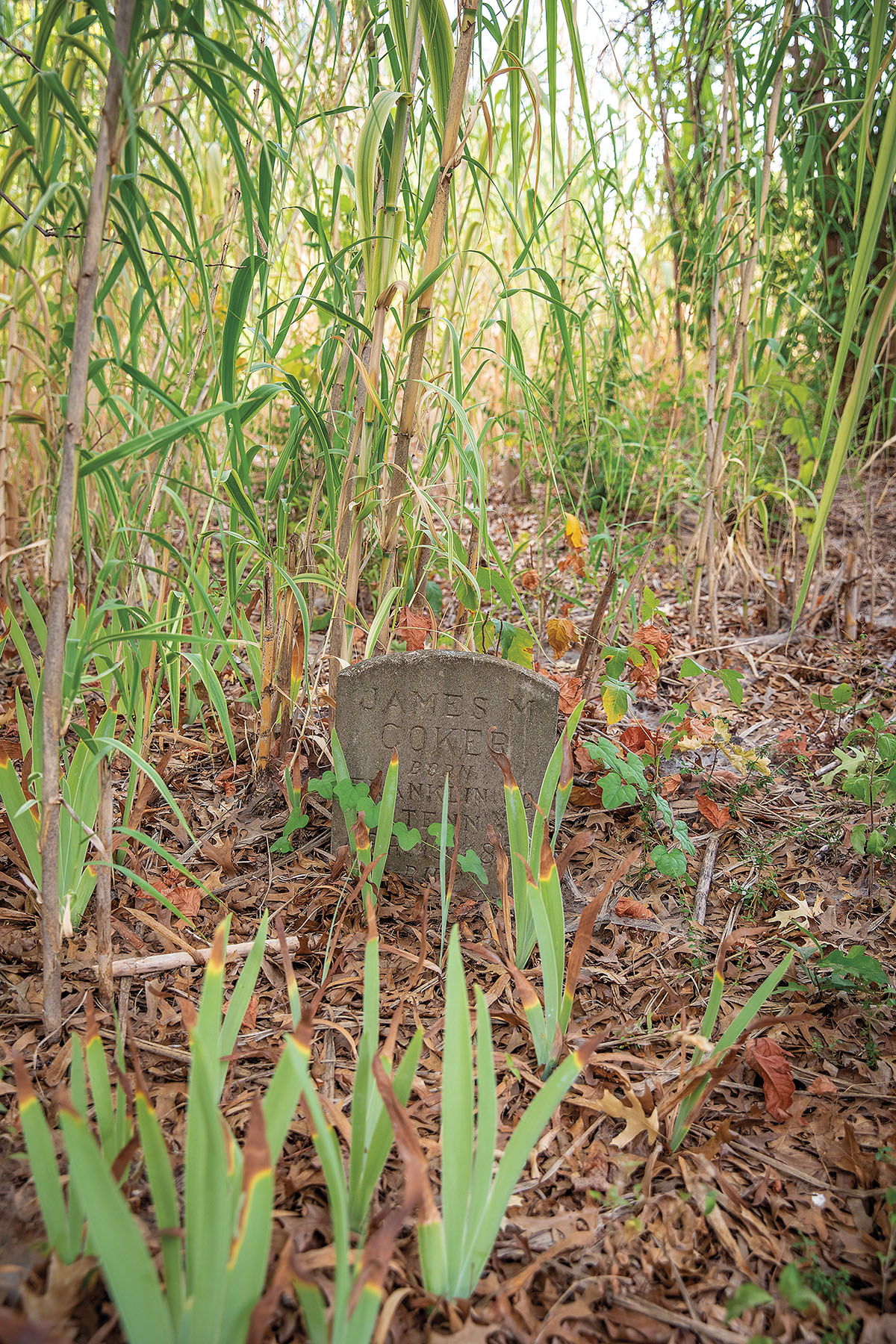 We visit dozens of cemeteries a year. We've crossed into graveyards all over Texas and in at least 15 other states and a dozen other countries. We extend every road trip we take by at least a few minutes when we see one of those green cemetery signs. We see the way a community treats its dead, and we can tell a lot about the place. Oak Cliff Cemetery is one of our favorites partly because it's only a few blocks from our house, but also because it's filled with settlers who trekked here before the community now known as Dallas even had a name. It's a vital connection to the area's past.
The ground here holds some of the wealthiest white people in the city's history—alongside freed slaves, some of their graves marked with handcarved stones featuring misspellings and backward letters. The oldest grave dates to 1844, when Texas was its own nation. This area wasn't even called Oak Cliff yet, and it'd be half a century before it became part of Dallas.
In addition to the historic headstones, it's not uncommon to see the body of a dead black chicken here, remnants of rituals that aren't so public. A sign on the gate of nearby Five Mile Cemetery warns, "NO HOODOO NO VOODOO NO SANTERIA."
There are around 2,500 marked graves and as many as 2,500 more that are unmarked at the Oak Cliff Cemetery. Sometimes, when it rains hard enough, human bones emerge from the upturned earth. Every set of dates—every hole in the ground—signifies a collection of stories lost to time. Someone's child, someone's sibling, someone's deepest love.
Tara and I didn't understand why anyone would want to vandalize a place like this. Maybe the driver speeding through the tombstones was drunk and lost, we told ourselves. Maybe they were mad at the world and couldn't think of a better way of showing it.
We realized this would be yet another unknowable story, forever buried here, like part of a massive tome.
I didn't always admire cemeteries. Like most people, I didn't think about them much, and when I did think about them, I thought they were creepy. But Tara spent some of her early childhood in Europe, where cemeteries are often regularly utilized public spaces. It's common to see families on walks or even picnicking in graveyards.
When we first got to know each other toward the end of college, more than 15 years ago, we were both aspiring writers trying to understand our place in the world. I'd never met anyone like Tara, someone who can see the tragedy and beauty in everything. She was fierce and sensitive in a way I couldn't stop thinking about. Early in our relationship we were in a writing class that met in Archer City. She suggested we drive to the Archer City Cemetery, which lingers at the edge of a plateau looking out over plains that stretch all the way to the horizon. Initially, the idea seemed strange, but I would've gone anywhere she wanted.
As we walked along the markers, some of which were a century old and some only a year or two, she read many of the names aloud. I must have looked confused because she asked me if I'd ever heard the idea that everyone has three deaths. I might've pretended I had, but she was kind enough to explain anyway.
"The first death is when your body dies," she said. "The second is when you're buried or cremated, and nobody will ever see you again."
I hung on her every word.
"The third death is the last time anyone says your name."
I realized she saw in these places something more than what most of us see. Each headstone, a bookmark in a closed book. Each epitaph, a life scrubbed down to a handful of poetic words—often conjured amid the deepest pangs of grief. Each set of dates, a window into when this person roamed the planet. Some are reminders of humans' astonishing endurance. Some are reminders of how fragile life is.
I felt lucky Tara saw something more in me, too.
Through the years, going to cemeteries just became one of our things. We've explored burial grounds all over the state: Waxahachie to Wichita Falls, Lubbock to Luckenbach. We've shared peaceful afternoons in the cemeteries of San Antonio, Austin, Houston, Dallas, and Fort Worth—but also in tucked-away Panhandle hamlets like Claude, where there are about 1,500 people living, and at least that many dead.
Some worry about the future of these cemeteries. The preservation of our state's burial grounds is largely at the mercy of market forces, according to Jim Kennerly, secretary and treasurer of the Texas Cemeteries & Crematories Association. He said a lot of cemeteries in Texas are maintained by funds from the interest on an endowment. When the economy of the living is thriving, the interest rate might be 7-8%, he said. During a financial crisis like the country saw in 2008, the interest rate might drop as low as 1%, and cemetery associations must figure out other ways of bringing in money to pay people to tend to the landscape and perform general maintenance. He sees it as a challenge spurred by the increasingly transient nature of our society.
"The people who are buried there, their families are gone," Kennerly said. "People move away, relatives die, and while 25 years ago there might have been a group with a real strong interest in maintaining those family plots, you don't necessarily have that anymore."
Every trip we take, no matter where or why we're traveling, we somehow find time to visit a local graveyard. In the snowy drifts of Ontario, during the coldest sprints of Canadian winter. Under the humid New Orleans sun, during the soupiest weeks of summer. We've visited millennia-old burial chambers in Ireland and Portugal. We've walked silently through the largest cemetery in Japan—one of the country's most sacred spaces—on a rural mountaintop dotted with ancient shrines. Cemeteries are reflections of what a culture values most. There's no better way to understand a patronymic naming society than to walk among the tombstones of a cemetery in Iceland. Everyone is someone's sen or dottir.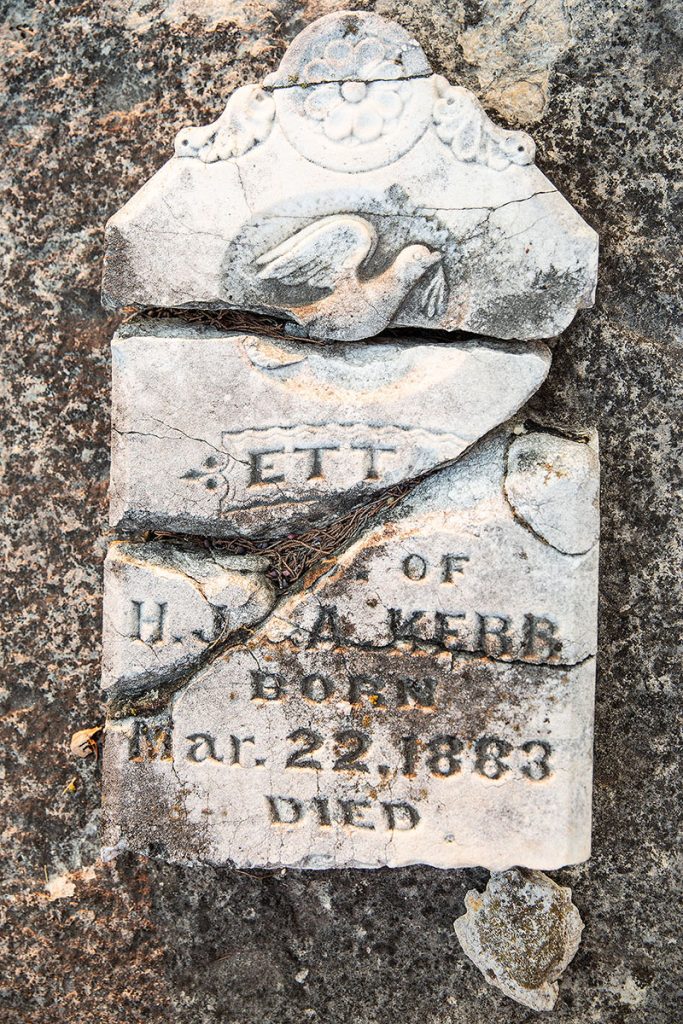 We've learned the symbolism, the codes that often tell the stories of the people buried beneath the grave markers. A rose in bloom often means the person was an adult. An ear of corn signifies the harvest of a life well spent. Clasped hands typically represent one person welcoming another into heaven. A lot of the older graves in Texas feature symbols from a variety of fraternal orders: Woodmen, Elks, Eagles. An open Bible surrounded by candles likely means the person was a Mason.
Kathleen Maca, an author and a photographer, has written a book about Texas cemeteries and gives tours of graveyards in Galveston. She's found some visitors are most fascinated by the detailed sculptures that populate the cemeteries. If a tour includes a lot of children, she'll focus on the interesting images and secret codes. "Some groups want to know more about the history, so I'll show them the soldiers," she said. "There really is something for everybody."
Cemeteries often provide opportunities to commune with nature. In a graveyard in Manitou Springs, Colorado, we stood still and quiet as a herd of deer passed through just a few feet away. In Key West, we saw a gigantic iguana crawl out of the crack in a cement sarcophagus. The first day of our honeymoon, in Wales, we walked through the rain, across a footbridge, to an old church and cemetery on a small island in the Menai Strait. We marveled at the tall, thin headstones, some dating to the 15th century. Everywhere we go, we do our best to say aloud at least some of the names we see on the grave markers.
We've also had several chances to glimpse some of the darker chapters of human history. In Hungary, we saw graves of Holocaust victims not far from graves of the country's political leaders who were executed by the Soviets a decade and a half after World War II. We've come to appreciate the way cemeteries offer insight into the way a community reckons—or doesn't—with its past. The graves of formerly enslaved people at the Oak Cliff Cemetery are mostly at the southern end of the plot, the area most likely to flood.
Dallas historian Kristi Coleman has spent years researching the stories collected in the Oak Cliff Cemetery. She recounts even some of the grimmer details with a cheery smile. Coleman said one couple buried here walked to Dallas from Houston—a journey that took two months—to build a life in North Texas. That couple's daughter, buried a few feet away, married the first French horn player in the Dallas Symphony Orchestra. Another man buried here, George William Maledon, was the son of a federal executioner.
"He claimed to have helped out with 300 executions," Coleman said.
Cemeteries are repositories for the dead, of course, but they exist for the living. And for Tara and me, they've become places to contemplate important decisions, spaces that mark many of the milestones in our life. The settings keep us cognizant of what matters in this world and what doesn't.
In 2021, Tara and I took a daytrip to the Granbury State Historical Cemetery. The people buried here include General Hiram B. Granbury, the town's namesake, who was killed in the Battle of Franklin during the Civil War. Ashley Crockett, the grandson of Davy Crockett, is here, too. Some of the veterans here fought in the War of 1812. The outlaw Jesse James might be buried here, though most historians believe he's buried in Missouri, where he was killed.
At the time of our visit, the world was on pause for a pandemic. But our lives were still going: Tara was pregnant with our son. As we walked through the rows of grave markers, reading a few out loud, we talked about what we wanted for our family, where we might want to take our child, what we want to show and teach him.
"I just want him to understand how big this world is," Tara told me. "I want him to know how diverse it can be, how many beautiful things are out there."
I said I hope he understands how much we have in common with the strangers we encounter and how much we share with the strangers who came before us. We hope the world our son inhabits is at least a little brighter than the one we have now.
The conversation in Granbury turned, as it does sometimes, to an undeniable reminder: We're going to die someday. Neither of us are sure where we'd like to be buried, or even if we'd like to be buried at all. Cemeteries, after all, are a relatively modern concept in the grand scope of humanity. And it's not clear how long future generations will maintain them.
No matter where we end up, Tara and I agree it's nice to imagine that one day after we're gone, someone might see something marking the fact that we existed. If it's not a headstone, maybe it'll be something we've written—and maybe they'll wonder about our stories.
I hope when they see our names, they'll say them out loud.
From the October 2022 issue