W
i
n
d
A
d
v
i
s
o
r
y
Chasing the wind, the Panhandle's defining
resource and relentless foe
By Lauren Hough
Photographs By Tom McCarthy jr.
Listen to this story • Read by Lauren Hough • Produced by Katey Psencik Outka
I
was a high school senior in Amarillo when Mad About You—a TV show that was never very funny, but Helen Hunt was on it and the dog was cute—aired an episode about wind. In this episode, Yoko Ono guest starred as Yoko Ono. Why not? She was there to challenge Paul Reiser's character, a documentary filmmaker appropriately named Paul, to capture the essence of wind. Paul spent the episode repeating the word "wind" and brainstorming ways to film the wind. He could not do it. Eventually, he and Yoko agreed it was a bad idea. You can't film the wind. I remember watching that episode and thinking, just come to Amarillo, dummy.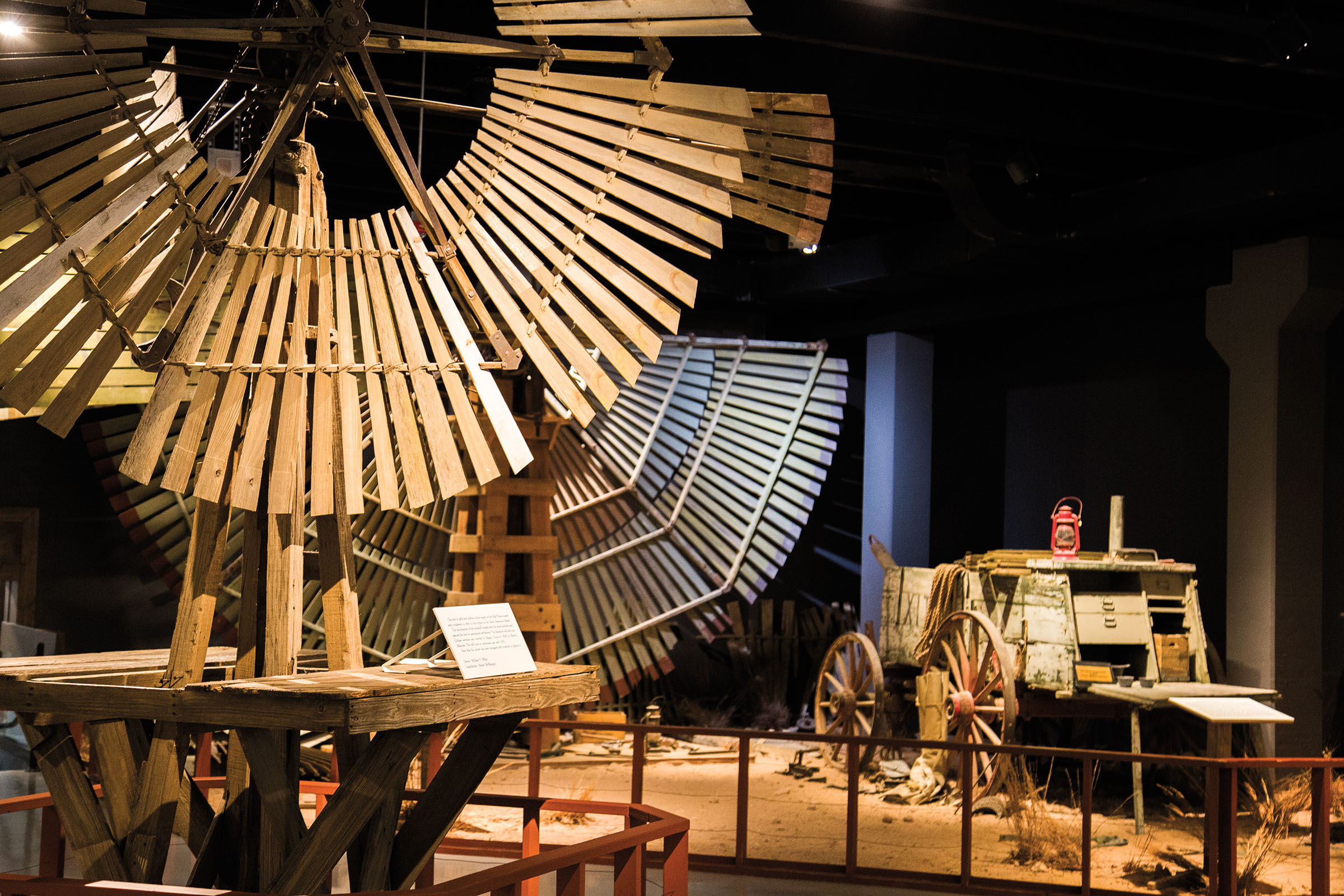 In my well-earned, I-grew-up-in-Amarillo hubris, I have decided it's time to show up that fictional character—and Yoko Ono, too. This'll be easy. I know all about the wind.
I spent a good portion of my childhood losing everything to the wind, from Frisbees and kites to that really cool cowboy hat my grandma gave me. I've yanked tumbleweeds off the grill of my old Bonneville. I've picked up relatives at the airport and dutifully shrugged as I said, "What, this? This is a calm day." I'm still in trouble for the time I didn't hang on to the door of my mom's Ford, and it slammed into the neighbor's Trans Am. I maintain that I weighed less than the door, Mom. I've spent my years since leaving Amarillo shaking my head at anyone who dares offer an opinion on wind.
Spend any time in the Panhandle and you'll hear someone tell you there's nothing between us and the North Pole but barbed wire fence. Or, more often: "Smells like money." Which was a little confusing. I was always sniffing coins I found for a certain barnyard smell before I put them in my pocket. My great-great-grandparents moved to the Panhandle as children in covered wagons. I grew up hearing their stories, from my great-grandparents and grandparents, about the Dust Bowl. How the relentless wind pulverized the dirt, picked it up, and blew it into drifts that'd all but bury a house. The dust settled, mostly. The High Plains recovered with the end of the drought and advances in irrigation. But I'm not sure my grandparents ever fully recovered. My grandfather used to tell me, "Don't mind the wind. Mind when you stop hearing it." I figured he was telling me that to keep me on my toes. But having never experienced a dust storm, I'm not so sure.
The Panhandle is one of the windiest regions in the United States, according to the National Weather Service. Between 1981 and 2010, the average wind speed in Amarillo was 13.6 mph. Wind speeds of more than 50 mph occur each year. "Why the Panhandle is windy is multifaceted," says Joanne Culin, a warning coordination meteorologist at the National Weather Service office in Amarillo. "Given our proximity to developing areas of low pressure, this keeps the region windy as that low pressure comes off the Rocky Mountains. Also, the area is flat with limited amounts of trees. This allows the wind to funnel easily into the region as weather systems affect the Plains, with not much friction that could stop or slow down the wind."
Clearly, we Amarilloans are a little obsessed with the speed of our wind. Good thing we have the National Weather Service to keep records and everything. Paul, a documentarian, a researcher, a pursuer of facts, should've known that. He could have called up their New York office. I'm sure a meteorologist would have been happy to be part of his movie. That would have at least been a start.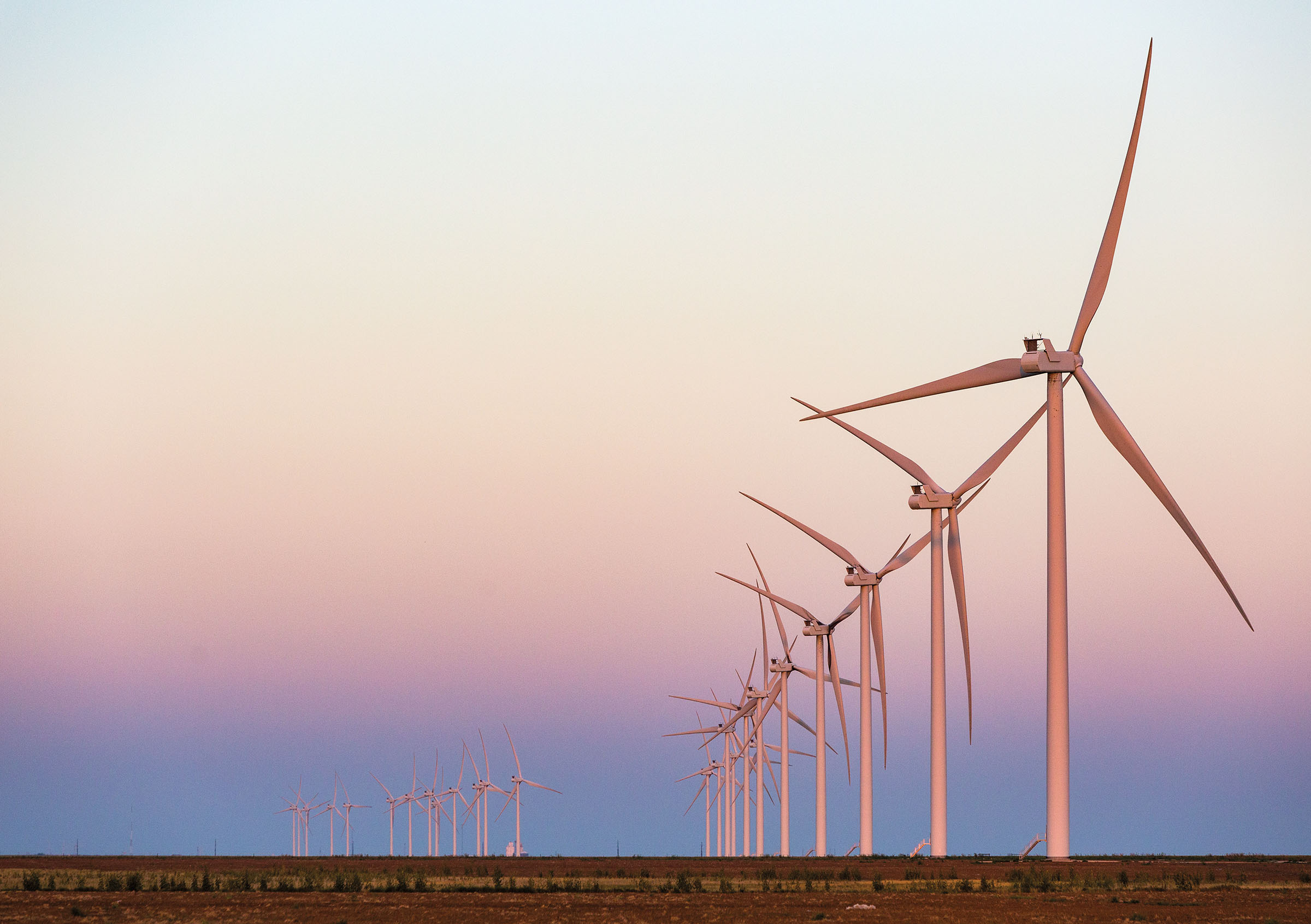 The first stop
on my wind tour of the Panhandle is the Panhandle-Plains Historical Museum in Canyon. I haven't been since I was a kid with a dinosaur obsession. And do they have dinosaurs—and fossils of other extinct creatures, like a metoposaurus and a phytosaur that looks like a little crocodile. I didn't realize as an 8-year-old what an incredible museum this was. I'm in Canyon looking for windmills because I can't get anyone selling tumbleweeds on Etsy to respond to my messages. Oh, yes. People are turning a profit on tumbleweeds—what we refer to as rolling paint removers, sticker bombs, fence decals. A small tumbleweed goes for $30, a large tumbleweed for $40, though the listings don't get into much detail about what we're calling "small" or "large." Etsy assures me these are authentic Texas tumbleweeds—"a rare find." If a plain old tumbleweed doesn't light you up, there's a tumbleweed chandelier for $250.
Listen, if someone in Brooklyn's been watching too much Yellowstone and wants to blow their money on tumbleweeds, and likely burn their apartment down with a tumbleweed chandelier, I don't know a Texan who'd talk them out of it. It's one less tumbleweed. But before you quit your job and pack the garage with tumbleweeds to try your luck as a tumbleweed dealer, I should again note that none of these tumbleweed dealers will talk with me. I try to assure them I have no intention of making fun of them. It's a silly living, but it's honest. Since they don't respond, even after an intern tracks down phone numbers and sets up interviews for me, I'm left to guess who, if anyone, is buying tumbleweeds. The one review I find assures me the tumbleweeds are indeed "authentic." There you have it.
Which leaves me with windmills, or so I assume. When I picture the Panhandle, there's a windmill on the horizon. Windmills were and are important to the Panhandle. We've all seen them. The old broken-down windmill on a farm road, still somehow slowly spinning, and the new giant white windmills—turbines—that power our grid. I've always thought they were pretty, even the new ones. It's no surprise the Panhandle horizon is now dotted with massive blades cutting the sky. "On the hottest days in June and July, wind and solar energy supplied up to half the electricity this state needed when it set records for demand," says Chris Tomlinson, who writes about energy for the Houston Chronicle and San Antonio Express-News. "Texas air conditioners could not operate without wind or solar on these hot summer days."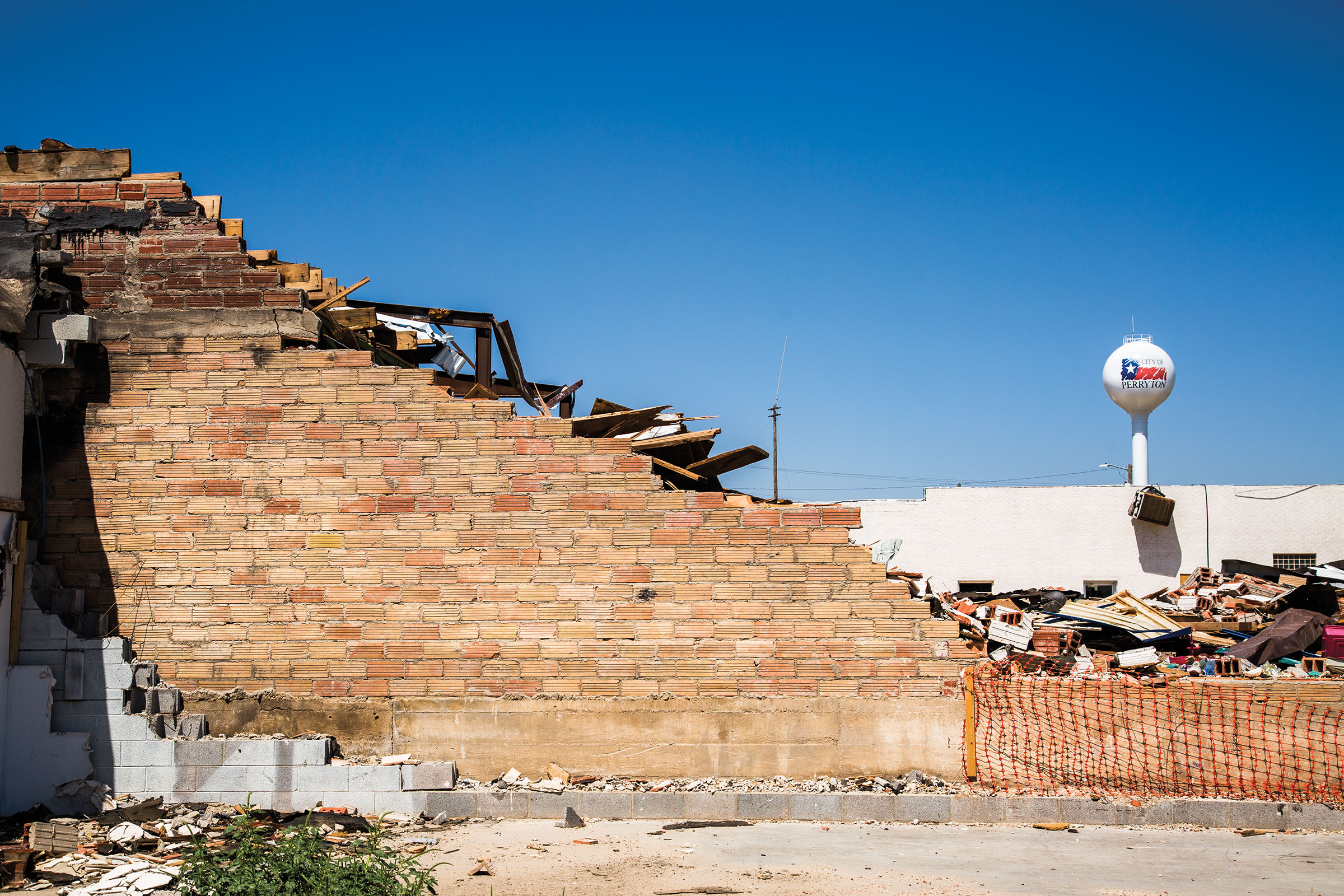 At the Panhandle-Plains Historical Museum, they've got windmills, even a windmillers' camp. I turn a crank and watch the gears drive the sucker that pumps the water. (Always wondered how that worked.) I see one of the first electricity-producing windmills, built in the 1920s. As a bonus, I hear a windmill joke from a guy in a Hoosiers hat, who tells me he is visiting from Indiana and has always loved windmills. "What kind of music do you think that windmill likes?" he asks me, before answering his own question. "I hear he's a huge metal fan." I laugh. But I don't see how describing windmills says all that much about the wind on the High Plains.
I ponder this problem as I walk out of the museum and check my head for my sunglasses, thinking I should really own a hat. This jogs my memory of that cowboy hat my grandma bought me as a kid and how the wind blew it into traffic on that trip down to Lubbock. Paul Reiser's character could've filmed a heart-wrenching reenactment—a little tomboy running across Rip Griffin's truck stop parking lot in Tulia. The wind catches her hat. She grabs for it, but she's too slow. The hat flies onto the frontage road. In the near distance, a semitruck barrels toward the tumbling hat. Scene.
West Texas Western Store is not far from the museum. Carley Coffey greets me and shows me the different hat styles—mostly straw and felt. She tells me how a larger brim provides more shade but blows off easier, how the gaps in the straw weave to provide a little ventilation, how guys with thinning hair can still get a sunburn from those gaps. I don't know my size, so I try on a couple while she explains how a hat's supposed to fit. Snug, but not tight. But it's really a preference. Some ranchers and rodeo cowboys will put up with a headache to keep their hats from blowing off. If I were filming a documentary on wind, I'd cut to show a cowboy on his horse. The wind picks up, like it is howling, but his hat doesn't budge. In the background, a windmill, of course. I'm not sure how to make it clear the hat's giving him a headache. But I'm not a filmmaker.
Once I choose a hat, it's time to get it shaped. That's where owner Tracy Martin takes over. I trust him immediately with decisions like what crown and brim shapes work for me. I trust him because he points at a hat in the row of shaped hats behind him and says, "That one's popular," points to another and says, "That's alright, too," then waves his hand at the others and says, "Those are wrong." I ask him what's wrong with them and he says, "Can't tell you. But they're wrong." And I can't tell you how, but I know he's right.
I choose the crown and brim he suggests. Tracy starts shaping. I watch his nimble hands bend and fold what had looked like a round gardening hat into the real deal. Tracy has been shaping hats since 1973. He might've been happy to appear in a documentary about the wind in 1995, but at this point he doesn't have time for nonsense.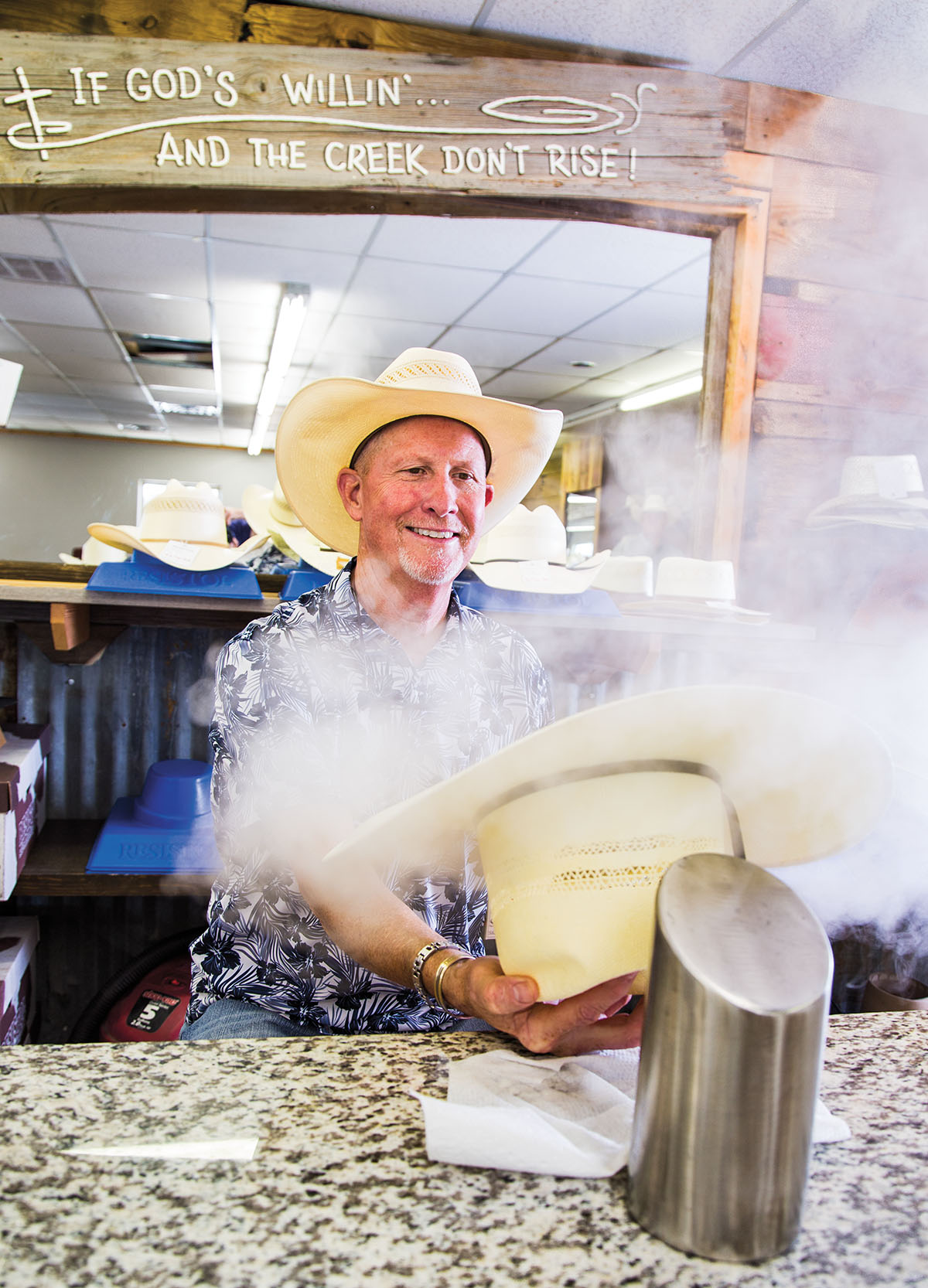 "Wind and sun are the two most important things you've gotta consider when shaping a hat," Tracy says. "And they're at odds. Too wide and it blows off. Too narrow and you might as well wear a ball cap. A lot of guys have switched to ball caps because they'll stay on in the wind, mostly. But your ears and neck aren't protected like they are with a Western hat." He tells me to never set the hat down on its brim or my luck will run out, and then he wishes me luck.
I have dinner plans with a high school friend, Bethany, and her husband. The wind, which had been calm all day, picks up enough to rock my van around as I drive on Interstate 40 through Amarillo. That's when I see what I've only seen in black-and-white pictures, have only heard described by grandparents. I never thought I'd see one in real life. But there it is, cutting the sky in two. To the south, a baby blue sky dotted with clouds. To the north, a yellowish-brown wall of dust. I am driving into a dust storm.
I pull into the Big Texan Steak Ranch parking lot and watch it through my windshield—grass and trash and tumbleweeds float by. The sky is gone. I can see across the parking lot but not much farther. If this is a little dust storm, and it is, I hope I never see the real thing.
When I walk into the restaurant, the first thing Bethany says is, "A tornado just hit Perryton. There's your wind story." The same system that brought the dust storm to Amarillo caused an EF3 tornado in Perryton. That's the third-most intense tornado out of five on the Enhanced Fujita Scale, with winds averaging 150 mph. The tornado tore through the center of town, killing three people and injuring roughly 100 more, though we wouldn't learn this until later. We check the news throughout dinner and talk about whether I should go to Perryton. In the morning, I decide there's nothing I can do but get in the way, so I carry on.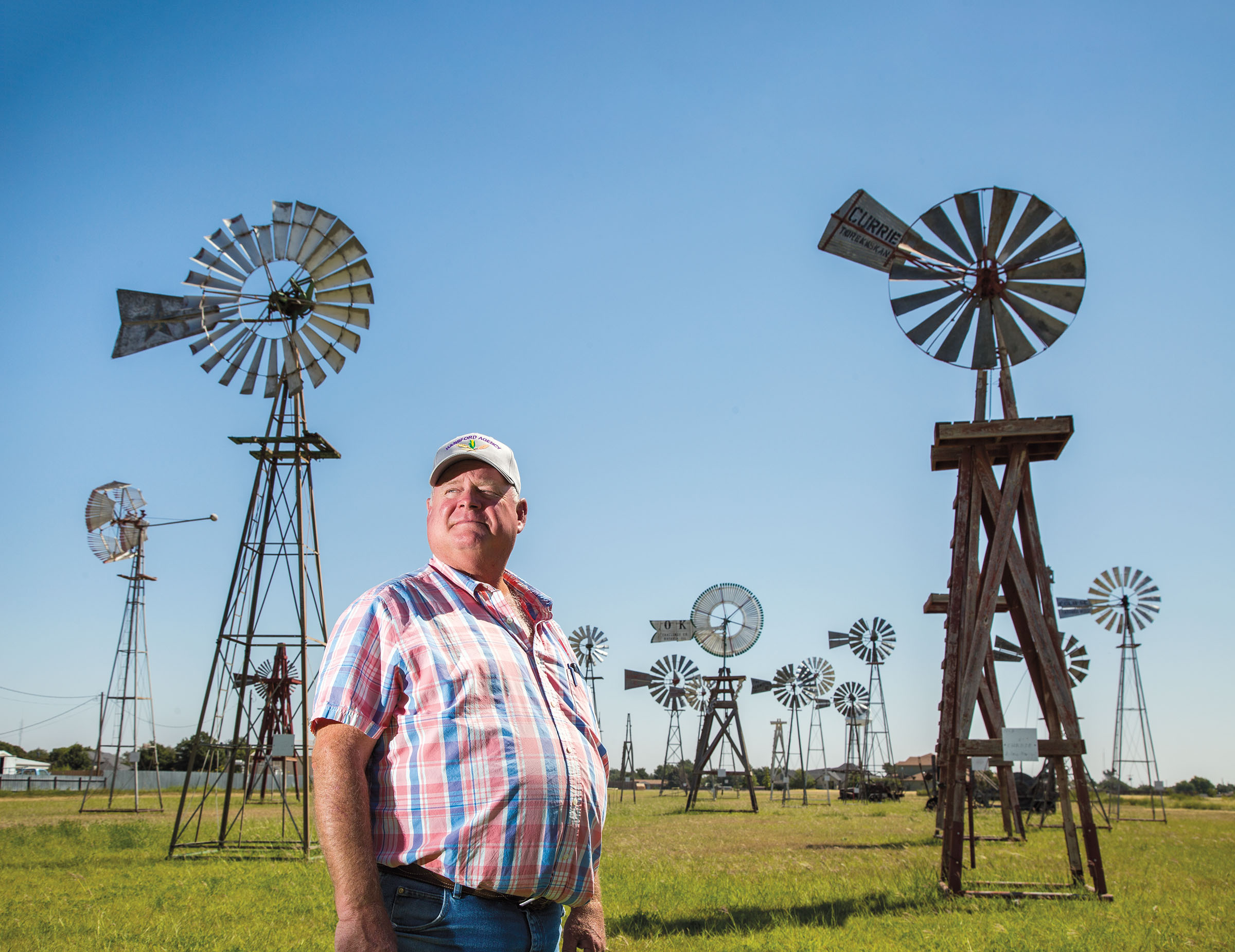 There are plenty of curious roadside attractions in the Panhandle—the leaning water tower in Groom, the Tex Randall statue in Canyon, VW bugs buried nose down in Conway. One attraction I've never seen is in Spearman, where a man named J.B. Buchanan collected windmills.
J.B.'s fascination with windmills started as a boy, when his mother had to scramble up a windmill to rescue one of her kids. In 1965, J.B. bought his first windmill, an original Eclipse model he found still in its crate at a New Mexico supplier. He donated that windmill to the Smithsonian. J.B. Buchanan Windmill Park was established in 1999 on land donated for the purpose. Today, 75 windmills dot the park and the town of Spearman. Some of them are lovingly restored and painted red, white, and blue; some battered by wind and rain; some with blades missing or eaten by rust. As I look at the windmills in their natural habitat, out there on the Plains, I can see why he loved them.
J.B.'s grandson Roger Buchanan tells me that keeping the windmills outdoors was important to his granddad, who died in 2003. "Granddad wanted to see them out there spinning in the wind," he says. Roger started the Southwest Pioneer Windmill Association to preserve the windmills and educate people on their importance. "People don't understand how crucial windmills are," he says. "Without windmills, we couldn't have settled the Plains. We'd all be stuck living next to creeks. Windmills draw water up from the aquifer. I meet people who are shocked at how pure and cold the water is."
The windmills are beautiful against the sky. I drive around Spearman for a bit just to look at them. Then I start thinking about the dust storm the night before and all the storms my grandparents had survived. To experience what it might have been like for them, I head west to the XIT Museum in Dalhart.
The drive from Spearman to Dalhart's interesting in its own way. Coming up from Amarillo to Spearman, it seems like I'm not in the Panhandle at all. The road curves and rolls over hills and in and out of canyons until I pass Lake Meredith. Leaving Spearman driving west, though, there's no mistaking that I'm on the High Plains. The horizon is impossibly far away, and the landscape can only be described as flat. It's just flat. I could get out and take a video, spinning slowly while the wind buffets my speaker, and post it for friends back east with the caption, "That flat." But I don't, knowing they'll never really understand.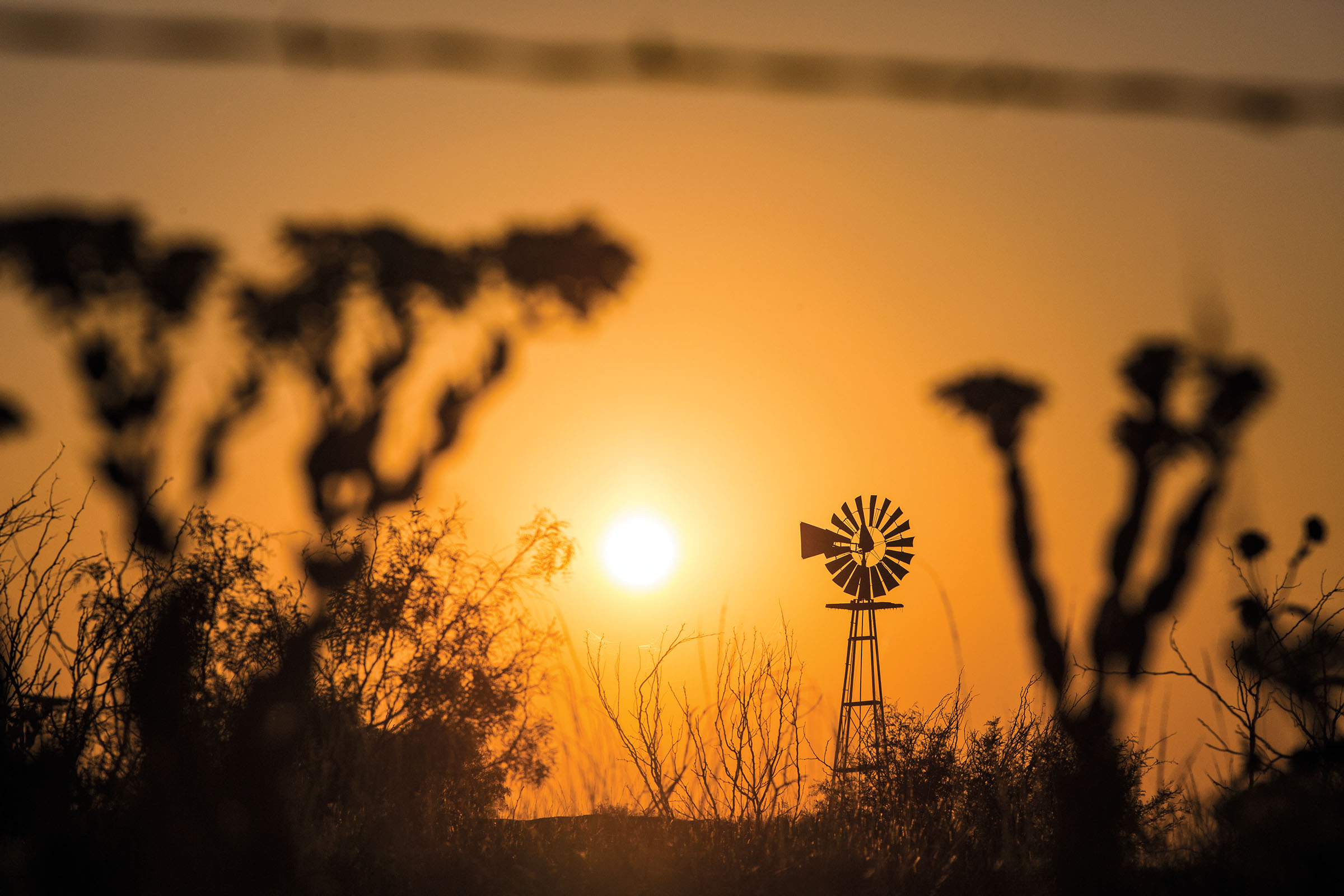 It discombobulates me, like being on a ship and losing sight of land. It's no wonder people used to get lost out here and wander in circles until they ran out of water. The landscape had a lot to do with why Dalhart was ground zero for the Dust Bowl in Texas—nothing to stop the wind and dust it carried.
At the XIT Museum, there's a Dust Bowl exhibit, pictures of "dusters," and clippings from The Dalhart Texan—the local paper still in circulation. Largely because of the stories my grandparents told me, I've long been obsessed with the Dust Bowl. The term was given to the eight-year period of drought in the 1930s that turned the Great Plains into a desert, when wind pulverized and picked up dust and dirt and carried it away, as far as the Atlantic Ocean, choking livestock, trapping people in their houses for days.
The main attraction at the museum, at least for me, is the Dust Bowl house. I walk in, shut the door behind me, and let my eyes adjust to the light. A spotlight comes on. The three-or-so-minute show begins. I'm in the kitchen of a farmhouse. A pretty enamel stove against the wall. A little table in the center. A cupboard. A single window that grows dark. I hear the wind start to howl.
Thar She Blows
Follow the wind at these Panhandle attractions.
Panhandle-Plains
Historical Museum
2503 4th Ave., Canyon. Free under age 4, otherwise $6-$12.50. 806-651-2244;
panhandleplains.org
J.B. Buchanan Windmill Park
State Highway 207,
Spearman. Free. 806-659-5555
XIT Museum
108 E. Fifth St., Dalhart. Free.
806-244-5390;
xitmuseum.org
A cutout of a woman in a faded dress is illuminated. She tells me I made it just in time. It's disconcerting at first, like talking to a ghost. The recording tells me about the dust storms, how long they've lasted, how the land used to be prairie grass waving in the wind, how the tumbleweeds catch on fence lines and dirt piles up against the tumbleweeds forming giant dunes, how dealing with the dust is driving people to the edge. Dust seeps under the doors and windows.
I look at the walls and see newspapers tacked up and shoved into cracks in an attempt to keep the dust out. The dust seeps in anyway, covering everything—every dish, every piece of clothing, every piece of furniture. The Dust Bowl woman stands in the corner of the kitchen and says they sometimes have to hang a sheet over the table to keep the dust out of the food. They've been wearing masks. People are getting sick with pneumonia. Some have died.
It's a powerful exhibit that shows what life was like for almost a decade on the High Plains during a nearly entirely human-made ecological disaster. The Dust Bowl didn't just materialize out of nowhere. It was caused by a long period of drought after settlers plowed the grasses that held the soil together to plant wheat, with no regard for techniques that might prevent wind erosion.
Out on Dalhart's old main street, Denrock Avenue, I'm still thinking about the Dust Bowl house, the dust storm I'd seen the night before, and of course my family who lived through it all. I get a coffee at the Flying Pig and stroll around. The avenue looks much like it did back then, though now there's a café in the old mercantile building, a deli on the corner, and a few boutiques. Dalhart used to have two movie theaters, La Rita and The Mission, both built in the 1920s. Today, the beautifully restored La Rita is a community theater. The Mission theater building, just a block down Denrock, is Hillside Christian Church. The doors are open, and someone has hung a hand-painted sign: Donations for Perryton.
I walk inside and meet Madison Lord. I ask if there's any way to give money. She isn't sure. She says someone from the church should be in soon and they might know. I see people have already brought a few grocery bags of food and cases of water. "What more do you need?" I ask. "Baby formula," she says.
When I get back from the store with a few tubs of formula, the church is hopping with volunteers who are busy stacking cases of water and sorting through donated clothing. I find Madison and she introduces me around. Madison used to live in Perryton. That's why she is here at the church. When she heard about the tornado the night before, she told her boyfriend they needed to do something. She called the church they attend and asked if she could use the space. "You did this?" I say. It's quite an operation from just a half-hour ago, and it isn't even 10 in the morning. "I had to do something," she says with a shrug.
On the drive back to Amarillo, I think again about how capturing the wind is so hard, how a plot from a 30-year-old sitcom has stuck with me. It turns out, Paul was right, in a way. You can't write about the wind any more than you can film it. But there's a reason I've been thinking about the Dust Bowl for so long. And there's a reason I'll remember this trip, this attempt to capture what eludes.
In the Mad About You episode, there's a scene where Paul's standing on a rooftop with a camera, spitballing with a friend about how to document the wind. He can't figure out how to do it. And I think it's because he forgot how to tell a story. I do too, often enough. It's the people who make hats and collect windmills and do whatever they can to help a neighbor in need who matter. Sometimes you've got to climb down off the roof to hear them.
From the November 2023 issue