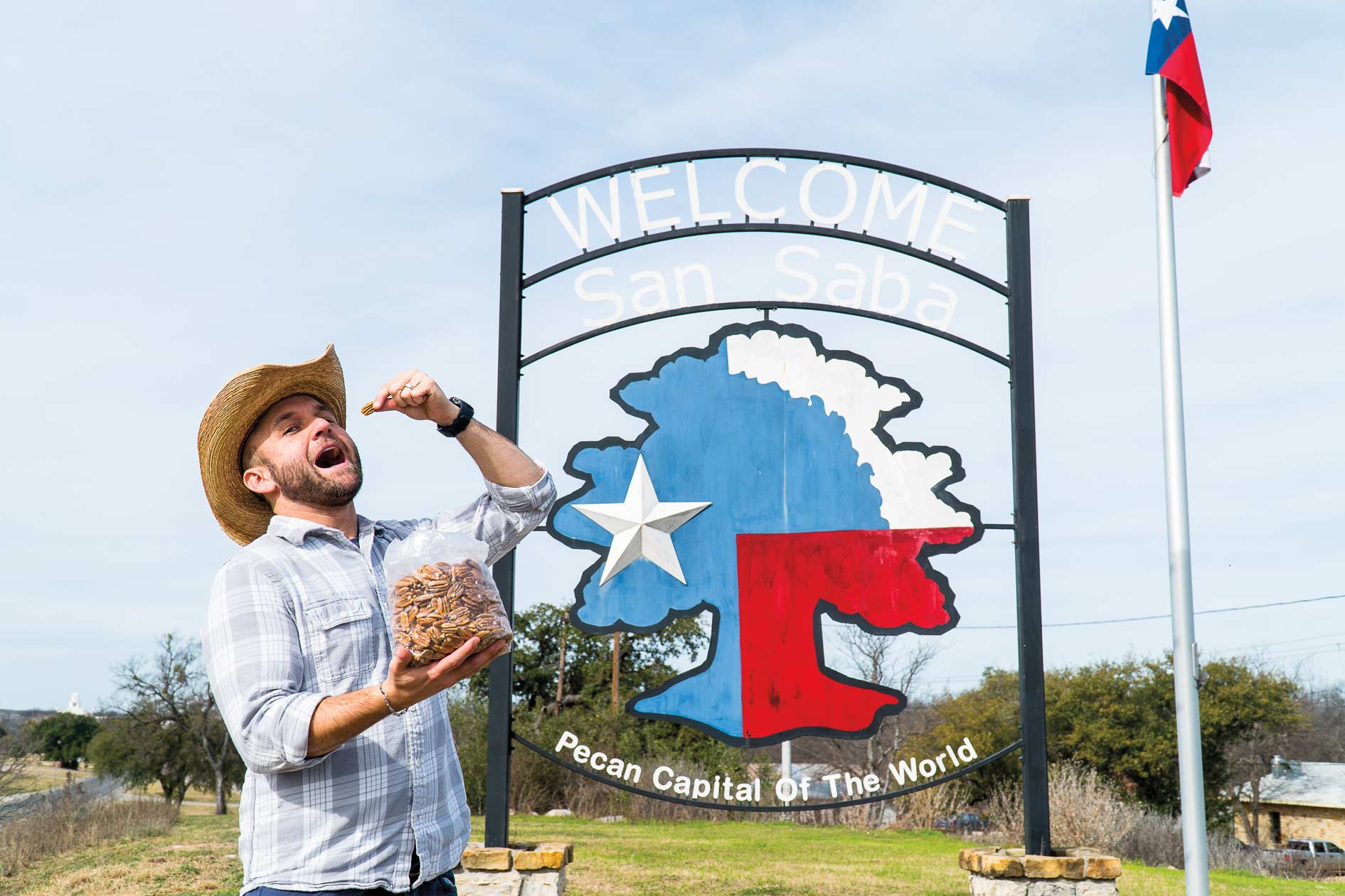 Nestled in the northern reaches of the Texas Hill Country is the laid-back town of San Saba, also known as the "Pecan Capital of the World."
Contact the San Saba Visitors Center at 325-372-5200
visitsansabatexas.com
While the endless acres of native nuts have made San Saba County famous, I found lots of reasons to fall for this charming town.
8 a.m.  I strolled past the stately San Saba County Courthouse and found myself in the heart of downtown. My first stop was Oliver and Co. Cafe, a hip coffee shop that offers pastries, salads, sandwiches, and the best cup of joe in town. I enjoyed a bowl of steel-cut oatmeal as the locals stopped in for a morning fix. Above the café sits the
renovated Dofflemyer Hotel, which could give any big-city boutique lodging a run for its money.
9 a.m.  Intrigued by a giant boot sign, I crossed the street to Harry's Boots. This iconic shop has sold boots and Western wear since 1939 and now stretches across five downtown buildings. Its customers come from far and wide, and include many families who've shopped here for generations. 
Chet Garner is the host of The Daytripper® travel show on PBS. To view the San Saba episode visit thedaytripper.com
10 a.m.  It was time to explore San Saba's main industry, which revolves around the "official state nut of Texas." It all goes back to the mid-1800s when traveling English cabinetmaker E.E. Risien discovered wild pecans growing along the San Saba River. He decided to plant his own and subsequently founded the Texas pecan industry by developing some of the most popular pecan varieties in the world. His family is still in town running the Millican Pecan Company. I stopped in for a history lesson and to sample some "Carmillicans," which are gooey clusters of homemade caramel, pecans, and milk chocolate. 
10:30 a.m.  I spent the rest of the morning visiting pecan shops, indulging along the way. I bought some amazing pecan coffee at Alamo Pecan & Coffee; nibbled on some delicious cinnamon-sugar pecans from Oliver Pecan Company; and bought an entire pecan pie from The Great San Saba River Pecan Company. 
noon  Needing to balance my sugar overload, I headed to the San Saba Olive Oil Company. I roamed the shop and sampled dozens of infused olive oils and vinegars, ranging from blazing-hot habanero olive oil to blackberry-ginger balsamic vinegar. 
1 p.m.  Ready to give my stomach a rest, I headed out on a hike through San Saba River Nature Park. I explored the ruins of the town's first
watermill and discovered some hidden waterfalls until I eventually arrived on the banks of the San Saba River. Rather than resting, I decided to find the source of this spring-fed creek. 
2 p.m.  I crossed the highway and found myself at Mill Pond, a spring-fed lake already full of folks enjoying a
reprieve from the afternoon sun. Luckily, I had brought my swimsuit, so I decided to join them. I jumped off the dock and onto the floating trampoline as nearby paddleboarders laughed at my terrible form. 
4 p.m.  I had skipped lunch, so I headed to Youngs Burritos & BBQ for an early dinner. The brisket burrito was one of the best I've ever had, with flavorful mesquite-smoked brisket, fresh pico de gallo, and spicy jalapeño sauce all wrapped in a flour tortilla. The homemade bread pudding for dessert perfected the meal. 
5 p.m.  Next,  I grabbed a seat at Wedding Oak Winery as founder Mike McHenry explained the varietals and how the historic "Wedding Oak" tree, located just a mile away, inspired the winery's name. This tree was a popular gathering spot for Native Americans and for early settler weddings. I ordered a glass of a popular tempranillo blend called Tioja to take to the shady back patio. 
I realized I still had a few candied pecans in my pocket, which paired deliciously with the wine. It's easy to see why folks are nuts about San Saba. I'm right there with them. So whether you follow my footsteps or forge your own path, I hope to see you on the road.
From the May 2018 issue