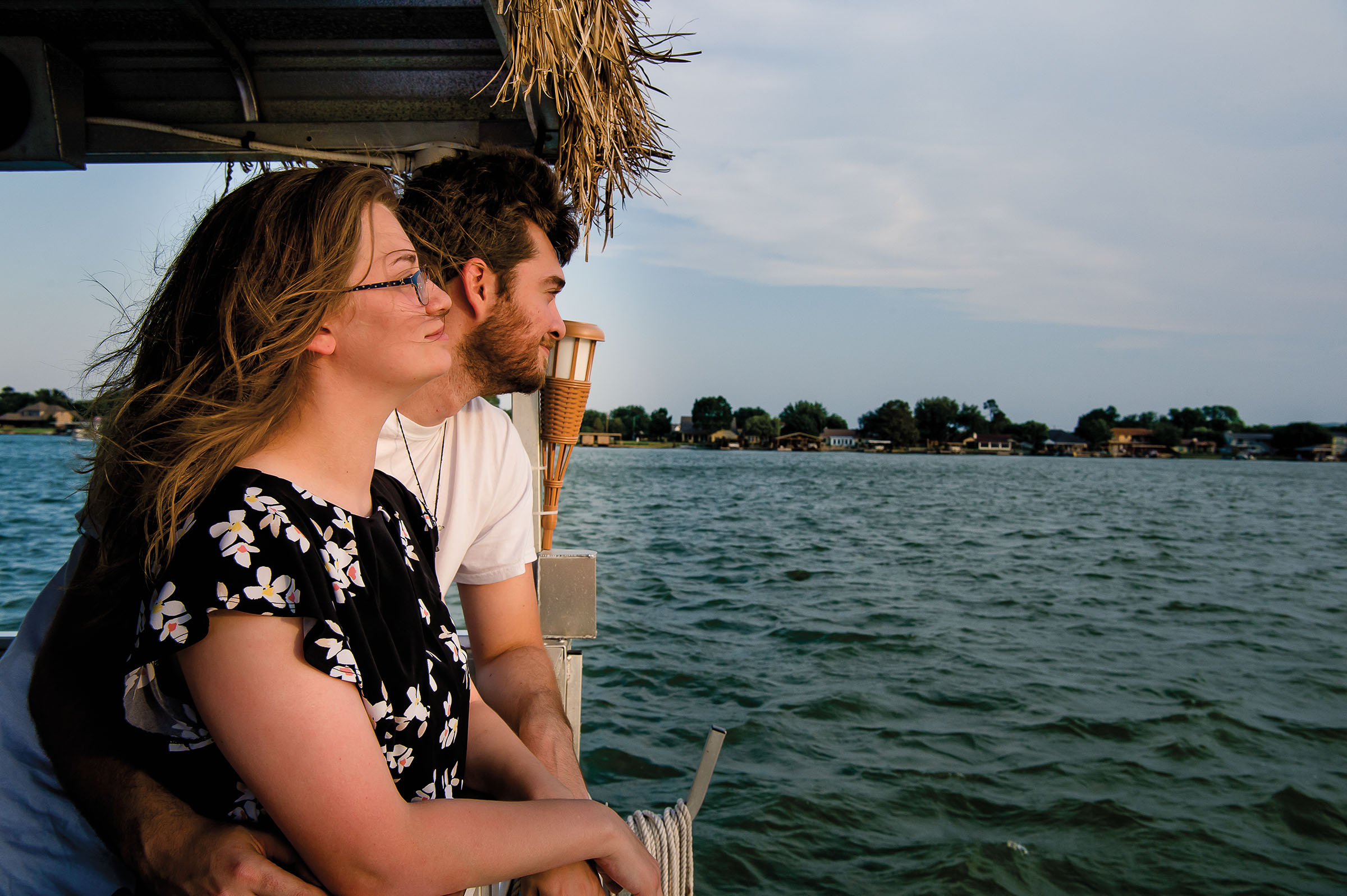 Granbury is a perennial favorite among Dallas-Fort Worth weekend wanderers thanks to local efforts that began in the 1970s to revitalize the Hood County Courthouse square. Located less than an hour's drive southwest of Fort Worth, Granbury initially attracted visitors with antiques shops and tea rooms that brought new life to the town's charming limestone buildings. Today, however, the quaint vibe has given way to a modern feel enlivened by wine tasting rooms, boutique inns, and live music venues. A short walk from the tree-lined shores of Lake Granbury, the downtown's lovingly restored buildings house a variety of diversions for a small town retreat. Sidewalks tend to get busy on weekends, while weekdays prove pleasantly lazy. Any day of the week, Lake Granbury draws water enthusiasts to enjoy jet ski, kayak, and stand-up paddleboard rentals, along with luxury party boat charters and tiki-style cocktail cruises.
Dallas
1.5 hours
Austin
3 hours
San Antonio
4 hours
Houston
4.5 hours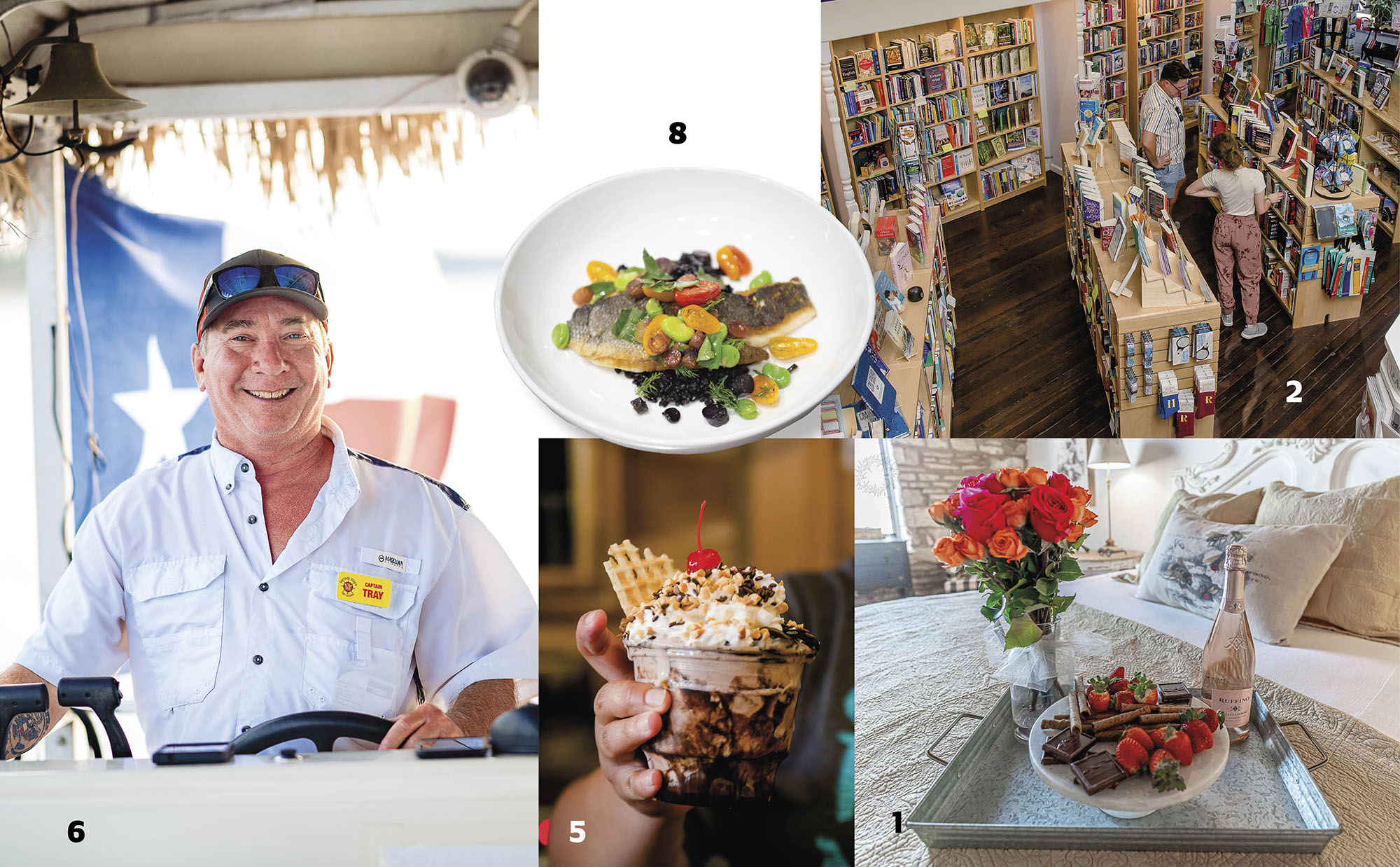 Stay

Eat

See

Learn

Shop

Drink

1 / N ON THE SQUARE
This comfortably elegant lodging on the square opened in March after a lengthy renovation of a former office. Among seven spacious options (starting at $230/night) in the two-story boutique inn, the Mary Lou Suite—named for the town's late preservation pioneer, Mary Lou Watkins— affords the best downtown view through soaring windows.

2 / ARTS & LETTERS BOOKSTORE
The shop, tucked into the square's north side, is a reader's paradise with newly released novels, children's literature, and nonfiction. Find books on African American culture, intriguing memoirs, and matters of special interest to women—many tagged with enthusiastic staff recommendations. Clever bookmarks make great gifts, too.

3 / THE FISHERMAN'S CORNER
A new offering among the historic buildings on the square, this cozy joint a few doors from the 1886 Granbury Opera House delivers a toothsome fried oyster loaf hoagie that transports your palate to the heart of New Orleans. The fish and chips—crisp-battered Atlantic cod—may be the best this side of New England.

4 / YOUR PRIVATE COLLECTION ART GALLERY
Blown glass works by the Dallas father-son artist team of Ron and Chris Marrs are among the wow factors at this colorful space. Architects who moonlight as artists, the duo crafts bold, multihued pieces that command attention—from large, open-bloom wall- hangings to platters and vases.


5 / SILVER SADDLE SALOON
Everybody gets a treat at this mashup of an ice cream parlor, Wild West saloon, and game room. All ages can play dominoes or billiards while digging into scoops of Beth Marie's Old Fashioned Ice Cream from Denton. Among 42 flavors, try cotton candy or butter pecan, or—for adults—the Silver Saddle's own boozy options incorporating locally made TX Whiskey.

6 / CAPTAIN KIRK'S TIKI CRUISES
Owned by Kirk Grable, a police officer, firefighter, and paramedic, this supersized pontoon boat with a thatched roof offers 90-minute voyages on Lake Granbury. Family cruises set sail in the morning, while afternoon and sunset cruises cater to adults. Both include chances to glimpse birds, including pelicans, kingfishers, herons, and—if you're lucky—painted buntings and bald eagles.

7 / THE PEARL HOME + GIFT
The Pearl, next door to swanky Hotel Lucy, stocks shopping finds sought by the girlfriend-getaway crowd. Goodies for the home include throw pillows, candles, and artworks bearing cocktail and Hollywood themes. For lounging indulgences, there are bath products, pajamas, and cushy robes. Hoop earrings and colorful purses are also favorites.

8 / RESTAURANT ANISE
Chef Megan Potts leans on her French upbringing to deliver sublime dishes in a cottage-turned-restaurant a short drive from the square. The menu changes monthly with seasonal ingredients, resulting in creations such as braised lamb with smoked Gouda grits; veal chop with celery root puree; and branzino over forbidden rice with succotash.
Headstone History
To see who ranks among Granbury's past VIPs, head just north of the square to Granbury Cemetery, a green expanse shaded by clusters of cedar trees. A self-guided tour covers 23 burial sites of interest. (Find maps at the Visit Granbury office, 201 E. Pearl St.) Notable forebears interred here include the Nutt Brothers—Jesse F. and Jacob—who settled in about 1866 and brought commerce to the square with their mercantile and grocery; Mary Louise Watkins (1918-2001), who spearheaded Granbury's restoration; and Ashley Crockett (1857-1954), newspaper publisher and grandson of Alamo hero Davy Crockett. Visitors can find another picturesque cemetery 8 miles east of Granbury at Acton State Historic Site, home of a touching monument marking the burial site of Davy Crockett's widow, Elizabeth; she's depicted atop the gravestone looking in the distance for her husband. thc.texas.gov/historic-sites/acton-state-historic-site.
A 3-mile drive from downtown Granbury, Bennett's RV Ranch provides more than 40 sites for RV and tent camping near Lake Granbury. Amenities include electricity, water, restrooms with showers, laundry facilities, and group event shelters. 3101 Old Granbury Road, 817-279-7500, bennettsrv.com.
Find free, primitive camping on the lakeshore at Rough Creek Park, offering shady spots, a boat ramp, fishing pier, and restrooms. 2209 S. Morgan St. lakegranbury.net.
From the August 2022 issue