Trail Mix
Human-made paths offer access to the outdoors—through the woods, on the water, and even underground
By Robyn Ross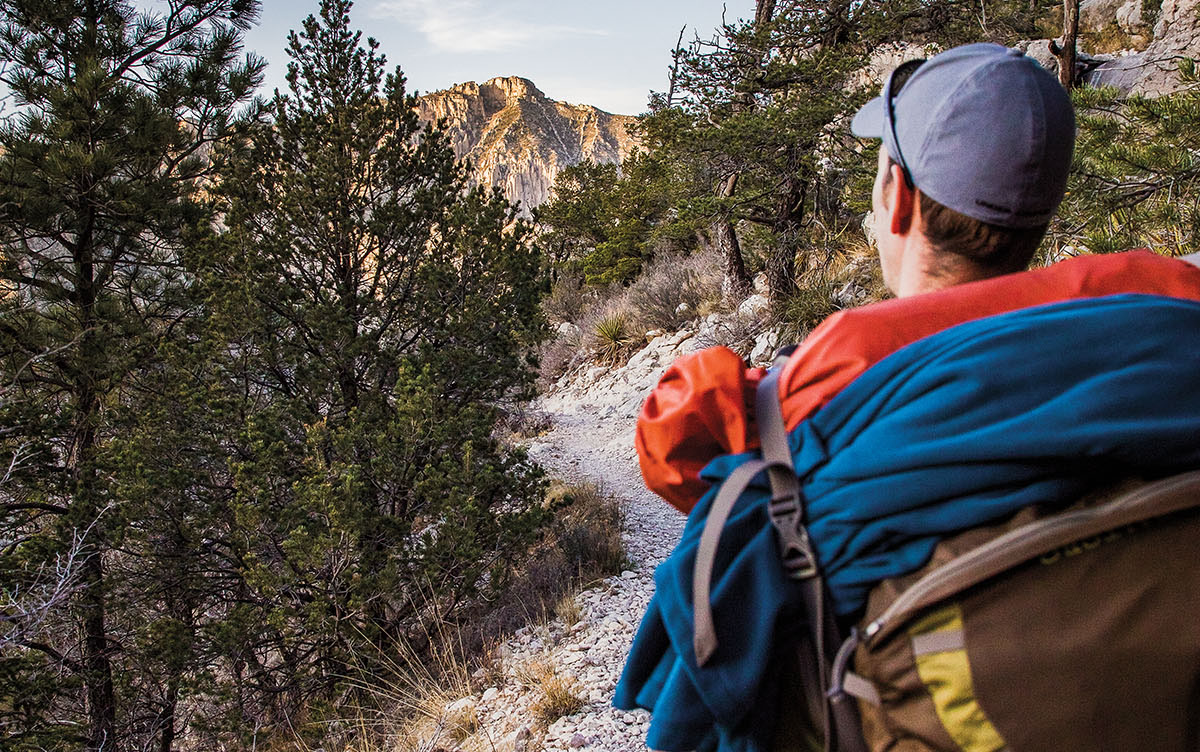 Designing the thousands of miles of trails that weave through our state's parks and preserves is both an art and a science. When Texas Parks and Wildlife Department staff develop a new trail, they begin by identifying the landscape's distinctive features: a spring, an Indigenous rock shelter, a panoramic overlook. Biologists and archeologists help them decide whether trails should showcase these features or avoid them for their protection. Once these "anchor points" have been identified, designers plot a path that links them together.
"If we do our job right, the trail will look like it was always there and not constructed," says Trey Cooksey, TPWD's Recreational Trails program manager. "It will feel like you're just walking through the woods." Trail builders predict the "desire path," the route users are most likely to take without guidance, and ensure that route doesn't cause damage to the landscape. Hiking outside of a path can cause erosion, so builders discourage shortcuts by routing the trail past a boulder or tree or even relocating a cactus. But mostly, builders retain the landscape's rugged beauty to allow hikers to explore in a controlled environment.
Talk the Walk
Anchor point: an interesting trail feature, such as a viewpoint or historic site
Negative anchor point: a sensitive area that a trail should avoid
Desire path: a route or shortcut that is intuitive­ for trail users
Choke point: a narrow spot on the trail that slows users down, such as between two boulders
$4 million
Texas' annual trail construction budget from the federal Recreational Trails program
7%
Trail designers' maximum preferred climbing grade for a state park trail
130
Miles of Trinity River Paddling Trail in the DFW area
Float Your Boat
Paddle trails are designated routes for nonmotorized watercraft that offer multiple access points and have been vetted for major hazards. In 2020, the Trinity River Paddling Trail became the state's first federally designated National Water Trail. The 130-mile trail connects the West and Clear forks of the Trinity, which flow through Fort Worth, with the Elm Fork, which runs from Lewisville into Dallas. Along the way, it passes through deep forest, urban development, wetlands, and even some rapids. "All of that gives you variety, in the same way that a land trail can give you variety," says Teresa Patterson, the paddle trail manager for the nonprofit Trinity Coalition.
Subterranean Treks
Trail building in a cave presents its own set of challenges, including the risk of damaging the very formations visitors want to see. The nearly 2-mile tourist path through the Caverns of Sonora is essentially the same route spelunkers traveled in the mid-20th century during initial exploration, says Ed Mayfield, whose grandfather helped build the commercial trail in the late 1950s. His grandfather and others drilled 13 holes from the surface into the cave to drop in gravel, sand, and cement, but they had to carry in the materials and equipment to build handrails and bridges. "When I think about what it looked like 60 years ago, the amount of labor that went into making it is pretty amazing," Mayfield says.
On Track
Hiking and paddling aren't the only ways to enjoy Texas trails
Mountain Biking
Harlingen Arroyo Trails, Harlingen, 10 miles
"They weave in and out of the embankments of the Arroyo, providing some fun drops and punchy climbs. Most of our trails are intermediate." ­­—David Hernandez, founder and director, ­Valley Off-Road Bicycling Association
Equestrian
Reynolds Creek Equestrian Trails, Waco, 20 miles
"Flat, easy terrain runs through shade trees into open pastures filled with wildlife. Several areas lead to lake views where you can water your horses." —Mary Apple, president, Texas Equestrian Trail Riders Association
Off-Highway Vehicles
Escondido Draw Recreation Area, s­outhwest of Ozona, 100 miles
"It's the equivalent of a state park that is operated and owned by Texas Motorized Trails Coalition—RV sites, a campground, restrooms. You can hike or bike there, too, and it's a good birding site." —Trey ­Cooksey, Recreational Trails and Off-Highway ­Vehicle program manager for TPWD
From the November 2023 issue