Peeking through the pines
A visual journey into East Texas leads to a deeper understanding of the enigmatic region
Photographs by Dave Shafer
A certain mystery
shrouds East Texas. With no major metroplexes and few flashy attractions, it's often overlooked by those traveling through the state. But if photographer Dave Shafer learned one thing from exploring the region during the past year, it's that East Texans like it that way. "I'm not sure I want to show you how good this place is," a woman in Palestine told him.
Over the years, Dallas-based Shafer has photographed East Texas subjects for many publications, including Texas Highways. But this was his first opportunity to wander freely and soak in the sights, traditions, and flavors that define the Piney Woods—a chance to slowly uncover what others ignore or overlook.
"I've been there enough to know it's different than everywhere else in Texas," Shafer says. "It feels a little slower, like the volume's turned down a bit. I know I'm going someplace special that has its own drum beat."
He started off with beloved staples: the Texas State Railroad that runs between Palestine and Rusk, Caddo Lake, and the Tomato Festival in Jacksonville. Meandering down countless backroads led Shafer to more unknown locales—he visited 22 towns in total—like Malakoff, Timpson, and Corrigan. "I wanted to give myself plenty of room for serendipity and conversations," he says.
And despite the tongue-in-cheek response from the woman in Palestine, people were mostly happy to talk. Shafer says he discovered a lot through the simple question, "What's East Texas for you?"
The photographs featured here—a small selection of the 11,000 Shafer took—aim to share some of those answers. "There's a lot more here than what people know," Shafer says.
But we'll keep that between us.
—Kimya Kavehkar
Opening photo: A businessman enjoys a handcrafted cocktail and newspaper at Nine Flags Bar & Grill in Nacogdoches' Fredonia Hotel. "It may be one of the oldest towns in Texas, which many historic buildings pay tribute to, but the downtown area feels very much in the present," Shafer says.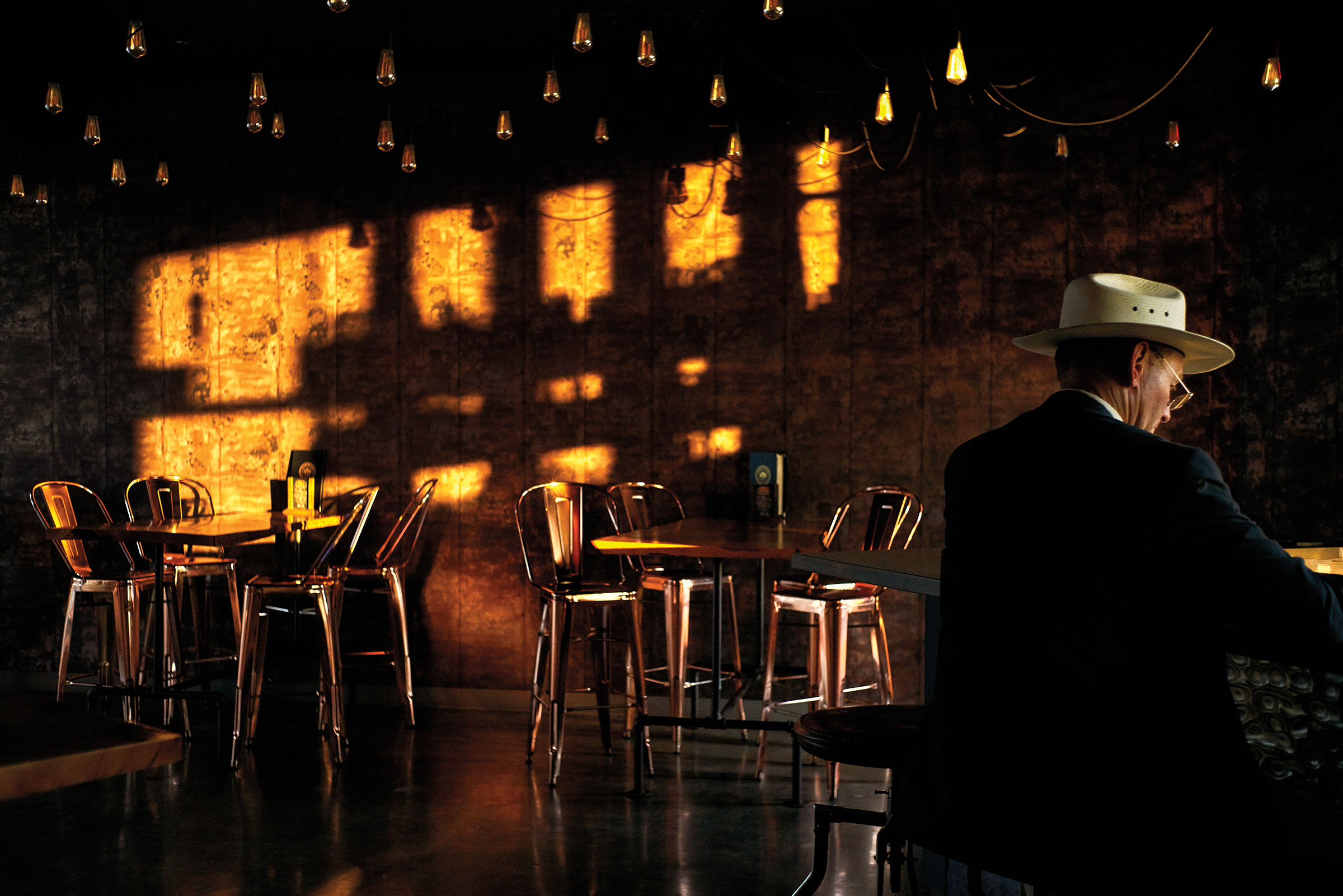 From the February 2020 issue