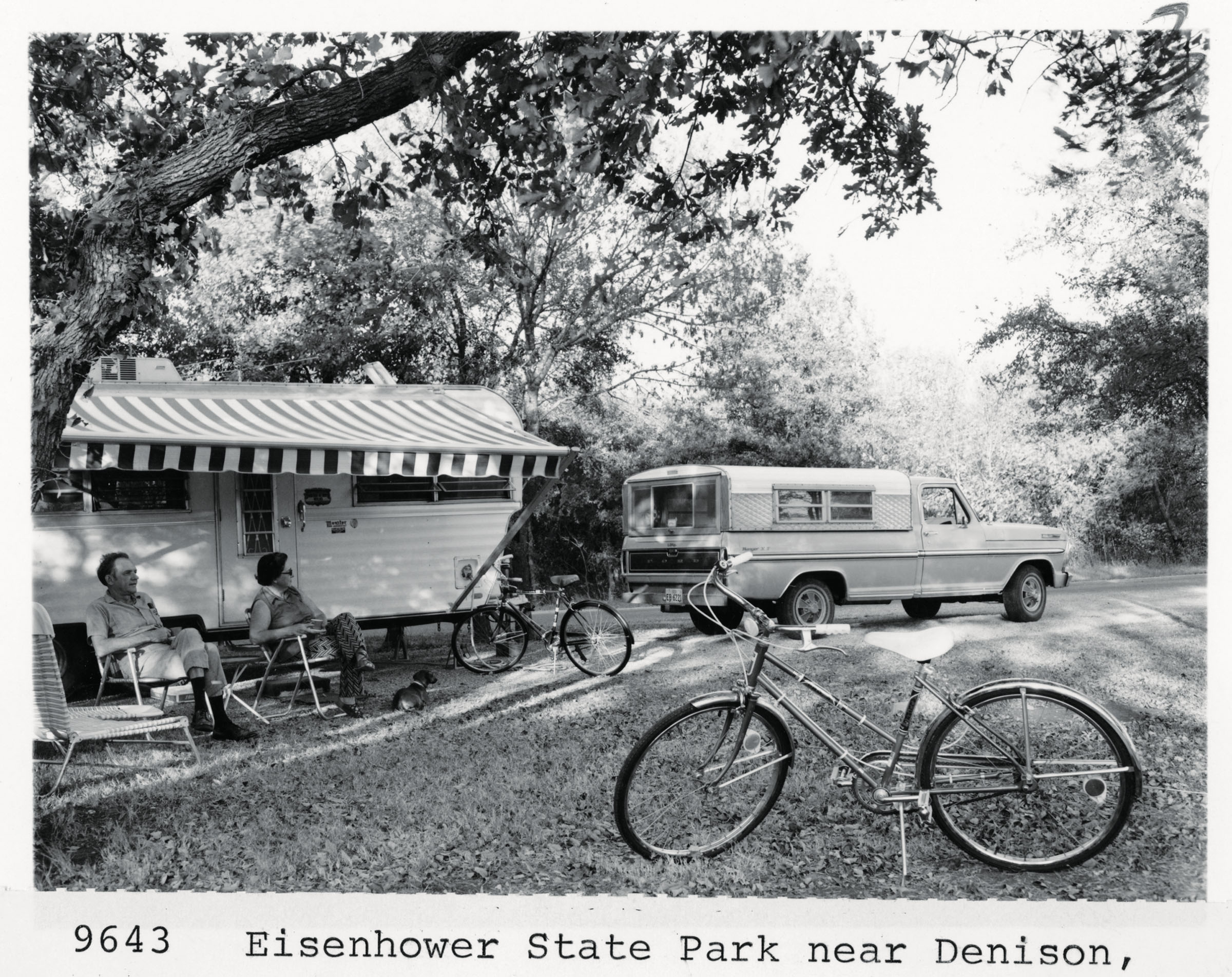 On a warm weekend last October, several dozen vintage travel trailers filled the spaces at Leisure Resort Campground & RV Park along the San Marcos River in Fentress. Some were shaped like canned hams; others resembled sleek silver bullets. One pumpkin-colored trailer was parked alongside a matching bright orange pickup truck.
Participants in the Texas Vintage Trailer Club's rally gathered outside their campers to swap stories—about the thrill of spotting a promising junker rusting away in a farmer's field; or the frustration of restorations gone awry. They peeked inside one another's campers to admire the tricked-out features, such as a working fireplace or avocado-colored shag carpeting. They clanked their drinks and fired up their grills, content to revel and reminisce among these rolling artifacts of the traveling life.
"I grew up in the 1970s, and it's just the nostalgia that attracts us to this," said Cindy Quimby, of Buda. She and her husband, Jeff Quimby, held court in the shade of a pecan tree where they'd parked their turquoise-and-white Shasta Loflyte trailer, a 1970 beauty nicknamed Blue Angel. "I look back on building memories with my dad and mom," she said. "Those were the best bonding times with my siblings."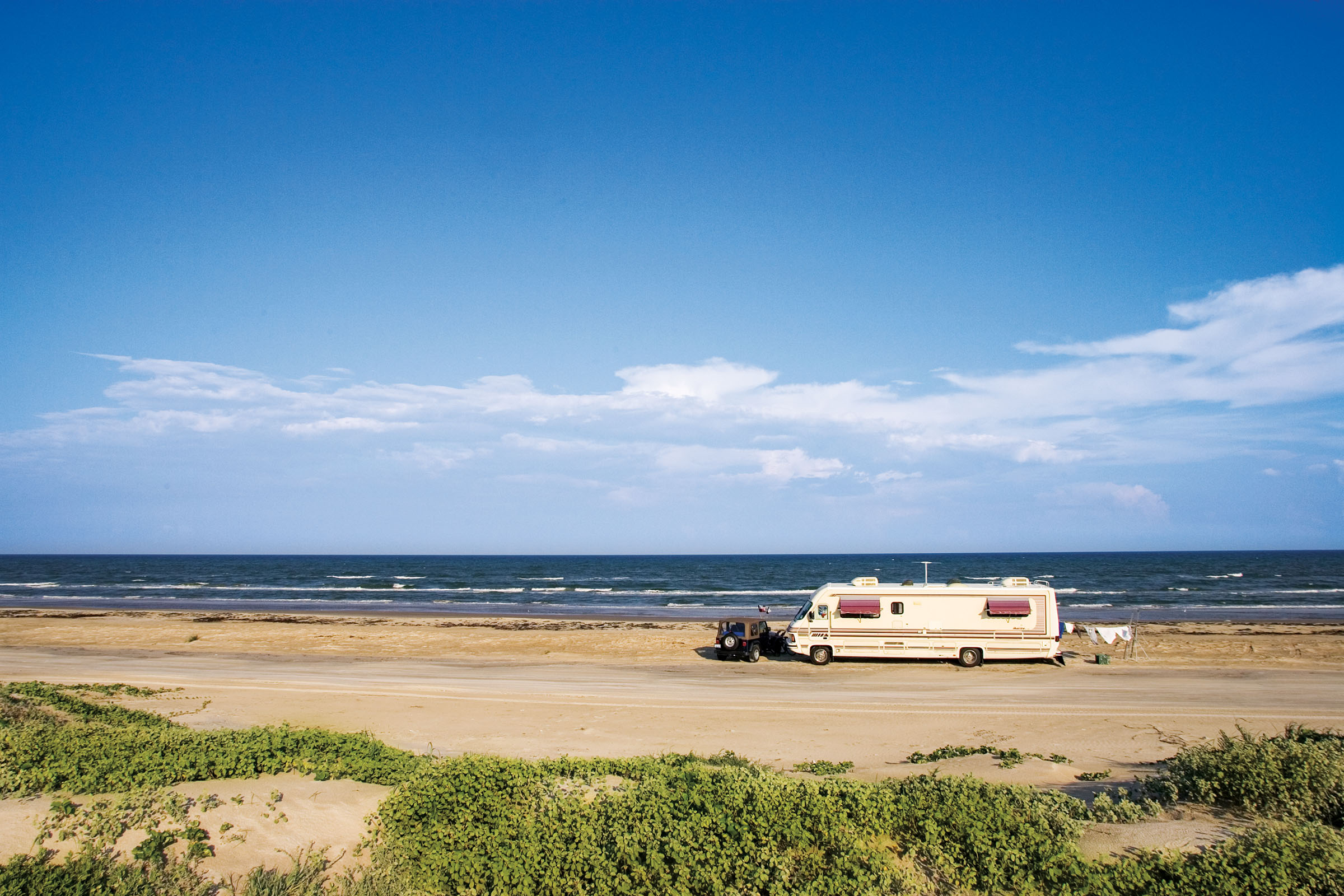 People have been camping in their cars almost since they started driving them. At a 1910 car show in New York, automobile maker Pierce-Arrow unveiled the Touring Landau, which had a back seat that opened into a bed, a chamber pot for a toilet, and a sink that folded out of a front seat. Five years later, Roland Conklin, a financier and motorbus company president in Huntington, New York, modified a bus into a 25-foot double-decker motor home with appliances and a rooftop garden. He and his wife, Mary Conklin, set off in their "Gypsy Van" for a two-month voyage to San Francisco, making headlines across the country.
Soon, outdoorsy types all over were making their own recreational vehicles by attaching canvas tents to stowable wooden frames and creating built-in spaces to cook. Interest among average Americans grew, and by the mid-1920s, detachable trailers gained popularity as motorists used them for gear storage and as a sleeping space at night.
California camping enthusiast Wally Byam designed the first shiny metal Airstream in the late 1920s. Around the same time, Arthur Sherman, a bacteriologist and inventor from Michigan, experienced a miserable episode of wrestling with a tent trailer during a rainstorm. It prompted him to develop a trailer with a Masonite body, which he outfitted with built-in furniture and kitchen gear and dubbed the Covered Wagon. Unveiled at the Detroit Auto Show in 1930, Covered Wagons were soon rolling off an assembly line, the first factory-produced campers available in the United States.
In Texas, RVs were a common sight at midcentury tourist camps and became increasingly popular at state parks as trailers and motor homes grew in size and amenities. Phil Elam, executive director of the Texas Recreational Vehicle Association, says in the 1980s parks started adding larger parking spaces and better electrical and septic hookups for RV campers. "Instead of accommodating something 6 feet wide by 24 feet long, they had to look at accommodating a fifth wheel up to 45 feet long and as wide as 16 feet with pull-outs," Elam says.
The popularity of travel trailers has ebbed and flowed through the years, spurred by such events as the development of the country's highway system and, most recently, interest in camping as a safe recreational activity during the coronavirus pandemic. The current trend of families pulling up stakes and documenting "#vanlife" on the road makes for compelling social media, but it's nothing new. Right after World War II, RVs ran in short supply as people bought them as an affordable housing alternative.
All along, the underlying allure of recreational vehicles has been the appeal of self-contained travel and the romance of the open road. It's an intrigue well known to Trent Sisemore, manager of Jack Sisemore Traveland, the Amarillo RV dealership founded by his father that also has an RV museum [see sidebar on Page 82].
"I love the history of America and the history of the open road and the culture that went along with that—a freedom," Trent Sisemore says. "It's about accidental exploration."
Back at the Texas Vintage Trailer Club rally in Fentress, Yvonne and George Evans of Van Alstyne show off "Lacey Pearl," their refurbished, mermaid-themed 1967 Shasta Starflyte trailer. The couple spent 10 months gutting and rebuilding the trailer, including the addition of a tiny fireplace, stained-glass windows, a copper sink, pearl shell tile, and a microwave oven. "We just took it to the next level," Yvonne says.
The first RV aficionados didn't have such amenities in their own custom creations. Still, when today's vintage RV enthusiasts hit the road, they're seeking the same thing as people 100 years ago—adventure.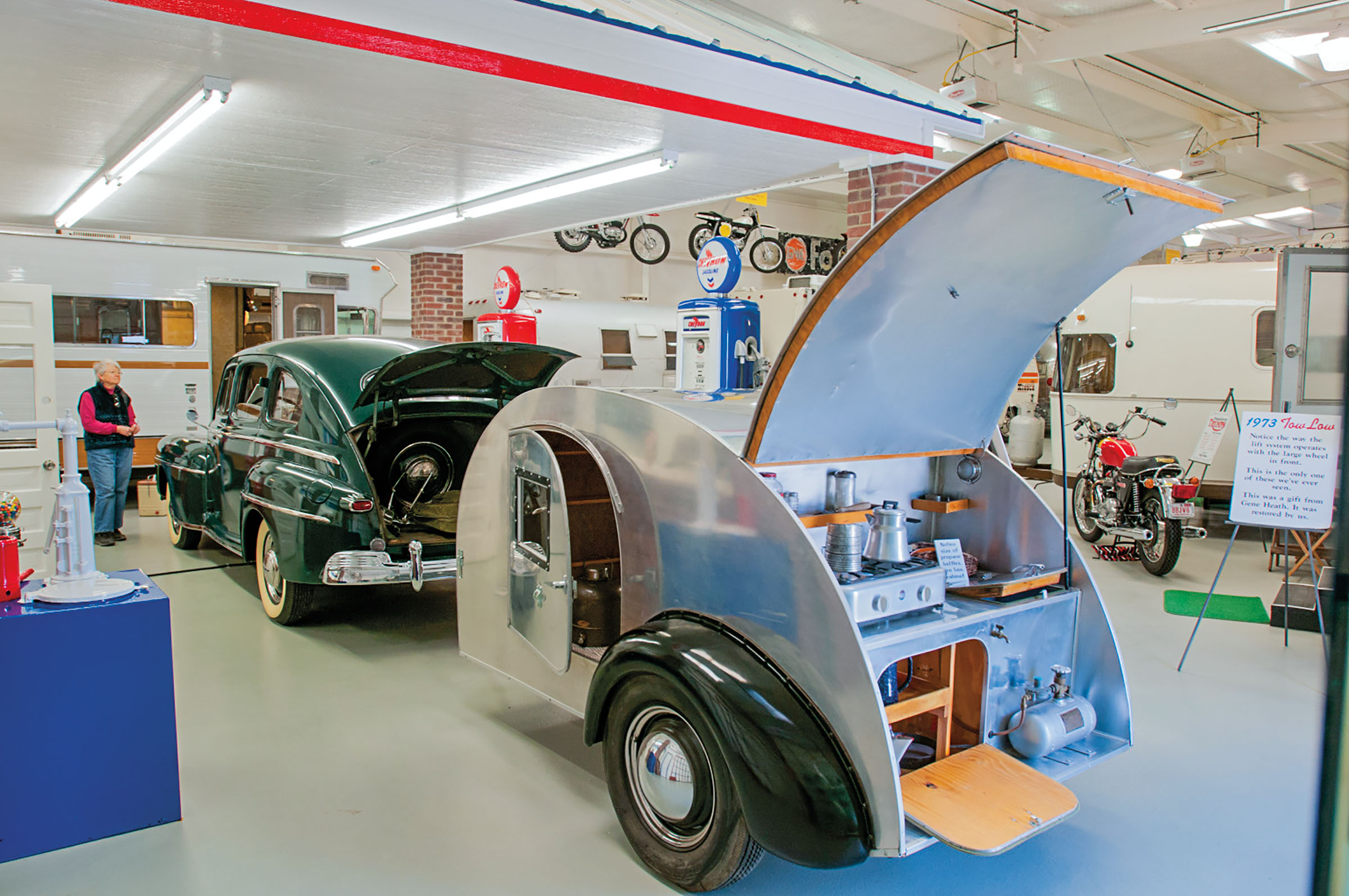 The Jack Sisemore Traveland RV Museum in Amarillo
Amarillo RV salesman Jack Sisemore made his first RV back in 1945. Then a teenager, he cut the trunk off his family's Oldsmobile and built a sleeping platform of 4-by-4 boards. Along with his parents, brother, aunt, and uncle, he set out for Yellowstone National Park, pulling over at night to cook dinner and sleep.
The trip foreshadowed what became a lifelong obsession for Sisemore, who's now 80. He owned a gas station starting in 1961, and in 1974, bought his first RV. In order to afford it, he rented the camper out when he wasn't using it. That went well, so he bought another camper, and then another, and within the same year, he owned six rental units. Then he opened a dealership, located on Interstate 27 in Amarillo.
Jack's son, Trent Sisemore, serves as general manager of Jack Sisemore Traveland dealership. About 10 years ago, the duo opened the Jack Sisemore RV Museum to display their collection of campers, trailers, and motorcycles from the 1930s to 1970s.
"In the 1980s, we began to realize some of the older RVs were just going away," Trent Sisemore says. "We started keeping the unusual ones. Then we began to restore them, mainly for posterity's sake. One day we said, 'Why don't we open it up and let people go through it while they're waiting for their RVs to get worked on?' All of a sudden, it took on a life of its own."
The museum was a hit. "People came from everywhere—100 to 150 people a day," Sisemore recalls.
The collection includes nearly 30 different RVs, including motor homes and various campers. One of the most popular exhibits is a 1935 Airstream Torpedo—the oldest Airstream still in existence and one of only 20 ever made. The museum also features the first Itasca motor home ever built, serial No. 1; an FMC Motorcoach with a built-in blender owned by Max Factor Jr., president of the cosmetics company of the same name; and the Flexible Bus used in the 2006 comedy movie RV, starring Jeff Daniels and Robin Williams.
Mostly, though, the museum preserves the relics of Americans' fascination with travel—and our collective dream to explore.
The Jack Sisemore RV Museum has been closed during the pandemic and plans to reopen this June in a new location—14211 Interstate 27, between Amarillo and Canyon. The new museum will also display restored cars from the Amarillo Motor Sports Hall of Fame. Entry is free. Call ahead. 806-358-4891; rvmuseum.net
From the May 2021 issue