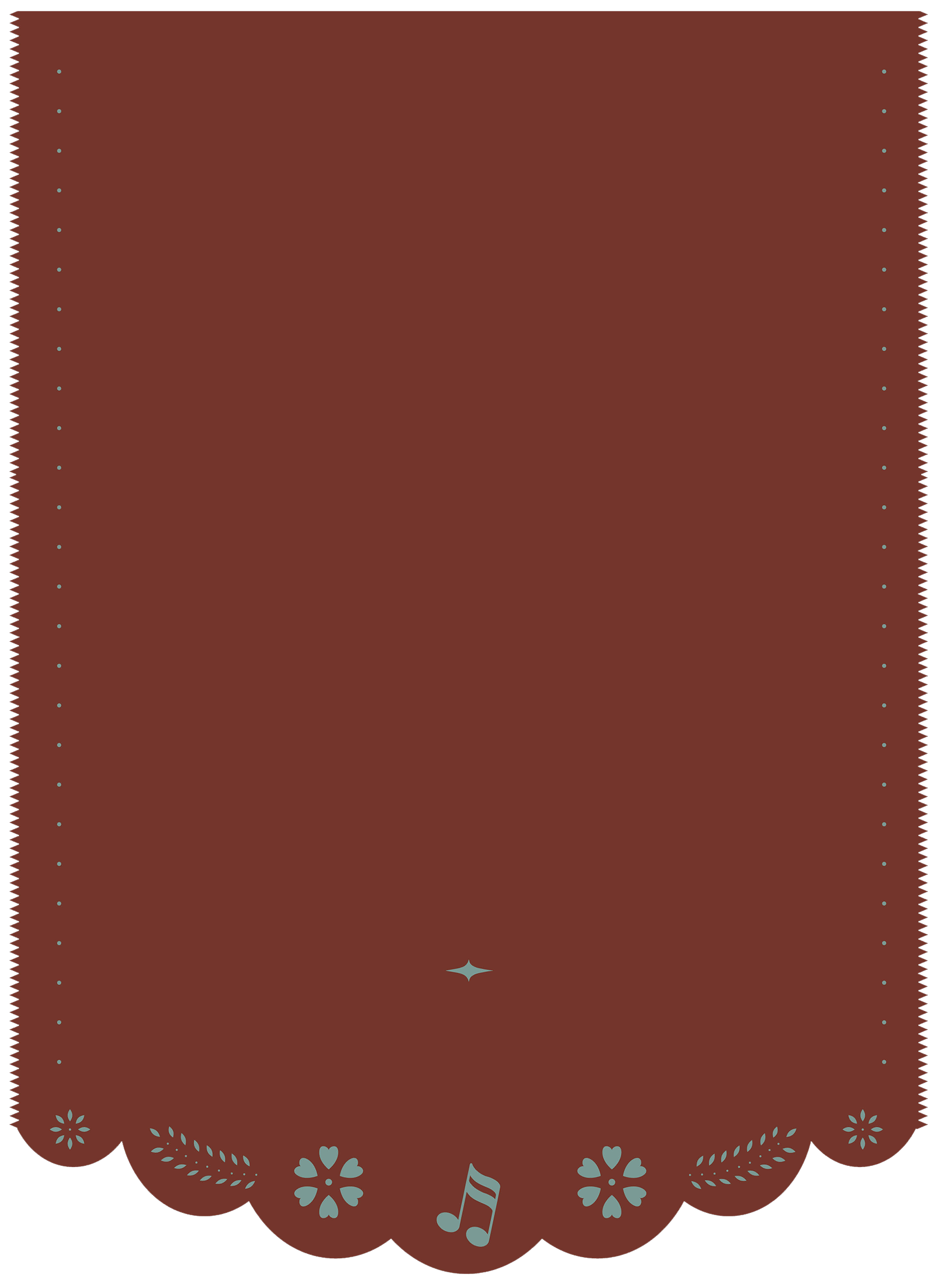 Leer en español
By Katie Gutierrez
Redemption Songs
Born on the Texas-Mexico border, corridos have documented tragedies, immortalized heroes and victims, and spoken truth to power for more than 200 years
Photographs by Christ Chávez
Fifty mariachi musicians gather in the parking lot of a San Antonio law firm. Despite the heavy June heat, they wear traditional charro outfits—short, intricately embroidered jackets in gray, black, and red; silk scarves tied in neat bows at their collars; trousers studded with decorative silver. The mariachis comprise 11 different musical groups and include men and women, educators, students, and parents. They range in age from 7-year-old Mateo Lopez—the world's youngest mariachi singer—to their 60s. Awaiting their turn to board a charter bus heading west to Uvalde, they tow their trumpets and saxophones, their violins and guitars and heartbreak.
The week before, on May 24, 2022, a teenage gunman murdered 19 fourth-graders and two teachers at Robb Elementary School, while law enforcement took an excruciating 77 minutes to enter the classroom and kill the attacker.
In the immediate aftermath of the shooting, San Antonio-based artist Cruz Ortiz packed a bag of 35-millimeter film and drove to Uvalde. "I needed to document," says Ortiz, who uses print, performance, painting, and film to address sociopolitical issues in bicultural, bilingual South Texas. He joined seasoned crime journalists, some of whom had reported on up to 40 school shootings.
"Everyone kept saying, 'This is different.' I'll tell you what's different. No matter who shot who, violence in this area has always been there," Ortiz says. "This area was and still is Indigenous land. From numerous Spanish expeditions, Anglo Texan land-grab transactions, Civil War skirmishes, and anti-Mexican lynchings, we've seen this before. We know these feelings."
Back home, Ortiz called his friend and mariachi violinist Anthony Medrano, a longtime member of Campanas de América, a 12-piece mariachi band founded in San Antonio in 1978. Medrano has performed with the group at the White House, and he also co-produces and directs Mariachi USA, an annual concert at the Hollywood Bowl in Los Angeles, which draws 18,000 people.
"I don't know what to give them," Ortiz told Medrano. "I don't know what to give myself."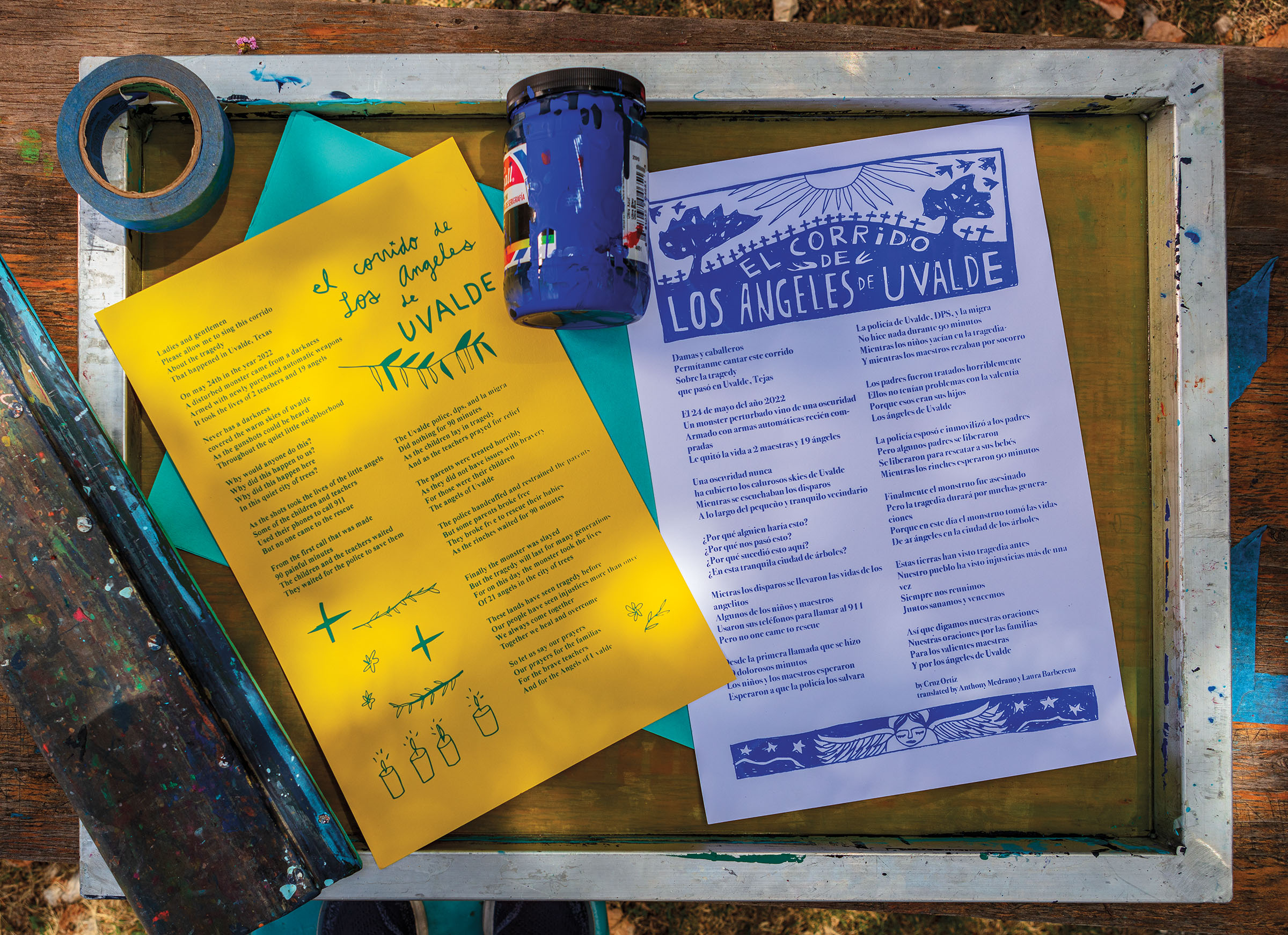 An idea formed as the men remembered gathering a group of musicians in Ortiz's studio to honor Mexican ranchera icon Vicente Fernández after he died in December 2021. They drank tequila, sang, and shared memories.
"When we did that thing with Vicente," Ortiz said to Medrano, "it gave me some healing. Can we take some mariachis to Uvalde and do what you usually do at these moments?"
Medrano understood.
"Everybody sees us as the party," Medrano says. "But we as musicians in our culture are consolers besides being celebrators."
While they coordinated logistics—a Facebook call to mariachis, a meeting spot, a charter bus—Ortiz penned a corrido in response to the tragedy. Ever since the Mexican War of Independence in 1810, the corrido—a narrative ballad influenced by the Spanish epic romancero—has existed in Mexican culture as a way to share news, memorialize heroes and battles, give voice to oppression, and challenge and subvert authority. Today's corridistas have won Grammys. They perform on stages, in studios, and from their living rooms on YouTube, garnering tens of millions of views.
Along with the lyrics, Ortiz created a hand-printed corrido broadside poster to be distributed while the mariachis were singing. Translated to Spanish by Medrano, "El corrido de los angeles de Uvalde" would do what corridos have done for more than 200 years. Tell the story. Immortalize the victims and heroes. Sing truth to power.
In Spanish, "decir de corrido" means narrating something without a stop, with fluidity and clarity, according to Martha I. Chew Sánchez, a professor of Caribbean, Latin American, and Latino Studies and author of Corridos in Migrant Memory. "Once you start, you do not stop until you finish, without interruptions," she says.
This may be where the term corrido originated. The classic corrido is a narrative ballad with regular verses of four eight-syllable lines. The song often begins by describing the place, date, and protagonist, and ends with a despedida, or a farewell, sometimes with a moral. In the 20th century, the corrido style fell beneath the umbrella of ranchera music, according to Elijah Wald, musician and author of Narcocorrido: A Journey Into the Music of Drugs, Guns, and Guerrillas. Ranchera includes mariachi; norteño, played by trios or quartets on accordion, bajo sexto, bass, and sometimes drums and saxophone; duetos, accompanied by guitars and often a bass; and banda, a West Coast Mexican style accompanied by trumpets, clarinets, valve trombones, tubas, and drums.
Many scholars believe the corrido emerged in the Texas-Mexico border region. According to the Texas State Historical Association, the earliest known border corrido was written in 1859 about Juan Nepomuceno Cortina, a former soldier in the Mexican War who, in the decade after the Treaty of Guadalupe Hidalgo, accused a group of Brownsville judges and attorneys of expropriating land from Mexican Texans who didn't understand the law. On July 13, 1859, Cortina shot a Brownsville city marshal to defend one of his former rancheros from a brutal public beating. That fall, Cortina led an estimated 600 men in a revolt against the Texas Rangers and the U.S. Army, which inspired "El corrido de Juan Cortina." In the song, the corridista says:
Cuanta sangre derramada para defender la tierra
How much blood spilled todefend the land
I
Si no saben respetarnos, vámonos a darles guerra
If they don't know how to respect us, let's go give them war
I
Rinches de todo el estado, decía Juan Cortina, se roban el ganado
Rinches throughout the state, said Juan Cortina, steal the cattle
I
Rinches de la madriguera, decía Juan Cortina, se roban al frontera
Rinches of the burrow, said Juan Cortina, steal the border
I
Si dicen que soy un bandido por defender mi raza, las pruebas yo les pido
If they say that I am a bandit for defending my race, I ask for the proof
"Rinches" refers to the Anglo Texas Rangers who were known for ruthless violence against ethnic Mexicans. Estimates of the number of Mexicans killed in Texas between 1910 and 1920 "range from as few as 300 to as many as several thousand," says Monica Muñoz Martinez, author of The Injustice Never Leaves You. The rinches became a common antagonist in corridos, whose heroes were often outnumbered and out-armed.
Take "El corrido de Gregorio Cortez," one of the most famous and well-studied corridos, and the subject of Brownsville author Américo Paredes' 1958 book, With His Pistol in His Hand. The corrido tells the story of a vaquero who shot a sheriff in self-defense on June 12, 1901, then went on the run, covering 100 miles on foot and 400 miles on horseback while being pursued by groups of up to 300 men. He was arrested 10 days later, after killing two more sheriffs on his tail, and sentenced to life in prison. Scholars believe the original corrido was written by an unknown guitarrero, who played it in bordertown bars and cantinas when Cortez was still on the run. This exemplifies the fluid nature of the corrido and its function as a kind of newspaper editorial—spreading the word about current events with a very clear stance. A corrido is never neutral.
"It's a way of telling people, 'Hey, this is what happened,'" Medrano says. "The underserved were not given a voice to discuss what injustice was being done to them. But they could make a song about it and teach it to everybody and then the story is out, the fight is shown."
Even in Mexico, corridos about rebels and revolutionaries were considered too "seditious" to actually record and distribute. The first corrido recordings were made on phonograph cylinders, invented by Thomas Edison in 1877. Twenty-seven years later, singer Rafael Herrera Robinson recorded two famous corridos about rebels Heraclio Bernal and Ignacio Parra, who were active during the Porfirio Díaz dictatorship. But the emerging recording industry in Mexico City, which catered to the ruling classes, rejected corridos about rebel heroes. Instead, during the Mexican Revolution, these corridos were printed. José Guadalupe Posada, known as the father of Mexican printmaking, illustrated many corrido broadsides that were then reproduced and distributed in plazas, marketplaces, and cantinas.
"José Posada was probably one of the first and most influential modern artists in Mexico," says Ortiz, whose background is in printmaking. "Every morning, musicians would buy stacks of these papers, these corridos, and go to corners all over the city and sing the corrido and sell the broadsides for a penny. And that was how they got their news."
Another impact of the Mexican Revolution was mass migration to the United States. The first federal census taken in Texas in 1850 counted 14,000 Texans of Mexican origin. By 1930, after the Revolution, that number had risen to 700,000. Soon, the corrido would become the connective tissue between the migrants' new lives and the ones they left behind.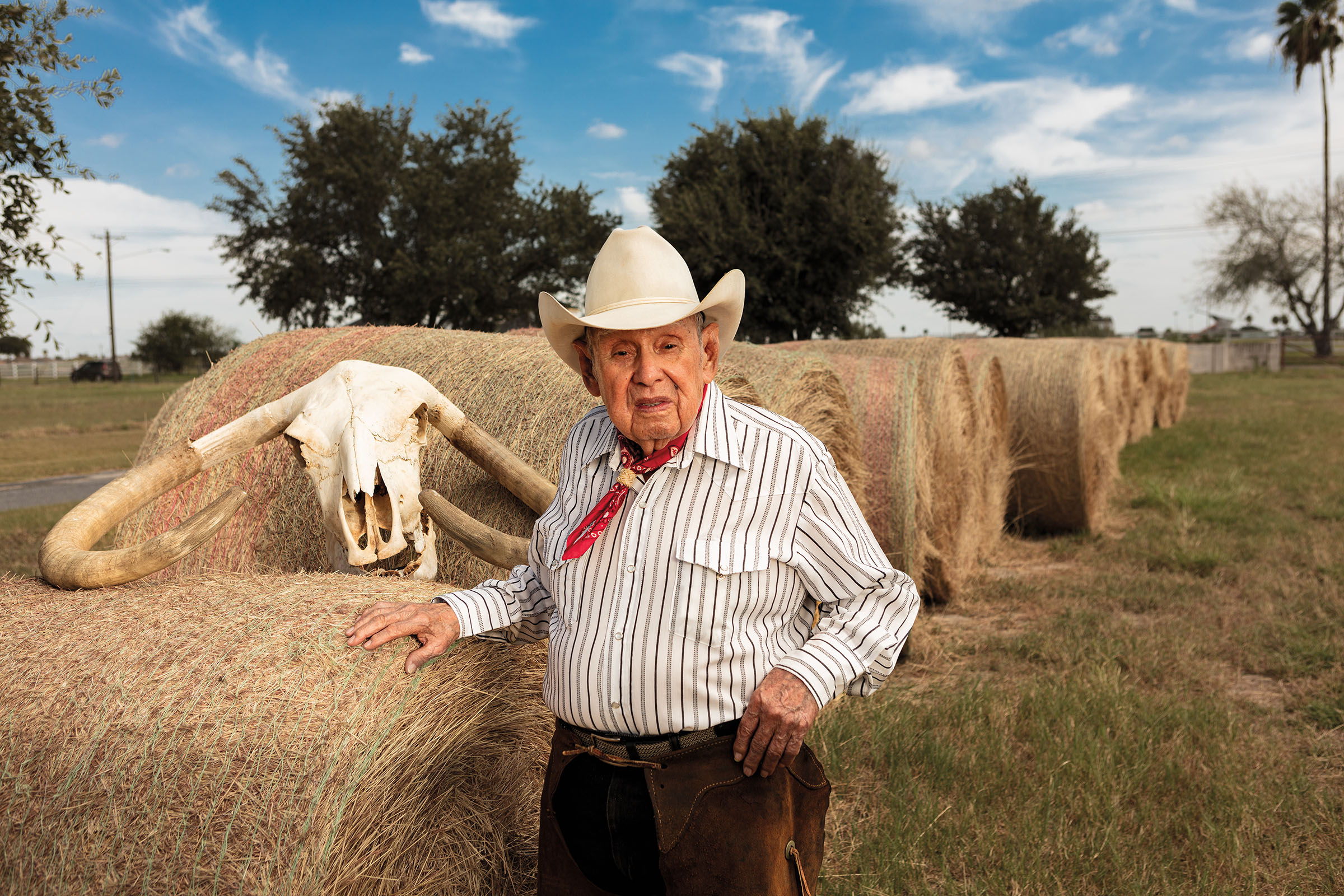 In 1968, a band of young brothers born on a ranchito in Mocorito, Sinaloa, hoped to cross the U.S.-Mexico border. The oldest boy was only 14. The group had temporary work visas to perform in California, but when an immigration officer asked what their band was called, they didn't know. They were so young, the officer suggested "Little Tigers of the North." The boys felt the shape of the words in their mouths. They liked it. But one day they'd no longer be little, so they made a small adjustment. Today, Los Tigres del Norte has recorded more than 600 songs, sold 60 million albums, and won seven Grammy Awards and nine Latin Grammys.
Los Tigres, as they're known to their fans, includes brothers Jorge, Hernán, Eduardo, and Luis Hernández and their cousin Oscar Lara. Self-taught musicians, their musical careers began when their cousin José Angulo Lara bought a guitar for Jorge for 80 pesos with money saved from picking tomatoes and chiles in Culiacán. The boys immigrated to the U.S. to help support their family after their father was shot and left paralyzed while working security at a cantina.
In California, Art Walker, a music distributor from Manchester, England, produced four records with Los Tigres starting in 1969. But there were no hits. Jorge began teaching at a school, and the other brothers took on gardening work. They were disheartened, frustrated by the setbacks, homesick. If music didn't work out, they decided, they'd return to Mexico. Then, in 1972, Walker introduced the band to Mexican songwriter Ángel González, who had a song Walker wanted the band to record. It was a corrido called "Contrabando y traición"—better known as "Camelia la Texana."
The song tells the story of Emilio Varela and "Camelia la Texana," from San Antonio, who cross from Tijuana to San Ysidro, California, with their car tires stuffed with marijuana. They meet their contact in Hollywood and split the money between them. Then Emilio tries to say goodbye to Camelia—he's bound for San Francisco to be with his lover, "la dueña de me vida," ­the owner of my life. But Camelia, in love with Emilio and now a woman scorned, shoots Emilio, leaving only the pistol behind when she disappears with the cash.
The song was a hit.
"That was such a smart song on so many levels," Wald says. "Simply the cinematic quality of it. Then you have a group that's authentically Mexican, but the record is being made in California and the heroine is from Texas. And the female lead makes it a different thing. It's suddenly a fantasy. And a very potent one."
The song departed from the traditional corrido in one major way: It was pure fiction. But it also tapped into the Mexican drug-trafficking scene that was soaring in the 1970s. Smuggling was not a new theme for corridos. Particularly in border regions, smuggling was often seen as resistance to unreasonable government trade restrictions. If it didn't harm anyone through theft or violence, writes George T. Díaz, author of Border Contraband, it was not considered a moral crime. After all, most smugglers were from rural areas, simply trying to feed their families.
In the 1930s, Samuel Buentello was a young boy on Rancho Nuevo in South Texas, where he lived with his family and would eventually work as a vaquero. There, he recalls, he met three men on their way from Guerrero, Mexico, to San Diego, Texas. They were smuggling tequila, and their names were Silvano, Leandro, and Gerónimo.
"My father managed a lot of cattle and many vaqueros," Buentello tells me in Spanish. "The men got to the camp late in the afternoon, and my father gave them supper. They brought three horses strung together by tail knots."
According to Díaz, a skilled packer could fit 50 or more bottles protected by hay or twine on a mature donkey or horse. Buentello didn't know it then, but the tequileros he met would soon be ambushed and killed by Texas Rangers near Mirando City, 134 miles away from Rancho Nuevo. Their story is immortalized in a corrido called "Los tequileros." The song recounts how Gerónimo and Silvano convinced Leandro to join them, though Leandro initially resisted because he was sick. According to the song, the rinches ambushed them, and Leandro was the first to die.
"According to local history, Leandro was not a professional trafficker like the other men, but a young man who had never smuggled before or otherwise broken the law," Diáz writes. After Leandro's wife died, he thought he could make some extra money to raise his three children by working with Silvano and Gerónimo.
Buentello's voice still breaks when he recites the corrido by memory, even 80 years later. "Al llegar al Río Grande / se pusieron a pensar / es bueno llevar a Leandro / porque somos dos nomás." (When they reached the Rio Grande / they began to think / it would be good to take Leandro / because we are only two.)
"Whether they intended it or not," Díaz writes, "tequileros' smuggling and battles with U.S. law enforcement fell into the ethnic Mexican tradition of resistance to Anglo racism and American incorporation. Tequileros' actions, in fact and song, added to the machista culture of the border, and their courage, real or imagined, is enshrined in lore as exemplifying masculinity and honor. They are history and also legend."
A year after prohibition ended in 1933, the first narcorrido—a corrido specifically about drug smuggling—was recorded in San Antonio. According to Wald, it was the first of its kind and was written by Juan Gaytán, of the duo Gaytán y Cantú, and called "El contrabandista." Los Tigres' 1972 hit, "Contrabando y traición," reinvigorated the narcocorrido, spawning a response song written by Esteban "Steve" Jordan, known as the Jimi Hendrix of the accordion; as well as a film, a novel, a TV series, and more songs inspired by the character of Camelia.
In some ways, the narcocorrido is a natural extension of classic corridos: instead of revolutionaries and shootouts on horseback, it's smugglers and violent encounters with U.S. law enforcement. In parts of Mexico, the performance of narcocorridos—even their radio play—has been banned, with groups like Los Tigres being fined up to $25,000 for breaking the rule. The question of whether narcocorridos glorify drug trafficking or critique political systems that enable trafficking is an ongoing debate, but the subgenre's outlaw sensibility holds undeniable appeal to younger audiences. Within the last decade, the style has evolved to include trap corridos, hood corridos, and more. And today's corridistas are no longer waiting to record and release albums.
"The popular corridos these days, it's pretty much all happening electronically," Wald says. "And they are wildly popular [on YouTube]."
YouTube also revived the news corrido tradition, which had largely gone extinct. "When Chapo Guzman broke out of prison in Mexico [in 2015], within 48 hours there were probably 20 corridos on YouTube," Wald says. "There are corridos about immigration, about people drowning in the Rio Grande, that are getting like 50 million hits."
In 2019, the corrido "El llanto de El Paso" went viral after a white supremacist gunman traveled to El Paso and opened fire in a Walmart, killing 23 and wounding 22 in the deadliest attack against Latinos in modern U.S. history.
Josue Rodriguez, then an aspiring musician, wrote the corrido in one night of pain and grief. Three days after the attack, with his father's encouragement, he performed it at the memorial site with his then-17-year-old cousin Israel Cuevas and a guitarrón player they met that day named Alejandro Ramos.
Three years after that, Uvalde.
"This is where we are," Ortiz says. "It's our children who are being massacred in schools and our people who are being massacred in a Walmart. These are the current-day massacres, and in some ways the corrido is being used exactly as it's always been used."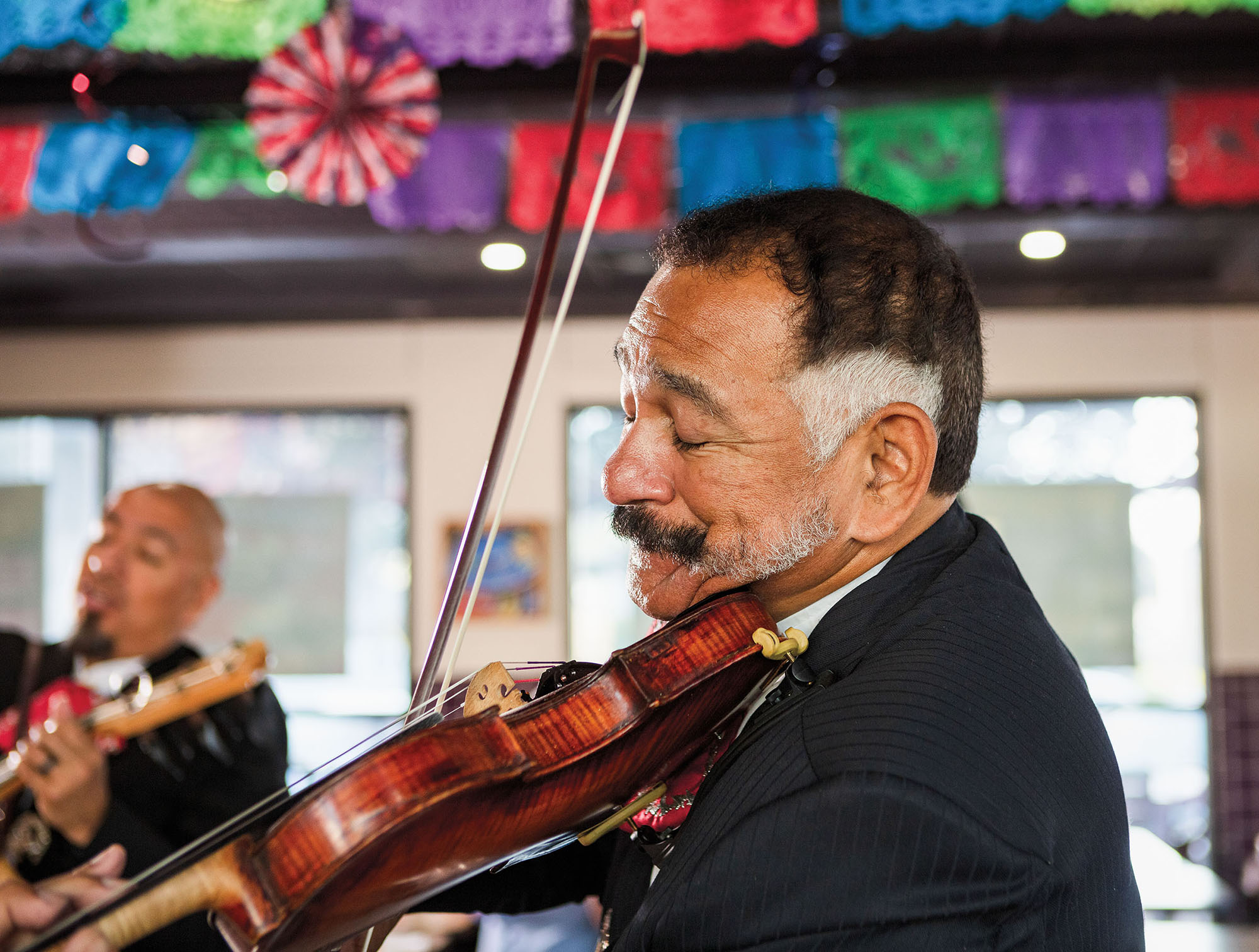 As the bus neared Uvalde's Town Square in June 2022, the mariachi musicians saw 21 crosses surrounding a central fountain. The shrines to 19 children and two teachers, plus one teacher's husband who died of cardiac arrest two days after the shooting, were stacked high with flowers, stuffed animals, photos, and notes. Medrano, the group's unofficial leader, stood up.
"We're there when they're born," Medrano told the musicians. "We're there when they come of age. We're there when they get married. And we're there when they pass."
Grammy-winning mariachi musician Juan Ortiz was in tears as he led the bus in a prayer.
As the dozens of mariachi singers gathered in Town Square, performing familiar, consolatory songs like "Amazing Grace," "Un día de la vez," and "Amor eterno," Cruz Ortiz passed out 400 broadside posters with lyrics for "El corrido de los angeles de Uvalde." The corrido begins with the date of the shooting and tells the story of that day—including the heroism of parents pushing past police to rescue their kids and the inaction of law enforcement for those horrifying 77 minutes.
They didn't perform the corrido, though. "It was about healing," Medrano says. "We didn't want to bring anger into that space."
Back home, Medrano and Juan Ortiz set about putting the corrido to music alongside Grammy-winning sound engineer Gilbert Velasquez and Grammy-winning accordionist David Lee Garza. There was no talk of money, but Medrano put together a small budget "to compensate for gas, at least—something," he says. "But it was all a labor of love. A labor of emotion."
When the corrido was recorded, Medrano made a simple video and uploaded it to YouTube, where it lives today. With 1,600 views, it's far from the viral sensations of commercial corridos, but that's OK with Medrano.
"It's out there," he says. "It's there for reference. It's there for reminder."
Lyrical Legacy
Where to immerse yourself in the living history of corridos
Guadalupe Cultural Arts Center, San Antonio
To learn more about the role corridos played in community pride and resilience during the Mexican Revolution, visit the Life and Death on the Border (1910-1920) traveling exhibit. The educational nonprofit Refusing to Forget is bringing the exhibit to Guadalupe Cultural Arts Center in San Antonio from Oct. 6 to mid-January 2024. refusingtoforget.org
Bullock Texas State History Museum, Austin (Online)
The Música Tejana portion of the Life and Death on the Border exhibit also has an interactive timeline with five audio recordings of corridos from between 1934 and 2007 on the Bullock Museum's website. thestoryoftexas.com ­
—Aleena Acosta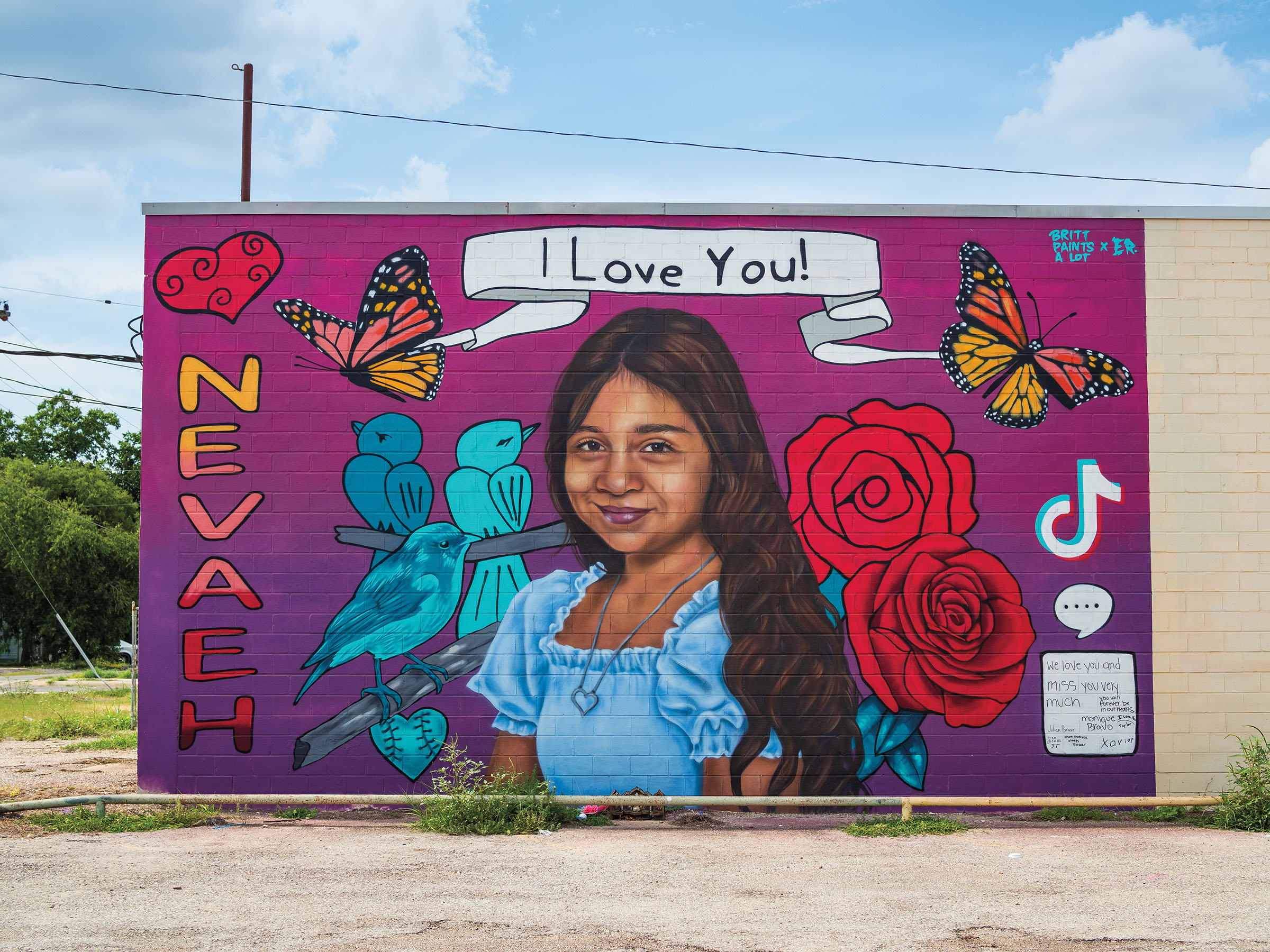 This June, Cruz Ortiz, his son Joaquin, Medrano, and mariachi musicians Roland San Miguel, Richard Carranza, Marcoz Basaldua, Joe Gonzalez, and Alejandro San Miguel return to Uvalde's Town Square.
The fountain has been drained and repainted a bright blue, and the 22 shrines surrounding it are distinct now. There are Spider-Man toys for Uziyah Garcia and a handmade lavender shelf for Amerie Jo Garza, signed and dedicated to her by her father, Angel Garza. People gather by US 90 and South Getty Street holding orange flags reading "Uvalde Strong" and "21." The children's family and friends wear T-shirts with their names and photos, angel wings sprouting behind slender shoulders. One man holds a sign demanding accountability. The community's pain feels as dense and impenetrable as the late spring heat.
Cruz Ortiz is ready with more broadside posters of "El corrido de los angeles de Uvalde." He's spent the past year using a solar-powered mobile screenprinting unit he calls Pepito de Takuache to do live screenprinting for politicians and activist groups. He's traveled to six cities with labor activist Dolores Huerta and Beto O'Rourke. At South by Southwest, he printed and distributed "El corrido de los angeles de Uvalde" and another corrido he wrote, "El corrido de los 53," about 53 immigrants who were found dead in a trailer in San Antonio on June 27, 2022.
"It's time to have the difficult conversations," Cruz Ortiz says.
As the mariachis play "Te vas angel mío," "Amazing Grace," and "Amor eterno," Cruz Ortiz and Joaquin pass out the corrido broadsides.
"The words in that song are meant as a historical marker," Medrano says. "This isn't just an annual event to honor everybody. This is to remind everybody. Remind them what happened and why it happened and that it shouldn't have happened."
While parents across Texas celebrate their own children's last days of school, Medrano spends time at each individual shrine. It doesn't feel like enough. The families have no closure. Their kids will never return. Time marches forward. In that insistent progression, the corrido is a bookmark, a shout in the darkness, a way of bearing witness. Here we lived.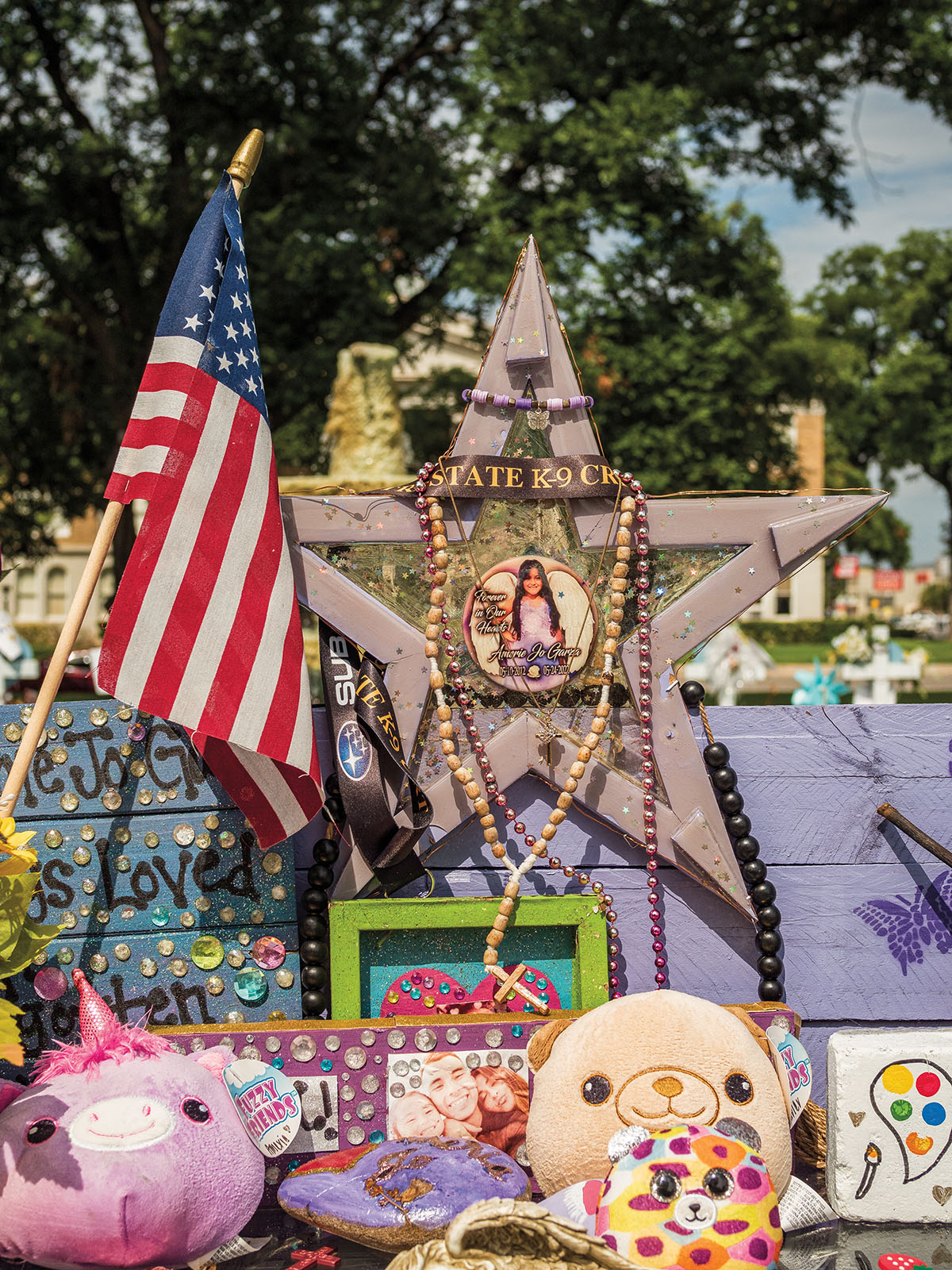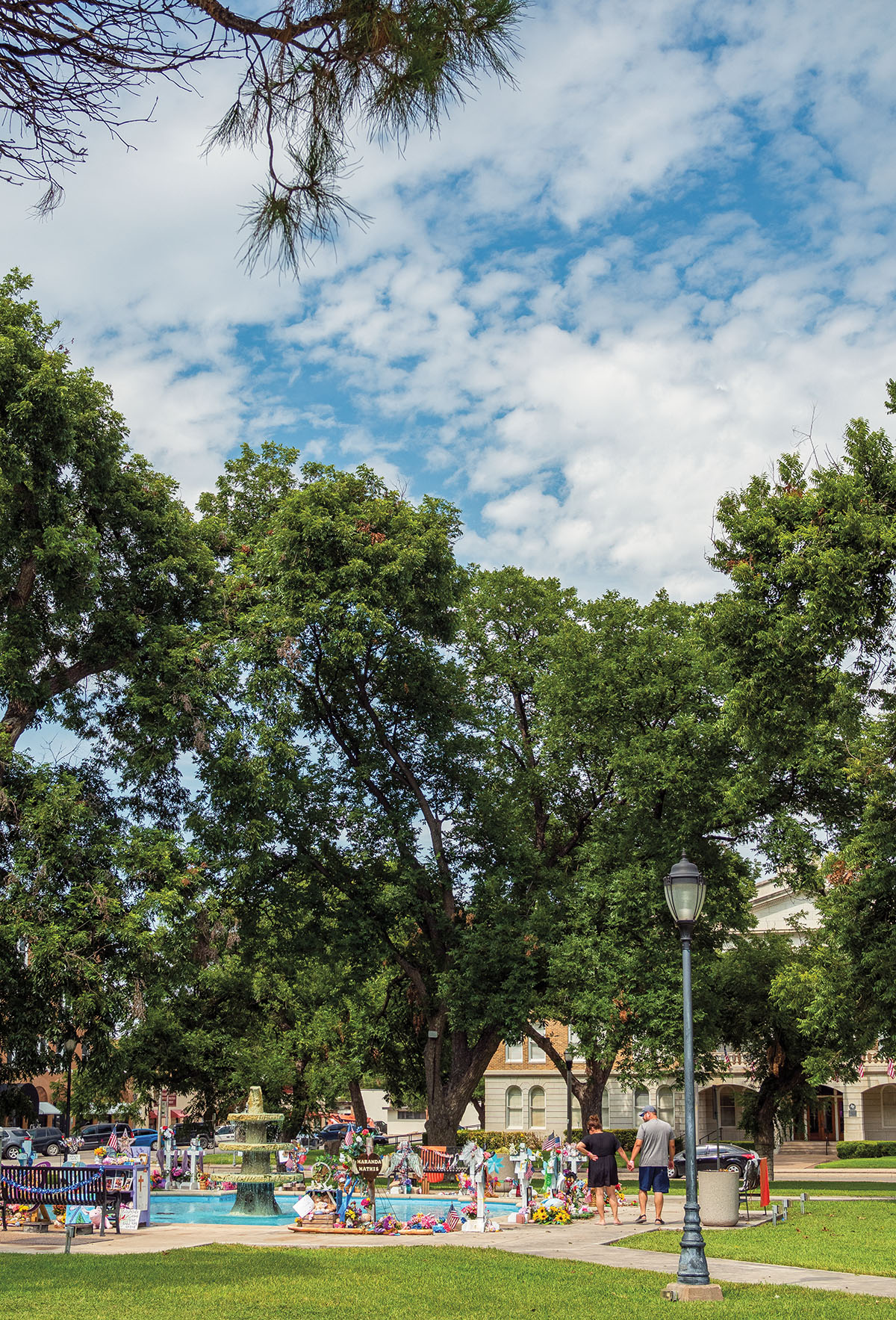 From the September 2023 issue