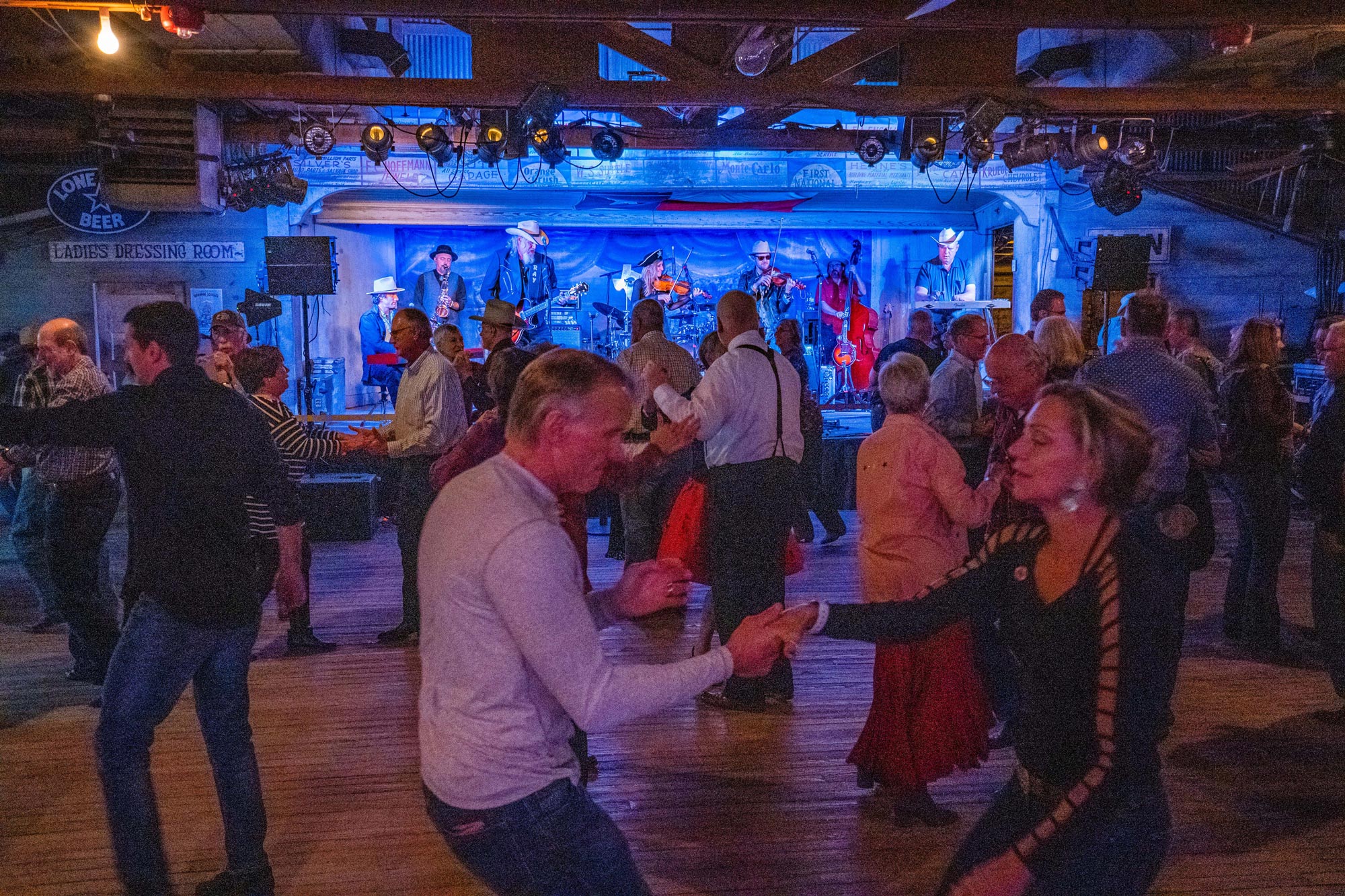 Chances are you've spotted an old dance hall while cruising the backroads of Texas. At first glance, the large weathered structures of corrugated metal and sun-bleached wood may appear abandoned. Even their names—Tin Hall Wallis, Martinez Lodge, Farmer's Daughter—are reminders of another era. But for music lovers who spend their weekends swinging in pearl snaps and ruffled dresses, historic Texas dance halls are cathedrals of culture, enchanted refuges from weekday demands.
The next Texas Dance Hall Tour will be June 13-16 in Dallas and Fort Worth with shows by Asleep at the Wheel at Sons of Hermann Hall and Longhorn Ballroom in Dallas; Hot Club of Cowtown at the Historic National Hall in Fort Worth; and Jason Roberts Band at Stagecoach Ballroom in Fort Worth.

Packages including hotel and transportation to the dances range from $1,200 for individuals to $2,500 for couples. In some cases, single dance tickets are also available for $30.

512-444-9885 ext. 702
www.texasdancehalltour.com
If you've never danced in a historic hall, across polished concrete floors and under strings of twinkling lights, you should revisit your bucket list. And if you need a little guidance, Texas Dance Hall Preservation, Inc. is here to help. Since March 2017, the Austin-based nonprofit has collaborated with Western Swing torch-bearer Ray Benson, bandleader of Asleep at the Wheel, to organize Texas Dance Hall Tours that highlight lesser-known venues in different parts of the state.
"I came to Texas in 1973, and back then there were a lot more dance halls around," Benson says. "These halls show the effort and determination of immigrant populations to create community and socialize. Where boy meets girl, and where graduations, weddings, and birthdays were held. Dance halls are the history of the settlement of Texas."
From the late 1800s to the early 1900s, as many as 1,000 dance halls sprang up across the state. Today, fewer than 400 remain, and shifting demographics and urban development have made the structures vulnerable. In 2007, a small group of music and preservation enthusiasts got together to create the Texas Dance Hall Preservation to save the remaining dance halls and highlight the music and culture they foster. The tours are a big part of their efforts.
"The rural halls that remain the community centers in so many places hold rich history and natural beauty, as well as great people who keep them going against all odds," says Deborah Fleming, executive director of Texas Dance Hall Preservation. "The tour brings newcomers inside those walls to experience music, dance, food, and fellowship that is contagious."
Mary Lynn and John Faulk, avid dancers from Houston, have attended three dance hall tours, initially drawn to the idea of dancing four nights in a row to different live bands.
"By the end of the first tour, we had fallen in love with these old buildings that had played such an important part in the cultural development of Texas," Mary Lynn says. "When we saw how so many of them are disappearing from neglect, we wanted to be a part of preserving them and their history for future generations. So, we keep coming back."
Organized over four-day weekends, Texas Dance Hall Tours showcase the halls as they're meant to be experienced—with music and dancing­. Last autumn, a Hill Country romp included dance lessons at Gruene Hall in New Braunfels; honky-tonk troubadour Dale Watson and duo Brennen Leigh and Noel McKay performing at Twin Sisters Dance Hall in Blanco; and a show by Asleep at the Wheel at Albert Ice House in Stonewall.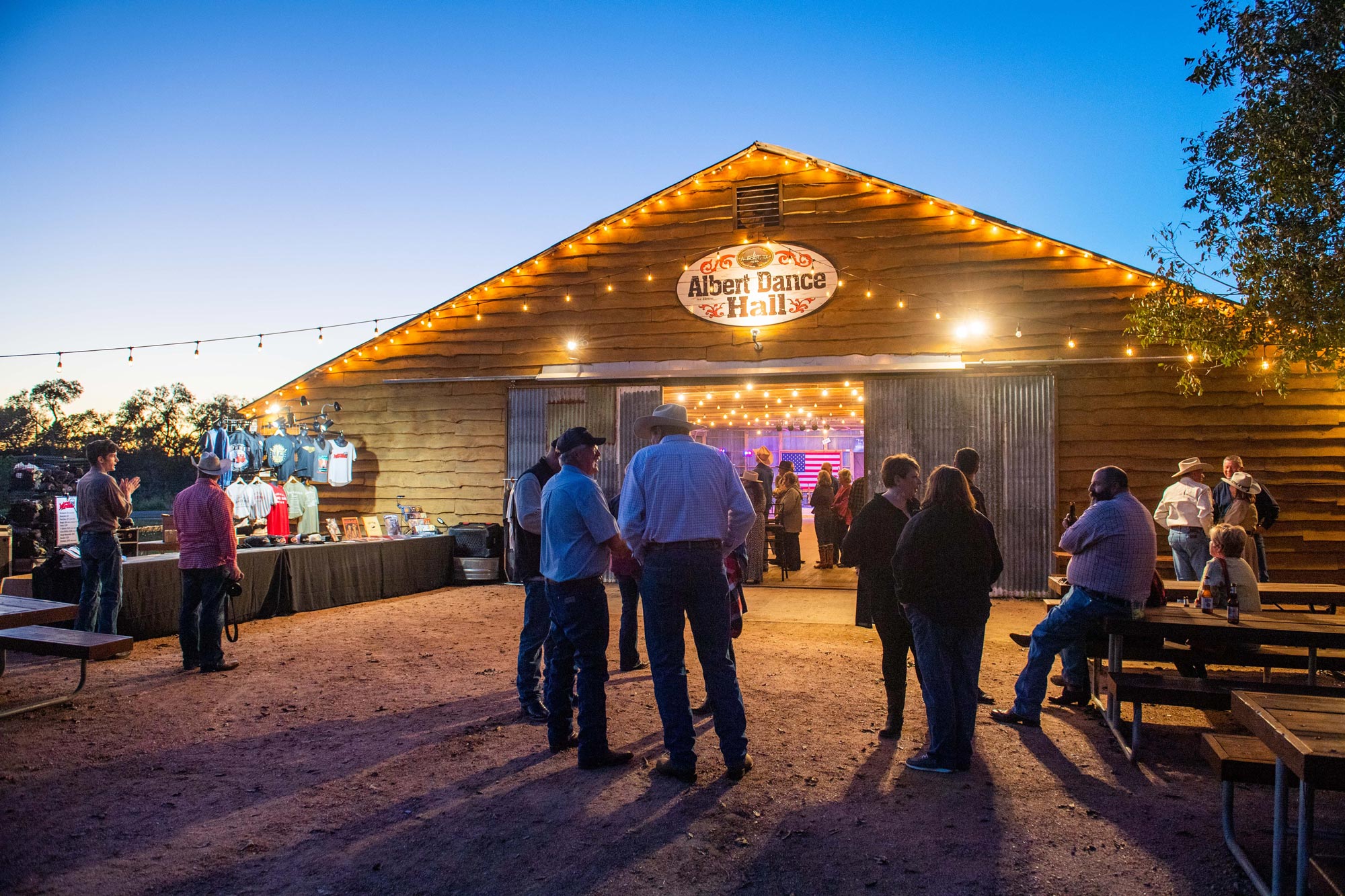 Bernadine Visalli, a New Jersey resident, traveled on her own to attend the Hill Country tour motivated by her love for Western Swing music. She says her favorite discovery was the Twin Sisters Dance Hall in Blanco, an 1879 structure that houses an active lineup of dances from its home on US 281.
"I just love how it sits up on the hill, and I can only imagine people traveling by horseback or wagon to attend social events back in the 1800s," she says. "You can just feel the history, and the dance floor is just great.
"I have found that the mutual love of Western Swing and dancing makes it impossible to not have a good time," she adds "Dance partners are not hard to find if you understand Texas rules: If you want to dance, don't sit in your chair, get up and mingle!"
This June, a Dallas-Fort Worth tour will feature Asleep at the Wheel shows at Sons of Hermann Hall and Longhorn Ballroom in Dallas; Hot Club of Cowtown at the Historic National Hall in Fort Worth; and Jason Roberts Band at Stagecoach Ballroom in Fort Worth.
Benson and Fleming first discussed the idea of a dance hall tour in 2013, when Texas Dance Hall Preservation booked Asleep at the Wheel for two fundraising dances at Anhalt Germania Farmer Verein in Spring Branch, a Hill Country hamlet near New Braunfels. Then in 2015, "Ray approached me about working together to put together a 'land cruise,' taking his band and others out to various dance halls," Fleming remembers. "Those conversations evolved into what is now the Texas Dance Hall Tour."
Along with the performances, tour tickets can include three- or four-day accommodations at a strategically located hotel and shuttle transportation to and from the halls. Attendees say the bus rides are a big part of the bonding. "The ride out is reserved, everyone is all pressed and looking good," Visalli says. "The ride back is usually rowdy, and everyone looks like they have danced hard."
"VIP" packages offer reserved seating and daytime activities, like private tours of local museums or wineries, that ground participants in a regional sense of place; and access to exclusive experiences, such as early welcome dances or meet-and-greet events that allow fans to, say, sip locally made whiskey and chat with Benson and other headliners (as they did in Hye last fall).
Attendees have come from 24 states, and from far away as Australia and Nova Scotia for the tours, Fleming says. And beginners needn't worry: Dancing skills are not required. All tours kick off with lessons geared to beginners and teach the basics of the Texas dance floor: the two-step, swing dancing, and two circle dances—Cotton-eyed Joe and the Schottische.
"Along the way, we have been introduced to new bands and to new friends, from California to Illinois and up and down the East Coast. And, of course, from all over Texas," Mary Lynn Faulk says.
Benson, who joined the Texas Dance Hall Preservation board in 2018, has likened Texas dance halls to the "the Carnegie Hall of Western Swing and Texas music." As a high-profile musician, he's brought greater recognition to Texas Dance Hall Preservation among both his fans and important sponsors.
Years ago, Benson says, dance halls like John T. Floore's Country Store in Helotes—opened among the oak trees west of San Antonio in 1942—hosted legends like Willie Nelson, and the halls continue to be developing grounds for younger musicians and bands to this day. "When you go out and experience them and learn to dance in the process, it's a lot of fun," Benson says. "And you're preserving a part of Texas history."
Dance Hall Preservation
Imagine arriving at an old metal-sided barn on the outskirts of town to find the sounds of polka, conjunto, or Western Swing pulsing across the quiet prairie. It's an experience that Texans have relished since the mid-19th century, when fledgling settlements of European immigrants built dance halls to serve wide-ranging community functions.
While the forces of time and modernity have destroyed or displaced many halls, Texans can still get a taste of that timeless culture at surviving halls. The goal of Texas Dance Hall Preservation, Inc. is to preserve both the halls and the music and culture they foster for generations to come.
"The Texas Dance Hall is the ark of all that's beautiful about Texas culture," says musician Noel McKay, a regular dance hall performer. "It's a place where all the many subcultures, including German, Celtic, and Mexican, meet in harmony, and where its native music, dress, dance, language, and cuisine are unselfconsciously and proudly displayed."
Along with Dance Hall Tours, Texas Dance Hall Preservation assists halls with grant writing and applications to the National Register of Historic Places. It also keeps an inventory of traditional halls, including those that have been lost, and publishes a quarterly newsletter. Find out more at texasdancehall.org.