From the outside looking in, the Texas dance hall appears to be a pretty basic proposition: live music in a big building with a stage at one end and a dance floor in the middle. It's the other, smaller details that separate the classic dance halls from the rest.
Like a scenic road trip getting there. The right kind of Texas grub on-site to work up an appetite for foot-stompin' and boot-scootin.' A place to crash if you've had too much fun. And an engaging, hands-on proprietor to make sure everything runs like it's supposed to.
The Old Coupland Inn and Dance Hall checks all those boxes.
The landscape on the 30-mile drive northeast from Austin transitions from suburban sprawl to gently rolling fields of corn and cotton once you've passed the towns of Elgin and Taylor. By the time you've rolled into the tiny, not-so-easy-to-find town of Coupland, you feel you've gone back in a time machine. The sunbaked red-brick façade on Hoxie Street underscores the impression. This is one of those places that seems like it's been around forever.
Well, Old Coupland Inn and Dance Hall has been around practically forever, only in different iterations. How it got to where it is at this particular moment on this particular Saturday night—with Kevin Russell, the big-boned leader of the band Shinyribs, impeccably attired in a pink suit and two-tone wingtips, leading a long conga line of mostly middle-aged fans weaving through the dance hall while the waitresses collectively catch their breath at the back of the room after another very busy night at the restaurant next door—takes explaining.
As does the dance floor filling with line dancers during a band break, enthusiastically performing choreographed steps to the sounds of the Steve Earle chestnut "Copperhead Road;" special "Teen Night" dances; and a church group of 60 who meet at the restaurant every once in a while.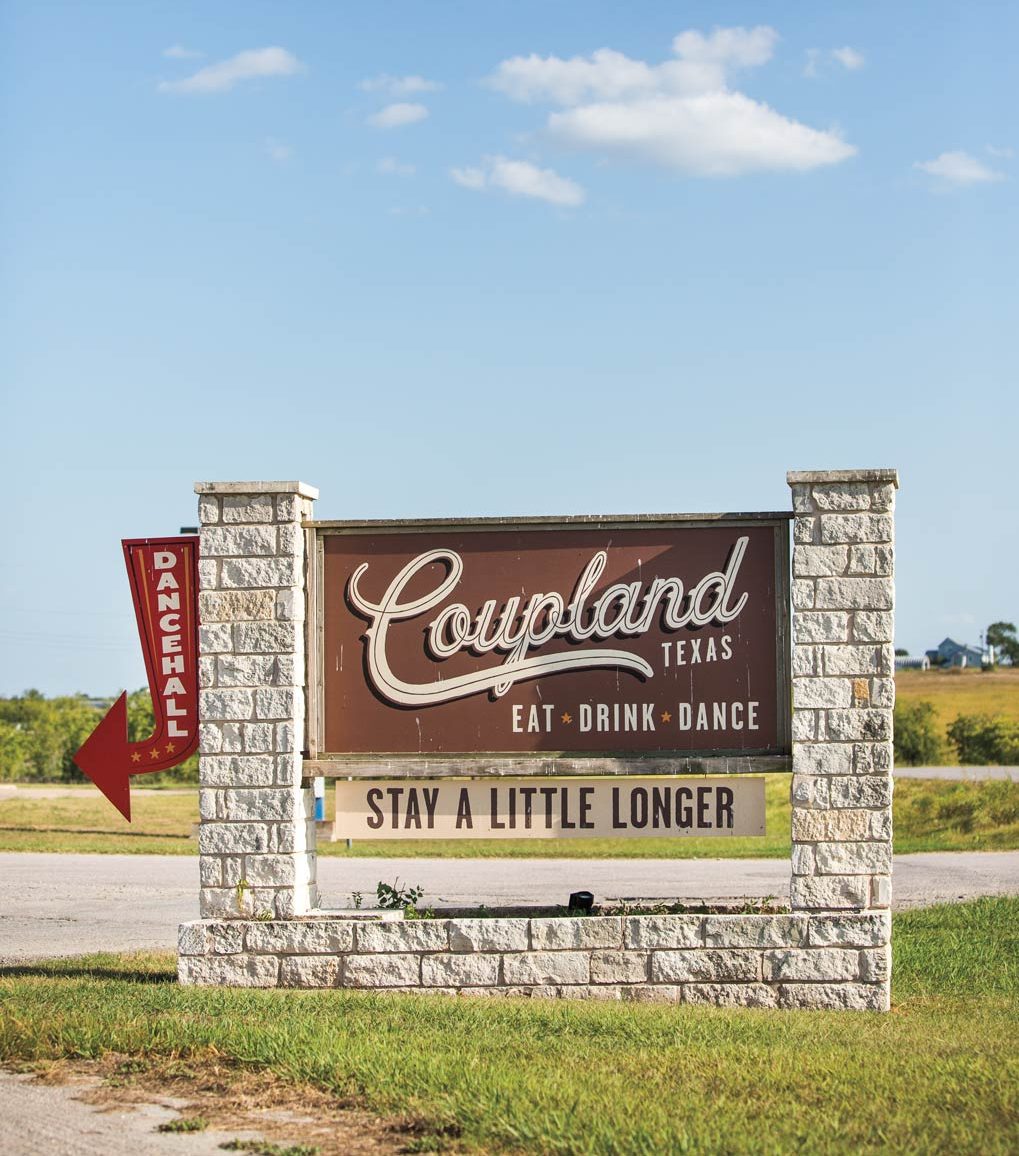 "Community center—that's the definition of a Texas dance hall," says Abbey Road, the spunky proprietor of Old Coupland, which just like the 19th-century dance halls once scattered across this part of Central Texas and the rest of the state, functions as a local gathering place, being all things to all people including teens and church groups. "That's why dance halls were originally built," she says. Road, who goes by a professional alias, would know. She sits on the advisory board of Texas Dance Hall Preservation, the historic advocacy and preservation group, one of many notches on her belt that predated her purchase of the Old Coupland Inn and Dance Hall in 2017.
The two-story, half-block building that houses the dance hall dates to 1904, meaning it may not be as old as the dance halls in Gruene or Luckenbach, but it looks and feels old enough. The space was occupied by a mercantile, a doctor's office, a pharmacy, and a saloon before it became a dance hall in 1990, meaning Old Coupland is new enough for all the modern fixtures to operate as intended.
"It's air-conditioned, has electricity, and the bathrooms work," Road says proudly. Basic amenities, perhaps, but the dirty little secret of historic Texas dance halls, she'll tell you, is that even if some are well-preserved, the infrastructure is rarely upgraded, meaning not enough power for AC or modern bands, and not enough water pressure to handle multiple flushes in the restrooms.
It's been a long and winding road to becoming the Queen of Old Coupland for Road, who books the dance hall, smokes the barbecue, and runs the restaurant and the seven-room 1890s red velvet-walled, brothel-style bed and breakfast upstairs. Each previous stop prepared her for classic Texas dance hall ownership.
Music entered her life in the Lake Conroe area, where she and her husband ran an auto restoration shop from 1991 to 2006 and where she acquired her industry name. Roots rock band Reckless Kelly, "these 18-year-old boys who'd moved to Texas," needed service on their van, she says, and she ended up booking a couple of Houston-area gigs to help out Reckless Kelly's brother band, Micky and the Motorcars in 2002.
In 2007, she took the leap to Luckenbach, managing the ghost-town tourist destination made famous by the 1977 song by Waylon Jennings with Willie Nelson. "'Everybody's Somebody in Luckenbach'—you drink the Kool-Aid when you're there," she says of the Hill Country hamlet 10 miles southeast of Fredericksburg. "You see it on the backs of T-shirts every day. You eat, drink, and sleep that slogan. When you have people from all over the world coming to see your space, you definitely have to understand what that means. That's a life philosophy that applies to everything you do, not just dance halls."
Stints on the air at the Sun Radio station in Dripping Springs and KOKE-FM in Austin burnished her communication skills and expanded her Texas music knowledge. Working at Threadgill's in Austin, she got a close-up look at a genuine Texas cooking institution and booked a wider variety of music than she did in Luckenbach. A turn at Hill Country Barbecue Market in New York City reminded her why she loves Texas so much.
"Coupland affords me the life I want to live," she says of her latest love, pointing out her commute to work is 24 steps from the apartment upstairs. But running a dance hall, restaurant, and B&B is hard work. "The restaurant kicks my butt," she admits. "I could not do this seven days a week."
Former Threadgill's executive chef Jacob Martinez has taken over grilling duties at the restaurant, which like the dance hall is open on weekends only. Road mans the barbecue pit, slow-smoking brisket, ribs, and pulled pork with mesquite wood, which is no easy task. "I have Southside Market in Elgin 8 miles south," she says. "Louie Mueller's in Taylor is 8 miles north. Snow's is 30 miles east. It's incredibly important that if we're going to have barbecue, that it can hold up."
The dance hall holds up just as well. Russell has been playing Old Coupland since the early aughts—first with the roots-rock band The Gourds, and lately with his own eclectic roots and funk band Shinyribs—and appreciates how it functions. "When we see so many iconic places become history in the rubble of progress, or a parody of their former selves, it comforts me that Coupland is maintaining its place in the lives of the locals while reaching out to the murky, weird waters of Texas music," he says, acknowledging Road's willingness to book outside the box and bring in bands like Shinyribs.
"It truly is an authentic Texas dance hall. It's supported by a culture around it that still uses it as a social gathering place to enjoy spirit and song and dance with their neighbors," Russell says. "So it's a unique experience for me as a performer to try and mix my fans from around Central Texas, who are there for a Shiny show, with the locals who really just want a good shuffle so they can get some sweet something out on the dance floor. It's a palpable tension at first. The fun for me is winning them over to the Shiny side. That being said, I will learn a few more shuffles for next time."
Along with big Texas dance hall names such as Randy Rogers, Pat Green, and Kevin Fowler, and country dance bands, Old Coupland showcases songwriters and original music like Shinyribs, Bob Schneider, and Bruce Robison and Kelly Willis, along with legacy artists such as Billy Joe Shaver.
Community, Road believes, is what separates Old Coupland from other dance halls. "This is still very much a rural farming community, unlike Fredericksburg, where the families have sold off everything in the name of the dollar; the peach orchards are [largely] gone, and everyone's going crazy with wine," she says. "Over here, these farmers are still actively involved with corn, wheat, and cotton, and they intend to keep that lifestyle."
Just like Road intends to keep Old Coupland functioning like the classic Texas dance hall it is.
Dinner and Dancing
The Old Coupland Inn and Dance Hall opens Fri-Sat for dinner 5:30 p.m.-10 p.m.
Live music begins at 9 p.m. (Dance hall doors open 7 p.m.)
Bed-and-breakfast rooms start at $135.
From the January 2019 issue