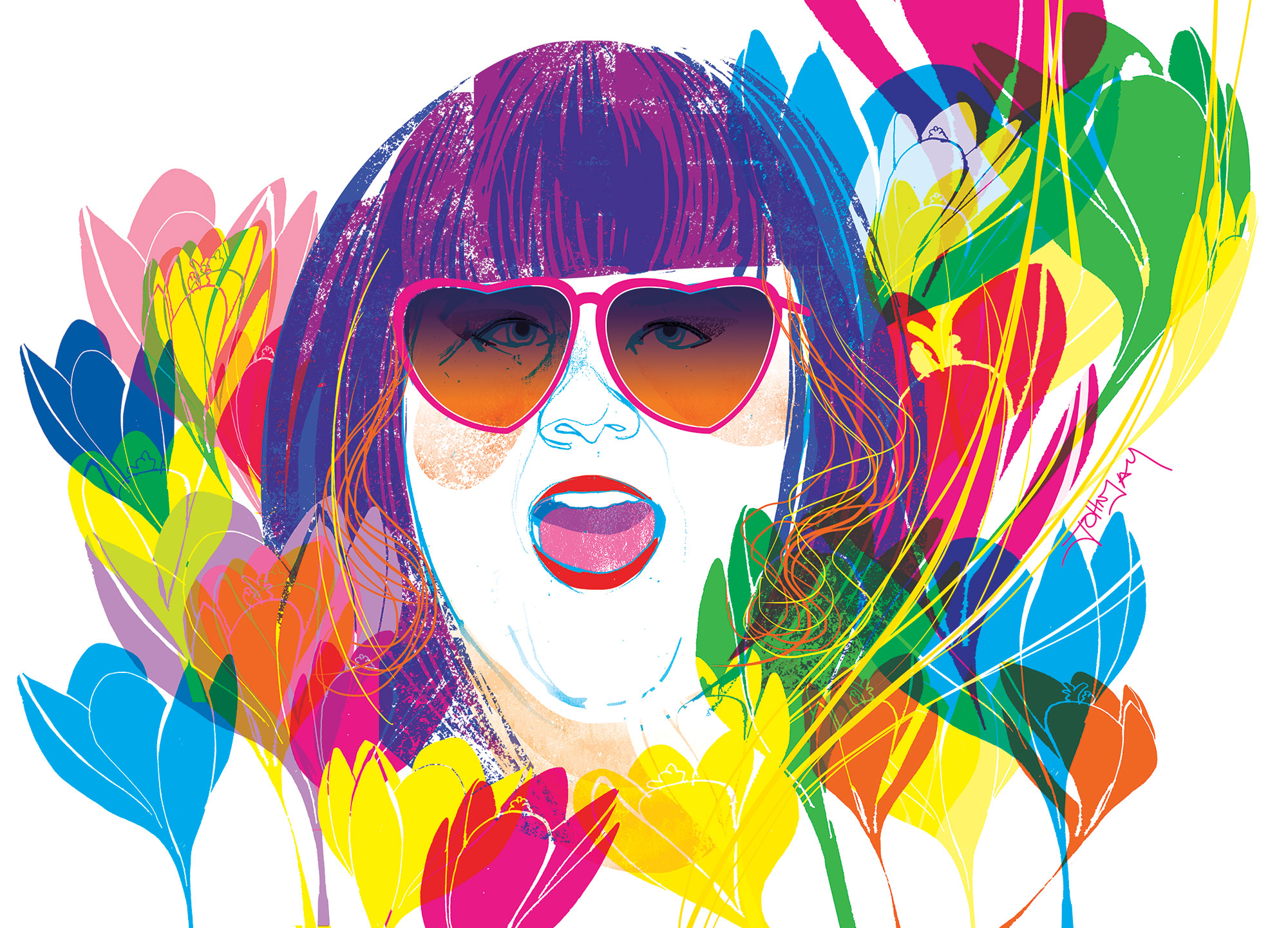 Julie Murphy was on the law school track when a little book named Twilight came out during her senior year at Texas Wesleyan University. The young adult vampire novel reignited a love of reading in Murphy that she hadn't felt in years. It also gave her the writing bug. "It was the first book that made me feel like maybe writing isn't so far out of reach," Murphy says, sitting at the kitchen table of her home just east of Fort Worth. "Maybe if this woman can write this admittedly ridiculous book about a sparkling vampire, maybe I can write one book that one person will read at least once."
"I think that's what I was so excited about writing—people in unexpected places in Texas living really full lives."
College-age Murphy would be pleased to find out that her second young adult novel, Dumplin', which came out in 2015, would become a No. 1 New York Times bestseller. The film version of Dumplin' debuted on Netflix in December and stars Jennifer Aniston, who produced the film. It also features a Golden Globe-nominated soundtrack by Dolly Parton, who is a heroine to main character Willowdean, a plus-size teen girl who enters a beauty pageant in her fictional Texas town of Clover City. The themes of friendship, young love, and being yourself tug at readers' heartstrings, while the stories of underrepresented identities break barriers.
"When I first wrote Dumplin', my biggest goal was to have a main character who looked like me as a teenager," Murphy says. "But now my more universal goal is to create more media like it."
Murphy, who was born in Connecticut and moved to San Antonio at age 7, weaves inspiration from Texas' people, landscapes, and culture into her work. Her travels for signings, festivals, and set visits have given her a greater appreciation for the Lone Star State. "I feel a sigh of contentment anytime my feet touch the ground again in Texas," she says.
Murphy's new book for middle-school age readers hits bookstores Oct. 1.
Set in a fictionalized version of the West Texas town of Valentine, Dear Sweet Pea is about a young girl who intercepts letters for her town's advice column and answers them while dealing with her parents' divorce. Keep up with Murphy news at juliemurphywrites.com
Q: Do you categorize your work as young adult? Do you embrace that title?
A: I totally, completely embrace it. That said, it's sometimes frustrating, because so many of my readers are adults. So many of them have this little bit of shame, like, "I'm getting that book signed for my niece." And then some are unashamed and totally into it. There's something about books written for women or specifically with children and teens in mind that people just don't respect them on the same level. I think that the biggest, most effective changes are made by women and young people, and so anything that people in power can do to quiet them or make them feel stupid about the things they like, they'll do. Because that limits their voice and power.
Q: What town inspired Clover City, the setting of Dumplin'?
A: In my head, Clover City is sort of like Odessa/Midland's younger sibling. If you can imagine the space between like Odessa and Marfa, it exists in that kind of place. A place you've got to know where you're going in order to find it.
Q: How does Texas culture factor into the book?
A: I love the way that Texas always finds a way to surprise me. There's a drag show in the book, and some of the characters are queer. As a teenager, I didn't think that those people existed in Texas. What I've learned as an adult is, for better or worse, if Texas is about one thing, it's independence. All different kinds of people are in all parts of Texas, not just in the big cities, and they're out there making the best of their lives. I think that's what I was so excited about writing—people in unexpected places in Texas living really full lives.
Q: Where do you like to travel in Texas?
A: [My husband and I] do the Marfa to Van Horn route a lot. The drive up to McDonald Observatory is incredible. The wind burn that you feel when you're at the observatory is incredible. We really love when we go down to Galveston. We do the drive along the Bluewater Highway [County Road 257] to Freeport. One thing we've always wanted to do but haven't gotten a chance to do yet is the Sweetwater Rattlesnake Roundup because we always stop in Sweetwater for the wind turbines.
Q: What's it like to have your book be developed into a movie for Netflix and reach a whole new audience that comes with that? 
A: It's really bizarre the amount of visibility you get after something like that happens, but it's also really cool. In publishing, after two to three years, a book starts to fizzle out. After six months, it's normally not even carried in stores anymore. It's really cool to see this book, and the companion, Puddin', go through this regeneration. The appeal that comes with this movie is so, so broad—Dolly Parton fans, Jennifer Aniston fans, [RuPaul's] Drag Race fans, people who like young adult literature, and just casual Netflix viewers with no horse in the game. None of us can quite believe how wide the reach has been just because there are so many different access points.
Q: What was it like to have Dolly Parton, who plays a significant yet unseen role in the book, write and perform the movie soundtrack?
A: The movie rights for the book had sold just a few months before the book actually came out. We knew that we had to get Dolly Parton on board. We finally got in touch with her manager, and he approached Dolly with this project. She was like, "Oh, this book? Someone gave this to me at a concert," or something like that. She had a copy of it, and she was like, "It's real cute, I read it." When they told me this, I was actually driving and had to pull over and put my head between my legs. She agreed to write a song for us—that's all we thought we were getting. We all show up to [record producer] Linda Perry's studio, and Dolly's not only written a song, she's written six or seven songs, and she has all these different duets. I think that's been the most mind-blowing thing ever. I wrote this book and was inspired by Dolly Parton. And then a few years later, Dolly Parton has written this music inspired by this original work that I wrote. I don't know if anything that cool will ever happen in my entire life ever again.
Q: What do you hope people take away from your books?
A: I hope people walk away with this sense of contentment with themselves. None of us are perfect; we are constantly works in progress. Even when you get to the end of the book, it's not the end, it's never the end. We can always improve, we can always become better versions of ourselves, but at the same time, who you are and what you have is all you have to work with in this moment. And you have to do the best you can with what you've got.
From the April 2019 issue