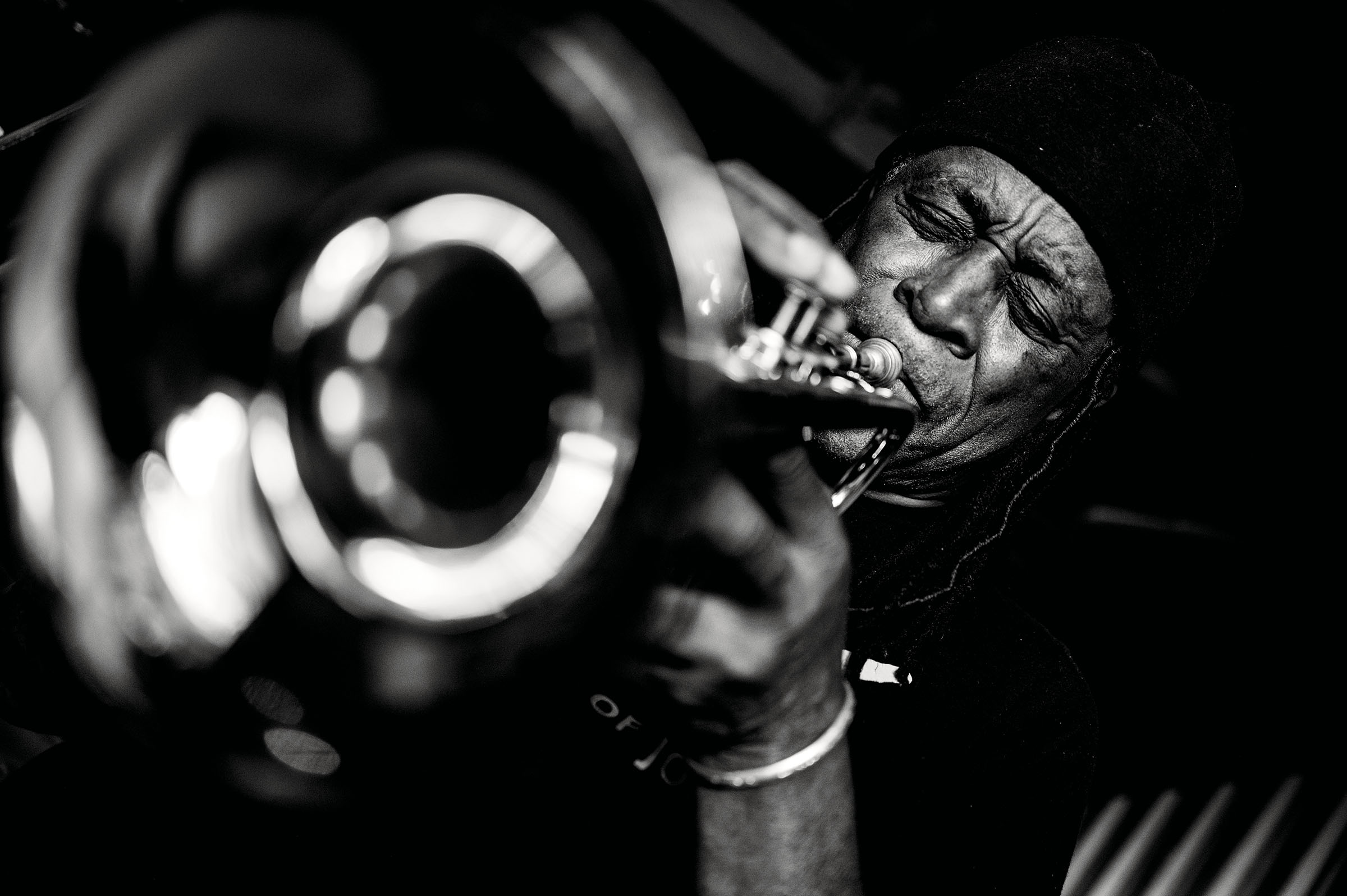 T
he 17 original families that made up the small community of Smithville moved 2 miles west to meet the Bastrop and Taylor Railway when it was built in 1887. As the railway grew and changed, so did the town, which peaked at a population of about 4,200 in the 1940s. These days, Smithville is perhaps best known as a popular filming location for movies, including
Hope Floats
starring Sandra Bullock,
The Tree of Life
with Brad Pitt, and
Bernie
featuring Jack Black. It's also the birthplace of world-renowned composer, jazz musician, and author Hannibal Lokumbe. Now living in Bastrop with his wife, Sumai, and their family, Lokumbe spent more than 30 years in New York City, performing with such jazz luminaries as Roy Haynes, Gil Evans, Rahsaan Roland Kirk, and Elvin Jones. His music studio is "right by the river" in Smithville. That's where he composed his latest opus, the fully staged opera
The Jonah People: A Legacy of Struggle and Triumph
, which had its world premiere in April with the Nashville Symphony. Born in Smithville in 1948, Lokumbe lived there until he was 6, when his family moved to Texas City. He says he has watched his hometown—which he calls his "mecca"—transform for the better. "There was a time the Ku Klux Klan had a float in the Fourth of July parade," he says. "You would never, ever see such a thing now. The city has been infused with remarkable artists from everywhere."
Deep Roots
"I'm fourth generation: my great grandfather, my grandmother, my mother, and myself. My great-grandfather escaped slavery on the Burgess Rice Plantation in Charleston and made his way here. For two years he worked clearing the path for the [now] Union Pacific Railroad, and with that money he bought 101 acres of land and raised 22 children [over two marriages]. He never worked again for anyone in his life, so, for me, this area is my mecca."
Beautiful Music
"The races were separated by the railroad track. On the south side of the tracks, there was an area called the West End Park. During segregation, that was where Etta James, Ray Charles, B.B. King, all the well-known artists of color played. This was two blocks from my house, so I would hear music all night on Fridays and Saturdays, and I thought at age 5 that there were aliens that would come down and make these strange sounds. One night, I decided to investigate. I slipped away from home, put a ladder up the wall of the building, looked in and saw T-Bone Walker playing electric guitar. So that was the Martian sound."
Eat Up
"My favorite place for food is the Olde World Bakery & Café, which satisfies my appetite for soup, salads, and sweets. Your Mom's restaurant has homemade Cajun food. It's all made right before your eyes, and it is extraordinary. Then there's Pockets Grille, which has the best fried catfish in Texas."
Art and Soul
"The Fat Cat Lounge is where you can hear great soul singers like Soul Man Sam. And there's a number of art galleries. One is called Meanwhile at Silky's, and Mosaic is just wonderful. We also have a very intimate playhouse, Smithville Playhouse."
Reading Refuge
"My favorite of all places is the Smithville Public Library. It is in the hands of one of the most magnificent human beings ever to live, Judy Bergeron. And for me it is especially divine because when I was a kid I wasn't allowed in that library. It has extra special meaning for me to go there and to know and love the people who are working there now."
Musical Tribute
"The Jonah People is my consummate expression of what it's like to be a man of color in the United States of America and in the world at large. The power of that work, I'm sure, will continue to give strength to a stolen people, stolen not only from their land but from their spirituality. That work is almost like the fulfillment of a promise made to everyone who has had to struggle to be recognized as a human being. For me, to have written it here in this town is extra special."
Town Trivia:
Population:
4,047
Number of Stoplights:
2
Year founded:
1827
Nearest City:
Austin, 45 miles northwest
Marquee Event:
Smithville Jamboree in April
Map it:

Smithville Public Library, 507 Main St.
From the October 2023 issue