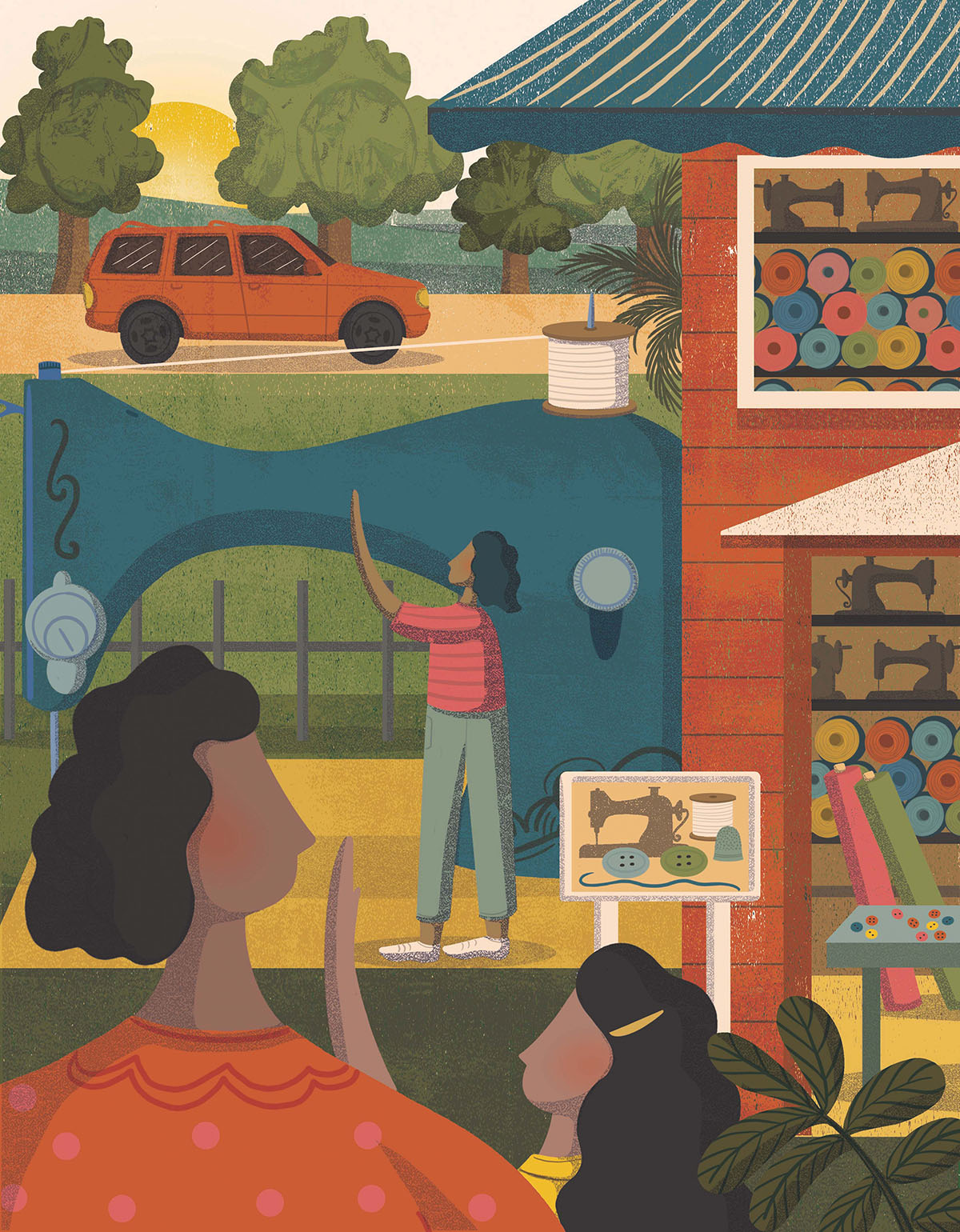 Where I Once Belonged
On rediscovering the Texas of my youth
by Natalia Sylvester
It took my family almost 24 hours to drive from Mission, Texas, to Miami, Florida, and 13 years for me to come back. It was the mid-'90s, and I was 12 and two days fresh off my first kiss, aching from saying goodbye to friends I thought I'd know forever. I spent the whole trip crying into a pillow in the back of my parents' '95 Ford Explorer, coming up for air only to write poetry about feeling as lonely as a lone star. We'd barely crossed state lines when I began plotting ways to return to Texas.
Thirteen years later and newly married, my husband, Eric, and I packed all our belongings into a Budget truck and made that same trip in reverse. Only it wasn't as simple as turning back a clock or retracing my prior steps. This is how I came to learn that home is a state found somewhere between the here and there, the then and now. It's not a place I've ever really returned to. It's one I keep discovering along the way.
I can't remember a time when I didn't define my life through movement and migration. My family came to the United States for the same reasons many do: a better future and to chase a promised dream. My father, a pediatric nephrologist in Peru, found his experience no longer counted in the U.S. His journey to learn English, pass all the necessary exams, gain acceptance to a pediatric residency program and later earn a fellowship became my mom's, older sister's, and my journey, too. By the time we were 9 and 11, we'd moved to and away from so many countries, houses, apartments, and cities that I titled my life's story—assigned to me as a fourth-grader in Central Florida—"My Journey from Peru to Costa Rica to Miami to Gainesville."
My family had only been in the States for five years when I wrote that. But we'd had the fortune of living only minutes away from my cousins, aunts and uncles, and grandparents while in Miami, our first stop in Florida. When we moved north to Gainesville for my father's studies, our relatives were still only a six-hour drive away. Central Florida was supposed to be the last stop, with the plan of eventually reuniting with our family in Miami. So, when my parents announced that due to changes in my father's visa, we'd be moving to the Rio Grande Valley, my sister and I were perplexed. All I knew about Texas, I'd learned from snippets of Westerns and a book of poetry I'd bought at the Scholastic Book Fair. In it, a young girl brags about kids never having to do math and riding wild horses at sunset. Texas didn't just seem far away; it seemed mythical.
During our flight from Gainesville
to McAllen, I decided not to get too attached to our new home. But I couldn't help being struck by the vastness of possibilities when we arrived. There was land everywhere. Highways cut through open fields, and the house we rented sat in the middle of a wide, empty plot—the first home built in a development that would soon duplicate our model by the dozens. Palm trees as tall as buildings lined the roads, but their lush leaves stood in contrast to my school's dusty playground that left a layer of dirt caked on my cheek when the wind picked up during recess.
All I knew about Texas, I'd learned from snippets of Westerns and a book of poetry I'd bought at the Scholastic Book Fair. In it, a young girl brags about kids never having to do math and riding wild horses at sunset.
The Mexican border was not even 3 miles from our porch, though we couldn't cross it. Being immigrants whose papers were slowly making their way through the system, my mom, dad, sister, and I couldn't leave the country until our green cards were issued. It was an odd kind of waiting: We couldn't go, yet we didn't know if we'd be allowed to stay.
Within months of living in the RGV, my dad became fixated on two things: road trips and a new SUV. Perhaps it was because his 30-mile daily commute from Mission to Mercedes left him wanting to see more of the Valley, or because our 1989 Chevy Cavalier no longer seemed as adequate surrounded by pickup trucks. Fittingly, my parents purchased a brand new 1995 Ford Explorer—the biggest and most expensive car we'd ever owned, and my dad's pride and joy.
I fell in love with Texas in that truck, on the road to San Antonio, to Houston, to Austin, to the narrow two-way street off US 83 in Mission that meant we were minutes away from home. Money was always tight, so my family got to know the state traveling by road. We'd take day trips to South Padre Island, or we'd tag along with my father for his work trips to Texas' biggest cities, which always felt like an indulgence because my sister, mom, and I got to stay at whichever fancy hotel was hosting his conferences.
Each trip held its own promise of adventure. Our first time in Dallas, my mom saw a brochure for the world's largest sewing machine. She was an avid sewist who made most of our clothes and even our backpacks and Halloween costumes, so the idea of a giant machine was delightful to us. This was years before Google Maps or GPS. That day, while my dad was in seminars, we made our way through Dallas' labyrinth of highways with only a map my mom had drawn by hand to guide us. We stopped several times to ask for directions, and when we finally found the famous sewing machine, it exceeded all of our expectations.
Imagine a needle as thick as your arm. A base bigger than a car. A spool of thread the size of a barrel. All of it sitting proudly in the front yard of a three-bedroom house enclosed only by a wire fence. The house doubled as a museum devoted to all the sewing-related items you could imagine: thousands of buttons, thimbles, pincushions, and bolts of fabric. My mom ran her fingers over the sewing machines from the 1850s to 1960s and cooed at the miniature versions that fit in her hand. Everything inside was musty, and the lights were dim, like the yellowed pages of an old book. But what I remember most is the giddiness of that day, how it felt like we'd found a giant piece of us in a foreign place.
In San Antonio, we watched the Christmas parade while perched against the windows of the mall that overlooked the River Walk. The lights, mirrored by the water and the glass, engulfed us. We had ice cream and warm brownies across from the Alamo and walked through the city. It was so cold we could see our breath, but I was too captivated by the horse-drawn carriages and the rhythm of the horses' hoofs against the pavement to care.
In the summer, we discovered we could not get enough of South Padre Island. My parents had spent most of their youth on the beaches of Lima, Peru, and my sister's and my favorite childhood memories were of trips to Miami Beach with our cousins. We all longed for ocean and sand. The drive from Mission to SPI was 90 minutes each way, but that didn't deter us from going every weekend. After breakfast on Saturday or Sunday mornings, we'd load a cooler with sandwiches, chips, fruit, and soda; grab our towels and paddleboards; and be on our way. I could taste the salt in the air as we crossed the bridge from Port Isabel onto SPI with my parents blasting the Beatles' A Hard Day's Night album on the Explorer's cassette player. We'd pass the souvenir shop with the giant shark for an entrance, park along the beach, and stay until sunset.
It was the most alone, and most together, the four of us had ever been. Unlike in Florida, Texas wasn't at all close to our cousins, or aunts and uncles, or grandparents. Family get-togethers were no longer just a short drive or road trip away. We spent one Thanksgiving along the River Walk in San Antonio, at one of those hotel restaurants with a prix fixe menu, and then that New Year's at my father's co-worker's house in Brownsville, in the company of people I'd never met. Up until that point I'd always defined home as the places where my extended family lived. Home was my birth country of Peru, even though I couldn't remember it, because that's where my abuelitos lived. It was also my aunt and uncle's house in Miami, where I'd slept so many nights in my cousin's room, it was a second home.
Texas offered none of these comforts. Instead, it gave me an expanse of land, an open map to roam. I'd always been one who craved closeness to others, and now I had an abundance of isolation and space. No matter our destination, there was always a moment during our road trip where I'd stare out the window in awe of the burnt-orange sky ahead of us and the grass fields that met it far along the horizon. It felt vast enough to hold all my dreams, and I began to imagine a future ahead of me in this place that my parents had always said was temporary. I made best friends. I joined the volleyball team. I spent weekends traveling all over the Valley for away games and experienced the joy of making a Whataburger run on a school bus filled with my 12-year-old teammates. I got a pet fish at the newly opened PetSmart near La Plaza Mall. I went on my first date at our local movie theater and kissed a boy. I became a teenager who fell in love with a place.
My family left the Valley
the day before Thanksgiving break in 1996. For months, I'd avoided telling my friends I was moving, convinced this would somehow keep it from happening. But when the truth finally came out, it only made our shortened time together more painful. That day, my sister and I went to school knowing we wouldn't be coming back to our house again. All our things had been packed away for the movers, who were scheduled to come while we were in class. My parents' plan was to pick us up after school, and from there we'd drive the Explorer all the way back to Miami.
Some things I remember: Our PE teacher had our class watch Toy Story, but he let my best friend and me go for a walk outside the gym so we could spend one last hour together; the boy I liked was absent, so we never got to say goodbye; it was gray, rainy, and muddy, or maybe that is just the sadness talking. When we finally got in the car, it was dead silent except for the persistent buzz of my fish tank's oxygenator, which was hooked up to the car's lighter to keep my fish from dying on the 24-hour drive. My parents put the seats down and arranged the trunk like a bed, complete with pillows my sister and I cried into. Despite all the miles we'd spent on the road all over the state, they seemed to stretch longer than they'd ever stretched. It took us forever to leave Texas.
I can appreciate how hard it must've been for my parents to move us around as kids. My sister and I were 5 and 3 when we left Peru, and while we didn't remember much of it, my parents made every effort to remind us where we came from. Miami ended up being the place where my memories really started, and when we first left it for Gainesville, my parents promised we'd be back. That promise got delayed, but was not broken, when we moved to Mission. Miami was supposed to be where we'd spend the rest of our lives, and everywhere else was just a rest stop along the way.
We're going home, they reminded me and my sister as we approached my cousins' house. We passed the park where we used to play and turned into their driveway. We moved into a home on my cousins' street, only three houses down. I started seventh grade as the awkward new girl who said y'all and used RGV terms like "going around" instead of "going out" whenever dating entered the conversation. I got a fresh start in high school, but I often yearned to go back to Texas even though I no longer knew if anybody waited for me there. When it came time to apply to colleges, I entertained the thought of applying to UT, but I returned to Gainesville and went to the University of Florida instead. I lasted a semester before transferring to the University of Miami. Of course, Miami became home again. It is the only city whose streets I know by heart, whose dialect I hear on my tongue. It's the place that brought my husband and me together; we got engaged and married along its waters. It's the home I thought I would never leave again. And yet.
In 2010, my husband had a career change that landed us in Austin. Writing this, it's only now that I realize how much of my life has been about retracing my steps. Now that we were back in Texas, I was anxious to again experience it the way my parents and I used to. We drove to Dallas and, predictably, got lost on the highways in the midst of construction despite the help of two GPS systems on our phones. We spent our first New Year's in San Antonio, where Eric took one look at the Alamo and said, "It's smaller than I thought it'd be." We took many trips back to the Valley, and each time, so many things were different while so much remained the same.
Somehow, I'd never noticed how wildflowers blanketed the fields along US 281 in the spring. I hadn't known that the Falfurrias Border Patrol checkpoint was not, like I'd assumed as a child, the equivalent of a tollbooth along any other highway. When I revisited my house in Mission, I almost drove right past it because the trees had grown so tall they obscured it. And when my husband and I first went back to South Padre Island, the only thing that looked familiar was the store with the big shark entrance. SPI was smaller than in my memories, and despite being on the beach again, knowing I'd walked its shore before, I couldn't place my younger self there. It was as if the past version and the present version were two different towns. Or maybe my past version and present version reflect two different people.
I keep asking myself what I'm trying to understand about the concept of home. Maybe it's the simple question of: Do I have one? I'm an immigrant who's spent most of her life on the move when all I've ever wanted was to stay in one place and call it my own.
It's a tempting conclusion, but it's an oversimplification. There is no town in the world that disappears because we leave it, and there are some that stay with us long after we've left. I've found I keep revisiting these places the only way I know how, through words and stories. It's why I wrote a novel set in the Valley that became an exploration of the in-between places we inhabit and the forces—such as time, borders, and family—that shape it. A year before my book came out in 2018, my editor plucked out a line from one of the opening chapters and said, "This is what your story's really about." That line became the novel's title, Everyone Knows You Go Home.
People often tell me that the passage the title originated from brings the whole story into perspective. I keep wondering why that is. I keep asking myself what I'm trying to understand about the concept of home. Maybe it's the simple question of: Do I have one? I'm an immigrant who's spent most of her life moving across country, state, and city lines when all I've ever wanted was to stay in one place and call it my own. As a child I feared leaving places, but now I'm constantly returning to them, a perpetual journey that is just like leaving in reverse. Maybe I fear there's an expiration date on belonging somewhere. If I'm gone too long, can I still claim it? Can I say I'm from here if it's moved on without me? What happens when my old homes feel new to me?
On our second day in South Padre
, Eric and I went for a drive. It was the weekend after Labor Day, and it felt like we had the whole place to ourselves. Every restaurant, shop, or attraction we visited was nearly empty, and the beach stretched before us for miles with only clusters of seagulls to keep us company.
We took Padre Boulevard down to where it ends and becomes State Park Road 100. The rows of beachside condos and houses with boats docked in their driveways disappeared in our rearview mirror. Ahead of us, all we could see were sand dunes. They were so tall they blocked our view of the gulf, and the wind pushed so much sand onto the road it looked about ready to overtake it.
Eric rolled down the windows and drove until we reached a sign that said END OF ROAD. He parked and asked, "Do you remember this part?"
I shook my head. "This is new to me," I said, in disbelief that I'd missed it the first time around. In all of our trips to the island, my parents, my sister, and I had never gone this far. We'd come during the busy seasons, experienced the beaches bustling and crowded. But here was only sand and water, stretched far in every direction. There was no one in sight but me and Eric. It was the most alone, and most together, we'd ever been.