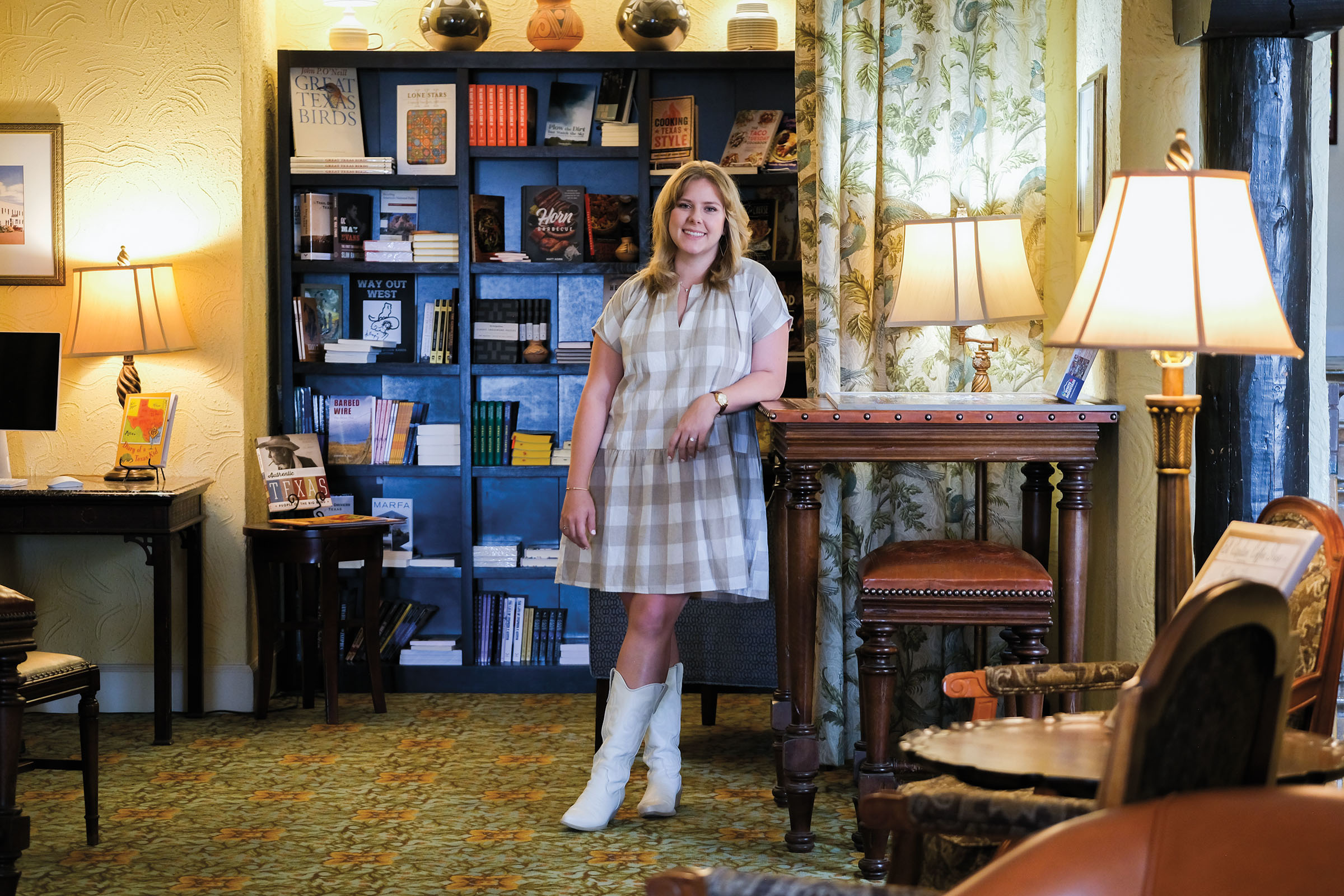 E
stablished in the late 1800s as a railroad town, Van Horn sits at the intersection of Interstate 10 and US 90, some 120 miles southeast of El Paso. While travelers venturing to this part of West Texas expect wide-open spaces, these days they might also catch a glimpse of unidentified objects flying toward space. In 2005, Amazon founder Jeff Bezos announced plans to establish Launch Site One of his Blue Origin aerospace company on Corn Ranch near Van Horn. Since then, the company has developed and tested rockets from the site, and it conducted its first crewed mission on July 20, 2021, sending Bezos and three others into suborbital space. "It really puts Van Horn in the spotlight," says Starvanna Cottrell, general manager of the Hotel El Capitan. A Van Horn native, Cottrell notes the company has brought additional visitors to town. Cottrell grew up around the hospitality industry, bussing and waiting tables at her parents' steakhouse, Van Horn Cattle Company. After earning her degree from New Mexico State University, she returned to Van Horn and in 2019 started managing the El Capitan, which takes its name from a peak in nearby Guadalupe Mountains National Park. Opened in 1930, the hotel was designed by renowned West Texas architect Henry Charles Trost. Located within day-trip distance of Marfa and Carlsbad Caverns, New Mexico, Van Horn is "a hub of West Texas," says Cottrell.
Family Ties
"My whole family lives in Van Horn. I had plans to move on, but the GM position was open here and my grandmother and everyone was like, 'You need to apply; you need to stay here.' I was like, 'No, if I'm going to stay here I'm not going to leave my parents' restaurant. I'm not going to go to the competitor.' My mom was actually the one who came and got the application and said, 'You're going to apply because we want you to move on and be successful in your own career.' So, I ended up applying, interviewed for the job, and three days later started working at the El Capitan."
Welcome Wagon
"The most exciting part of being in the hospitality industry is the people who come through the door. Our biggest group is people traveling on I-10, stopping for one night. It's people from Tucson or Mesa, Arizona, traveling to Dallas or Florida. People come here for work and end up staying here for a week or two weeks, and they end up becoming friends of ours."
Space Invaders
"Since Blue Origin has been here, business opportunities have been incredible. Anybody can move here, and if you have a mindset to go into business and work hard, there's something for you to do. Our employment rate is about 98%, so we have some high-class problems, needing people to fill jobs because there's such a demand for the workforce."
Final Frontier
"We do an annual weekend event called Frontier Days in June to celebrate the Van Horn establishment and the frontier of West Texas. Now it's kind of evolved­—Van Horn was the old frontier, and now we are moving into a new frontier."
Watering Hole
"Originally the hotel bar was in the basement, so since it was underground it was called the Gopher Hole Bar. Now the bar and restaurant are together, but the Gopher Hole Bar still has its name. I recommend the pomegranate or West Texas margarita."
Good Eats
"If you're coming for lunch, stop at Gilbert's Restaurant, which is your hole-in-the-wall Mexican restaurant. I always get the tacos al pastor. You can also walk into any bar in Van Horn and order a Krissy shot, named after a local icon. You'll get straight chilled vodka served with a sugared lemon wedge."
Easy Living
"Life is easier here. It's relaxed. I've been fortunate to be able to travel all over the country and some other countries too, but when you're here the bartender becomes your best friend and you can talk to the people next to you."
Town Trivia:
Population:
2,030
Number of Stoplights:
1
Year founded:
1881
Nearest City:
El Paso, 120 miles northwest
Marquee Event:
Frontier Days, an annual festival over a weekend each June
Map it:

Van Horn City Park, 200 Austin St.
From the September 2023 issue