Stories by
Fault
Lines
Six authors spin fictional tales of small town Texas
Edited by S. Kirk Walsh
Illustrations by James Weston Lewis
The smaller the stage, the bigger the drama. That's why for Texas Highways' first collection of fiction, we're exploring small town Texas and the characters connected to these lesser-known spots on our state's vast map. As guest editor, I teamed up with the editorial staff to commission six short stories from a diverse group of some of the state's finest literary writers: Elizabeth McCracken, Katie Gutierrez, Stephen Graham Jones, Kimberly King Parsons, Ben Fountain, and Fernando A. Flores.
Their stories animate the complex relationship to place: What happens when you stay, what happens when you leave, and what of the multitude of moments in between. The stories transport readers to different parts of the state, whether stretches of roaming tumbleweeds, the parking lot of a subdued strip mall, or a coastal one-light municipality. "Just empty, windblown charm. The same tiny town I remember," Kimberly King Parsons writes in "Whiskey Sour."
Monumental events occur within these compressed narratives—a tragic shooting, an overdue reunion of long-lost siblings, and a death within an extended family. In others, idiosyncratic exchanges crackle on the page, illuminating the emotional fragility of romantic, platonic, and familial relationships. What do we inherit? What do we never recover from? What can we learn from strangers?
One of the characters in "All Night, Early Morning," by Elizabeth McCracken, declares, "I can show you Texas." There is so much to discover in this state, and these stories offer a wide-eyed aperture into the generous heart, humor, and grief of this complicated place. They will show you Texas—and a lot more. —S.K.W.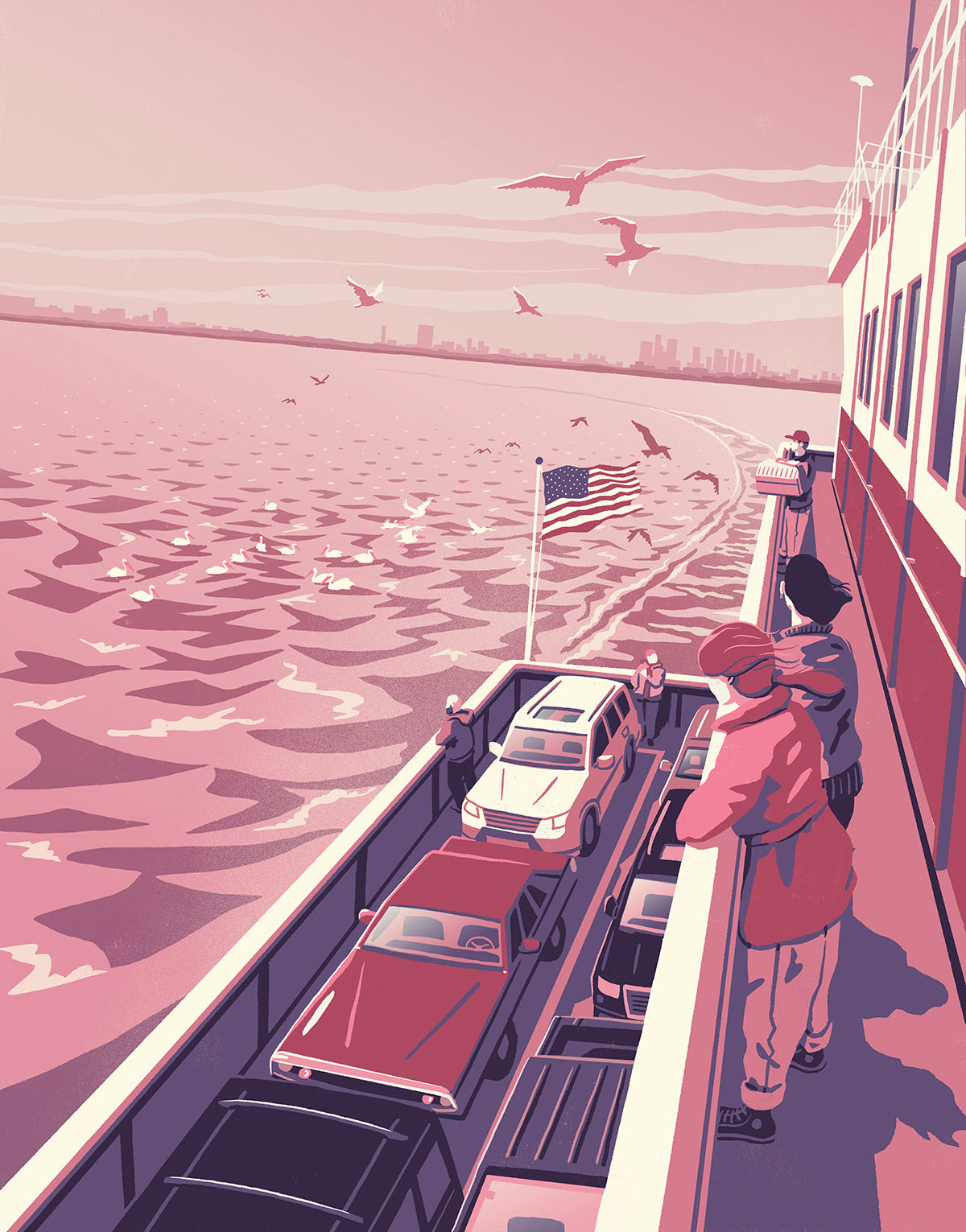 All Night, Early Morning
By Elizabeth McCracken
In the afternoon we went
to the bird sanctuary at High Island, which wasn't an island, just a little town with a church and a motel that we drove around till we finally found the entrance. Jenny liked birds. I was indifferent, but stubborn: If we looked for something we had to find it. Even once we parked the car and walked into the sanctuary, the place seemed birdless, till we turned the corner and there they were, dozens of them, a wall of roseate spoonbills in trees that reminded me of the wallpaper in my grandmother's dining room. A couple of alligators swam in the water below. "Horrible," said my friend Jenny. "I think they're darling," I told her. But really, I thought they were beautiful and terrifying in a way that made me feel alive. Jenny herself was a spoonbill, in a pink fake fur coat she'd bought the day before in a New Orleans thrift shop. I was surely one of those gators—big-eyed, voracious, the tagalong friend until I bit.
We were young then. We'd been driving since Boston in a Dodge Charger, which we were supposed to deliver to a couple who'd retired to Vallejo, California. Jenny had found their index card on a bulletin board outside the co-op. "I can show you Texas," said Jenny, a Houstonite. "Is it on the way?" I asked. "Inevitably," said Jenny. Since we'd crossed into the South, I'd found I wanted to wound her, not terribly, to draw blood but not much. We'd been friends for four years, since a painting class sophomore year in college, and I was just concluding that every quirk of Jenny's personality, which had once seemed glamorous, revealed the dangerous intersection of her grandiosity and her lack of self-esteem. Everyone in the world was thus, I'd lately concluded: certain of their primacy, certain they belonged on the trash heap. Exhausting. Jenny had recently dyed her brown hair an Eastern European maroon. It matched the flush in her cheeks, clashed with that pink coat. Later my husband said, "You were in love with her, Myra." And I would be furious—not that he'd understood me so well, but that he didn't know me well enough not to say so aloud.
The Dodge smelled like coffee and Funyuns. Every day of the trip we came close to ending our friendship; every day, without discussion, we acknowledged that we couldn't, not till we got home. Still, I thought I might leave her in Houston and head to California alone, or have her drop me off so I could fly back to Boston. We'd been on the road for two weeks—we were already late with the car—and Jenny had spent her money. I was supporting her. This was not unusual in our friendship and had never been a point of contention. Ordinarily, I loved it, how much Jenny liked to be taken care of, how easy it was for me to do, to make myself small and useful. I wasn't good at affection, but I was excellent at picking up checks; I had a part-time job in a hardware store and spent my whole paycheck every week. She was always grateful. But we'd planned this trip terribly, had borrowed a tent from her older brother though we had no experience with tents or camping, had torn our atlas, had drunk too much and eaten too little, and it had become clear: She was a princess, and I was her pea. In Galveston—which was an island—she had a cousin we could stay with, in a house with hot water and actual beds.
"How much is this ferry we're taking?" I asked.
"Free," she said.
"When does it leave?"
"Whenever. It just keeps going," she said. "Twenty-four hours a day."
This seemed like just the kind of lie Jenny would tell, but it turned out to be true.
Under normal circumstances—even still—I cannot bear having other people tell me what to do. (So why was I traveling with Jenny?) Men are worse. The very worst are men in seaside towns who, in my experience, appear whenever I'm trying to park. It happens the world over. They stand around my car, right where I can hit them, and move their hands as though to say, Maybe try using your steering wheel?
But on this ferry the men giving hand signals were experts, had nothing to prove, and gently indicated the direction I should drive. Approach, approach, approach: Stop. It was a pleasure to obey them. It made me feel as though I was part of the whole enterprise of transportation.
"Let's get out," said Jenny when the Dodge was parked.
"How long is the crossing?"
"Not sure. Maybe there's a bar," she said. "A snack bar." We'd taken the ferry from Hyannis to Nantucket one summer, left early and arrived drunk.
But it wasn't that kind of ferry. It was pure transportation: benches, safety equipment, wind, run by the Texas Department of Transportation. We went up to the deck, where a young man in a jean jacket with a shearling collar stood smoking a cigarette. He had a handled case in his hand. He held it up to the railing.
"That man has a cat," said Jenny.
"What?"
"A cat. Look. That's a cat carrier. Is he going to—"
"What," I said.
"Throw the cat in."
"No," I said, uncertainly.
"Ask him."
It was inconceivable, but then so was taking a cat on a ferry.
"Excuse me," Jenny said to the man, and then she pushed me forward.
The man glanced at us with a look of sorrow. In Boston I would have known who he was—the jean jacket, the smoking, the corduroy, the polished work boots—but the wind rearranged his hair and Texas obscured his identity. The boat was moving, but he couldn't get away from us.
"Cat," he said.
"Yes," I said.
"Thought he might like to look at the pelicans."
Even a few days before, a man taking his cat on a ferry so they might look at pelicans together would have belonged to both of us, a fortune we found in the road and would divvy up. Lately Jenny had taken to writing everything down in a palm-sized spiral notebook she'd bought in a grocery store, also in New Orleans, only the day before. She got it out from her pocket now. We were getting further from one shore and closer to the other, and Jenny's fake fur coat shook like a cherry tree full of blossoms, like a fluttering roseate spoonbill. I looked out into the water, and I saw the pelicans, and then, in the water, a bulge of gray, then another—
"Dolphin," said the man to me, or to his cat. Jenny hadn't seen it. All mine.
Return to your cars, came the announcement over the intercom.
In Galveston she was newly confident, having been here as a child. After weeks of geographic uncertainty, it was astonishing to know where we were going. She directed me to the Seawall; we drove past a pier with a hotel six stories high featuring soaring bas-reliefs of topless mermaids. The houses were old, some enormous and some small, raised up like ladies on a beach holding up their skirts.
"I love this place," said Jenny.
"Me, too," I said. It was junky and lovely and reminded me of home—the dirty beaches of Revere, the beat-up tourist shops of Hampton Beach. It was unlike New Orleans, which had felt like a dream of too many people, the bird sanctuary a nightmare of no people at all. "Where's your cousin's?"
Her cousin's house was on stilts, too. I hadn't minded the stilts when they didn't belong to the house I intended to sleep in. I felt like a Victorian, shocked at a lady's visible ankle. Would it hold up?
"Is this it?" I said, pulling up to the curb. The louver shutters that came down to the hem of the house gave it a forbidding look.
"Yes," she said. "It doesn't look like anyone's home." Then: "You go."
"Your cousin."
"Yes," she said. "But I'm just remembering what he's like."
"He?" I said.
"His name is Milton," she said, though I couldn't tell whether she was correcting me or explaining what he was like: a man, a Milton.
It was evening, getting dark. I was so tired the engine of my brain was shutting down. All day I'd been picturing a pillow, a bed. The night before, in New Orleans, we'd stayed up all night, nursing drinks in the bars and waiting for daylight, and then we'd slept a few hours in the car. Now I wondered if we could just ride the ferry back and forth all night. Leave the car and go on as passengers; sleep in the narrow indoor seating area. Let the men tuck us into the benches as though we were cars to be parked. Tuck your knees in, tuck, tuck: Stop. There, there. Where else would we be safe?
"Let's just—"
"No," said Jenny. She began to cry quietly. "I can't."
I never cried in company; I didn't cry silently. I cried alone once a month, excoriating tears that terrified me. But Jenny cried as a kind of conversation. She did so to win arguments with me. It always worked.
"Where then?" I said.
"We can go to Austin. Stay with Kato."
"That's hours away. We can't make it."
"Hotel," she said.
"With what money?"
"You've got money."
"I want to make it last," I said. Jenny's family wasn't rich or poor, but it was short on love, and everything was translated into money. She'd bought the pink coat she couldn't afford because she thought it made her look lovable; if she looked lovable, her life might change. She wanted me to take care of her. I had, a long time.
By the time we found the KOA campground on the far side of the island—past the restaurants and the bars, past tacky civilization, where I had hoped to drink a beer, eat a hamburger, play an arcade game—it was fully dark. We took the useless tent out into an open space, spread it on the ground, and got into our sleeping bags.
"Do you hate me?" asked Jenny.
"What if I said yes?" I said.
There was a shocked silence.
"Of course I don't hate you," I said.
More silence. She turned in her sleeping bag to punish me, or else she was asleep.
Later, brackish water rose from the ground, freezing cold, and we woke up. Had we been asleep 10 minutes? Four hours? We were alive! We bundled the tent and our soaked sleeping bags and got them into the trunk. Without negotiation I got in the driver's seat: The keys were still in my pocket. We were wet, rotten with incompetence. Still mad at each other. I put the car in reverse.
Inches from the front wheel, one, two, three heads lifted out of sleeping bags. Years later I can still see their expressions in the headlights. Not shock, but comprehension. They had looked upon their death, and their death bypassed them, pulled out onto a gravel road and headed for the highway.
There is a different story when we altered our course only a little and killed three people, or maimed them, and our lives changed, a true split unlike the ones I'd been imagining, in which I was taken away and Jenny filled notebook after notebook with what happened. A longer story. But see: We're at the end, and in the end, everyone lives.
As for us, we laughed, excoriating laughter, hysterical. We almost ran over the heads of strangers! Near miss! Near miss! We were alive and our lives were unchanged.
"Oh my god," said Jenny.
"Jesus," I agreed.
Morning: It was dark, but we could see the implication of red against the dark, like the jelly in a doughnut. We could find a doughnut shop. We had become experts in the all-night, the early morning, all the ways you could persist when you thought you couldn't continue.
We drove on. We are friends to this day.
Elizabeth McCracken is the author of eight books, most recently the novel The Hero of This Book. She teaches at the University of Texas at Austin.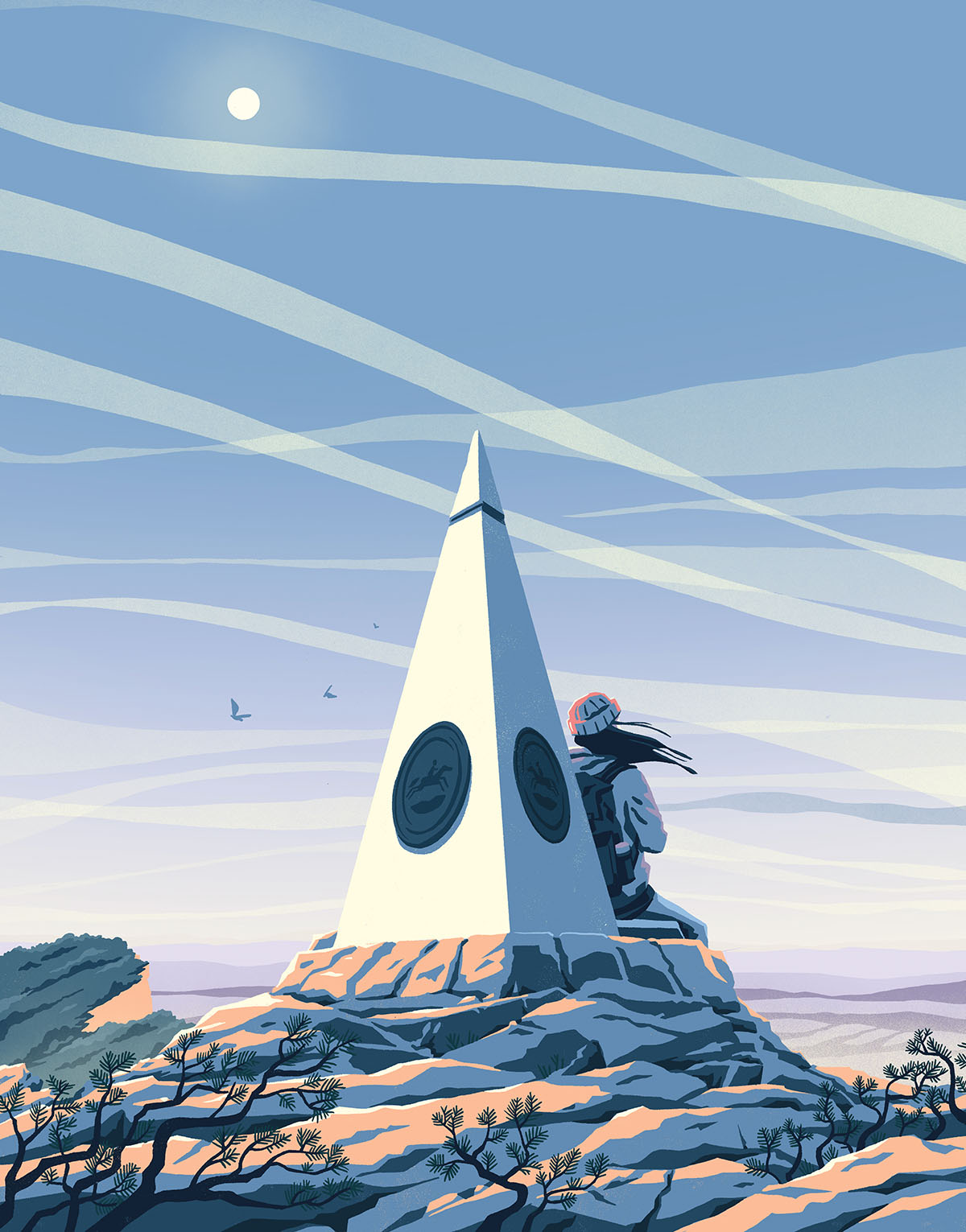 There Is No Crime Here
She is a spider, many-legged, joints silently folding along the switchbacks. Ankles supported by the hiking boots she broke in at Choke Canyon State Park over the summer, rubber soles now gripping loose gravel on the trail up to Guadalupe Peak. The highest point in Texas—and she can't even see it from here. She must wind up another mountain first, up and up and up. Winter sunrise, a tangerine sky, a little boy's cheeks smeared orange with ragu. Hiking poles strapped to her wrists, fingers wrapped around molded cork handles, rubber feet and her own shoulders bearing load on the incline. All that practice on the used StairMaster she bought on Facebook Marketplace, and she may as well have rolled out of bed this morning and decided to drive eight hours, leaving the mesquite-snarled flatness of Cotulla behind for the Guadalupe Mountains. From this vantage point she can hardly imagine the rows of tankers and fracking trucks parked in the dusty Taco Palenque lot, the dozens of mobile home and RV parks that materialized to keep up with the boom, the cross by the railroad tracks where a transient oil worker was hit by a train. You can live your life in a place only for another place to paint over it in moments.
The guidebook she found online called the hike, which will gain 3,000 feet of vertical elevation and end at 8,800 feet above sea level, "very strenuous." But it promised the panoramic views would be worth her "tired lungs." What it should have said is she'll feel the blood in her veins, the heat of her organs, the weight of her bones. She'll feel the air she displaces, the space she's taken up in the world, and how it's been too much and too little all at once.
After two hours, she's seen no one on the trail. Five feet across on the widest sections, cradled by piñon and ponderosa pine spearing so far overhead she stumbles to look up. Where the trail narrows, rock face scrapes the right arm of her nylon jacket and to her left the mountain falls away. She casts a stone to watch it disappear. Above, a pair of golden eagles—their wingspan colossal, prehistoric—tilt and dip, plummet then soar up again, surfing an invisible tide. Aren't we all, she thinks, except some of us are invisibly drowning.
Will she feel him where the air thins? His body turned to ash, carried in her backpack, nestled inside a handmade ceramic urn roughly the same size as her 32-ounce water bottle. And his soul—where, exactly? Father Tiburio, everyone else, all those terrible well-meaning people of her town who could never touch her pain, who stopped trying, they said his soul is in heaven. Maybe that's why she's here; maybe if she climbs high enough, she'll get a peek of him the way she used to when she pulled up in the elementary pickup line and caught his slim brown arm around one of the brick pillars. She always knew it was him by the yellow and blue Toy Story watch he'd begged her for the year before, and she was smiling even before he darted around to tag Armando Tellez—Mandito, they called him, when he was only her little boy's best friend and not his killer.
No, no. She can hear the admonishing whispers of the ladies at Sacred Heart, smell their perfumed body lotions as they cross themselves. Él no es killer. Un accidente, nomas. Tragic. Los pobres.
The police agreed. Of course Armando Sr. had shotguns in the bedroom. He had mineral rights. He leased his land to an oil company. Not only did transient workers pass through his ranch, but so did illegals—though, yes, true, no one can think of a time migrants did more than cut fences, sleep in blinds, eat deer corn. But everyone remembered when that armed fugitive from America's Most Wanted was apprehended on a property near Cotulla just off 35, didn't they? Yes, they did. And, sure, her son's incident—that's what they called it, the incident—could have possibly been prevented if the guns were locked in a safe. But in a crisis how would Armando Sr.—who, as everyone knew, was a big supporter of the sheriff's office, of the whole town, really—get to them in time? A man had a right to choose where he kept his guns in order to best protect his home and family. What did she want the police to do, prosecute a child? Por favor, they told her, palms out. It was an accident. A tragedy. But there is no crime here.
Her breath comes faster as she crosses a narrow wooden bridge covering a chasm between boulders. She feels the chasm beneath her feet, the absence of matter like a magnet catching the steel anchor of her broken heart.
During the final mile of switchbacks, she can feel the change, as if she's passed through a doorway. It's cold now, below freezing, and the wind snags on the shape of her body, makes her eyes water and nose run. She smiles, and her lips dry against her teeth.
There's a story she remembers about two volcanoes in Mexico, Iztaccíhuatl and Popocatépetl. An Aztec princess and warrior, deeply in love and separated by war. When Iztaccíhuatl was falsely informed of Popocatépetl's death, she died of grief, only for her lover to return and find her dead. Popocatépetl took her body outside the city of Tenochtitlan and knelt by her grave, and the gods turned them into volcanoes—hers nicknamed La Mujer Dormida, dormant, and his active, burning at the memory of his beloved.
She reaches the peak in a gasping struggle against the wind, predicted to reach 60 mph—tornado force, dangerous for even the most experienced hikers, according to the website. The craggy head of El Capitan glows umber in the sun, looming over hundreds of rolling brown miles of the Chihuahuan Desert, where whatever lives belongs here and what doesn't belong here will die. At the summit there's a steel pyramid, icy against her cramped fingers. She huddles against it, fumbles with a lockbox and pulls out a summit register: names and dates, encouraging messages, poems, and Bible verses. She writes her name. Takes her baby's ashes from her backpack and writes his name exactly as he would have written it: all capitals, too big, the point of the pen nearly ripping the paper. He was proud of his handwriting, though she kept telling him he needed to practice his lowercase, too. She never really cared about the lowercase. She thought he had so much time to learn. He was in first grade. She presses a finger to the dust that was once an unknown shape inside her, then a beloved boy outside her, then just a body, unrecognizable. But there was that Toy Story watch, which she now wears on her own wrist. She smears her finger dark against the page of the book. There is no crime here, she writes.
She imagines a myth about a woman who is tired of walking the earth without her son, who tried, she really did, but she can't anymore, not when every day's headlines make his death new again. The woman will offer his ashes to the wind, she'll let it snatch his lullabies from her mouth, she'll make her own altar on high, until eventually her own bones become a part of it. Ay, que triste, the ladies at Sacred Heart will say, shaking their heads. Other mothers will recognize. She spent 20 years wishing she could claw free of her own skin, climb out of herself and join him, wherever he is, and this, here, is as far as she can climb.
Katie Gutierrez is the author of the national bestselling and Edgar-nominated debut novel More Than You'll Ever Know, which was also a Good Morning America Book Club selection. Her Texas Highways article on vaqueros was a National Magazine Award finalist and included in the Best American Magazine Writing 2022 anthology. She lives in San Antonio with her husband and their two kids.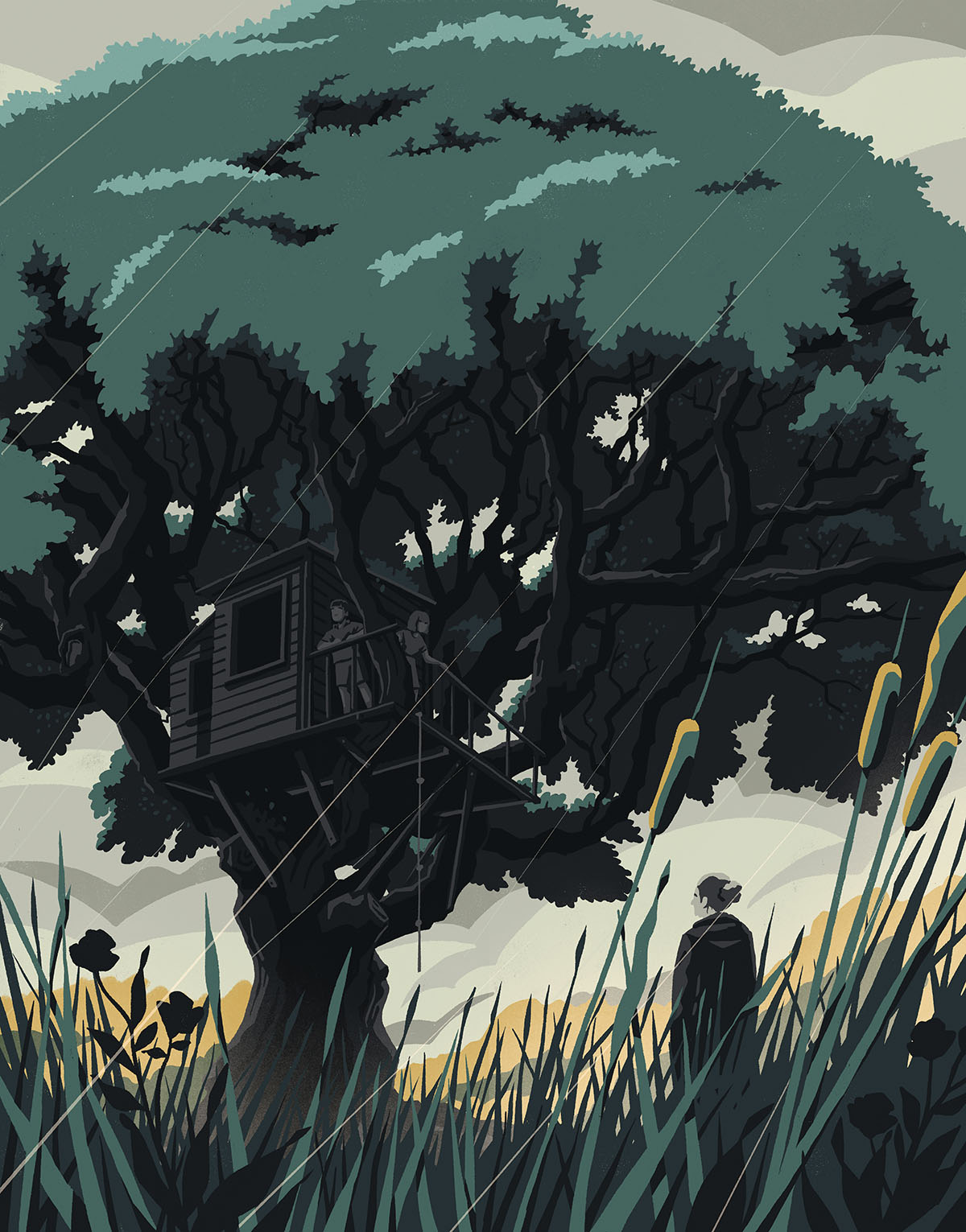 The Umbrella Tree
By Stephen Graham Jones
After the second funeral, Hildy picked her way out to the old treehouse. Her big brother, JT, built it in '72, when Hildy and Michael were 10 and JT had been home on leave.
The tree had been big then, the biggest they could find, but it was bigger now. Because of the way the crown was shaped, they'd called it the Umbrella Tree, and they had stolen a broom from the house to sweep all the leaves and junk out from around it.
The service had been small—there weren't that many of them left, and the ones left didn't live around here anymore. Hardly anybody did. Towns live and towns die. It's the natural progression.
Same with people.
And big brothers.
"I wonder what little Michael looks like now," Hildy's Aunt Glen had asked at the funeral, sneaking looks at Hildy's sagging features to guess what her twin looked like.
"So do I," Hildy said, then flinched when the soldiers fired their rifles, clutching her tissue to her throat.
Michael had started drifting away in their teens, had drifted farther in his 20s, often landing in jail, and in the decades since—
But Hildy wasn't here to dwell on Michael, wherever he was. If he was.
This day was for JT.
Their first funeral for him had been in '74, when he was MIA, presumed KIA, which Michael had gotten into fight after fight in parking lots about, insisting JT was making his way back, that he was going to show up and prove everybody wrong, that sometimes it takes prisoners of war a long time to come home, doesn't it?
Two years ago, when construction had chewed into the ground over there … Michael had been right all along, hadn't he? JT had made it back. Just 50 years too late, and via a handover in Hanoi, then a waiting period in Hawaii, and an official ceremony in San Diego, like these repatriated remains were on a big tour, so everybody could congratulate themselves that the war was really and finally over.
There had been some confusion about whether a second folded flag would be offered to Hildy—her mom had kept the first, and who knows where it ended up—but this next one was tucked into itself in the backseat of Hildy's Buick, parked at the pullout where the mailboxes used to be, hay grazer shooting up there now, from the field that had gone to seed just over the fence. The family who was supposed to have baled it up probably moved down to Goldthwaite. Or maybe they followed the oil into the Gulf, or up to the Permian Basin.
It didn't matter. Towns putter out, and their people keep walking on down the road, their eyes squinting against the future.
The good part about nobody being around, Hildy told herself, was that nobody would be ducking into her back seat to take JT's flag—the front door on the passenger side didn't lock.
So, it was good that things had died down, wasn't it?
Though it did concern her, being alone this deep out in the scrub. Honestly, she was surprised to have even remembered the way back to the Umbrella Tree. But 10 years old or in her 60s, her feet seemed to know the way, and her eyes were still tuned to prickly pear, her ears were still waiting for the buzz of rattles, and she knew that cattails—"hot dog grass" to Michael—usually meant mud and water. How many nights had she and Michael crept out here by flashlight so Michael could mumble his prayers for JT, holding onto Hildy's hand because he said that doubled the power, made super sure it would get through the static of all the other prayers going up?
How many nights until Michael started going by himself, Hildy corrected.
But this was no time for that. That was all a long time ago.
She might have still known the way out here, but that didn't mean she'd thought ahead enough to bring a headscarf. The clouds were low and heavy, with a green cast to them—the color the television screen goes when a funnel's dipping down from the sky. You're getting ditzy in your dotage, old girl, she chided herself, trying to pat her hair down. But she also liked how cavalier it felt to only worry about getting there, not about whether she would get drenched.
It had rained a lot where JT had been, she knew. It had been raining on him for better than a half-century already.
It surprised her that she still remembered him so well. How instead of easing their dad's truck or the little Farmall out to the tree with the lumber to build the treehouse, he'd hiked it out, balancing planks on his shoulders and assuring them it was lighter than a pack.
He'd held the dull silver nails in his lips, the pounding of his hammer a heartbeat in the afternoon.
"You're not getting ditzy," Hildy mumbled to herself, parting some cattails with her hand, "you're getting sentimental."
But she'd earned the right, hadn't she?
The treehouse was still there with the tree, too … sort of. It was either in the same place or it was 3 feet higher, but Hildy had to factor in that she was taller, too, didn't she? The floor was tilted up, the railing around the platform was overgrown and sagging, but the nails JT had set were still holding it up.
If she pulled them out, set them in her mouth—?
But no.
Like she could still even clamber up there. Just her luck to try, snag on something, and be stuck 20 feet off the ground.
Hildy nodded, sniffed, and, when the drizzle came on, hissing in the heat, she waited it out by guiding what leaves and twigs and beer bottles she could away from the tree, making it clean and right again.
And then she walked back to the car alone, not letting herself admit that every time she'd peeked up into the wall of rain, she'd been biting her top lip in, waiting for a pair of wide shoulders to be there, limned in a spray of silver.
Sentimental and ditzy, she told herself.
Her skirt was damp from the tall grass by the time she stepped back into the ditch and balanced across the culvert.
There were no headlights coming from either way. Not one of her dad's farm trucks, the mirror and probably even a fender shaking like it was going to come off. Not the Firebird JT had left behind, that Michael had claimed after high school, that, Hildy was pretty sure, sold for a few hundred dollars. Not Aunt Glen, her daughter driving her around like a hired chauffeur.
It was just Hildy.
But as long as she remembered the treehouse, it would still be there, wouldn't it? In coming years, she could pull over here in the ditch, know the Umbrella Tree was still out there, and that two 10-year-olds were still going hand over hand up a knotted rope to it, seeing if they could get high enough to spot their brother halfway around the world.
She settled down behind the wheel, pulled the belt across her shoulder, and—
Michael was there in the mirror, sitting in the backseat, holding the flag to his chest, his eyes already holding hers. His face was haggard, his hair long and stringy, gray and wet, and he was wearing an old BDU jacket that snatched Hildy's breath away.
She held onto the steering wheel with both hands and looked down at the horn button because she didn't want to startle him away after all these years.
"Oh, Michael," Hildy said.
"I never can get any farther than here," Michael said back, turning to look into the trees, down what used to be a path.
In response, Hildy stepped out, hauled the back door open.
"We'll go together," she said, brooking no objections, and held her hand out for his and snapped twice. Never mind that the clouds were pouring again—the Umbrella Tree would keep them dry.
"You look just like him, you know that, right?" Hildy said, leading him across the ditch.
Michael nodded, slow at first then faster, his arms still hugging that flag like it was proof, and they marched out into the trees, the rain washing the years away.
Stephen Graham Jones is the New York Times bestselling author of nearly 30 novels and collections, plus novellas and comic books. Earlier this year he published the novel Don't Fear the Reaper. Born and raised in Midland, Jones lives and teaches in Boulder, Colorado.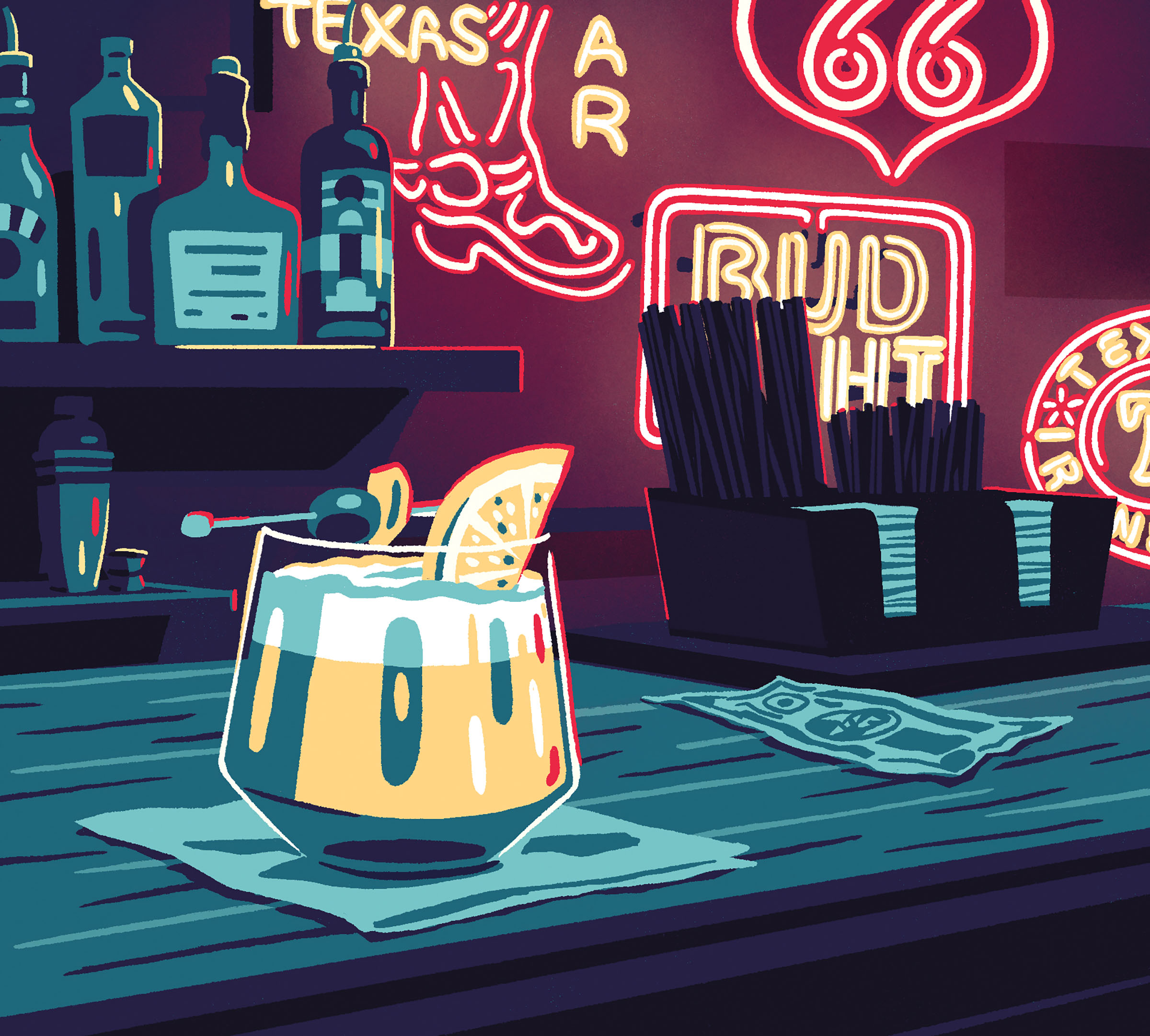 Whiskey Sour
By Kimberly King Parsons
My phone buzzes and it's Missy
saying, "I'm here, don't you see me?" She's there through the plate glass, right where I've been staring. I thought she was just some lady. She's standing next to her maroon minivan waving at me.
She wouldn't let me take a cab.
"Pampa isn't a cab town," she'd said. "Or don't you remember?"
"A car service then," I'd countered.
"Nobody does that out here. Let me greet you! You deserve a greeting. Also," she added, "the bus station has gotten a little stabby. Junky. Probably safe in the daytime, but if somebody guts you it will really annoy me."
She's wrong—it's not stabby here at all, not junky. Just empty, windblown charm. The same tiny town I remember.
At Missy's van we hug, and she kisses my cheek.
"That was weird," she says. "I don't know why I did it."
"It was nice," I say.
"I thought maybe that's what you're used to," she says. "More cosmopolitan."
"We kiss both cheeks in Dallas," I say.
"Shut up," she says. "What is that, a jean jacket? God, you always look so put together."
I'm unshowered, rumpled from the bus.
Missy opens the back of the van with a click of her keychain.
"Gimme," she says, grabbing for my bag.
She's pregnant, her baseline status for the last decade.
"No way," I say, looking at her little belly, hurling my stuff into the back.
She closes the door with another click from her remote. We stare at each other.
"You're really here," she says, and I say, "Yep."
She's middle-aged, same as me, but teenage Missy is lurking in there, too, her braces and blue hair and the safety pin she put through her nose in physics. I wonder if she can see high school me, too, my acne and bad posture, my brief but fervent black lipstick phase. Now we look like our mothers.
"Those bangs," she says, staring. "Homemade?"
I touch my dumb forehead.
"Stupid," I say. "I know."
"No, I like them," she says. "They're brave."
"You're the worst," I say.
We get into the van, and she apologizes for the mess.
"It's like living with raccoons," she says. But her car is impeccably clean. There's the scent of fresh laundry all around, and the front dash gleams. Three boosters and a rear-facing infant seat line the rows behind us. It's unfathomable to me how much family streams from her, all that she's responsible for.
"What's that on your neck?" she asks.
"What do you think?" I say, embarrassed. I pull down the visor mirror to see how trampy I must seem.
The woman I'm seeing—she leaves marks. Through some miscommunication, a gesture, or ill-timed carnal sound, she got the idea that I like it. She pulls hair, too. I'm not one of these horsey girls with a thick, glossy mane like Missy. I've got dandelion hair, a fine filament that just kind of floats around. In the dark, it's painful—I'm always finding lank clumps of my own hair in my bed. I know I need to speak up, but I'm meek, never one to risk offending the people who hurt me. I once sat in a hair salon with blood pooling at my clavicle, too timid to tell the stylist she'd nicked my ear.
Missy grazes my neck with her thumb, and I give her a long look.
"Do I need to take you straight to your mom's?" she asks. She swallows hard. When we were together, Missy was always gentle with me.
"Can we get me a drink first?" I say. "I need liquid courage."
"Hell yes," Missy says, and it's her 15-year-old voice, same as ever. "Let's get you fortified."
"All this baby wants is chicken fingers," Missy says. "Ten, please," she tells the waitress. "Gimme the whole hand."
We're in a booth at the back of a sports bar. I order a whiskey sour and down it quick. Missy eats my garnish, brings my glass to her nose for a deep whiff.
"Drinking," she says. "I miss it."
"I miss you, Miss," I say. It's too much.
I hate whiskey. I don't know why I drink it. Being back home, in this sports bar, it's like I have no choice, like when I try to order anything other than a bloody mary on an airplane: impossible. Whiskey sour is the emblematic drink of my youth—our youth—that's all.
Missy scoops up a glob of ranch dressing with a crispy finger. I change the subject.
"I just thought of a good band name," I say. "The Brave Haircuts."
"Oh, that's good," she says. "That's very good."
Then she looks at me. "I'm right here where I've always been," she says.
I follow Missy into her life.
"Do your normal day," I say. "I'm in no rush."
We're in her living room and she's folding tiny T-shirts.
"Does Lloyd still sell, do you think?"
"What? Lord, no," Missy says. "That's the last thing you need."
"I need to resolve some issues," I say.
"You're a child," Missy laughs.
"People do it!" I say. "For therapy, even. Smart, sad people. There are tons of books and science articles written about it. Did you see the Michael Pollan book?"
"It's escapism," Missy says.
"This is escapism," I say, gesturing to her pregnant body, her whole house. If I can't change Missy's mind, maybe I can change mine.
"How do you make the clothes so flat?" I say.
"It's from working at Western Flair," she says. "All those pearl snap shirts, all that denim."
I worked at Western's, too—it was my first job. I was a terrible employee.
"I didn't learn a thing there," I say. "I always used a folding board."
"Amateur. A board," she snickers.
"How do you tell their clothes apart?" I say.
"I don't. I fold, and they figure it out."
"You taught them that? It's so much work."
"Not really. We're not teaching anybody anything," she says. She won't say Mike's name around me. "Not anymore. We raised the first couple, and the rest is trickle down. Americans are stupid about laundry. We aren't working in coal mines anymore. My kids wear things three, four times. Kids get it. They fall into line."
"See, this is what I mean. You're so sure of yourself," I say.
"Some of us don't have time for uncertainty," Missy says, raising her brows at me.
"Wonder if Lloyd's number is the same. One last trip to reset my brain and solve all my problems," I say.
"No pressure," Missy says.
Being driven in my old neighborhood makes me feel like a child. I'm a little dizzy, buzzy from the afternoon's regression.
"Seems like they raze and rebuild this whole town every 10 years," I say. One strip mall replaces another, different stores selling similar things.
"Want to come inside?" I ask when we get to my house.
"I'd rather light myself on fire," Missy says. My mom still considers her a bad influence.
Missy puts her hand up for a high-five, and I accidentally do a fist-bump into it.
"Sorry," she says, and I say, "No, that was my bad."
We don't hug in the space where a hug wants to be. Missy makes a move to get out of the car. "Don't you dare," I say. I drag my bag from the back. Missy clicks her doors closed and U-turns back into her lovely life. She doesn't wave.
How many times has Missy dropped me off here, incapacitated for a variety of teenage reasons, lovesick with my bra unhooked, unwilling to look my parents in the eye? I put my key in, try to turn the deadbolt silently. No such luck. "She's here," my mother booms from the front hall, where she's been waiting, ready to pounce. "Our little girl is home!"
All the too-loud, long-gone versions of me stream out, turn their keys, too.
Kimberly King Parsons is the author of Black Light, a collection that was longlisted for the National Book Award and the Story Prize. Born in Lubbock, she now lives in Portland, Oregon, with her family.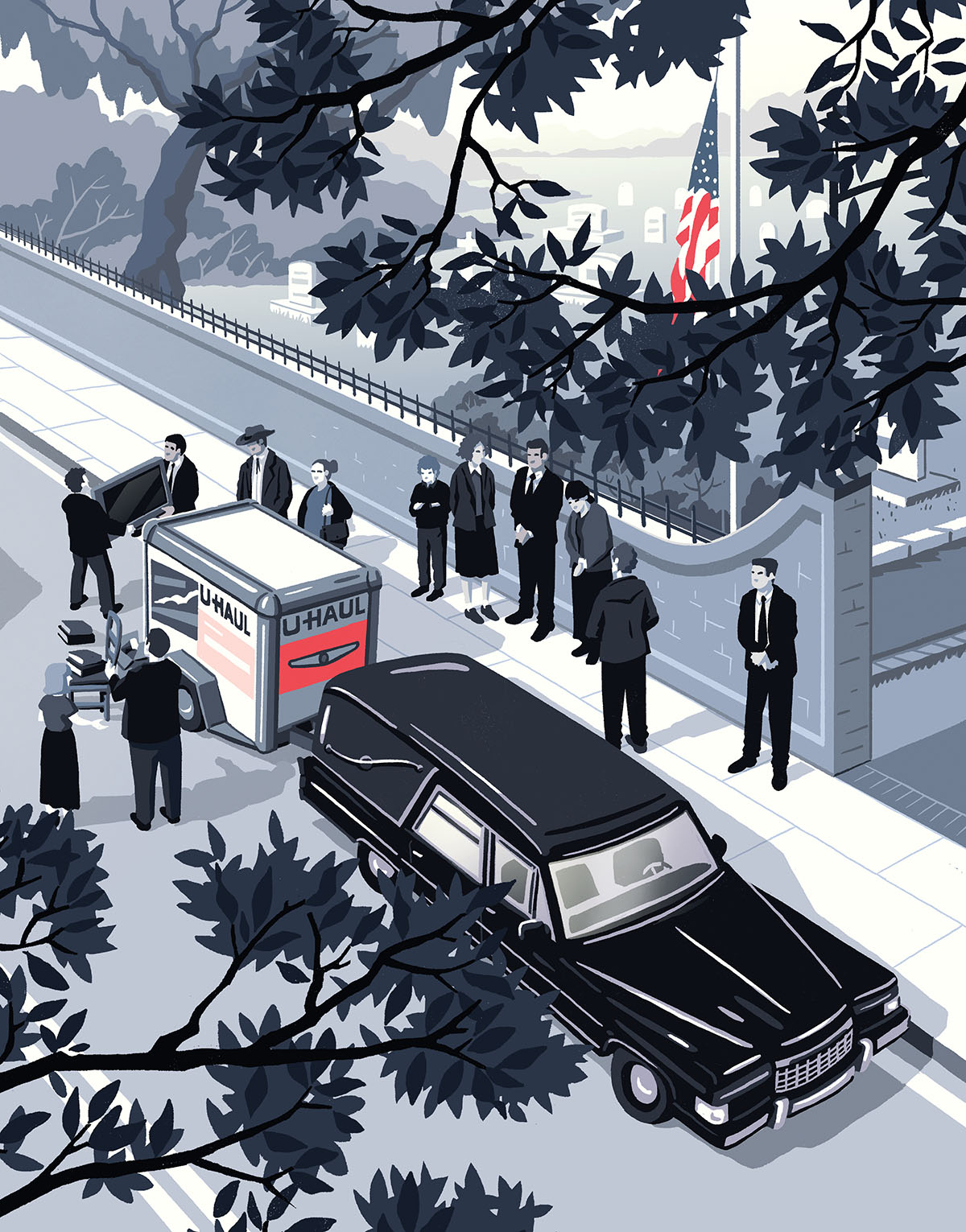 The
U-Haul Principle
Our great-uncle Shelton once said, "You will never see a U-Haul following a hearse." He likes to tell the story of his father, widowed late in life, marrying a widow who had her own grown children. They built a big fine house together, and to avoid bad feelings between the families they had a deal: When one spouse dies, the survivor will write a check to the stepchildren for half the value of the house. It was a good marriage, all the kids agreed, good for the dad, good for the wife. And when the wife died, Shelton's dad wrote a check after the funeral and handed it over to his eldest stepdaughter. "I thank you," she said, and everybody went on their way.
That's how you do it, though hardly anyone does. Death in our town tends to be a fraught and grabby affair; when folks get old, you can pretty much count on friends and family getting weird. Mavis, Shelton's sister, came home from the hospital on Monday, died that Friday. Her last year she'd had a Wednesday night routine with a youngish couple from church, call them the Smiths. Every Wednesday the Smiths would get takeout and bring it over to Mavis' for dinner. Mavis would reimburse them for the meal, then the Smiths would take the leftovers home. Eating off her every Wednesday night, and never reciprocating, which burned Shelton. He knew she was being used. She knew she was being used but was glad for the company. Now she's home from the hospital, Wednesday comes around, and the Smiths call. They're getting Long John Silver's and coming over. No, Mavis says, I'm just not up to it. They come anyway, and Mavis gives them $40 for the meal, plus $9 for the arthritis cream they brought for her. Shelton, visiting—he lives just down the street—sees it all. He leaves, comes back later, loads all the hush puppies into the Long John Silver's box and hangs it on the back door. Then he takes the fish leftovers and feeds them to the cats, enjoying the thought of the Smiths getting home and discovering they have only cold hush puppies.
Welcome to aspirational, hardscrabble, small town Texas, still trailing its legacy of rural vicissitude. Do those born out here ever feel secure? Maybe it's all that anxiety in the settler DNA, distilled and sifted over generations. For most of its history, Texas was a deadly, miserable place—walk around any old cemetery and take note of all the kids and young wives buried there. When our great-uncle Theo had his stroke, he called up his hunting buddy George and said, Come quick! George pulled up in the driveway and there was Theo staggering around, piling up guns and books on the front porch. "Put all this stuff in your trunk," he told George. "Keep it there till I get out of the hospital."
As de Tocqueville observed some 200 years ago, Americans' desire for material security "perturbs their minds but it disciplines their lives." Monday mornings, at the start of a hectic week, our brother-in-law Nat, a capitalist hustler who grew up poor, will take leave of our sister with, "You better hope I don't die today." When we were kids, nobody had any money to speak of, though a handful of people seemed rich to the rest of us—the orthodontist, the doctors and lawyers, the family who owned the local Dr Pepper plant. Our friend Steve, the Dr Pepper heir, spent most of the last week of his father's life putting the old man's affairs in order. "Poor people get to be with their parents when they die," he told us. "Rich people have to go off and deal with the money."
From time to time our father reads aloud from the elaborate obituaries he's written for himself and Mom. He's written three pages for her, but she's vowed to edit the hell out of it if he dies first.
"All I want is for it to say I was a music teacher and a mom."
"Oh, come on," Dad says. "The one time you get to brag is when you croak."
"In the end," philosopher Walter Benjamin wrote, "we get older, we kill everyone who loves us through the worries we give them, through the troubled tenderness we inspire in them, and the fears we ceaselessly cause." I looked right past them when I was young, but now I notice the random clumps of slash pine and cedar thicket in the countryside. These tiny, brambled cemeteries belong to no one and no time, having been sold off generations ago with the family property and sidestepped, plowed around, left alone ever since, black holes in the New Texas landscape of solar farms and suburban sprawl. Economics, our father sometimes lectures us, is the ultimate reality. Getting, having, surviving, that's what economics is. Yes, yes, we say, but … something in us resists these lectures. What about the U-Haul principle?
Nat called us the day his big deal came in. Not to brag, just blowing off steam; $8 million had just been wired into his account.
"How does it feel?"
"Damn good." He was driving. The man is always on the move.
"What are you going to do now?"
"You know the answer to that. I worked yesterday, I'm working today, and if I'm alive tomorrow I'll be working then, too."
Our grandmother Emmie died of leukemia when we were kids. Sometime later we saw Dad with a checkbook styled "Estate of Emmie …" and that was a shock, the realization that such a thing existed, an estate that paid bills, earned income, accrued interest, a shadow self more resilient than flesh and blood. It made us tired, that checkbook. When does it ever end? Emmie was the eldest of five children and got through college before the family's fortunes took a fall. By the time her sister Rosa came along, college wasn't in the cards, but Rosa was smart and knew how to run a business. At various times she owned a florist, a drugstore, a gift shop, bought and sold real estate, and raised parakeets for wholesale supply. Along the way she got in a twist about a bank teller in town, who, she felt, looked down on her socially. For several weeks she saved all the skinny nickels that came her way, then collected them in a single roll and took it down to the bank with the rest of her deposits. The teller, thinking he'd caught her trying to shortchange him, broke open the roll and counted and recounted all those nickels while she stood there smirking.
The family had a saying: Throw Rosa in the river and she'll float upstream. She was fearless when one of our cousins came down with polio. She sat with that girl for days, sponging down her hot body, feeding her soup, handling the bedpan, this at a time when everybody thought polio was contagious. Her third husband was an ex-con who'd done time for murder. "The vilest man I ever knew," says one of the aunts. But he worshipped Rosa, went on benders whenever she was in the hospital.
Diabetes got her, one piece at a time. After one of her amputations, the doctor advised her to go home and rest. She sat around for a day, then went out and bought a red convertible and took off with the murderer for Florida. It wasn't the end. That was coming—when is it not? But that wasn't it.
Ben Fountain lives in Dallas. His most recent book is Beautiful Country Burn Again. His novel Devil Makes Three will be published in September.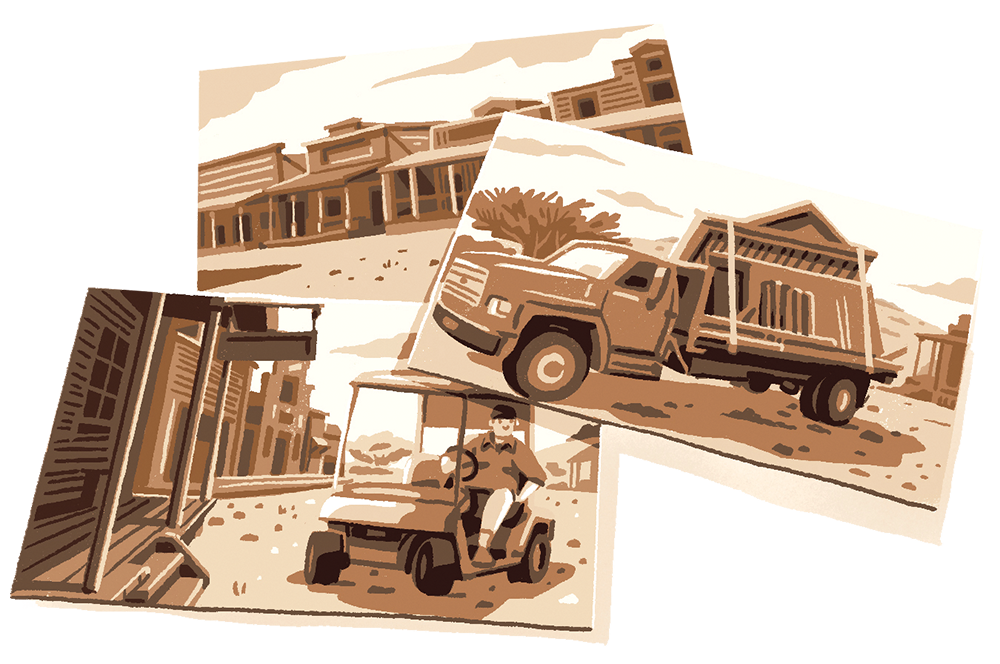 Pierre Menard, Texas
By Fernando A. Flores
In Pierre Menard, Texas, it's been rumored, the last battle of the Civil War is still being fought. My guide, who we'll call Pedro, picks me up from the downtown San Antonio Greyhound station on a Wednesday morning and informs me I'm to be the first reporter to have complete access to Pierre Menard—its soldiers, generals, and financiers—in at least six years. When I correct him that I'm not a reporter, he swats my words away, as if I'm joking.
"You know what I mean," he says.
Pedro is an avid reader of mass-market science fiction and fantasy paperbacks, and most of the way there we talk about the decades-long sagas and tribulations of medieval rats.
After about an hour on Interstate 10, we exit off an unmarked road past abandoned derricks and gas stations, then Pedro casually lets me know I was supposed to be wearing a blindfold this entire time, since Pierre Menard's location is always secret. He hands me one from his visor and shrugs, as if saying, Just doing my job, your choice. I stick the blindfold in my bag, which is the only thing I carry, aside from my analog film camera—phones and digital technology are not permitted in Pierre Menard, but I'd been told nothing about film cameras.
To be a citizen of Pierre Menard is more like being the member of a clandestine gym, or underground society, than a person living in the same urban cluster as others. And, like a castle in the sky, Pierre Menard is a city on the move. Though it has an existing mayor, school district (go Pumas!), and city council, Pierre Menard has yet to be recognized on any map (even Google Maps misses it) due to the extreme secrecy of the shifting locations where the citizens of this town choose to meet.
Upon arrival, we find the city gate wide open, its hinges creaking lazily with the wind. We enter on the caliche road, which winds and descends, until a collection of houses appears like hunched giants begging for alms. Pedro parks along unpaved, dusty Main Street—the town has the feeling of an abandoned film set, and I remember the brambles around the replica of the Alamo in southeast Texas. We walk past Frontier Apothecary, Diego's Daguerreotypes, Thumb's Drugstore & Liquors, all with their front decks empty and doors boarded shut, then enter a building labeled City Hall.
Inside, past a cavernous vestibule with thick purple velvet drapes over the casement windows, I am introduced to Mayor Cecil Markus. We shake hands, and he apologizes for what should now be obvious: that I've arrived the day after the year's final scheduled battle. After I express my displeasure, the mayor hands me a lager from their beer sponsor, invites me for a tour of the town on his golf cart, and Pedro wanders away. The mayor takes me to the empty farmers market square, points to the town's apiary and windmill while telling me about the 30 flatbeds it takes to haul the town. "Almost like a circus," he says—a line Mayor Cecil likes to use when describing the mobile nature of Pierre Menard.
As we approach the lumpy, caked battlefield by foot, and I throw him some softball questions while nursing my lager, the mayor stops me, as if sensing danger. "Go ahead," he tells me. "Ask me the most controversial thing you can ask me."
"The Civil War ended over a century and a half ago. You insist this battle has nothing to do with that war, yet you call it 'The Last Battle of the Civil War.' Which is correct?"
"I'd say neither. What we're seeing through here is a conclusion to something nobody alive now started. We're all here to simply finish the narrative of this war. That's it."
Back at the golf cart, from a case in the back, Mayor Cecil pulls out a white tube with a clip and hands it to me. I slide open the hasps and discover it's a sheer white sheet of paper rolled like a scroll, containing scribbles, markings, and shoddy illustrations of soldiers and maps. Then I make out its narrative of a drawn-out scheme.
"A scanned image of the original timeline of the war." He motions for me to unscroll it all the way and points to the furthermost markings on the right, which read the previous day's date. I put the scroll back in the case, step away from the mayor, and feel dizzy within this abandoned hill country, where not even a cicada could be heard or buzzard seen in the sky.
"So, you all's little war has ended?" I ask him.
The mayor, from his pocket, pulls out a kazoo and does a little march while playing something resembling "Yankee Doodle Dandy."
"It's over," he says, breaking the tune. "We won."
I take a light reading, then snap a photograph of the mayor, then of the landscape. There's a loud crash from afar, and I can see Pedro struggling to carry a long table from one side of Main Street to the other, toward City Hall.
"Who's we?" I ask Mayor Cecil. He stops his tune and march, then bends over backward with a belly laugh. "So, when do you think you can start?"
At first, I think he's asking me to sing along with him, or march in step. "Excuse me?"
"You're the guy," the mayor says, "in charge of hauling away our town to its final destination? Yes?"
I advance the film before saying anything, snap one more image of the mayor as he takes this in. "I'm not," I tell him. "I'm just the guy they sent here to write about it."
"Like a reporter?"
"Something like that."
The mayor puts the kazoo in his pocket and straightens his back, as I crush my empty lager and burp quietly to the side. "I don't talk to reporters," he tells me, with great resolution. For the first time he really does sound like a mayor. I sense he is going to say something else, but he simply gets back on the golf cart and leaves me there on the abandoned battlefield. I look down at my empty beer can, and there's a moment where I just want to throw it there on the battlefield, for it to take thousands of years to decompose and outlive every satellite in the sky.
There's another loud crash, and I see Pedro hauling a large round table on his own. I snap a couple more photographs, then walk up to Pedro and let him know the mayor seemed confused as to who I was, and that I'd be ready to head back in like an hour.
Pedro laughs and catches his breath.
"Okay," he tells me. "But not until I move all these tables. There's a lot, and I have to finish today. If you want to help me, I won't say no."
With the battlefield behind me, and the skeletal remains of Pierre Menard, Texas, before me, I have nothing left to say, so I shrug.
"Grab that end," he says.
I bend my knees, careful with my camera, and help Pedro lift the table, as an air raid siren, or something like it, blares from the fire station, sweeping through the abandoned streets of Pierre Menard.
Fernando A. Flores was born in Reynosa, Tamaulipas, Mexico. His two latest books are Valleyesque and Tears of the Trufflepig. He lives in Central Texas.
From the August 2023 issue