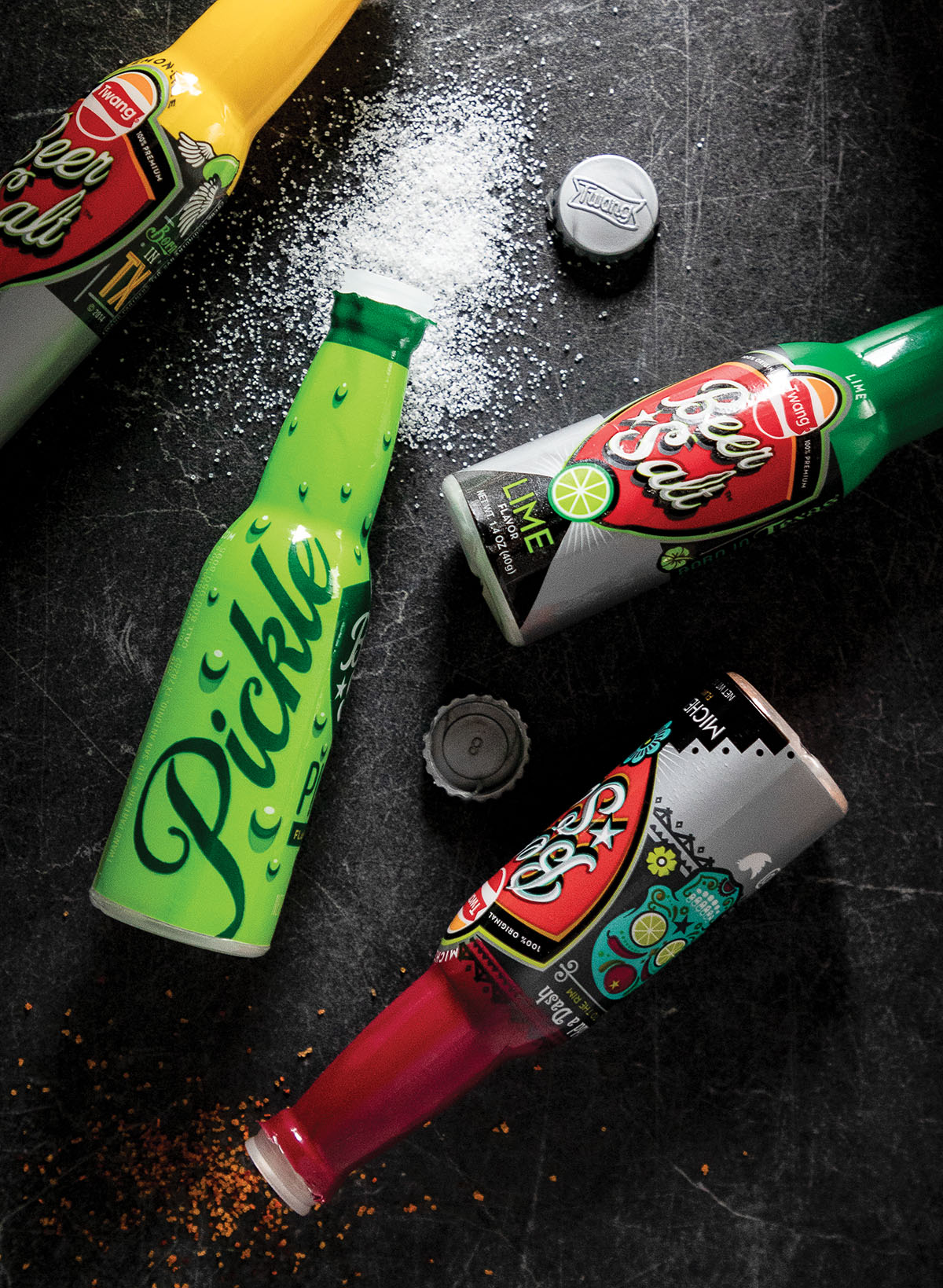 For 30 years I've written about how the world drinks, with the last 15 years concentrating on Texas. While researching my book Texas Dives: Enduring Neighborhood Bars of the Lone Star State, out in July, I noticed something peculiar: a saltshaker in a beer joint that didn't serve food or liquor. The shaker felt out of place at the time, but I would soon discover it was and remains a curious token of beer history.
Surely, some readers recall that folks used to shake table salt directly into beer. Charles Staats, who lives near Seguin and is the Texas chapter president of two brewery collectibles clubs, says, "I'm right at 60 years old and, yeah, I saw it back in the day in, shall we say, the dive bars." Staats collects vintage brewery merchandise and showed me some promotional saltshakers from several Texas breweries. "They often came in a set, one for pepper, but not always," he says. "And in some bars, they'd just use the pepper shaker for salt."
At Texas T Pub in San Antonio, local Bill Hickey has a similar memory. "I remember seeing my granddad and dad always putting salt in their beers," he says. Now 75, Hickey continues the custom occasionally. "I like the flavor, but it seems like a generational thing that was passed on."
Of course, leave it to Texas to ensure the salt-and-beer custom includes big flavor. Beer salt is flavored salt sprinkled onto a bottle, can, or glass of beer. It's noted by some experts outside our state as a Texas tradition. Indeed, dressing a beer with flavored salt is common here, mostly due to the success of Twang, a flavored-salt company in San Antonio.
Twang launched in 1986 after its founder, sixth-generation San Antonian Roger Treviño Sr., traveled to Mexico City. "A street vendor there sold citrus-flavored salt, which reminded Roger of something he ate as a kid," says Edmundo Macías, Twang's marketing director. "Kind of like Pixy Stix, only salty, not sweet. But he couldn't find it at home." So, Treviño made his own flavored salts, initially lemon, lime, and pickle flavored.
In the early 1990s, Twang began packaging salts in small, beer-bottle-shaped saltshakers and called them Twang Beer Salt. Macías says Twang was the first in Texas to do so and most likely the first in the United States. With other Texas companies now in the beer-salt business, like Bolner's Fiesta Brand in San Antonio and The BeerDresser in Edinburg, the tradition seems destined to grow.
The history of salting beer goes back further than the introduction of beer salt. It's too often mentioned that, post-Prohibition, the practice arose in North America because cheap ingredients made commercial beers taste pretty awful, and salt perked up their palatability. But salt and horseradish were used during Prohibition to make near beer taste better, and historical clues point to customers salting beers during the saloon era, around the turn of the 20th century.
Still, salting beer has only occasionally popped up in the media, like in a 1941 Centralia Evening Sentinel article about a Chicagoan who choked on a saltshaker lid after it fell into his foamy beer (salt shaken into flat beer briefly increases the foam). And in 1943, the Texas Health Department issued a bulletin stating that adding salt to food and drink—including beer, according to the Corpus Christi Times—helps "workers who perspire freely" to replenish the body's need for salt.
Beer companies didn't want to admit their product needed tinkering with after production. Instead of remaining silent about it, one company broadcast a rare public rebuke. In a beer commercial from 1976, Budweiser pitchman Ed McMahon—Johnny Carson's Tonight Show sidekick—throws shade at drinkers for putting table salt in their beer. Here was the biggest beer company in the U.S. shaming its customers for salting their beers.
By piecing together enough of these references and adding in anecdotal evidence, I can confidently propose that due to flavor preferences, family traditions, and dubious medical advice, Texans have salted their beers for over a century.
"One of the earliest recollections I have about a salted-beer tradition was thinking it came from Mexico and made its way into the Rio Grande Valley," says Travis Poling, who's written about Texas beer for 25 years, including San Antonio Beer: Alamo City History by the Pint. "People coming up from Mexico were drinking Tecate, which was dirt cheap and not known for being very good. They'd pour salt onto the rim of the can, and sometimes if they had lime, they'd squeeze it in."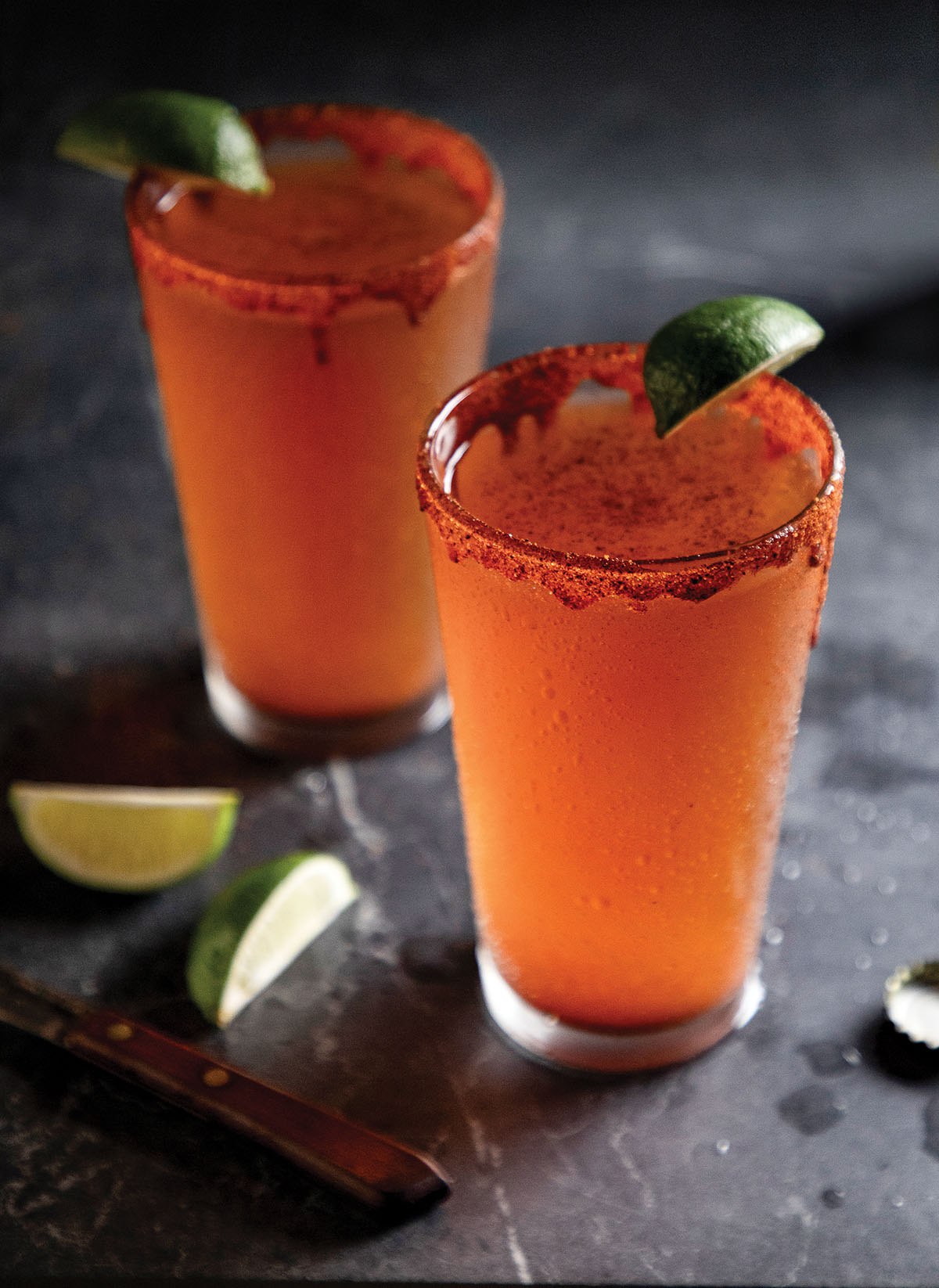 Beer With a Kick
The michelada beer cocktail was invented in Mexico in the 1960s, or the 1940s, or maybe around 1910. Nobody knows for sure. Although the original michelada (also called a chelada) was likely beer over ice with lime juice and salt, there's no official recipe. This flavorful drink may come with hot sauce, spices, chamoy (a sweet and spicy fruited condiment), Worcestershire sauce, tomato juice and/or Clamato—and, of course, salt.
Michelada (author's recipe)
Chamoy for glass rim
Twang Hot Lime Beer Salt for glass rim
Ice
2 tablespoons lime juice
2 teaspoons Worcestershire sauce
1/2 teaspoon Cholula Original Hot Sauce
1/4 teaspoon chili powder
10 to 12 ounces light beer
Lime wedge for garnish
Chill a pint glass. Coat glass rim with chamoy; shake beer salt abundantly atop chamoy. Combine next five ingredients in a cocktail shaker, shake for 15 seconds, and strain into chilled pint glass. Add beer slowly. Garnish with lime wedge.
Although lime has become salt's de facto beer buddy, their partnership lacks an official origin story. And it doesn't necessarily begin in Mexico, since countries further south on the globe also have customs of drinking beer with citrus, salt, and other flavorings. But by virtue of Texas and Mexico sharing a border, both have long inspired one another to think of beer as a canvas on which to create different flavors.
The perfect example is Mexico's michelada beer cocktail, which introduces savory and spicy flavors to the beer-salt-lime tradition. In Texas, there is also the ArModelo (a spin on "armadillo"), invented about 10 years ago by Eddie Costilla, owner and general manager of La Perla in Austin. He starts with Modelo Especial beer and adds lime juice, hot sauce, and Twang's lime salt to the can for a savory, refreshing drink.
La Perla employee Fin Pérez says some customers bring their own beer saltshakers to the cantina and continuously salt their bottles and cans, something that never surprises him. "Growing up in Corpus Christi, I saw a lot of people putting table salt in their beer," Pérez says. "Or they'd just put it in their hand, lick it, and take a drink."
Despite today's better beer and the popularity of beer cocktails, I like how some Texans still prefer to shake some table salt into their beer because they just like the taste. I also like the notion of boozy trends drifting north and south of the border, teasing our taste buds with new flavors. Who knows where or when the next great Texas alcohol tradition will begin? Perhaps it already has.
From the June 2022 issue