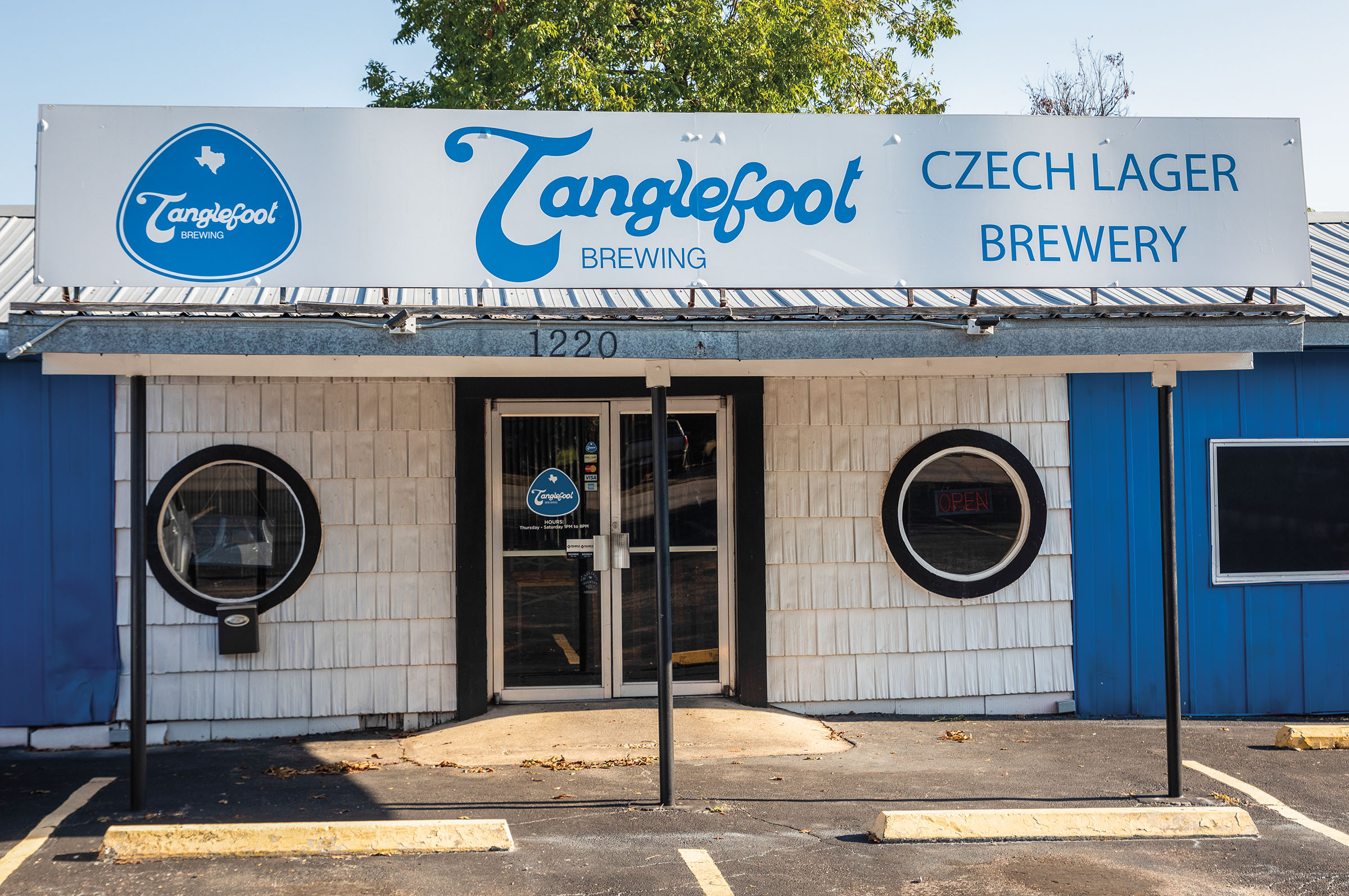 F
rom the stylized retro logo to the traditional Czech-style beers, Tanglefoot Czech Lager Brewery is Andy Martinec's brainchild. Formerly head brewer at Austin's Black Star Co-op, Martinec has combined his brewing expertise, Czech family heritage, and Texan roots to create a brewery that celebrates Czech lagers and drinking culture with a rustic Central Texas twist.
"My biggest goal is to build a beer brand that offers high-quality, approachable beer that resonates with people in my community—those of Czech heritage, residents of Bell County, and Texans in general," Martinec says. He is a descendent of one of the 250-plus Czech immigrant communities who made Bell County their home. The brewery near downtown Temple is the renovated space from the barbecue restaurant owned by his father and grandfather.
In 1969, Martinec's grandfather Al Martinec opened Al's Bar B Que Barn in what is now the brewery taproom. Al purchased the building, an old Army barracks that had been converted into a shooting range for the Temple Police Department, for $100. He moved the building piece by piece from its original site a few blocks away and converted it into a smokehouse and restaurant, passing it to his son Jeff in the mid-2010s.
Al's operated for 54 years before closing its doors for good during the pandemic. At the same time, Martinec was applying for his license to brew beer on the property after a 2019 ordinance change by the city of Temple. "My dad and I joked about starting a brewery in here, and then I discovered that the easiest way to open a brewery was extending an existing license," Martinec explains.
He was initially reluctant to venture out on his own in a challenging and expensive market, but once he made the leap, the idea of focusing on Czech-style lagers fell into place. "The concept of a Czech lager brewery made a lot of sense in Bell County with its rich Czech heritage and the Czech Heritage Museum and Genealogy Center nearby," he says. "The more I discovered and learned about Czech lager, the more I fell in love with it."
Everything about the Tanglefoot experience is as authentically Czech as possible, from the polka music emanating from vinyl records to the specially imported Lukr taps designed to pour the foam-rich servings the Czech Republic is famous for. The Lukr brand is currently having a moment in the U.S., with many craft breweries choosing to install its stylish but pricey stainless-steel side-pour tap. Martinec was the first brewery owner in Texas to serve exclusively from Lukrs, and he was also an early adopter. "In 2020, Lukr didn't have a U.S. distributor, so I had to contact them personally and wire them money through Western Union," he says.
Martinec's four gleaming Lukrs sit proudly in the center of Tanglefoot's bar next to his painted glass menu, reclaimed from the barbecue restaurant. With three flagship beers and a rotating tap, Martinec keeps it simple and precise, just like in the old country. His beers are named for their gravity, a traditional practice in the Czech Republic. Gravity is a beer's density based on its sugar content and is reflected in the beer's body and alcohol strength. Brewers use the measurement as a guide to make their beer according to certain style specifications.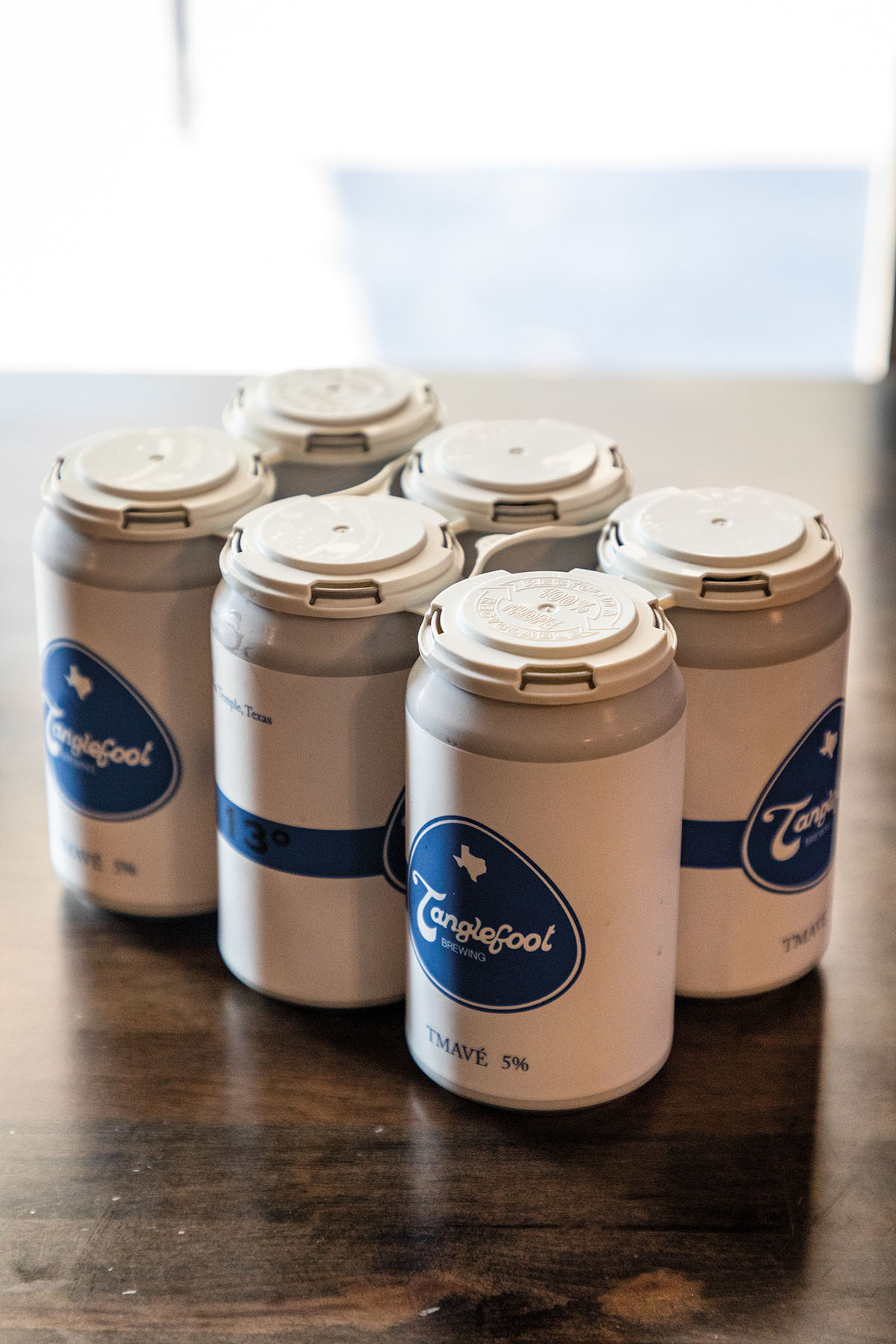 His first beer, a 10 degree pale lager, is the lightest on the menu and boasts a bright, crisp profile like a Pilsner Urquell. Its big brother, the 12 degree, is more hop-forward with an extra kick of floral Saaz hops and malt sweetness. Martinec's showpiece is his 13 degree Tmavé, a smooth, dark Czech lager with delicate coffee-chocolate notes. "It's the most distinct beer I make, and although dark beers can be polarizing, mine is very balanced and approachable," he says.
All beers are served in one of the three classic Czech pours: full, with about three fingers of foam; "snyt," or cut, a small pour with abundant foam traditionally poured by bartenders at the start of their shift; and a milk pour, a glass of dense meringue-like foam with a small amount of beer. The milk pour is designed to allow the beer's flavors and aromas to fully expand in the glass, leaving the beer itself luxuriantly smooth.
Martinec's enthusiasm for his craft shines as he explains the science behind the pouring process. The Lukr is fitted with a ball valve that creates a pressure "similar to placing your thumb over a hose" to release the heavy foam and clean stream of beer. It creates a more malt-forward drinking experience, as the beer's acidity escapes into the foam. Clever stuff, but Martinec is quick to emphasize the approachability of his beer, in the way it has remained popular for centuries in the Czech Republic. "The coolest thing is when I have 22-year-olds who love the beer, and then their grandmother comes in who also loves the beer," he says. "I want this to be beer for the whole community."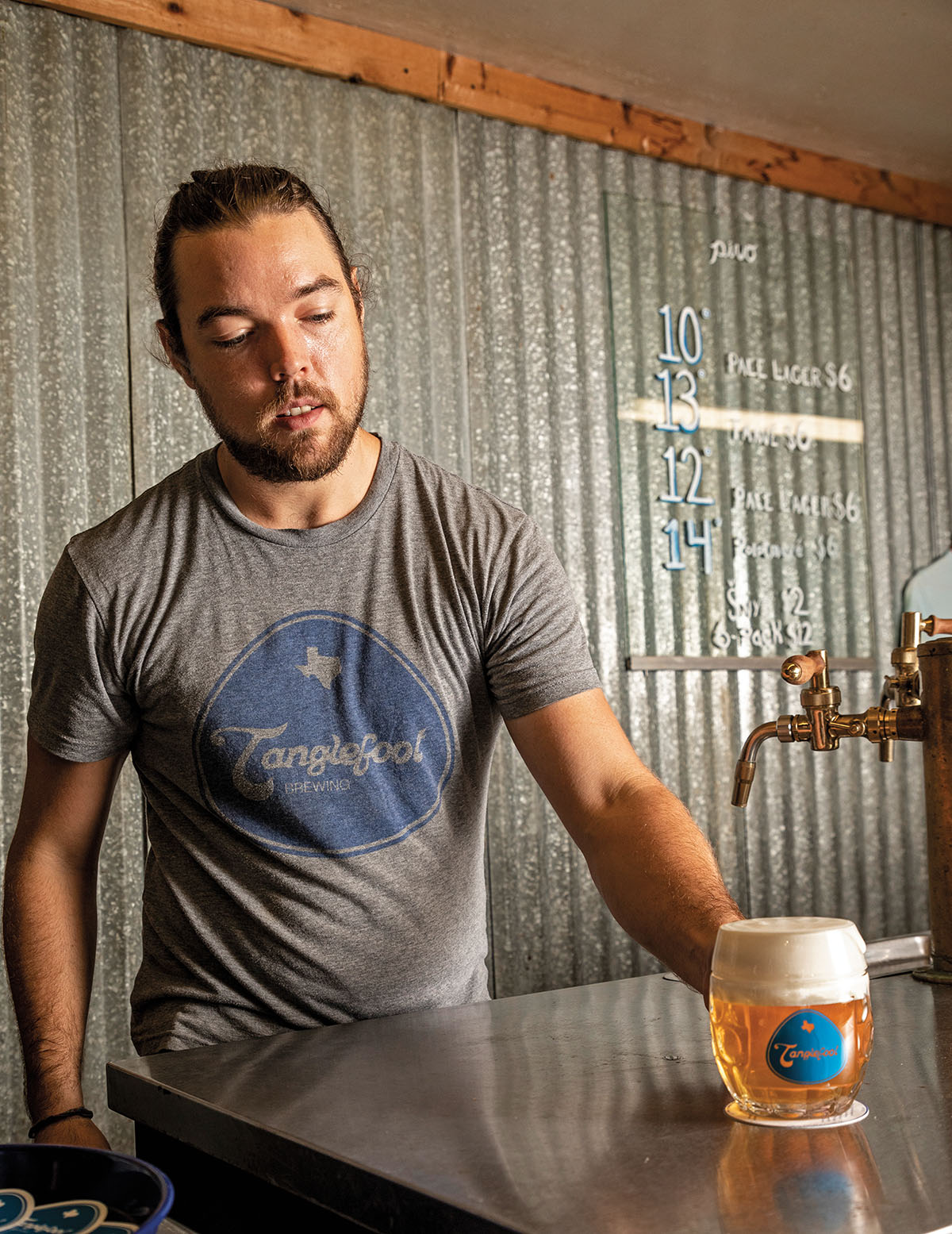 The intergenerational camaraderie extends to Martinec's family, which continues to influence the brewery. "I've learned so much about my family history and our connections within the community since starting the brewery," he says. "I'm always probing my grandmother for more stories." Martinec was inspired to play Czech polka in the brewery after discovering a collection of records in his grandmother's side table. "They belonged to my great-grandmother and grandfather­—my grandmother didn't even know they were there," he says. "Now regulars will come by and donate polka records, too."
Martinec's father and grandmother have supported the brewery from the start and delight in seeing the family business continue in a different direction. "After making the difficult decision to shut down the restaurant after 54 years, handing the keys off to my son makes me super happy," Jeff says. Adds grandmother Joyce, "I'm happy to see a family business carried on in the building. I like that Andy is paying respect to our heritage and making a great product."
From the December 2023 issue