The Farmhouse Cafe is at 1004 14th St. in Huntsville. Call 936/435-1450. Farmhouse Sweets & Eats is at 1112 11th St. in Huntsville; call 936/291-6988. Farmhouse on the Lake is at 15152 US 190 in Onalaska; call 936/646-2200.
I'm still looking around, enjoying the whimsical decor and the unmistakable aroma of fresh bread, when I hear excited chatter from a nearby café table. I turn just in time to watch a server set down plates of golden-brown chicken-fried steaks with cream gravy, and I'm confident I've made the right lunchtime choice.
Almost immediately, a friendly hostess seats my dining companion and me at a table covered in blue-and-white oilcloth. Soon, we receive a large basket of fresh-baked rolls—wheat and white alike, all with glistening, golden-brown tops. Served with whipped butter and strawberry jam, they provide a rush of satisfaction that only home-style comfort food can offer. We haven't even opened our menus, but I'm already smitten with the Farmhouse Cafe, Huntsville's go-to spot for comfort food for 12 years.
"We wanted a hole-in-the-wall type of place without it actually being a hole-in-the-wall," says owner and manager Brian Koerselman, who runs the restaurant with his wife, Karen. "We came up with this concept of doing what we call 'good ol' comfort food'—Southern cuisine—that you don't see much anymore."
With the revival of traditional, sometimes dormant recipes, that old-school vibe springs to life in the Farmhouse Cafe's daily blue-plate specials. Take, for example, the chicken-and-dumplings teeming with vegetables in a rich golden gravy; the pork roast served with a mound of white rice topped with savory brown gravy; or the unusual poppy seed chicken—a creamy casserole of rice, tender chicken chunks, and poppy seeds, topped with a crunchy crust. All come with a choice of side dishes; hot options might include mac-and-cheese, pinto beans, a loaded baked potato, fried okra, sweet potato fries, or stewed turnip greens; cooler options include tomato-cucumber salad, coleslaw, chilled macaroni salad, or fruit salad of strawberries, bananas, and pineapple.
The Farmhouse Cafe puts the poppy seed chicken on the "specials" menu on Monday nights, and it has become one of the restaurant's most popular recipes. "A five-year-old likes it; an 85-year-old likes it," Brian notes. "Pop-py seed chicken is an old, old recipe we've had forever that we would actually eat on Saturday or Sunday nights as a family."
While the Farmhouse Cafe reigns as one of Huntsville's culinary strongholds, the Koerselmans have since embarked on other food ventures. A few years after the Farmhouse Cafe opened, the Koerselmans and Karen's mother, Ginny Renfro, learned that King's Candies and Ice Cream—an old-fashioned soda fountain, candy store, and lunch spot located on Huntsville's central square—was up for sale. The family decided to expand their business and bought King's.
Renamed Farmhouse Sweets & Eats, this new undertaking focuses on fare such as fresh soups, sandwiches made with homemade bread, salads, and the Sweets & Eats signature dessert—fried pies filled with apples, berries, and other fruits. A Sweets & Eats fried pie tastes even better topped with a scoop of vanilla ice cream from the eatery's historic soda fountain.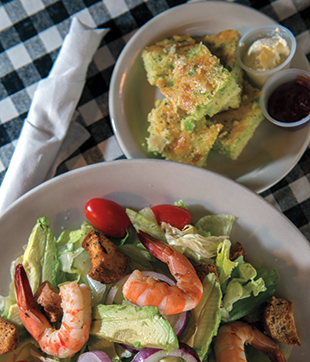 "There's nothing wrong with old-school and simple," Brian points out. "It's refreshing, and there are very few people who walk in the door who don't appreciate it."

In 2015, Brian and Karen expanded again when they opened Farmhouse on the Lake on the shores of nearby Lake Livingston. A friend had lobbied them to consider acquiring a building on the lake, but the couple resisted at first. "I was so busy, I didn't even want to think about it," Brian explains. But a few months later, he says, "I walked in the door with 'no' coming out of my mouth—and the place was amazing. In about 20 minutes I was on the phone with the owner, making plans to buy it."

Food isn't the only thing that harkens to past decades. Brian encourages his staff—often college students working their way through school—to "do the simple things" and treat customers as if they were guests in their own homes. "Customer service is just something that's kind of gone," he says. "We're not in the job of saying 'no.' If we can do it, let's do it!"

The menus for all Farmhouse locations center on great service and Southern-style comfort food. Along with those incredible homemade rolls, the Farmhouse's fried green tomatoes—served with a side of ranch dressing—inspire repeat visitors. The chicken-fried steak—breaded and browned to perfection—comes with its own accolades. And as the Farmhouse chefs are masters of all things bread, the breading differs according to the dish—cornmeal breading on the catfish and a beer-style batter for the fried green tomatoes, for example. Sandwich aficionados will delight in the old-school Monte Cristo, a ham-and-cheese sandwich lightly battered and fried (the Farmhouse Cafe dusts theirs with confectioner's sugar and a side of raspberry jam). The menus for all three
locations also offer seafood options like coconut shrimp, crab cakes, a shrimp avocado salad, and flavorful blackened tilapia.

As I wrap up my meal at the Farmhouse Cafe, I'm distracted by a collection of house-made pies in an antique glass case behind the main counter. Here are at least a dozen varieties—peanut butter pie with a whipped topping and drizzled with chocolate, lemon pie topped with a pillowy meringue, pecan pie packed with plump nuts—each a showstopper and all daring me to try them. I'm so full that I draw away, shaking my head no. I can't commit to them this evening, but I'll return to the Farmhouse Cafe soon and stake my claim.

From the February 2017 issue

Inside the modest painted-brick building that houses Huntsville's Farmhouse Cafe, comfort awaits—both on the plate and in spirit. In the springtime, large planters on the restaurant's side patio brim with cheerful sunflowers, and year-round when the wind blows, an old-fashioned windmill spins steadily overhead, its tail assembly painted to resemble the Texas flag. Inside, an American flag hangs from an interior window, and the walls are decorated with paintings of pigs, cows, roosters, and geese, along with diamond-shaped mirrors, vintage advertisements, and wall planters full of ivy and other greenery.