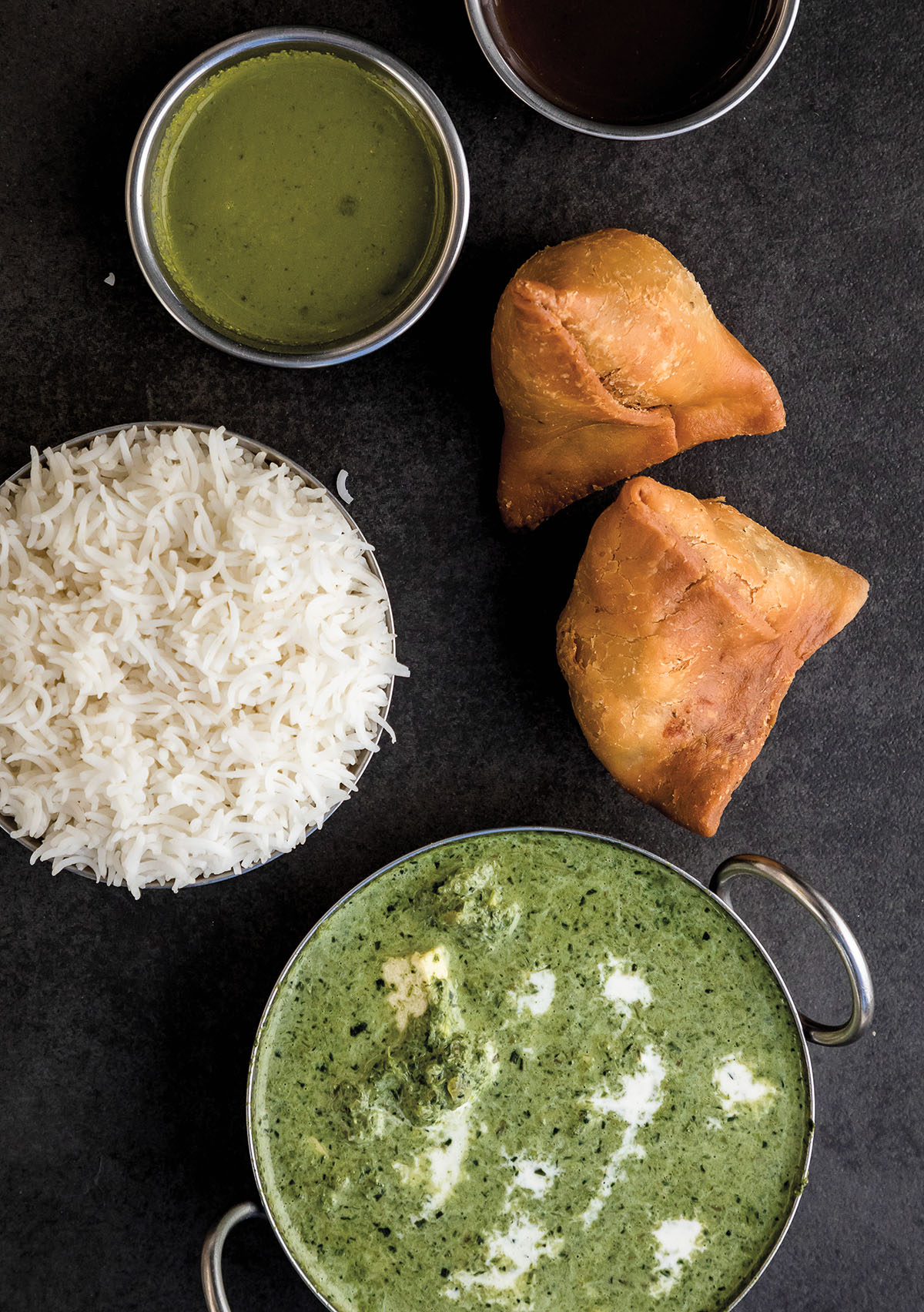 Six years ago, when Mumbai native Rashmi Bhat was attending the University of Houston's College of Business, the entrepreneurial-minded student first visualized what has recently become a reality—7 Monks Café, the first Indian restaurant in New Braunfels. Her small-business plan for an Indian eatery was so well thought out that it won a $1,000 university pitch contest. Although Rashmi used the funds to open a French-inspired deli called Bonjour, Texas in New Braunfels in 2014, the dream of an Indian restaurant never faded. While running Bonjour—which now operates solely as a wholesale business—regular customers were increasingly requesting Indian food made by Rashmi's mother, Neeta Bhat, who helped run the deli. They often asked when the duo would open up an Indian spot. Fueled by these requests, Rashmi realized the time was finally right to pursue her original plans. In October 2019, 7 Monks opened its doors, with Neeta—a native of Goa, India—in charge of the kitchen.
"I was a housewife for numerous years," Neeta says. "Rashmi came to me, asking for help to open a restaurant. I agreed to help, but I don't think we realized what we were getting into. Honestly, it's been a great ride. My recipes are all inspired from my home kitchen. I love watching cooking shows, and I am always experimenting at home."
Rashmi's vision for the restaurant was strongly influenced by her international upbringing. Born in Mumbai, Rashmi's first word was, fittingly enough, "food." But by age 6, she'd moved with her family to France for her father's job as an engineer. After four years, her father was transferred again to Malaysia, where a teenage Rashmi began to develop a passion for street food and restaurant culture. She discovered an explosion of flavors and cooking styles thanks to Malaysia's diverse cultures.
At age 16, Rashmi relocated with her family once more, this time to the U.S. After a couple years in the Midwest, she entered college at UH as a business student, while her parents settled into their new home in New Braunfels. In Houston, Rashmi became fully immersed in a world of foodies.
"A lot of my friends were in the university's hospitality school, so we went to hole-in-the-wall and underground eateries in Houston, and that really opened my eyes," she says. Her passions for food and entrepreneurship collided, and for the first time, Rashmi mulled over the idea of starting a restaurant.
7 Monks' menu encompasses traditional curry recipes from Rashmi's mother and grandmother, as well as street-food snacks. Flaky, fried samosas stuffed with spiced potatoes and peas only get better when dipped in scratch-made mint or tamarind chutneys. The tikka masala curry combines tomato, onion, garlic, ginger, and freshly ground spices, while the creamy korma sauce features comforting coconut milk. The Goan vindaloo—a nod to the Bhat family's Goan roots—is a fiery and mildly sour curry. Each Indian dish is customizable by protein (chicken, shrimp, paneer, or veggies) and spice level (mild, medium, spicy, or Indian hot). Sides include a generous portion of fragrant basmati rice; plain, garlic, butter, or bacon-and-cheddar naan; or tawa roti, a whole-wheat flatbread made in a tawa, a traditional cast iron pan.
The dessert offerings are also inspired by the Bhat family's heritage and travels, with gulab jamun (spongy balls of deep-fried dough soaked in a rose-flavored syrup), rasmalai (sweet cheese balls in a sweet cream sauce), macarons, and baklava. Beverages include mango lassi, a spice-infused "Indian lemonade," hot chai, and iced chai. The idea of iced chai initially shocked Rashmi's parents, since traditional Indian chai is always served piping hot. "Then my mom tried it, and she agreed that it was pretty tasty," Rashmi says, laughing.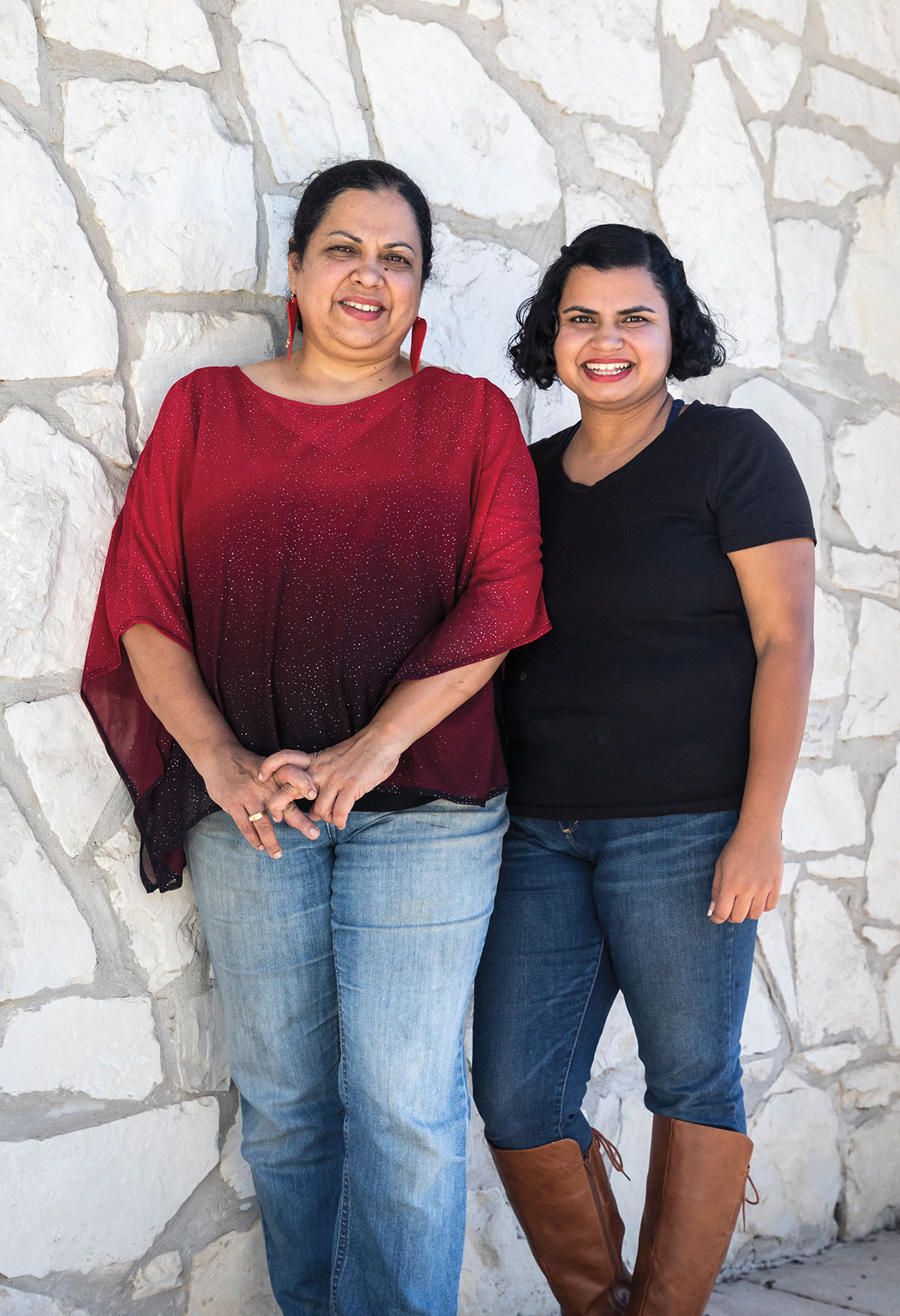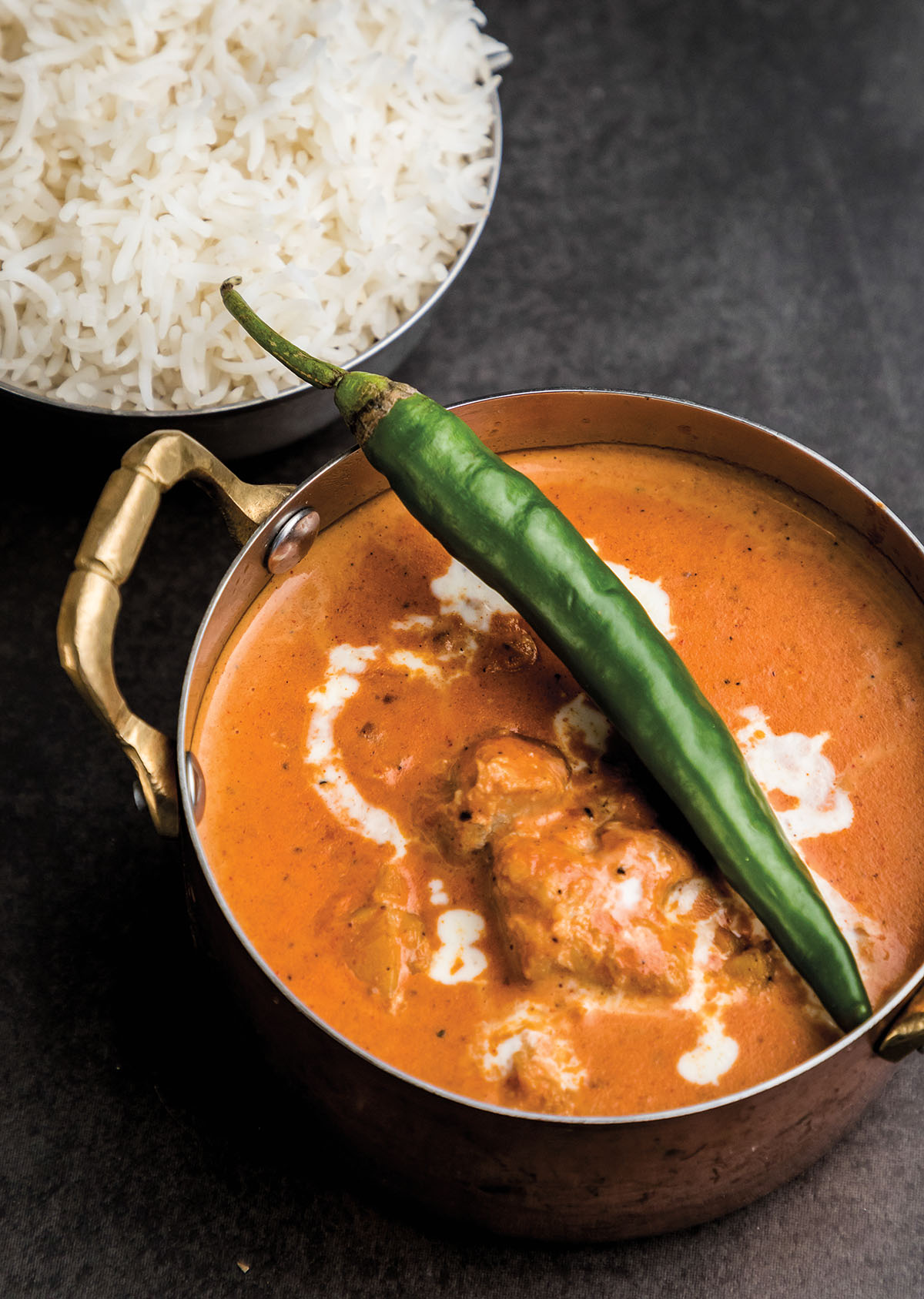 While Indian food is the draw at 7 Monks, the menu has plenty of Mediterranean items (like beef or chicken shawarma and falafel), a wide variety of sandwiches, and vegetarian and vegan options. In fact, the restaurant's name was a way to bring together the food and experiences from her family's travels: "7" to represent the continents, "Monks" to convey calm and peace, and "Café" to incorporate different cuisines.
"We encourage people to ask us questions. There are just so many flavors you can experience."
"It's so the whole family can come in," Rashmi explains. "Kids can enjoy the experience as well as people who are unfamiliar with Indian food. One person in the group will try a sandwich, and next time try Mediterranean food. And then they might say, 'Let me dip my wrap in your chicken tikka.' So people just naturally graduate to Indian food. Some people have never had Indian food, and it can be overwhelming."
After spending her childhood as a serial expat peering in at foreign cultures through an outsider lens, Rashmi knew her menu needed to feel welcoming. Being inclusive was critical, so Rashmi sought to make sure all items, especially the Indian dishes, were familiar and easy to understand.
"I like it to be very clear for people, especially if they've never heard of tikka masala or korma," she says. "We encourage people to ask us questions. Some people may not realize Indian food doesn't have to be spicy—my grandma doesn't make or eat spicy food at all. There are just so many flavors you can experience."
From the January 2021 issue