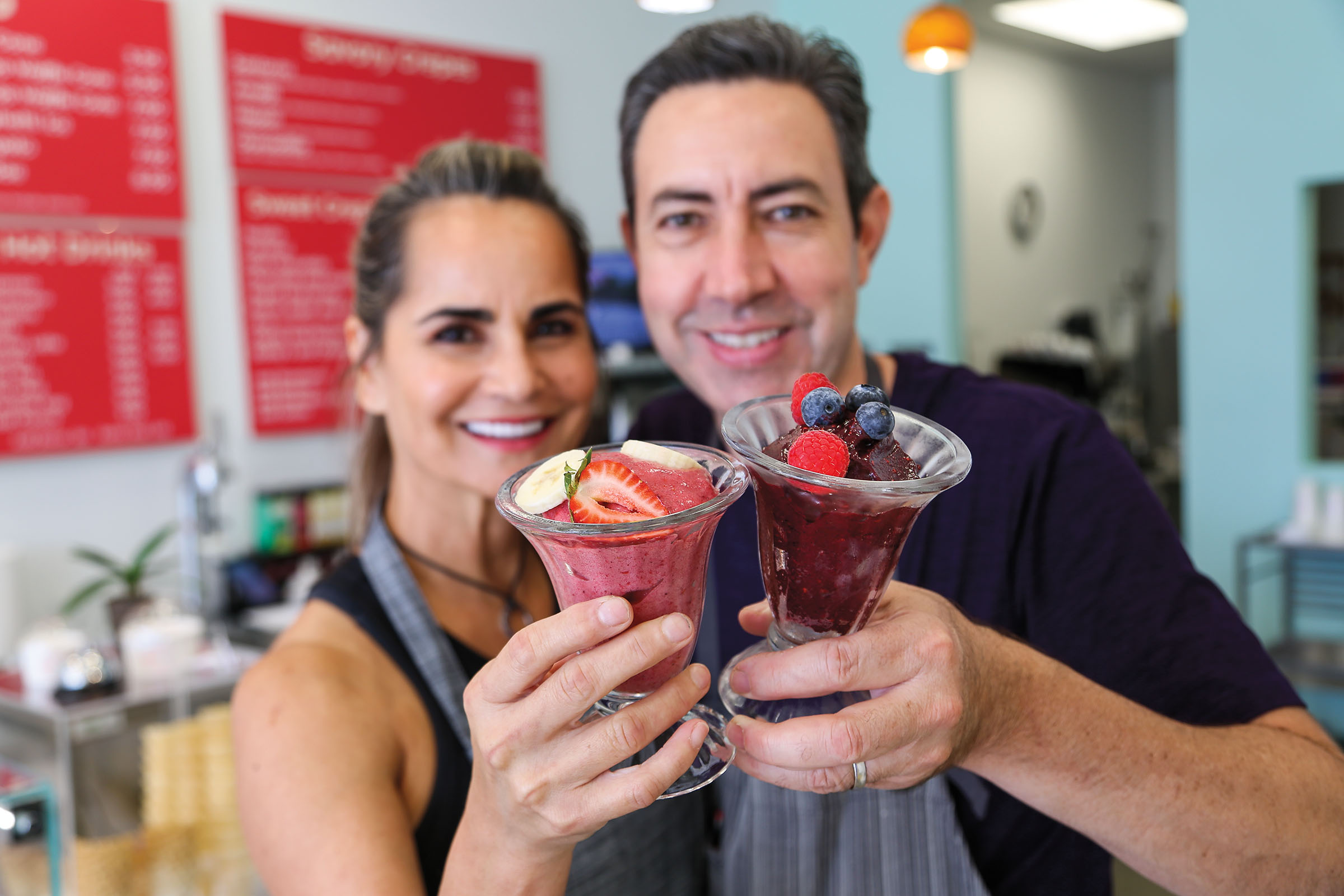 When Peter Palmieri released his third medical thriller in early February, a small book launch party took place in his cozy New Braunfels gelato shop, Zenzero. Those who bought a copy of his self-published book, Sing the Rage, got a free gelato—perhaps limoncello or dark chocolate with Jack Daniel's. Palmieri visits his former hometown of Trieste, Italy, once every few years to draw inspiration for new gelato flavors, although his own tastes lean traditional. "I like to order coffee, pistachio, and amarena [cherry]," he says.
While owning a gelato shop might seem idyllic, four years ago, Palmieri and his wife, Emma Palmieri, were not living la dolce vita. They were battling traffic in Houston and working at a frantic pace as physicians. Palmieri spent some of his free time writing novels but began to develop another hobby: making gelato.
In 2016, growing tired of his stressful lifestyle, Palmieri relocated to New Braunfels with Emma and their two children. "As I considered retiring from medicine, I was thinking about the different things I could be doing," Palmieri says. Over the years, he had refined his gelato skills at home. No longer just a hobbyist, Palmieri was ready to go pro.
In April 2017, Zenzero opened as one of the few artisan gelato shops in Texas that doesn't use preservatives or artificial colors and flavors.
While Zenzero's more natural approach to gelato isn't the norm in Italy, Palmieri says his process is still steeped in tradition. Palmieri, who lived in Italy from ages 5 to 14 before moving to the United States for school, says he often thinks of his grandmother, who would send him and his siblings to buy gelato. "On the bottom floor of her apartment building, there were shops: a bakery, a meat market, and a dairy shop, which sold milk and cheese, but also gelato," Palmieri recalls. "Her favorite gelato was called cassata Triestina [a trio of chocolate, pistachio, and strawberry gelato embedded with candied fruit and sandwiched between two wafers], and she would portion it out for us. It was a family event, and this happened almost every day during the summer. So the good feeling I have about gelato is that I feel like I'm carrying on this tradition."
To recreate classic Italian gelato with high-quality natural ingredients, Palmieri sources pistachios, amarena cherries, and chocolate from Italy and purchases other ingredients, including peaches, pecans, figs, and strawberries, from Texas farms. As a nod to Emma's Mexican roots, Zen­zero regularly churns out flavors like avocado, horchata, tamarind, and piña colada.
Zenzero offers an array of ever-changing gelato flavors, with dairy-free and sugar-free options, but the menu also features sweet or savory crêpes and classic desserts like panna cotta and macarons. And because no Italian culinary experience would be complete without coffee, Zenzero has a full menu of espresso drinks, with coffee beans sourced from the Illy factory in Trieste.
In just three years, Zenzero has developed a strong bond with the New Braunfels community. When Palmieri had to temporarily shut his business down due to COVID-19 restrictions, he posted on Facebook about the struggle to keep the business alive. The next day, Zenzero fans and local business owners flooded Palmieri with messages and calls of support. Zenzero was invited to sell at a small farmers market and take part in a community event. When he reopened for take-out, orders poured in, including from a pastor who purchased gelato for 30 parishioners.
"We didn't know how things were going to shape up and didn't get much help from the SBA," Palmieri says, referencing the Small Business Administration. "But the community came out in a huge way. They told us, 'We want you to be around and succeed.'"
From the September 2020 issue