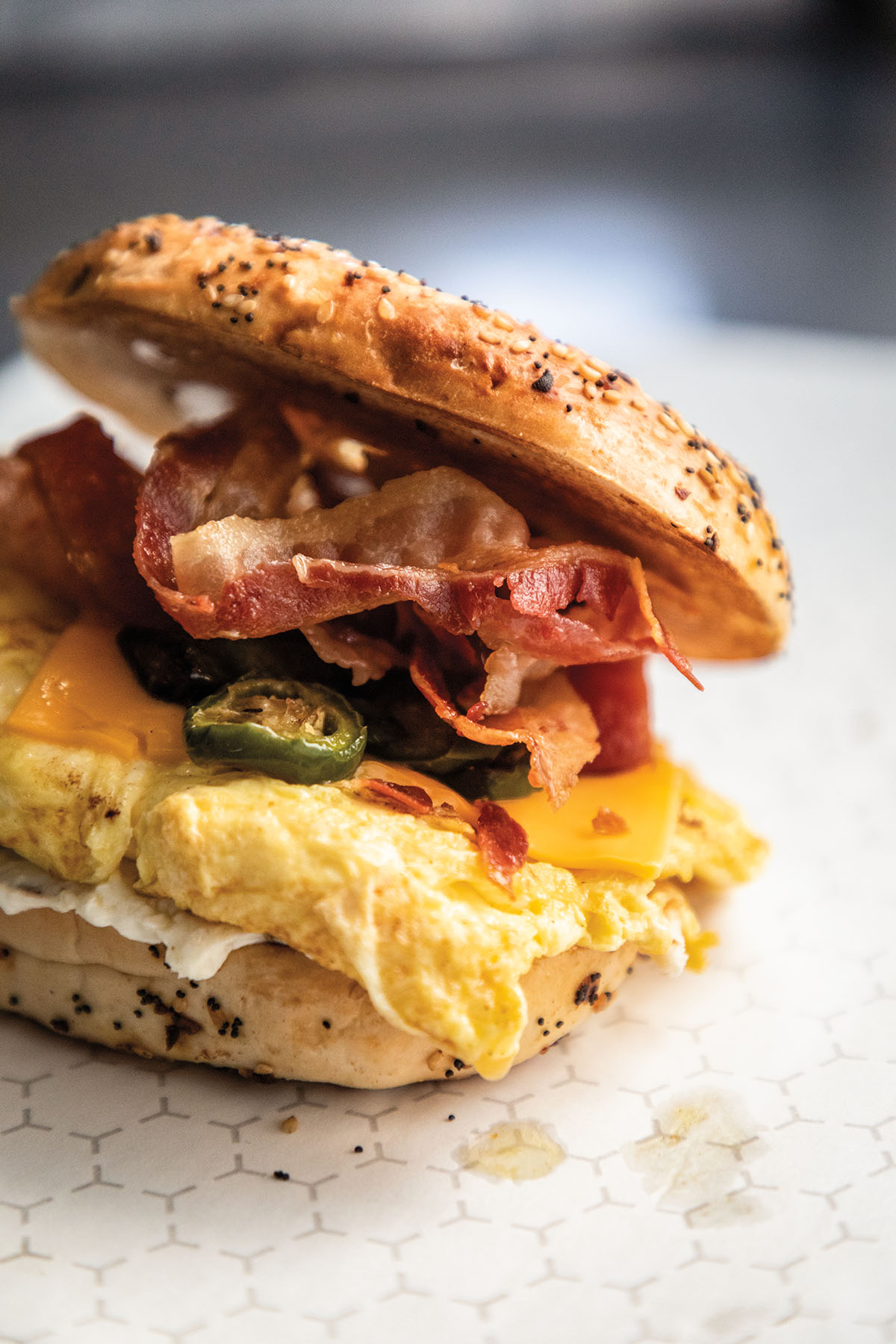 When Omar Tijerina told his parents he wanted to open a bagel shop in his hometown of Laredo, they were caught off guard. "Sell tacos," they said. "Who's going to want to eat bagels here?"
Two years and tens of thousands of bagels later, it turns out Omar was onto something. His business, Gateway Bagel Co., has proven Laredoans have an appetite for more than just tacos. "The bagel is basically the New York taco," Omar says. "You can put anything you want on it."
Gateway Bagel Co.
3502 E. Del Mar
Blvd., Laredo.
Open Mon-Fri 7 a.m.-1 p.m.,
Sat-Sun 8 a.m.-12 p.m.
956-955-1494;
facebook.com/gatewaybagelco
Omar runs Gateway Bagel Co. with his wife, Jamie Tijerina, a New York native. They offer authentic New York bagels along with a Tex-Mex-ified menu that has shaken up the breakfast taco monotony for hungry South Texans. From The Texican—a chorizo, egg, and cheese sandwich—to an ancho blueberry cream cheese spread, the duo's offerings regularly sell out at their north side food truck location and have won multiple Readers' Choice Awards from the Laredo Morning Times.
The success has been surprising, the couple says. A customer once messaged the duo on Instagram, disappointed the food truck was closed for the day. "Guess I just won't eat until tomorrow because I just wanted a bagel," he joked. Grinning and shaking his head, Omar says, "That's crazy to me that we're affecting people so much."
A wannabe foodie unsure of what to do after high school, Omar started his culinary career working at the historic La Posada Hotel in downtown Laredo. He'd listen to Frank Sinatra playing in the kitchen and pretend he was in New York City, cooking for chefs like American restaurateur David Chang in a high-end Manhattan establishment far from the oppressive South Texas heat. He finally made it out of Laredo when he enrolled at the now-closed French Culinary Institute in New York. After graduation he earned his big city chef credentials, bouncing around restaurants before landing with Google, first as a line cook and eventually chef operator as part of the company's food service team.
But Laredo still loomed in the back of his brain. "On our second date," he recalls, "I told Jamie, 'Just so you know, if this gets serious, I want to move back to Laredo, 100%.'" The couple married the day before New Year's Eve in 2018. A few months later, while waiting for a flight home from their honeymoon in Paris, they admitted a hard truth to each other: They were tired of the hustle and bustle of New York City.
By Cinco de Mayo of 2019 Omar was back in Laredo, and Jamie joined him a month later. For nearly a year, Omar worked a job selling food to local restaurants, but it quickly evaporated when the pandemic hit and the city went on lockdown. As the couple sat on the couch in the summer of 2020 while Tiger King played in the background, Omar turned to Jamie and asked her for a business idea. "I promise I'll make something out of it," he told her. For Jamie, who grew up on Long Island, the answer came easily.
"What about bagels?" she recalls saying. "I need to eat something other than a breakfast taco."
They reached out to a bagel purveyor on Long Island. If they could source real New York-style bagels, Omar knew he could do something special for Laredo. "Bagel shops," he says, "are always centered around their neighborhood."
The bagel sandwich with bacon, egg, and cheese is a typical item at any bagel shop. But the rest of the menu changes depending on where you are in the city. On the Upper East Side of Manhattan, where Jewish families have lived for generations, you might find a white fish salad on the menu; halal chicken over rice in Brooklyn for the large Muslim community; and black bean soup for the Caribbean families in the Bronx. Omar knew he could do the same thing in Laredo.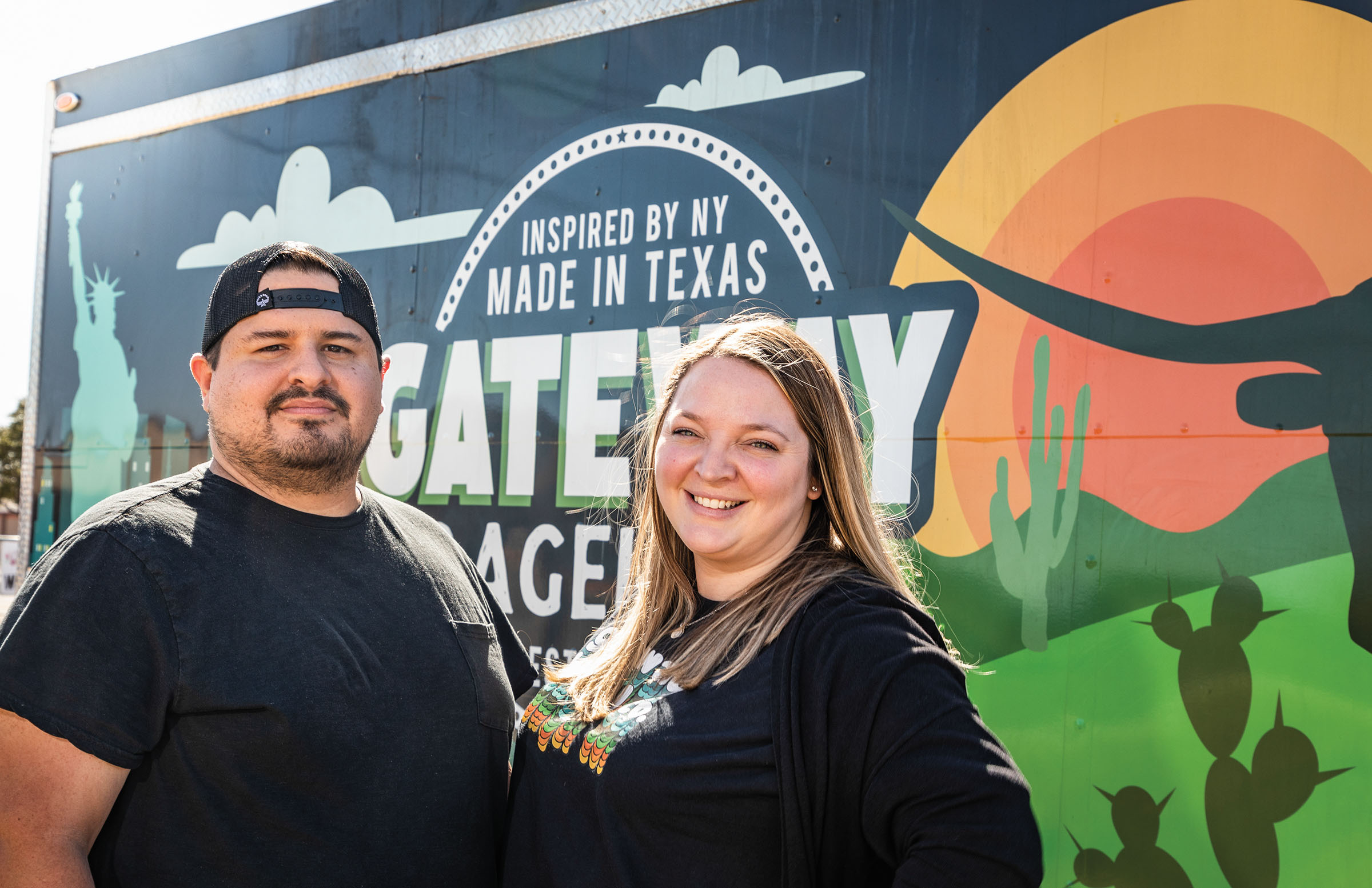 Respect for the classic New York bagel experience was important, but making the food accessible and palatable for Laredoans was paramount. "I wanted somebody who's never been to New York, nor who cares to go to New York, to want to eat these bagels," he says. "So how do you build for that?"
One phone call later, almost 400 partially baked New York bagels were headed south. Omar and Jamie mocked up a simple menu of bagels and cream cheeses and set up a Facebook page to get the word out and start taking orders.
In less than an hour, they were sold out.
Their initial excitement was quickly overshadowed by the realization that they were now responsible for making 400 bagels from their home. The two would sometimes stay up until 4 a.m. making cream cheese and "seeding" the partially baked bagels with the appropriate seasonings before finishing them off in the oven. "And every morning," Omar says, "Jamie would give me a paper route and I'd go out delivering bagels like Santa Claus."
It didn't take long for the pair to outgrow their home kitchen. As interest and orders continued to climb, cases of bagels from New York turned into pallets of cases of bagels, with upward of 3,000 bagels coming in each delivery from New York. A week before Christmas in 2020, Omar and Jamie opened their food truck with an expanded menu featuring sandwiches that pay homage to both New York and Laredo. The next year, they opened a brick-and-mortar shop at the historic Rialto Hotel in downtown Laredo and a kiosk at Laredo College.
Permanent menu items at Gateway include The Soho, made of turkey, egg, cheese, and avocado; and The Big Poppa, stuffed with bacon and roasted serranos. Savvy customers keep track of the business on social media for pop-up items like barbacoa, brisket, and pulled pork bagel sandwiches. "I'd go crazy just doing bacon, egg, and cheese all day, every day," Omar says. "No way."
Not that the two have any problem shaking things up. In January, Omar and Jamie decided to end their residency at the Rialto to open a drive-thru restaurant. Customers, they realized, prefer their chorizo bagel sandwiches on the go. Omar is hopeful the new shop will be open by the end of the year, while visions of franchise opportunities loom in the future.
And for good reason. Gateway's culinary impact has already traveled north. Jamie recounts a meeting with some college students in San Antonio who were from Laredo. They lamented that returning home meant more limited food options but cited one standout. "Right now," they said, "the best things about Laredo are the bagels."
From the March 2023 issue