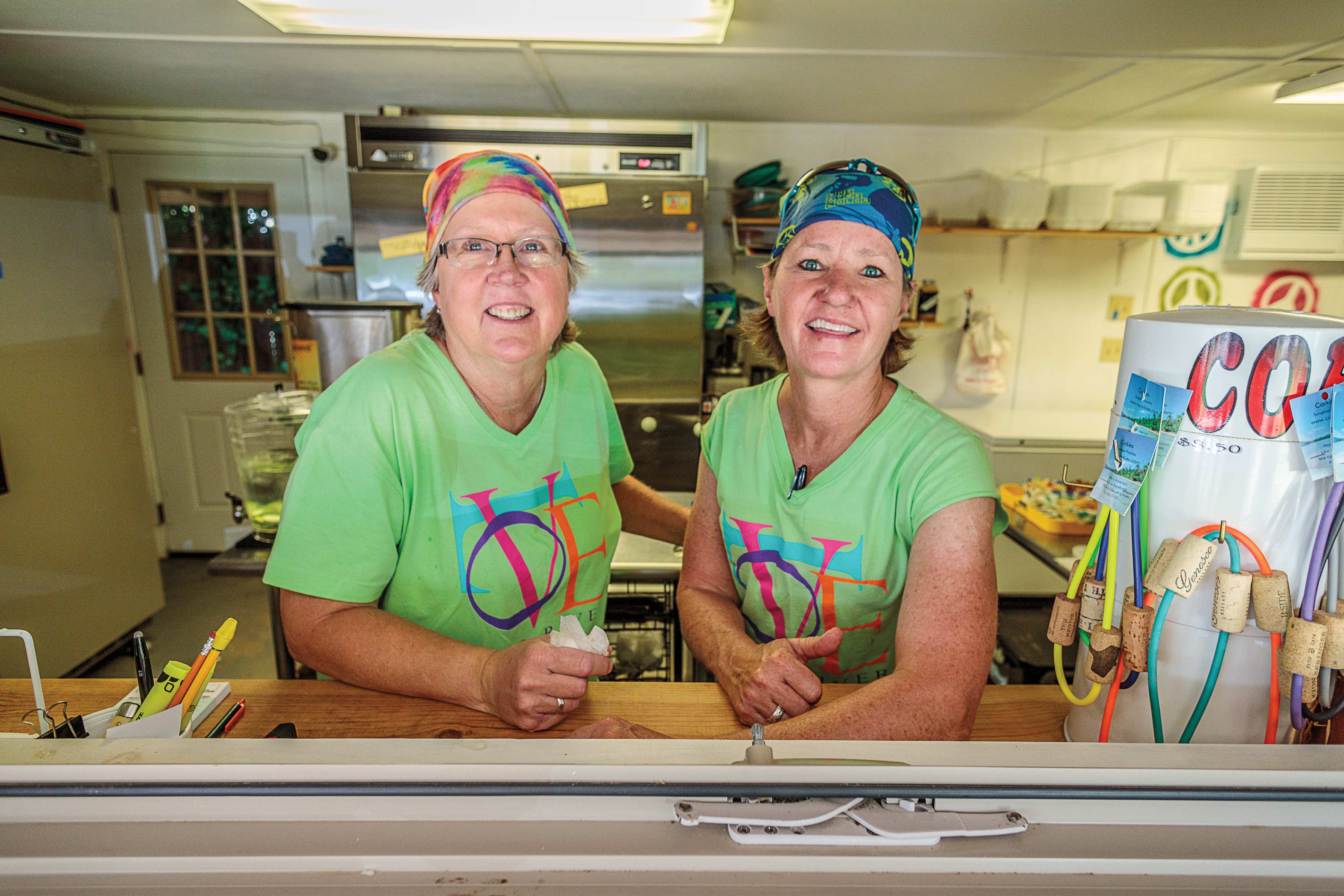 Rayann Shudde, left, and Terri Archer opened Hippie Chic's River Shack near Garner State Park three years ago.When Terri Archer and Rayann Shudde purchased one and a half acres near Garner State Park in 2015, they intended to open a business renting out tubes for lazy floats on the Frio River in Concan. One day, their landscaper commented on the lack of good food in the area, Archer recalls: "He said he put himself through college flipping burgers out here and suggested we do the same."
Hippie Chic's River Shack

721 River Road, Concan
Open spring break through Labor Day weekend.
830-232-5459
Visit the Hippie Chic's River Shack Facebook page »
And like that, Hippie Chic's River Shack was born. An existing carport on the property was crowned with the sign "River Shack," and the laid-back style of their burger concept took shape. The flourish of "Hippie Chic's" nodded to their spirit and style. "My mom didn't like it," Shudde laughs. "She said, 'You're not hippies and not chics.'" But the name stuck. "It suits our personalities," she adds. "We wanted to create a place with a vibe that's different."
What they lacked in experience—Archer is a former barrel horse trainer with a background in orthodontic care, while Shudde spent years working as a middle school teacher and coach—they had in faith and fearlessness. One day during the renovation process, they abandoned construction chaos to swing out their frustrations on a golf course. When their dog, Freedom, jumped into the cart of a complete stranger, it proved to be a fortuitous encounter. The cart was driven by Paul Moler, a longtime restaurateur.
Hippie Chic's River Shack in Concan is part restaurant, part groovy hangout in a rustic setting framed by the Frio Canyon.
"We told him we were going to open a restaurant, and he asked if we had ever done it before," Shudde says. Moler quickly surmised they were in over their heads and offered to donate his time to help shape their vision. "He has totally paid it forward," Archer says. "We've taken all his advice and run with it."
With Moler's help, Shudde and Archer streamlined their plan to rent tubes and serve what they call "ridiculously large portions of unique, fresh, excellent food in a fun environment," a perfect fit for the sun-seeking visitors who come to create summer memories in this picturesque corner of the Hill Country, about 80 miles west of San Antonio. As a result, their Hippie Chic's style is conveyed through menu items like the "Hip Hugger Burger" with jalapeño-cheese sausage, a "Joni Mitchell Wrap" packed with chipotle cream corn and jalapeño poppers, and a "Pancho and Lefty Burger" topped with two cheese enchiladas (yep, you read that correctly). In other words, it's food in perfect sync with the scene. "Up in Smoke," nachos piled with smoked brisket and cheese, are exactly what you want to eat while playing corn hole or horseshoes and listening to the groovy soundtrack of classic rock and country.
The "Pancho and Lefty Burger" is topped with two cheese enchiladas—yep, you read that correctly.
The rustic setting—a scattering of picnic tables shaded by massive oak trees, an open-air barn constructed from corrugated metal, and grassy spaces for kids to frolic—all framed by the soft slope of the rolling hills of the Frio Canyon—make it easy to feel at home. "People love the vibe here," Archer says. "They come to eat and don't leave; they stay for two or three hours." Guests seated at the cluster of tables under a "Peace Be With You" sign tend to chat and get to know each other or take selfies in front of the shack's growing collection of whimsical signs. The restaurant takes the phrase "dog friendly" to the next level. Pooches not only get a water bowl; they get mini-burgers, too. Shudde and Archer credit their cook, Juan "Emmitt" Ortiz, who prepares made-from-scratch specials like "Juan it Pronto Dos," a chicken enchilada plate with refried beans and Spanish rice, for the food that has amassed a loyal fan base.
Over the last few years, Hippie Chic's has evolved organically. Their dog, Freedom, was informally named the CEO, and last summer, the owners expanded the kitchen and converted a grain silo into a bar with a patio deck and shaded spot for extra seating. (Located in a dry county, the restaurant is BYOB, so you'll want to tote your own cold beer and wine.)
Closed in fall and winter, with a peak season between Memorial Day and Labor Day, Hippie Chic's is packed with bikers and tourists in flip flops, swimsuit cover-ups, and sunburns. The locals prefer the off season, when it's not so crowded. Archer and Shudde don't mind when the weather cools and the pace slows down, when they can get creative with new menu items like a "Freddy Fender" burger filled with refried beans and chorizo. "Being seasonal is a blessing," Archer admits. "We have a lot of fun interacting with our guests, but we wouldn't want to do this 12 months a year."
Seasonal visitors who want to take the good feelings back home year-round can look for souvenir T-shirts portraying a vintage Volkswagen and the restaurant's motto: "Don't Worry Be Hippie." 
[the_ad_group id="14669"]
[the_ad_group id="14669"]
[the_ad_group id="14668"]
[the_ad_group id="14669"]
From the July 2018 issue