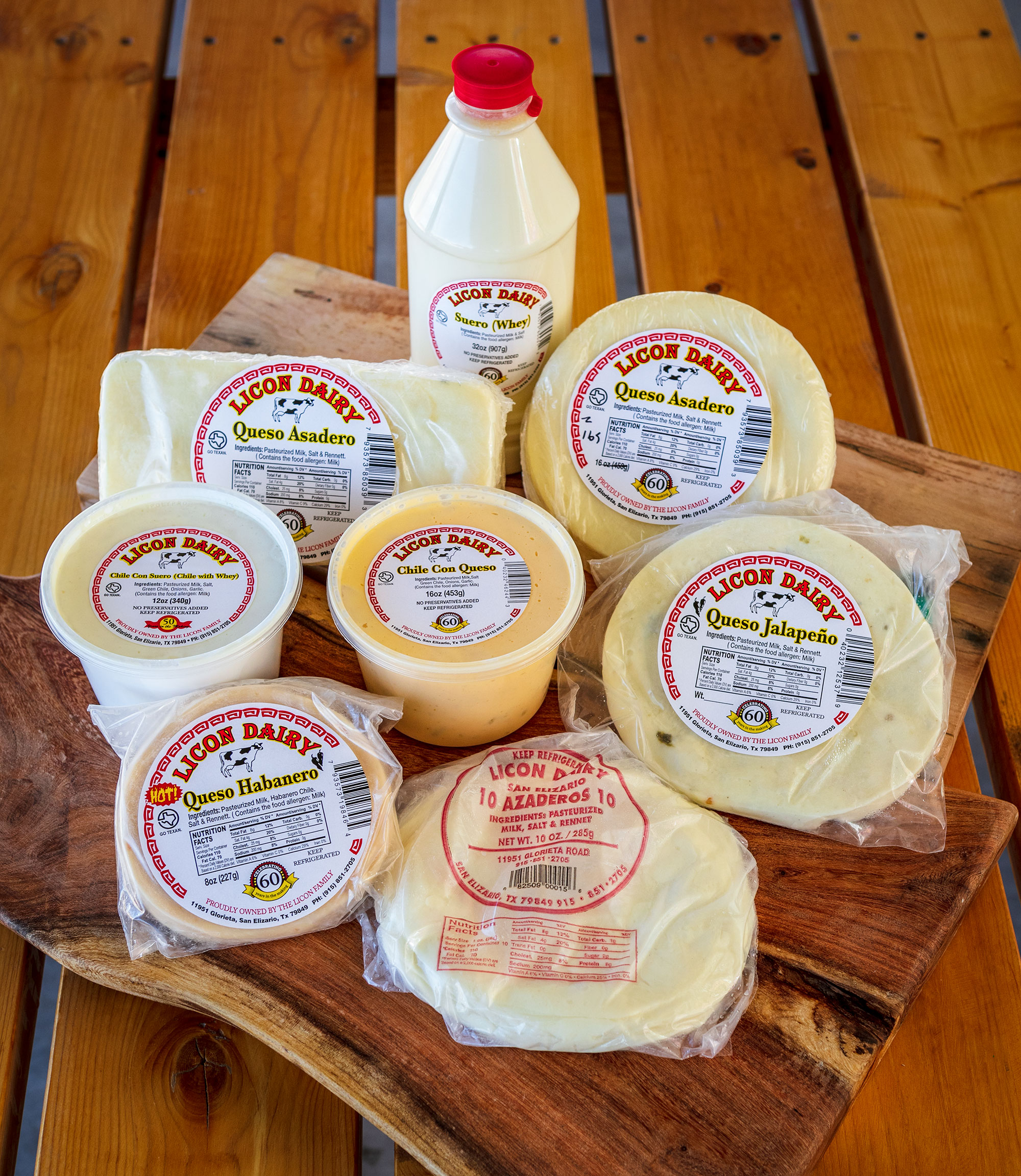 The El Paso Mission Trail is most famous for its age-old adobe Catholic churches, rich in border history and Southwestern culture. But as locals will attest, it would be a mistake to journey to this corner of Texas without a stop at Licon Dairy for asadero cheese.
On the outskirts of the Spanish presidio town of San Elizario, Licon Dairy has been perfecting its signature cheese since the 1950s. That's when Soltero and Isabela Martinez moved to the El Paso area from California, acquired a couple of dairy cows, and started selling asadero made from a family recipe, says Gene Licon, the third generation of his family to run the dairy.
Where To Find Licon Dairy Products

Licon Dairy's asadero cheese and whey are distributed to grocery stores around El Paso and West Texas. Licon ships frozen asaderos through its online store, with customers as far as Hawaii, Maine, and Alaska.
Asado is Spanish for roasted. "It's a Mexican cheese, similar to mozzarella," Licon explains. "It gets the name asadero because once you pull the curds from the whey, the curds go back to the melting process; you recook it."
The dairy, which includes a food store, sells most of its asadero as 1-ounce flat slices, perfect for rolling right out of the package or folding in a tortilla. The delicate, mild rounds are nicknamed tortillas de leche, or "tortillas of milk."
"I'm 57, and I've been eating these for at least 55 years of my life," says Juan Canales, who visits Licon's shop several times a week. "My kids love them for quesadillas and on sandwiches. Plus, I live across the street, so…"
At 4 o'clock every morning, Licon's cheesemakers start cooking whole milk and then mix in cultures and rennet to separate the curds and whey (suero, in Spanish). The curds are melted to make into cheese: mostly the flat asadero rounds—about 500 packages per day. But the dairy also makes and sells asadero blocks, some accented with jalapeño and habanero peppers.
The whey byproduct is so abundant it's pumped into a 3,000-gallon tank to be used for hog feed. And that's after enough has been set aside to make requeson (ricotta), chile con queso, and chile con suero (whey with chile). Customers also buy plain whey to use as a salty and creamy broth for dishes like squash soup.
Licon Dairy sells all of these products in its store, which also carries such staples as local honey, pecans, dried chiles, watermelons, snack chips, soft drinks, candies, salsa, ice cream bars, and frozen lamb meat. The shop carries La Princesa tortillas, made by a company that rents the old cheesemaking building onsite.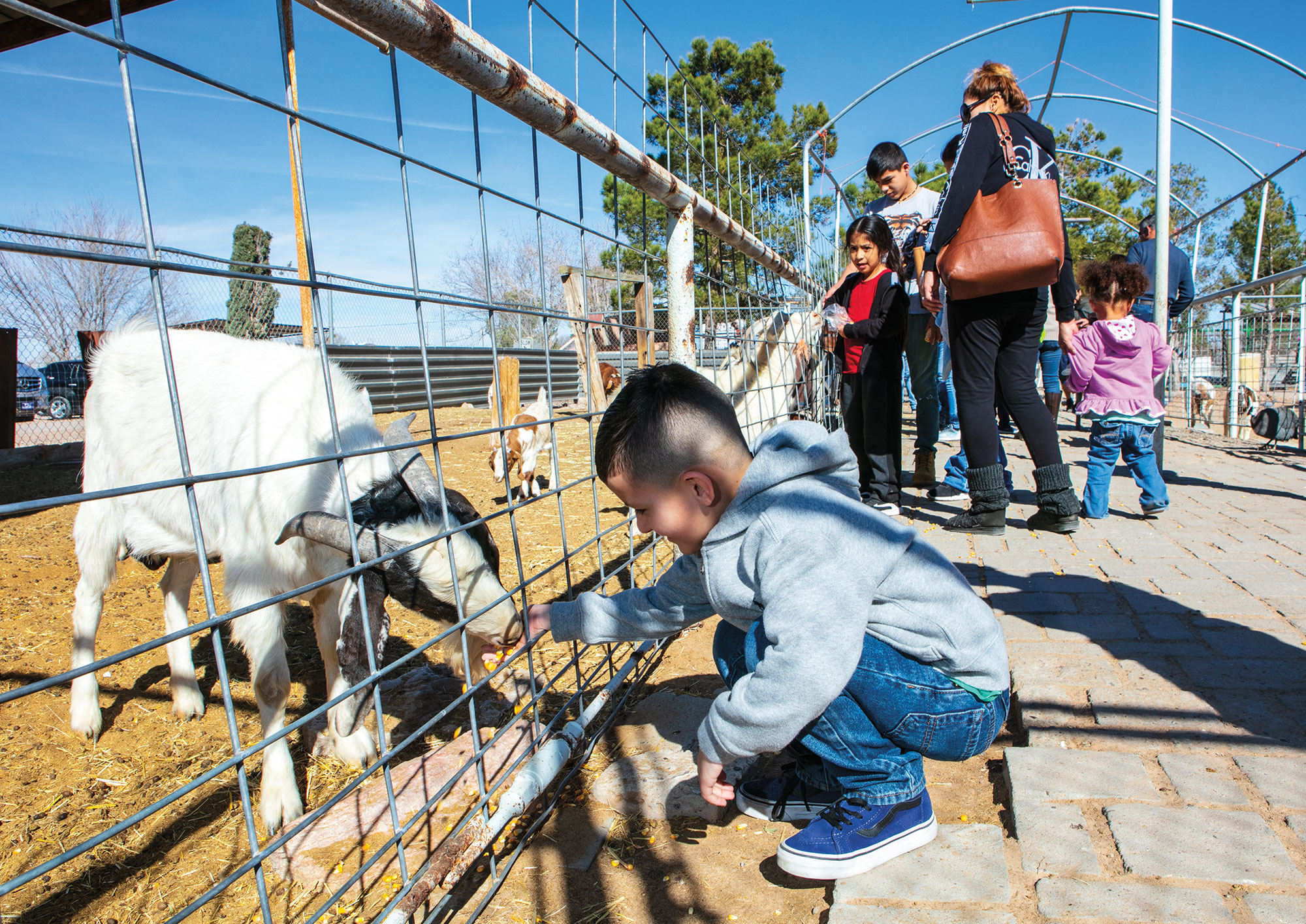 The $1 bags of animal feed are for visitors to Licon's petting zoo, a menagerie of native and exotic animals kept in pens and pastures. Arizona ash and ponderosa pine line the walking trails, which are adorned with animal sculptures and religious iconography.
Licon says the petting zoo began about 20 years ago when his mother, Maria, bought two ostriches (Margarita and Tequila). The skittish, long-legged birds survive to this day, counting among their neighbors guinea hens, macaws, various pigeon breeds, goats, Longhorn cattle, and a camel named Roger. A fishing pond opens occasionally for special events.
In January, Licon Dairy made the local news when two dogs found a way through the petting zoo fence and killed 14 animals, including deer, sheep, goats, and a swan that was at least 25 years old. After the trauma of the attack—Licon recounts being awoken by the sound of llama screams at 3 a.m.—the family was heartened by an outpouring of support. An online fundraising effort amassed $10,000, and animal-lovers offered replacement pets from as far away as California. With the money, Licon rebuilt the zoo's fence with panels of galvanized steel, reinforced by piping and concrete.
"We had so many people donating time and money," Licon says. "It was overwhelming, unbelievable."
What you won't find on Licon Dairy's 50-acre property is a herd of dairy cows. For decades, the Licons produced their own Holstein milk, but in 2000, the U.S. Department of Agriculture shut down the El Paso County dairy industry to eradicate a persistent bovine tuberculosis problem. After that, Licon ran a dairy in Hudspeth County until the regular 100-mile roundtrips became too burdensome. A few years back, the dairy sold its cows and started buying milk from a dairy in Deming, New Mexico.
Such adaptations come with the territory for a family business that's now entering its fourth generation. Back in the 1960s, Licon's late father, Eugenio Licon, sold asadero door to door before opening his home-based shop. In the early 2000s, Licon expanded the business with the construction of its current metal-sided building. And this spring, Angel Licon, Gene's 29-year-old son, opened the Outlaw Grill, attached to the dairy, serving cheeseburgers and quesadillas made with Licon cheese, and a steak bathed in chile con queso.
So the next time you find yourself on the outskirts of El Paso, tracing the route of Spanish explorer Juan de Oñate's trailblazing expedition of 1598, keep an eye out for Roger the camel, and be sure to pull into Licon Dairy for a snack. Just be aware that the asaderos often sell out by early afternoon.
Licon Dairy
11951 Glorieta Road, San Elizario
915-851-2705
licondairy.com
Open weekdays 6 a.m.-5 p.m. and weekends 6 a.m.-6 p.m.
The petting zoo opens daily 7:30 a.m.-5 p.m.